Tweet it and make yourself happier
I know, one man's terrorist is another's freedom fighter when it comes to shit in Israel. Whatever. Hamas ain't gonna win anytime soon if this keeps up.
Now, I don't want to say that terrorism isn't scary because it is assholes randomly killing innocent people in furtherance of an irrational goal and that's not cool. ("We shall kill 50 people and then they will all convert to our religion and a new world order shall arise." "…yeah, sure.") But, the whole Hamas "struggle" thing is now officially becoming a Monty Python sketch.
See, Hamas unveiled that they have a tank. Yes, a tank. I'm pretty sure that's the appropriate term too: A tank. One. A tank is nothing to sneeze at but do you know how many tanks I've seen in my day? A ton. They're all over the place. I drive from Chicago to Minnesota and I'll probably see three or four tanks stationed outside of military bases. I think they're no longer functioning but still, I see a bunch of tanks.
And Hamas has one. Hamas now has a tank regimen (Battalion? Group? Fleet?), one that is still less than that of Wisconsin. But it gets even better.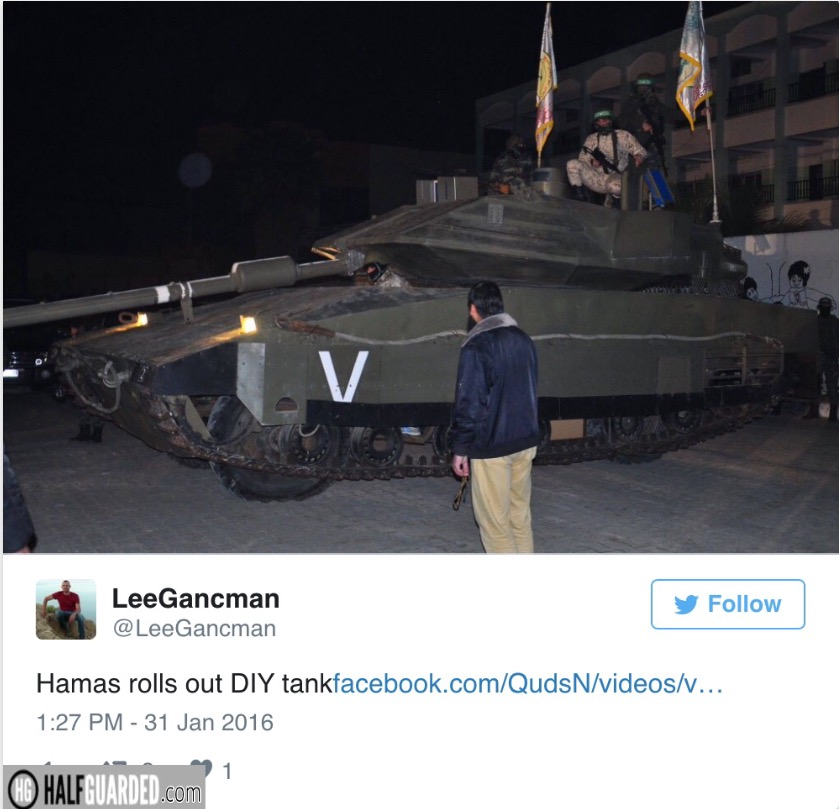 See, Hamas doesn't actually have a tank. As is the case with the Internet, people look for mistakes and holes and there are a few major ones with the Hamas tank. For starters: it has wheels. I'm not an expert on tanks but I thought they rolled on the treads, not on wheels.
Second, the tank is made of wood.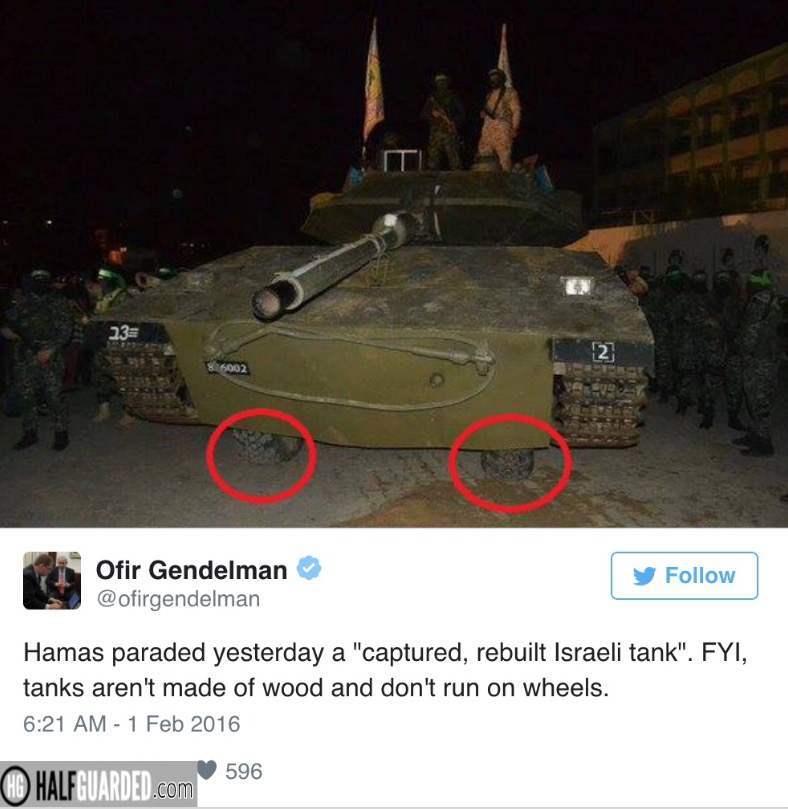 Again, no expert, but wood doesn't seem like the best choice of building materials for a tank. That's barely acceptable for a soapbox derby car from the 1950s.
These people are not going to "win" anything. They're out there showing off a wooden tank and hoping to intimidate people. I legitimately think that a Hummer is more dangerous. Fuck, even a Ford Pinto would at least blow up.  But if they ever do get a real tank, at least we know that Army Man Tim Kennedy will fight them.