Imagine if Jose Aldo pulled out of a UFC show at the weigh ins and Joe Rogan went up to Dana White and said "Hey, I'll take his place!" Be pretty crazy and awesome wouldn't it?
Well away from corporate side of  MMA crazy shit like that can happen. Because according to Shannon Knapp when late addition to the show Kali Robbins couldn't cut the weight fast enough and had to pull out, Invicta's interviewer Laura Sanko approached the boss and offered to stand in to save the fight with Jodie Esquibel (Sanko won her pro debut back at Invicta 4 with an impressive second round submission before taking time away from the sport to start a family). Sadly romanticism aside it wasn't quite feasible but it shows the warrior, underground "let's do this shit!" spirit that Invicta invokes from all involved in it.
Invicta 21 came to us from it's spiritual home of the Scottish Rite Temple in Kansas and remains the only reason I'd ever go back to that city  (yes I've been to Kansas back in the 90's for reasons I'll only tell to those who buy me a few drinks in Vegas), and as always it delivered a really fun time.
The opener saw Christine Ferea make the switch from Muay Thai to MMA against crowd pleasing favourite Rachel Ostovich (the fight gear graphic helpfully described the colour of her attire being "Wonder Woman") The two appeared to split the first two rounds between them with Ferea defending well against Ostovich's grappling in the first but Ostovich finally taking her down in the second and working relentlessly for a submission.
Everything was to play for going into the final round where Ferea put together a combination of shots including a sharp headkick that knocked Ostovich out on her feet. Gamely she went for her opponent's leg but Ferea tore into her with elbows, knees and punches and really ref Mike England could have stepped in sooner than he did to award the impressive stoppage to the newcomer.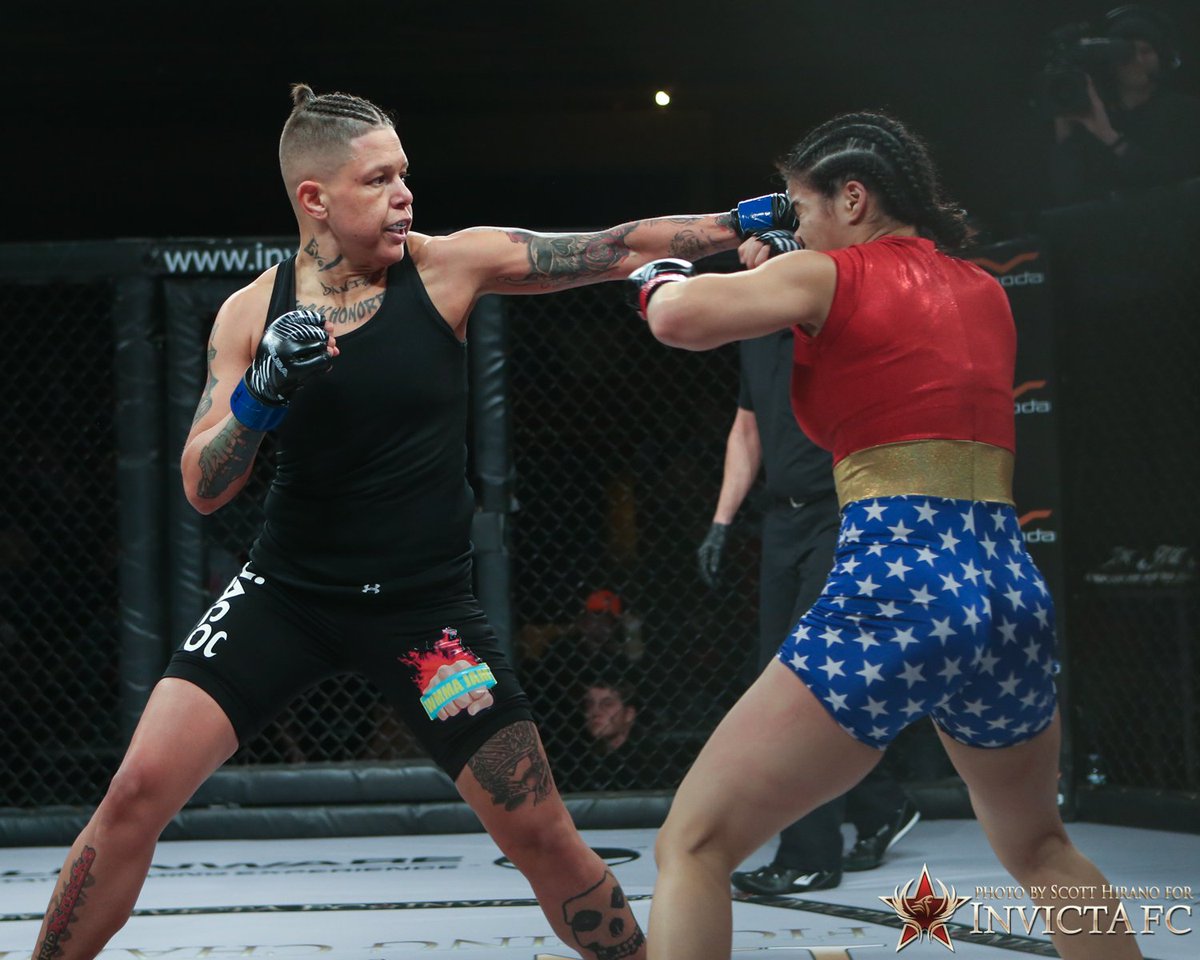 Anyone expecting a by the numbers match between Amy Montenegro and Celine Haga was in for a surprise for all sorts of bizarre reasons.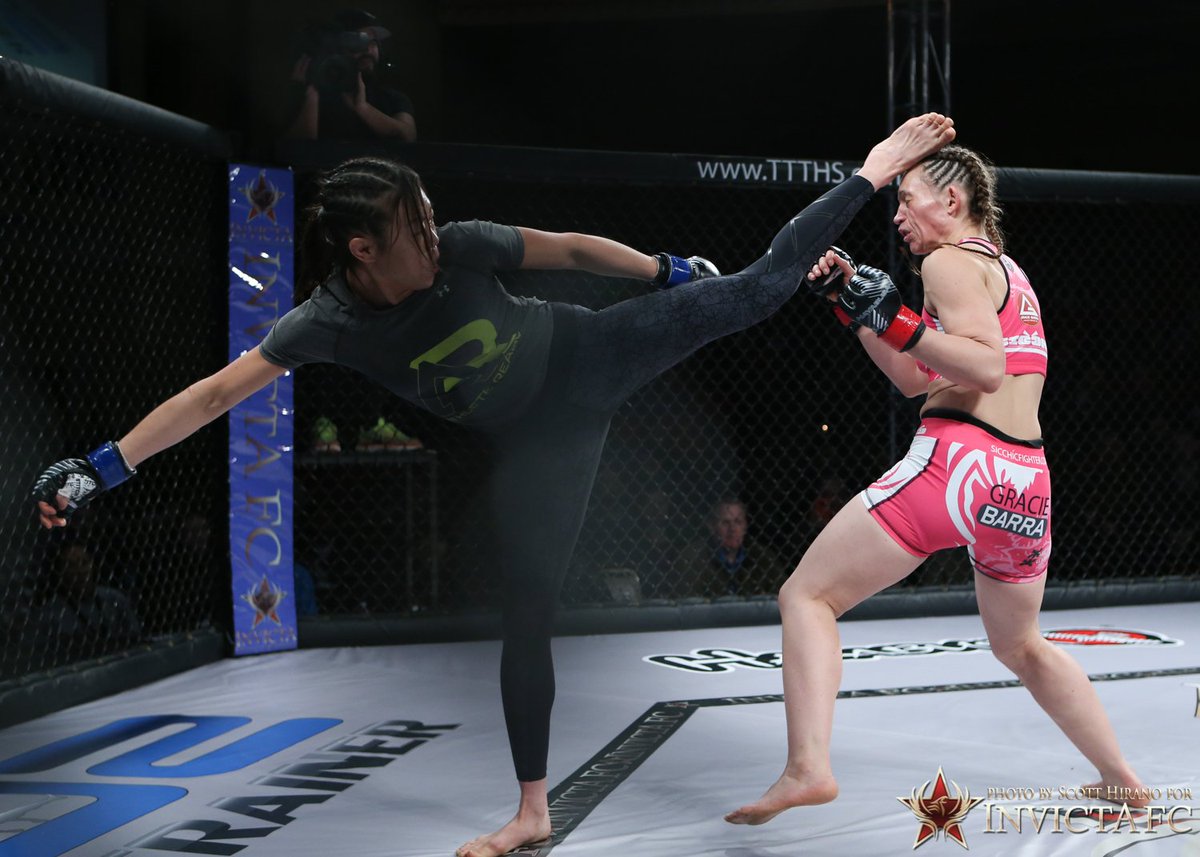 In the first round on the ground Haga was tenaciously looking for submissions from a variety of angles and looked close at times with a nasty looking choke/head cranks type thing (buggered if I know what is was). Then in the final ten seconds of the round Montenegro worked her way into an armbar and had it locked in tight in the dying seconds and actually got Haga to tap. However the ref ruled that the tap came by the barest or margins just after the bell to finish the round and the fight would indeed continue.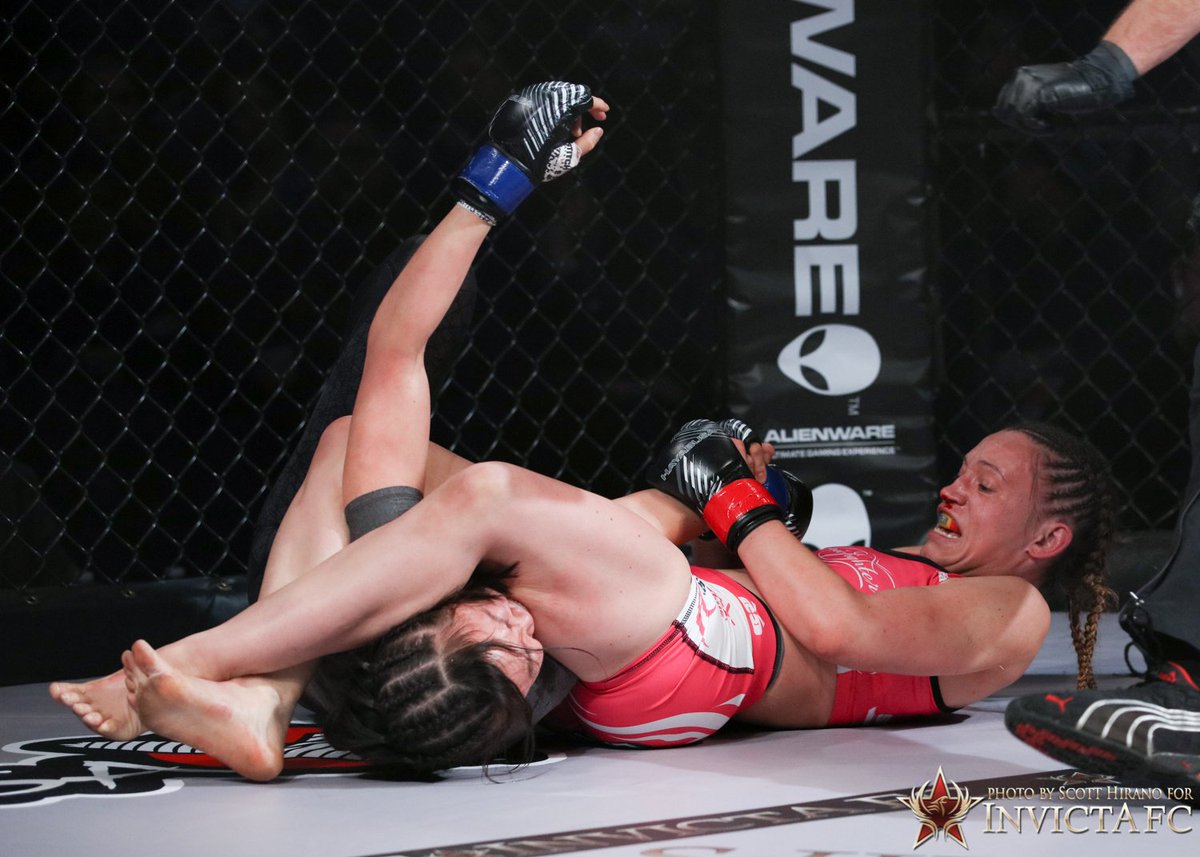 Thinking she'd already won Montenegro came out for the next round more pissed off than any fighter I've ever seen and totally dominated the second and third rounds by pounding the hell out of an exhausted looking Haga with elbows, kicks, knees and some deep looking chokes and the Norweigen was doing well just to survive to the end. Then things went frankly bonkers..
With just fifteen seconds til the end of the fight Haga slipped out of a standing choke attempt and manoeuvred round Montenegro to get her back and  sink in a very tight choke and pulled for all she was worth. Montenegro was in serious trouble but appeared to have survived without tapping when the bell rang,  but when Haga then released the hold it was clear that Montenegro was out having already been choked into unconsciousness during the fight.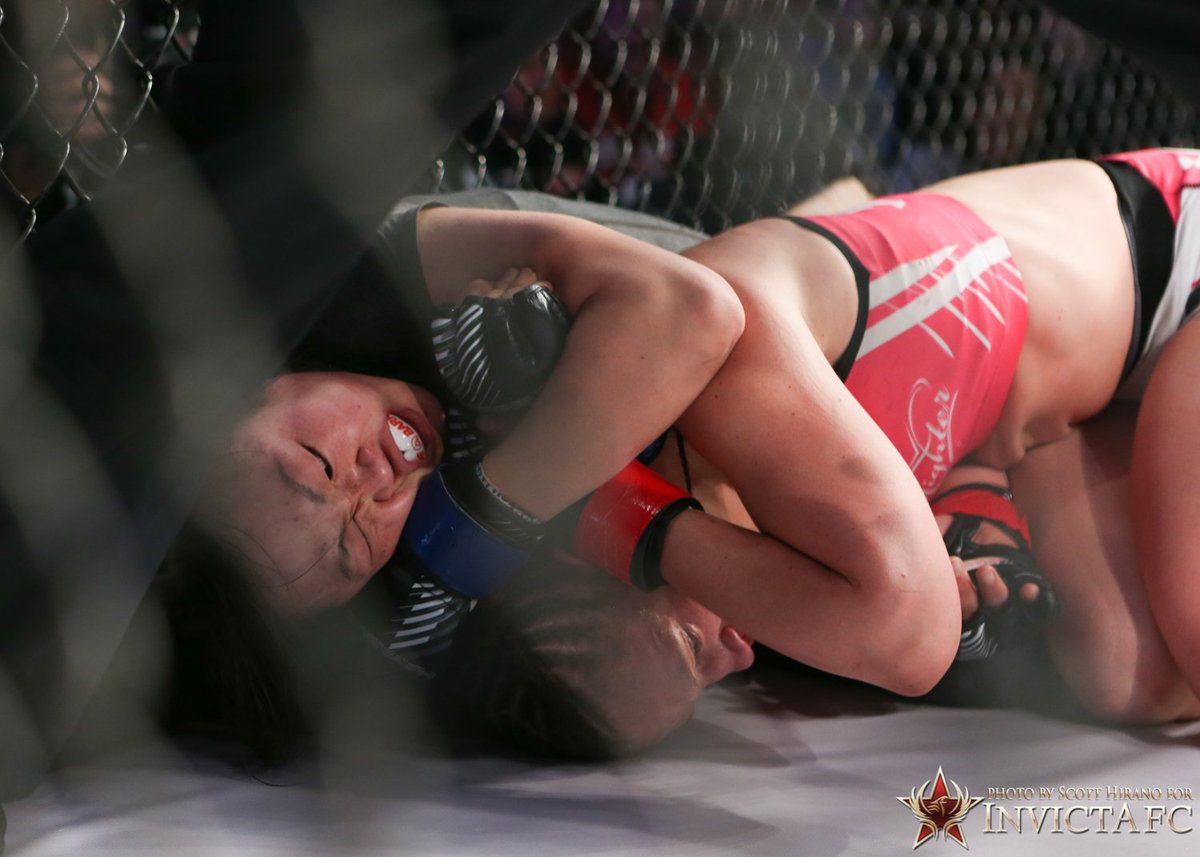 "The referee will immediately stop a match at any sign of unconsciousness when a choke has been put on and award the combatant who applied the choke the victory."
This was hard on Haga as if the referee had realised Montenegro was out (her eyes were open, and he didn't  touch her limbs and while he was on top of the action it's hard to tell if he asked the fighter if she was conscious) then she would have been awarded the fight. The commentary team quickly referred to the end of the Horn v Liddell fight from UFC 19 when Liddell was deemed to have been unconscious after the fight as a precedence that the win should be awarded to Haga as she too had rendered Montenegro out in fight time. There was initially confusion, especially as the referee made the "she's out" gesture with his arms then many took to mean the fight had been stopped and awarded to Haga, however the fight went to the scorecards.
Montenegro got the unanimous decision to a chorus of boos which was very harsh on her as she'd pulled out a dominating performance for much of the fight. Of course it's delightfully insane that a fight where one fighter tapped and the other was choked out was actually decided by decision and throughout all this was justifiably announced as fight of the night.
In my mind Haga won best walkout music of the night for Whitesnake's Here I go Again (although it was version with the slow intro. Rock nerd? Moi?)
Jenny Liou had to surrender her hair to the barber skills of Julie Kedzie in order to make weight for this fight with the returning Andrea Lee.
Lee herself apparently had a tough cut in the last few days but it didn't effect her performance here as she peppered Liou with shots right from the bell and it was clear that Liou was struggling to cope. In trouble and against the cage Liou was finished off with a well timed body shot just over a minute into the fight.
With her exciting, hard hitting striking style and let's face it very marketable looks, Lee, you would think, would have UFC eyes on her, especially if they were ever to fill in that ridiculous gap in weight divisions and create a flyweight class. If not, there would be a lot of interest for Invicta fans in Lee fighting for the title here sometime in 2017.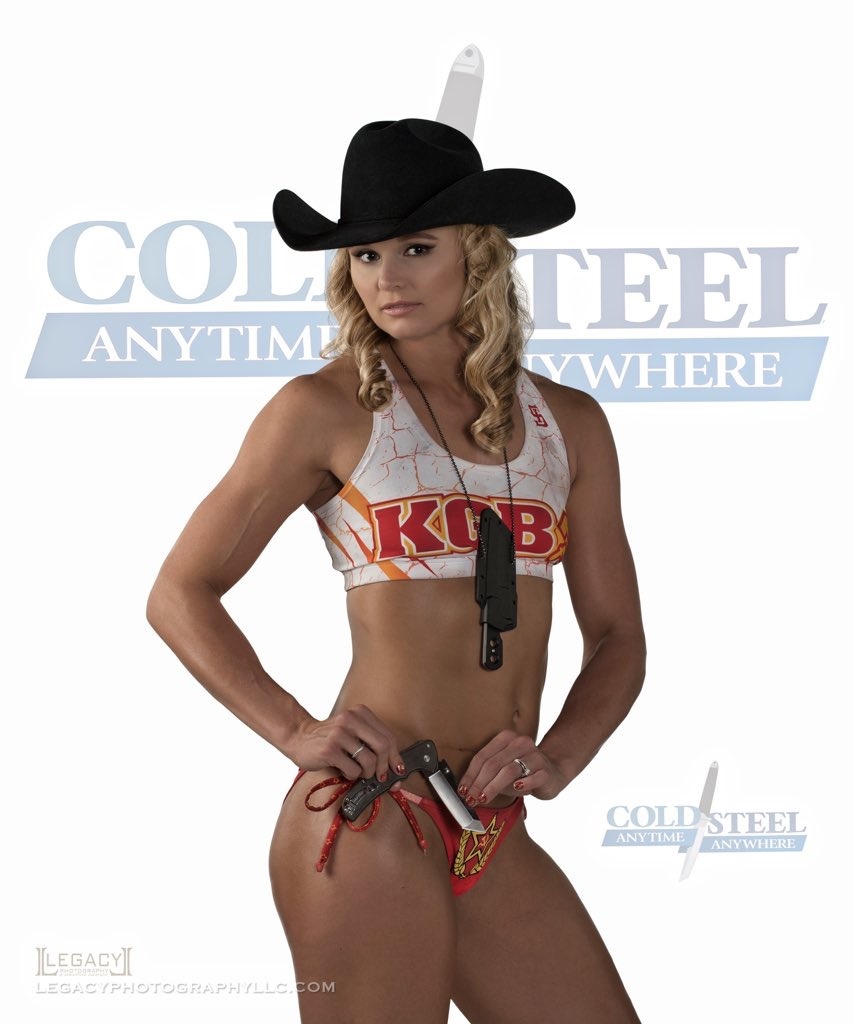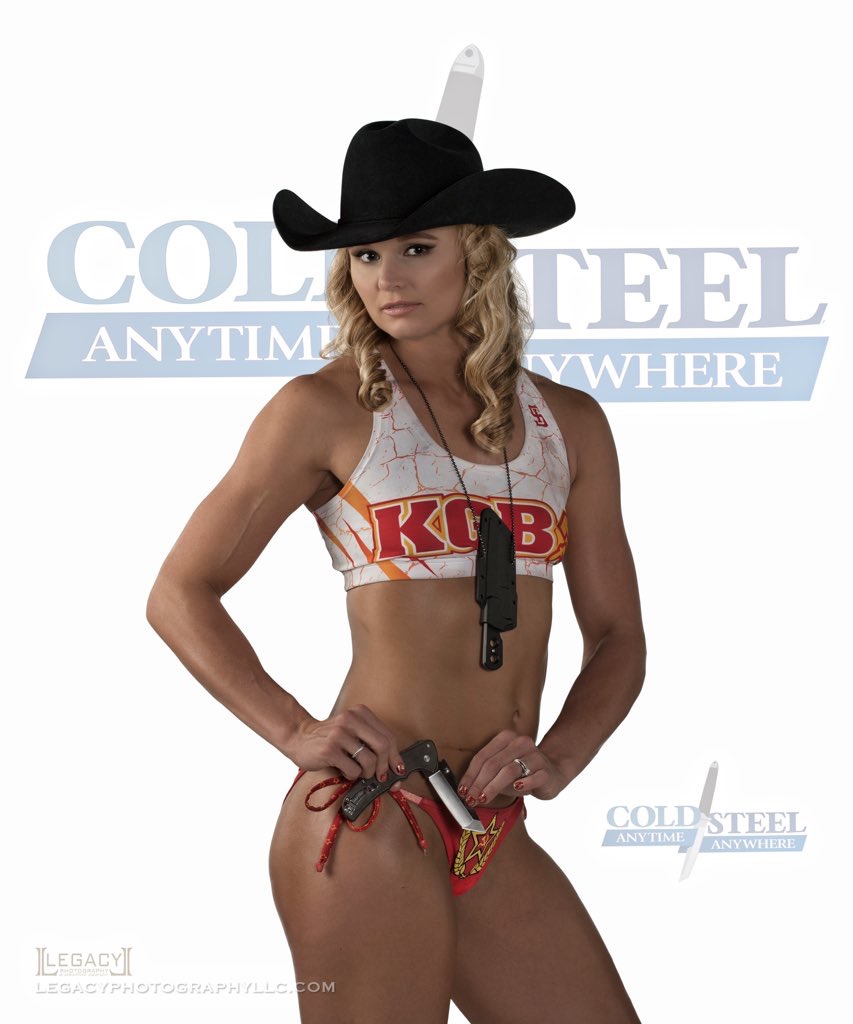 "Gangster vs Machine" was how one tweeter described Aspen Ladd vs Sijara Eubanks. Indeed Ladd was cool and calm as can be in this cagey encounter, getting the best of the technical boxing display in the first two rounds and holding her own on the ground in the final one winning all three rounds on two of the judges scorecards.
Ladd goes to 5-0 (all her pro fights have been with Invicta) with this win and you'd expect a step up in competition in the stacked bantamweight division for her next contests.
A hastily arranged contest saw Leah "Nidas" Letson (funniest nickname ever) face Elizabeth Phillips. Phillips drew first blood with a punch that cut Letson around the eye. Letson responded though with a perfect high kick to Phillips head that had the former UFC fighter out cold before she hit the deck.
Letson was out of her weight class for this fight and is hoping that she can return to Invicta for a fight at bantamweight before she's deployed for her military service.
Another impressive first round win came for Raquel Pa'aluhi who decided sod all these exhausting wars she's normally mixed up in and calmly and decisively took down Pannie Kianzad and patiently worked through her defence until she was in position to sink in a rear naked choke.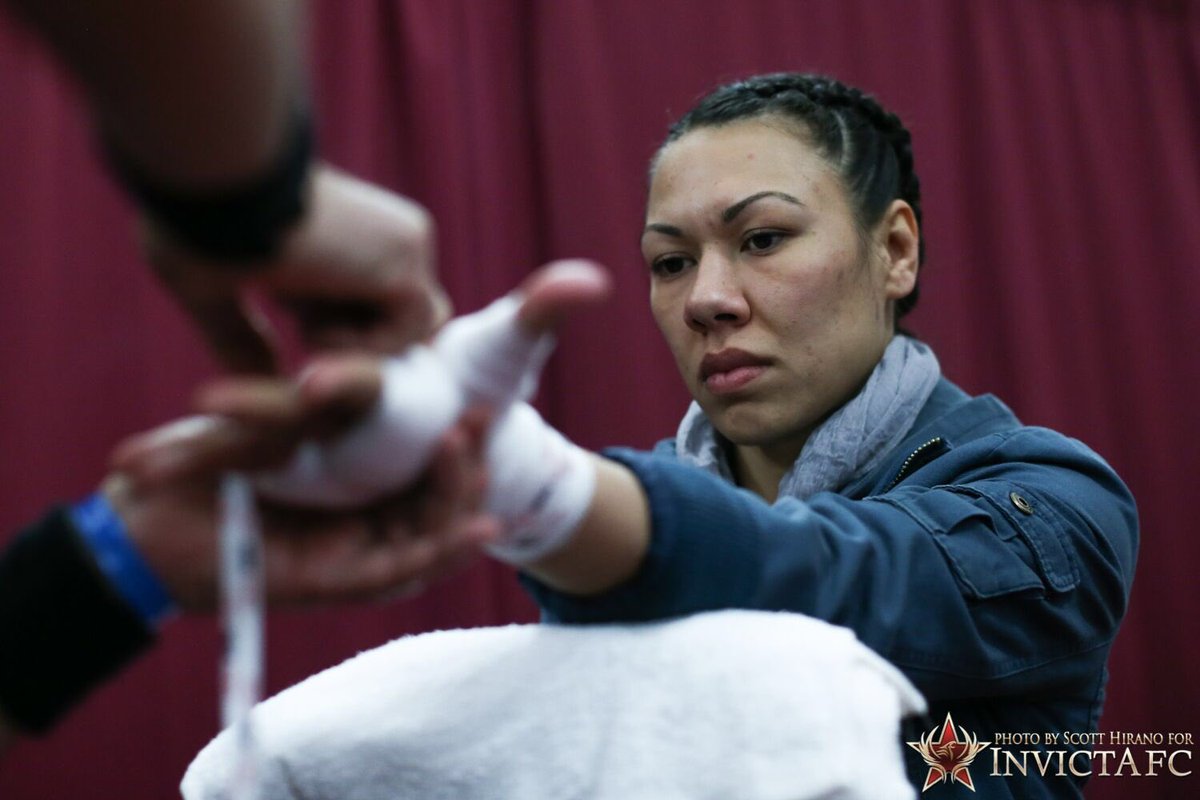 This may have been Pa'aluhi's best performance to date and the 6-5 record doesn't quite do justice to her wide abilities and her work ethic that drove her to go back to basics and work on aspects of her game such as her submission defence.
It's been a long wait but we finally got a competitive featherweight title match (albeit interim) in this hotly anticipated main event between Australian Megan Anderson and Canadian Charmaine Tweet. And this fight delivered with a powerful first round that saw both fighters rocked and staggered in a hard hitting brawl. Of the two it seemed to be Charmaine who was recovering and weathering the pace the better while Anderson showed a few signs of concerns and seemed stunned when the first round came to an end.
However early in the second round Anderson put together a flurry that clearly hurt Tweet and sensing victory poured on the attack with brutal punches that turned  the Canadian into a bloody mess. Tweet wildly tried to fight back against the onslaught with spinning backfist attempts but Anderson would not be denied and finished the fight with a sick high kick to the head that knocked all the fight out of her and ensured the Gold would go around her waist.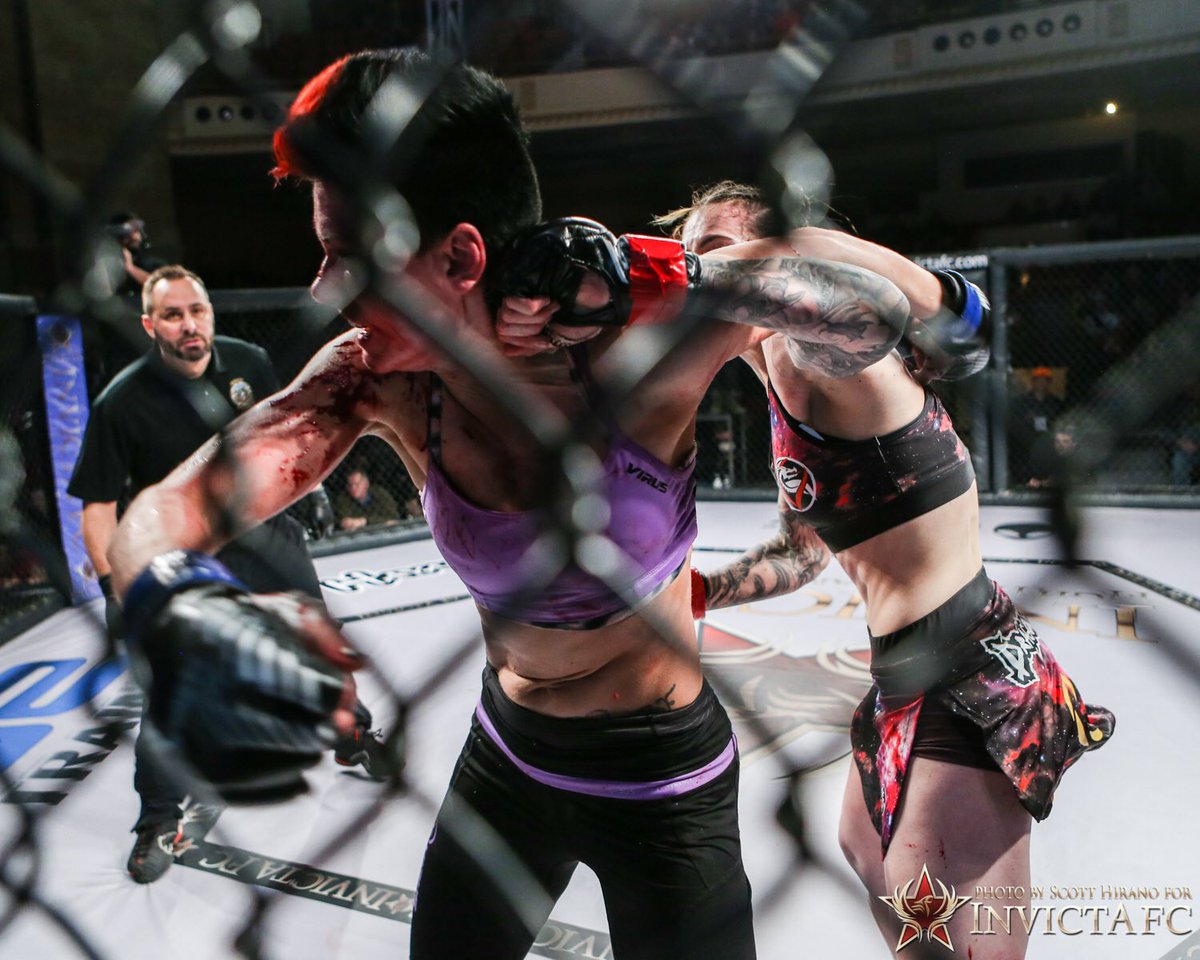 Anderson as champion opens up all kinds of possibilities for 2017. A rematch with Cindy Dandois who remains the sole Invicta blemish on Anderson's record is a distinct possibility and a unification with Cyborg when her suspension is finished although the Brazilian's further involvement with the company would have to be considered in doubt.
Sadly for Invicta Anderson too seems not to be counting on being around herself as her first order of business was to drop an F-bomb when calling out Dana White and asking for the winner of the Holmes and De Randamie UFC title match next month.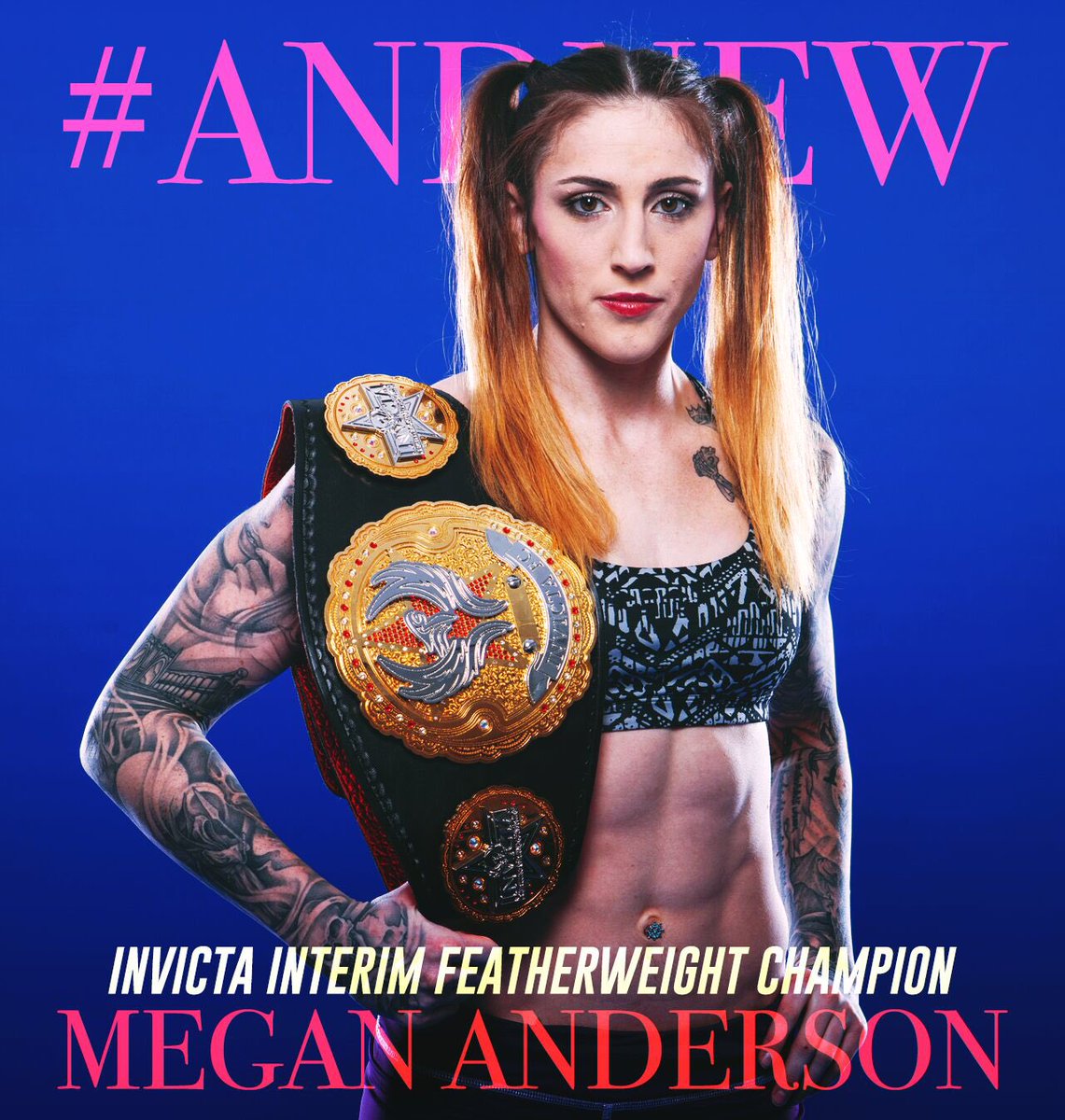 Hopefully the timing of UFC running a free weekend for their FightPass channel with this card will mean more exposure for the company and it's athletes, with what was a really entertaining show.
And more is to come as in March we will be getting Invicta 22, once again in Kansas and will see a rematch of the no-contest match between Tonya Evinger and Yana Kunitskaya. Hopefully the refs will have time to re-read their rulebooks before then
No doubt til next time
Dazza