There may be no man with more integrity in all of MMA than "Big" John McCarthy. With the possible exception of Herb Dean, no referee is more trusted. I don't think there's a fighter alive who sees McCarthy in the center of the cage and worries. Oh, sure, he may make a mistake or two here and there, that's the darn problem with being human and all. But for someone whose job is to oversee the health and safety of two grown men (or women) actively trying to batter one another into a state of unconsciousness – no one does it better than Big John.
When I saw him refereeing some of the fights at the most recent attempt to revive PRIDE, RIZIN FF, I was torn. On the one hand, I knew those fighters would be protected. The poor bastard that was chosen as a sacrifice for Fedor's benefit was lucky because he had McCarthy right there to make sure he wouldn't suffer unduly. Same goes for the spectacle of Lei'D Tapa and Gabi Garcia: no matter what, McCarthy was there and he did a fantastic job as always of protecting the fighters, from each other and from themselves.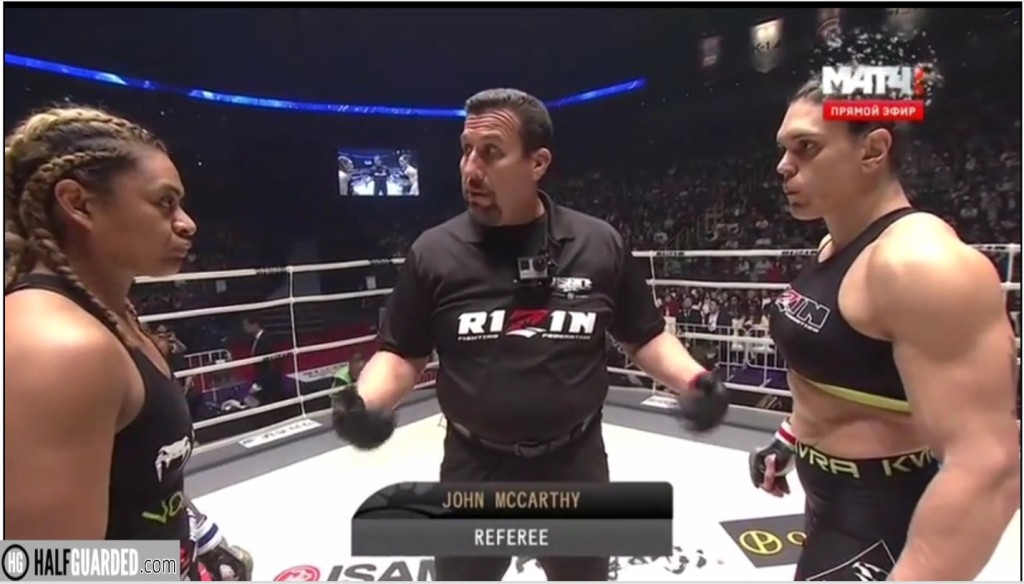 But he wasn't assigned to the truly important fights. When Aoki fought Sakuraba, McCarthy was no where to be found. That's no mistake. McCarthy would never have allowed Sakuraba to take the non-stop pounding he was forced to endure at the hands of Aoki. Some 60+ unanswered shots while Sakuraba was immobile, all for … Ratings, ratings, ratings. There was nothing sporting about it at all. McCarthy would've been there to treat it like a sport (which may have meant that as soon as the bell rung he called it off upon noticing it's 2015/16 and Sakuraba is in a professional fight). But he wasn't. Wouldn't want a referee to be too good at his job, not when there are networks to please.
Similarly, McCarthy was no where to be found when Bob Sapp and Akebono fought. This wasn't so much because one guy was at greater risk of injury than the other – Sapp vs Akebono was always going to be a freak show – but because there was probably a good chance McCarthy would've seen blatant shots to the head, or cuts to Akebono's skull, and rather than allow a "Doctor" to perform triage mid-fight, stop it instead. Whatever the reason, the most important fights didn't have the best referee in the world overseeing them.
Contrast this to UFC 194, where McCarthy was front and center of Aldo vs. McGregor. No screwing around with that one. Everyone involved wanted the very best.
John McCarthy should not referee for RIZIN FF – please
And this is where I come to the part where I ask something of a man I don't know: Please, John, don't referee for RIZIN FF again.
I don't know McCarthy's financial situation – maybe he desperately needs the money – but presuming he's not living paycheck to paycheck, his involvement in RIZIN FF only serves to legitimize a promotion that should be properly viewed as illegitimate. We live in an era of concussion protocols in the NFL, with CTE being on the tip of the average sports fans' tongue – this isn't the Wild West of MMA anymore.
McCarthy's presence helps keep a few fighters safer, no doubt, but it also trades on his credibility. If RIZIN FF wants to be a joke, where hundred pound weight differences are normal, where legends are allowed to be sacrificed for a few ratings points, that's on them. But the greatest referee in MMA history doesn't need to help them.
I'm no one in the grand scheme and certainly have no right to demand McCarthy stop, which is why I simply ask: at least consider it. If fight fans want an alternative to UFC, support Bellator or WSOF, but don't look to RIZIN FF. It may be an entertaining spectacle but that's what it is: a spectacle. One that is beneath Big John McCarthy.