One of my dogs – my best friend in the whole world, if we're being honest – isn't doing too well. (ETA: I have to put him down now.)   As such, I've been unable to devote myself fully to all four of you who regularly read.  I'm here now, though.
I saw the news that Lady Cyborg punched Friend of the Site, Angela Magana at the UFC fighter summit.  Because Cyborg is a fucking moron, that's why.
There's been a big back and forth, hullabaloo, with all this.  Matt and I will talk more about it on the next episode of MMA & Stuff, I'm sure.
Cyborg posted a very lengthy rant about the entire episode because she's smart.  Having Tito as a manager, refusing to get off the gas to make 135 and then get a million dollars in fighting Ronda, getting caught using steroids, getting a TOTALLY legitimate TUE for said use, then crying a lot, asking for a fucking interim title shot for a belt that's had exactly one championship fight ever, and now this: being trolled into hitting someone in public.  She's gotta be the dumbest fucking fighter out there and fighters are a dumb group.
Dear Cyborg Nation,

I looked the word Culture up in the dictionary and it said "The social behavior and norms found in human societies" which made me start to think of all the different cultures I have had shape my views and how those experiences have sculpted my understanding of life and relationships, and it made me want to share my thoughts with those on Cyborg Nation.

Core Values of Culture are learned through those in leadership roles in the communities we live, work, and regularly interact with. When I first started training at Chute Boxe in Curitiba I learned the true spirit of fighting watching legends like Wanderlia Silva, Shogun, and Cyborg train everyday in the gym. Everyone looked at these fighters as an example, we saw the hard work, heart, and dedication it took to become a World Champion and we learned not to expect anything less from ourselves. Training amongst these legends of the sport we learned how to win with pride, and if a loss happened to deal with it with integrity. Even though I am not training with Rudimar Fredrigo and the Chute Boxe team in Curitiba, I think I still represent the culture of the team and the values we place in honor, respect, and discipline which is why I have proudly flown the #CHUTEBOXE flag my entire career.
The way we select friends is often very different than the way companies select which ones to build long term working relationships with. The success of any company merger relies on the ability of the owners to merge core values of the two companies, giving special emphasis to the development of communication that can result in a positive conflict resolution whenever problems or misunderstandings occur.

Similar to my time in the gym with Chute Boxe I have learned that just like in fighting, culture in business is developed by those seen successful and high profile within the company. Examples of leadership are learned from the top down, and this results in what eventually becomes the culture of the company, and the identity of their relationships, and their associates.

When disparaging comments are made at the top, it sets an example that it is acceptable within the company, allowing lower ranking individuals to continuing following examples of leaders, establishing the culture and practices of the company.

It is no secret I have been a victim of online bullying. At times in my career it has felt like there has been a team of writers using the internet to shape the public's vision of my company's brand, often attempting to make me look like the face of anabolic abuse in the sport of MMA. While it has been years since someone has said I looked like "Wanderlia Silva in a dress", it doesn't feel that long ago that I was listening to someone give me advice on how cutting off my dick would help me to make 135lbs easier. When people see these actions of people high profile in the company being promoted through social media without consequence or even a public apology, they see it as an acceptable behavior within the company, and often view it as an encouraged opportunity at self promotion. It should never be acceptable for a company to allow their employees to develop a culture where sexual harassment, racial prejudices, or female discrimination are acceptable in the work place.

When two companies work together, it is not only money, but the relationships within those companies, that establish the value, length, and success of the partnerships. Feeling welcomed, respected, and having trust that the two companies are mutually beneficial and seeking the same goals is essential for any success in a long term commitment. While profitability is important it can not be the only factor when determining a merger of two companies because for what is a man profited, if he shall gain the whole world, and lose his own soul? or what shall a man give in exchange for his soul?

For me it is simple to see the things I value. I am a family girl from Brazil who is not impressed by the lights of the show and the sound of the radio. While I do place some value in money I also know the joys of working for a company that values respect, loyalty, and honesty amongst its associates and discourages a workplace where sexual harassment, racial prejudices, and discrimination against females fighters is acceptable promotion.

Love,
Cris Cyborg
Cyborg. Nation. Awesome.
Magana, for her part, is rolling with this.  She goaded Cyborg at the start, though I doubt she expected to get punched, and is now asking for a BJJ match between she and Lady Roid-borg.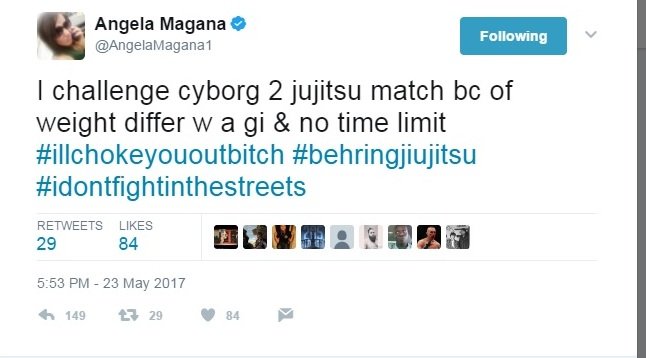 She's also been calling Cyborg on Cyborg's roid usage: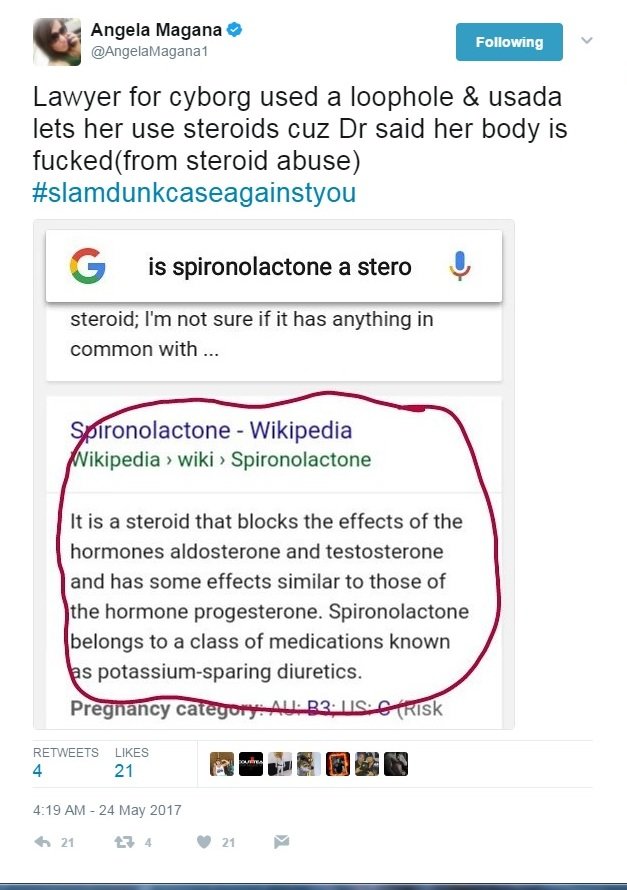 There was also an intimation that Cyborg used to be a dude: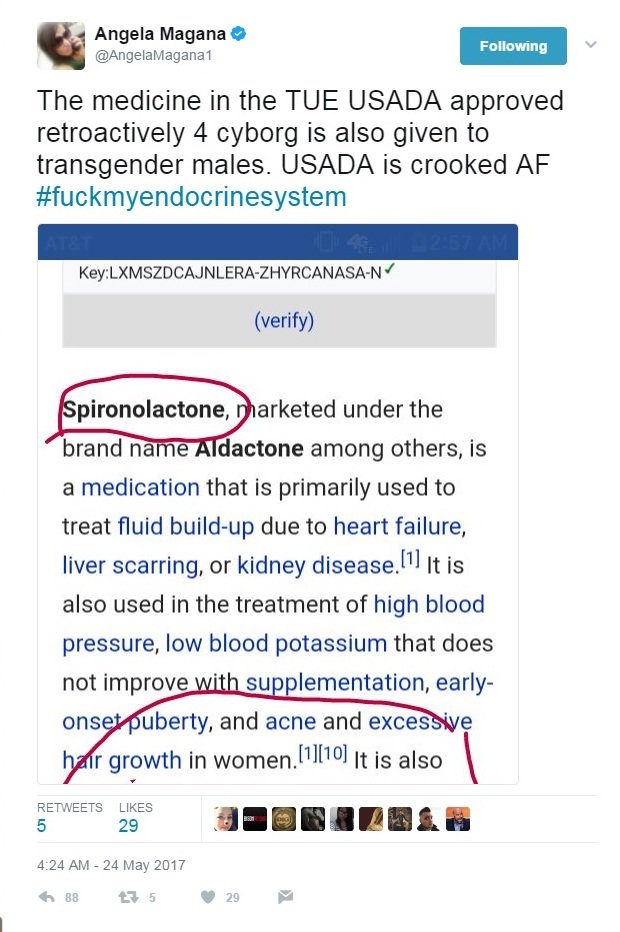 This lead to Gabi Garcia, who usually just beats up people who have never fought or really old people who have never fought, to challenge Magana.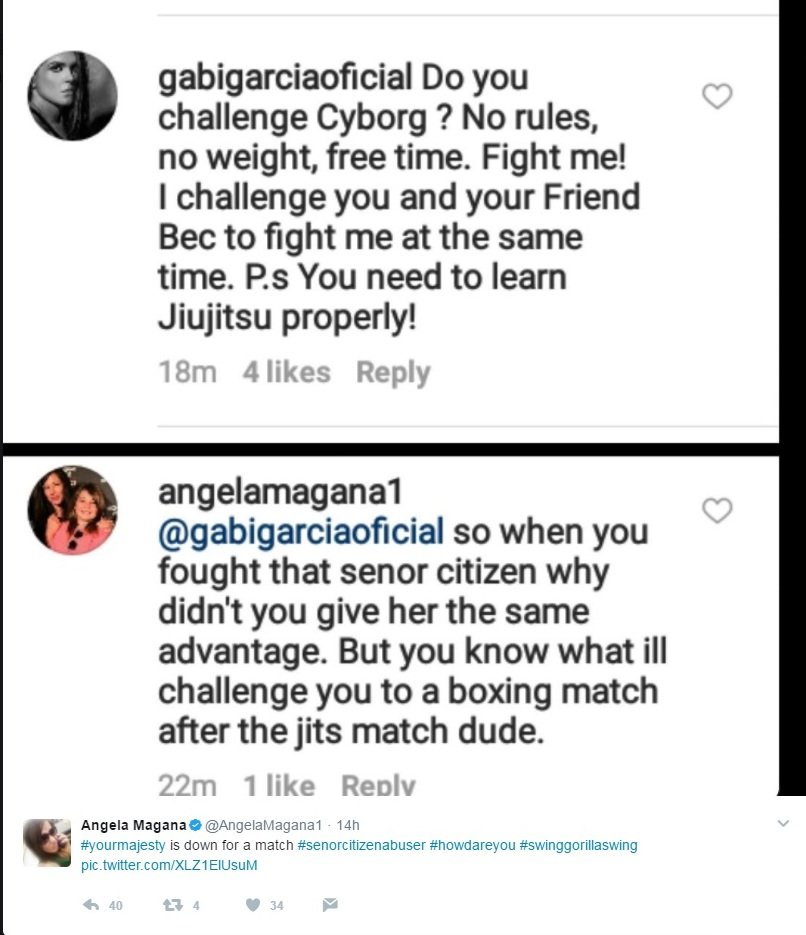 Magana is a legit quality troll and obviously knows what she's doing. (Well, to a point: I wouldn't wanna piss off a bunch of juice monkeys who could then hit me.)
Dana White says that the UFC is very concerned about the incident, blah blah blah.  Whatever, dude, you created ANOTHER fucking interim belt.  If you could, you'd book these two in a Street Fighting Interim Title Match.