The UFC has found (another) main event for UFC 213.
In a weird STUPID AS FUCK turn of events, the UFC announced they were (NOT) stripping Conor McGregor Michael Bisping of his UFC Featherweight Middleweight Championship. They then announced that the UFC 206 UFC 213 fight between Anthony Pettis and Max Holloway Yoel Romero and Robert Whittaker would be for the interim UFC Featherweight Middleweight Championship, replacing the cancelled main-event of Cormier vs. Johnson Dillashaw vs Garbrandt..
While I did not see an explicit mention that Jose Aldo is now the official UFC Featherweight Champion, it only stands to reason that is now the case.
While I did not see an explicit mention that Michael Bisping is still the official UFC Middleweight Champion, it only stands to reason that no one has a fucking clue but he obviously is because why not?
I doubt that McGregor Bisping is very happy about this news but it was also somewhat of a formality very expected decision in light of the company's fucking retarded approach to making fights. That all having been written, this is pretty fucking stupid. They're literally just admitting that they're creating a title simply so they can say they have a Championship fight. You do not have a Championship fight just because you call it a Championship fight.
This is perhaps the most egregious abuse of the term "interim champion" in MMA history (somehow trumping Holloway vs Pettis from last November). This serves to undermine the long-standing credibility of UFC championships. Between Jon Jones never losing his title, but then being stripped of a second title, the failed attempt at creating an interim LW belt, the previously stupid Holloway interim belt (which will be gone by the time this happens) and now this, there are a growing number of illegitimate champions within the UFC itself. This was an issue that pro wrestling and boxing always have had, not one that the UFC found burdensome. But it appears they are now setting fire to the very rope they climbed to success. The company better hope it can out-climb the flames.
Also: LOL.  ROBERT WHITTAKER!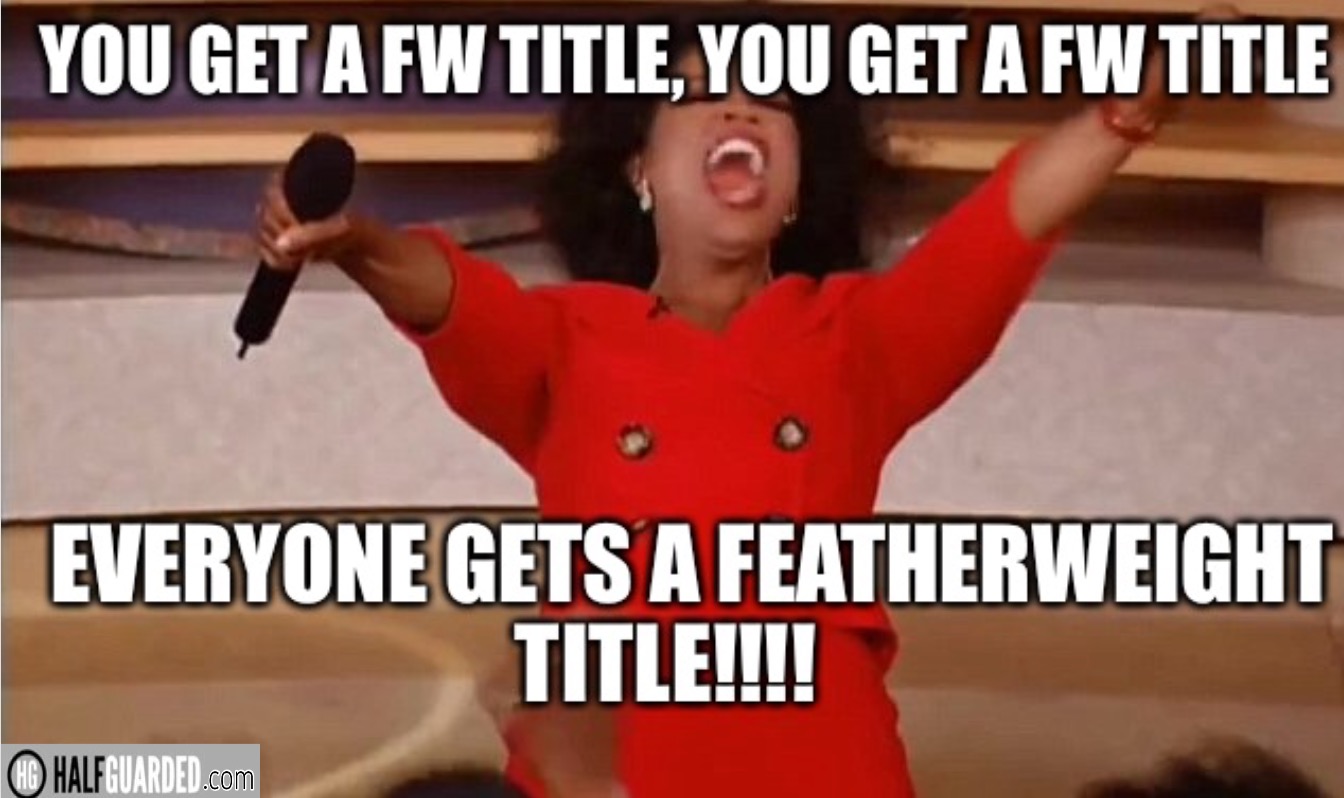 Recent UFC Title Fuckery
UFC 213 products you can actually buy!