WWE heads to the "Big Sleazy," San Antonio, Texas, for its most confusing pay per view of the year!
In years past, WWE fans could look forward to this event as one of the most intense, hard-hitting, action-packed wrestling shows. It has previously been full of blood, violence, and crazy stunts, so much so that the action needed to be "contained" in a Hell in a Cell cage! This year, in contrast, the WWE's most violent and chaotic show has been marred with confusion and very little violence. Will the fans show up and tune in to see how it all plays out? Most probably will watch out of pure habit, but early predictors indicate that this show lacks anything special, and will most likely be a slog to watch.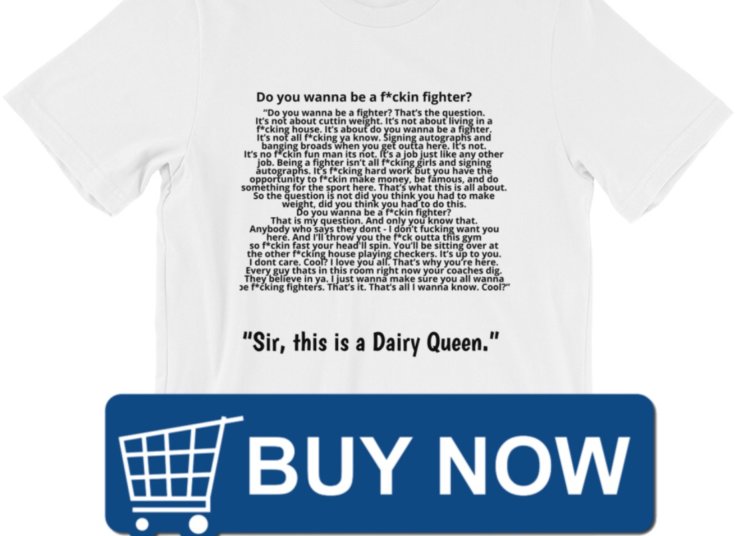 Don't worry, if you were afraid that the FOUR-HOUR pay-per-view time limitation would hinder the creativity of this show, you've got nothing to fear. The now TWO-HOUR preshow must be filled with at least SOME attempt at sports entertainment. WWE wisely decided that even with nine talking heads on the pre-show panel, the fans need at least a nibble of action. Rene Young can't be expected to carry King Booker and King Lawler for 120 straight minutes.
Smackdown Tag Team Championship: The New Day (c) vs. Rusev & Aiden English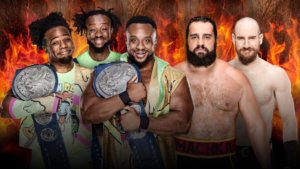 Is it good news that they're giving us a title match on the pre-show? That's open to interpretation. This match looks like it will be a ton of comedy spots. The New Day have added a trombone, cereal, and pancakes to their prop trunk. Maybe English can sing along to Xavier Woods' trombone version of taps, as the five of these men need to be thankful they are at least on TV and haven't had their careers entirely killed. Can you honestly think of a dumber tag team than a Bulgarian brute and an albino? I'm surprised they didn't give English Albania as a home country.
Peach's Pick: New Day
Raw Tag Team Championship: Dolph Ziggler & Drew McIntyre (c) vs. Seth Rollins & Dean Ambrose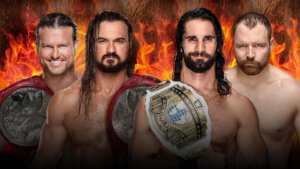 The show could very well end with a reuniting of the once popular trio the Shield, and perhaps it should, as it seems the only way the fans cheer Roman is when he's standing next to two shorter, greasier men. All three men holding titles as the show closes would be a great way to send the fans home happy, so they probably won't do that. Regardless, this match could have a lot of fun action, assuming McIntyre breaks his leg on the way to the ring. Hey, I can say that. I have a broken leg.
Peach's Pick: Rollins & Ambrose
Daniel Bryan & Brie Bella vs. The Miz & Maryse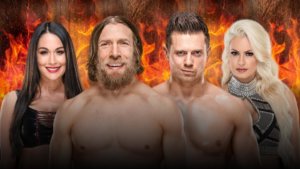 It's always interesting to watch how WWE plans these inter-gender matches since man-on-woman violence is not allowed. Miz and Maryse should get the win here to keep the story going. There's so much potential wife comedy in this match but we likely won't get any of it because it would probably come off as sexist, and WWE is terrified of coming off as anything but inclusive and homogenous… except for the time Jeff Jarrett hit Chyna with a vacuum in a good housekeeping match.
Peach's Pick: The Miz & Maryse
Smackdown Women's Championship: Charlotte Flair (c) vs. Becky Lynch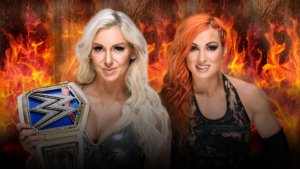 Welcome to confusion in a cell. A month ago, then champion Carmella was in a three-way title match against Flair and Lynch. Carmella was the heel going against two baby faces. Flair stole the pin from Lynch in an outwardly heel manner. Then on Smackdown, in a heel retaliation move, Lynch beat Flair's ass, laid her out, and then talked trash on the crowd. However, according to WWE, Lynch is a BABYFACE and Flair is the HEEL! Personally, I can't stand Lynch so she'll always be a heel to me. I don't know what steampunk means or what she's trying to be. She's like a bad Sega villain with orange hair… Where is Carmella in all this? Good question.
Peach's Pick: Charlotte Flair
Hell in a Cell: Jeff Hardy vs. Randy Orton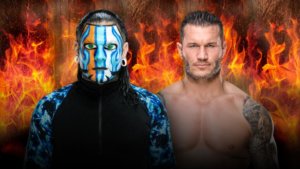 In another confusing plot twist, two months ago, Orton just decided to start acting like a dick, in the storyline. He came out and beat up Jeff Hardy for no reason. Then on Smackdown, he claimed that he did so because he's tired of all the young guys not thinking he works hard and is coasting on his good looks and millions of dollars. He said that he's the legacy, he's the man with the lineage, and he's been holding down the locker room for almost 20 years, and they'd better respect him. Unfortunately, he chose to pick on literally the ONLY guy on Smackdown who's actually been there longer. For real, he could have beaten up ANYONE else and this would have made sense. Oh, and it's in a Hell in a Cell cage so that Hardy can try and die.
Peach's Pick: Randy Orton
Raw Women's Championship: Ronda Rousey (c) vs. Alex Bliss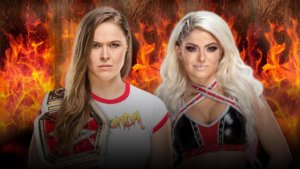 This will be a real test for Ronda. She did not look good on Raw last week in an angle where all she really had to do was sell. While everyone seems to be high on her selling, in my opinion, that's the one thing she should NOT be doing! Why isn't she destroying chicken heads in under a minute with an armbar? That's what made her! If they keep just using her like a regular roster woman, then that's what they'll get. Bliss is great but she's too small to pose a credible threat to Rousey. Hopefully, they keep it short and Rousey wins clean.
Peach's Pick: Ronda Rousey
WWE World Championship: A.J. Styles (c) vs. Samoa Joe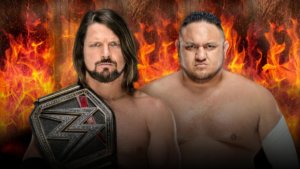 Why isn't this match in a cage? Because they're treating it like a children's bedtime story, literally. They had Joe read a bedtime story to A.J. on Smackdown. Luckily, he's Joe and pulled it off, but that's not the brutal suplex monster we want to see! Hey WWE, watch ROH book Jeff Cobb. Do that. Winner. It's probably time for Styles to drop the belt, but since he's the champion on the cover of WWE 2K19, and that doesn't come out until October… ya. That's how they book.
Peach's Pick: A.J. Styles
Universal Championship: Roman Reigns (c) vs. Braun Strowman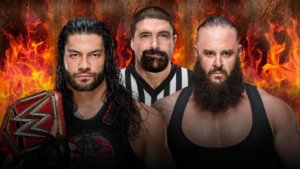 Talk about making a guy into just a guy. They've done that with Strowman… "Hey, he's getting over as a monster heel… let's turn him… Now he's getting over as a babyface… let's turn him…" GODDAMNIT! Quit trying to swerve us! We want to watch Strowman toss dudes around and be an unstoppable monster! Quit making him a human just to try and get the response you want for Reigns! We don't want Reigns! Get rid of Reigns! It's failed! Sorry, Vince, not everything you want to happen works out the way you planned! Accept your loss.
The wild card here is Mick Foley who is the special guest referee. Rumor is that Foley isn't allowed to take any bumps so don't expect a cage dive. However, I predict he does get involved in the finish and costs Strowman the win in an attempt to give Reigns the rub from Foley, which won't work.
Peach's Pick: Roman Reigns
As mentioned earlier, I recently had my tibia and fibula snapped in a BJJ tournament. The video isn't that gross but still view with caution. If you'd like to contribute to my gofundme I would really appreciate it as I'm currently on medical leave without pay for the next 4 weeks.
Please check out my comedy podcast, the Comedy Suplex Podcart, on ComedySuplex.XYZ and subscribe on iTunes.
Please follow me on social media: @ComedySuplex & @PeachMachine & @TheViggity & @GrapplingC
I also host two other shows, A Grappling Cooperative, & PeachMachine's Parade which can be heard on Anchor FM or on Stitcher.