This photo is why Nate Diaz is awesome. It is everything that makes a Diaz Brother great.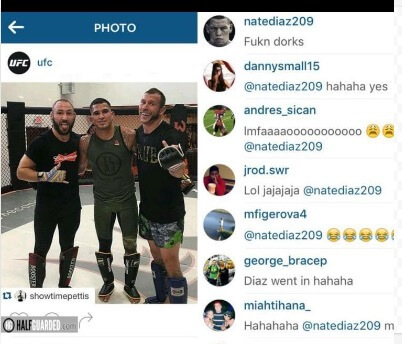 Look at it. The dude is sitting around at home, probably smoking weed, scrolling through Instagram, and decides to troll Cerrone and Pettis. Who does that? It's something fans do, because they're bored, but there's Nate, calling them "fucking dorks." He's not even fighting either of them, at least not anytime soon. This isn't to build a fight. This is just Full Diaz 24/7.
What makes it even better is that it's not like he posted his own picture, or tweet, or whatever to do this. He just casually comments on their picture, again like any regular person would. Conor has talked his way into the hearts of many but it's shit like this that makes Nate a legend in his own time.
I can't wait for UFC 200.