I've grown used to the fact that I've never really fitted in with the crowd. Take my opinions on movies where my tastes sometimes are often totally left field to everyone else. I seem to be alone in thinking that the sprawling epic Wyatt Earp was a way better film than the popcorn friendly Tombstone. I personally list Thunderball as one of my favourite James Bond films while most Bond fans consider it one of the worst. And don't get me started on those universally loved dreary films Brief Encounter and Bridge over the River Kwai.
Normally I just put it all down to personal taste, but recently I've become aware that a long held opinion I have on a certain 80's Cold War paranoia film is so out of touch with movie fans across the internet (especially amongst my facebook friends) that it absolutely boggles my mind. For it seems that while I consider Rocky IV to be not only the worst in a franchise that I absolutely love but also one of the tackiest, most embarrassingly made movies ever made, many people willing look past or don't recognise it's massive shortcomings and class it as their favourite Rocky movie.
While I don't expect to change a single mind here ("If I can Change, and he can Change, and you can Change and she can change and we can change urgggggggh") I feel compelled to express my own thoughts on the movie, something that recently caused the biggest reaction on my facebook wall since the time I dared to post a dissenting opinion on a Michael Moore fan page.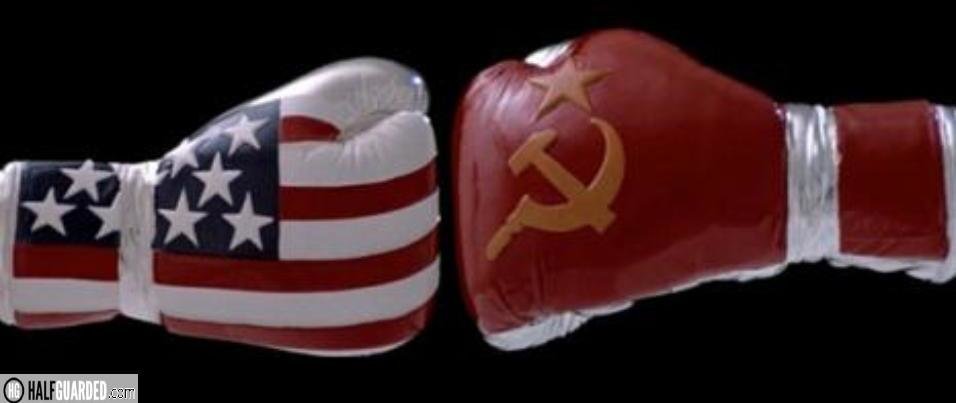 I love the first Rocky film. I think Rocky II is a magnificent follow up. Rocky III I think was a dip and the franchise started to descend into an obvious formula but still had a lot to enjoy with the emphasis on Rocky's internal conflict as much as his feud with Clubber Lang (still a wonderful bad guy).
Then came Rocky IV and by this point the formula had taken such a hold that it was almost exactly the same film as Rocky III.
Really it is the same film, just take a look at these plot points.
Rocky III: A seemingly indestructible street tough fighter comes onto the scene to fight a good guy.
Rocky IV: A seemingly indestructible Russian fighter comes onto the scene to fight a good guy.
Rocky III: There's a fight early in the film where the street tough beats the good guy in the second round and Mickey dies which makes Rocky sad.
Rocky IV: There's a fight early in the film where the Russian beats the good guy in the second round and Apollo dies which makes Rocky sad.
Rocky III: Rocky has to the prepare for his fight with the street tough by training in a tough street gym.
Rocky IV: Rocky has to prepare to fight the Russian by training in Russia.
Rocky III: Rocky is all sad and training is going lousy until Adrian yells at him to stop being a bitch and training suddenly goes better.
Rocky IV: Rocky isn't happy until Adrian arrives in Russia to give her blessing and training goes better because of it.
Rocky III: Rocky beats the street tough at the end of the film.
Rocky IV: Rocky beats the Russian at the end of the film.
Literally the same plot, except Rocky IV has a distinct lack of any kind of story driving it. At least in Rocky III during the training heavy second act of the film we have Rocky's personal drama of struggling to regain his confidence and the fire that the comforts of celebrity and wealth have robbed him of. The much derided Rocky V has the conflict between Rocky and his son who he's lost touch with as well as Tommy Gunn seduced from the path of integrity towards the money and fame of the dark side of professional sport. These are human issues necessary in any drama especially a film like Rocky because without it we're basically just watching boxers training and fighting. When they only relationship development in a film is Paulie getting it on with a robot you got problems.
ROCKY IV SUCKS: And the plot is….?
What exactly is the story and motivation that drives Rocky IV? A revenge movie? Revenge exactly for what? Yes his friend died tragically at Drago's hands, but in a sanctioned sporting contest. It's not as if the Russians resorted to dangerous and illegal tactics that resulted in the tragic outcome like taking the padding out of his gloves (which actually happened which tragic results in the real life 1983 fight between Billy Collins Jnr and Luis Resto). He may have been a dick for his "If he dies, he dies!" comment, but maybe he was just selling a potential rematch. Frankly if Rocky wanted to avenge Drago's death he should go after that dumb ass referee for not stopping the fight a hell of a lot sooner.
There is a massive gap in the story telling department in Rocky IV which leads to absolutely nothing happening between Apollo's fight with Drago and Rocky's own fight with the Russian. There's hardly any character moments between those two fights and a severe absence of dialogue as all we get is training, training, training and montage, lots of montage.
You see Rocky IV is barely even a film, it's more a collection of music videos which when I point this out to people they usually respond with "Yeah, but that's what makes it great, those videos are awesome!"
Yes, the soundtrack to Rocky IV is indeed brilliant! I have a Rocky compilation on my ipod and the Rocky IV portion is my most listened to section I'm sure. But seriously these songs are played in their entirety during the film, even the biggest fan of the music has to admit that is slightly excessive. There are four video montages in Rocky IV, five if you include James Brown performing Living in America during Creed's entrance (which admittedly is great). There are 18 minutes (yeah I counted) of straight music video in the film which runs (if you take out the closing credits and the three and half minutes of Rocky III footage at the opening) for only around 80 minutes. Almost a quarter of the film is given to music, that's a hefty chunk.
Especially baffling is the inclusion of the entire song of "There's no easy way out" while showing a glum Stallone driving while recalling moments from the previous three films and footage from IV that we've seen only minutes before. It's a mess of split second moments randomly fired at the audience with no distinct order or narrative reasoning. It's switches from the Drago Apollo fight to Rocky III training to his first date to Adrian, to Clubber Lang, back to Spider Rico, forward to his wedding, Mickey dying then back again to the Drago fight and back and forth for the whole song. Also Rocky is not wearing a seatbelt and is clearly not watching the road while driving his powerful sports car.
Of course it's a Rocky film, so you have to have a training montage. But in this film you get two, right on top of one another. One ends and less than a minute and a half later (again I timed it) another one begins. It feels like filler or it could be the idea that every sequel must do things bigger than the last.
Speaking of getting bigger the traditional Rocky running scene takes things to a ludicrous level. In Rocky we saw him run solo, this expanded to Rocky running with every kid in Philadelphia and in Rocky III we see Balboa fulfil his curiosity about inter-racial homoeroticism on a beach. Now in Rocky IV we see Rocky run up a mountain, that's right an actual fucking mountain. Not a hill, an actual fucking mountain. I mean, I realise it's a film and it doesn't have to be taken 100% realistic, but look at that fucking mountain, there is no way someone could get up that thing without mountain gear let alone run up it. It's an over the top skit worthy of Mr Perfect in 1989 "And Ivan Drago, you can't do that!"
Naturally there's the big fight held in front of a partisan Soviet crowd and a rather retarded looking Mikhail Gorbachev. It's an all action slugfest which if it was real we'd all be losing our shit over and some people have called this the best fight scene in film history. Such a proclamation, follows the same logic as those who claim the light sabre battles in the Star Wars prequels are superior to those in the original trilogy due to them being faster, longer and with more fancy acrobatics. Well as any wrestling fan will tell you, moves alone don't make a great match, heart and psychology do.
As blistering and relentless as the fight may be it suffers the same problem as with the story of the film, there's no real narrative or drama, it's essentially just two guys trading big blows accompanied by the same style of footage and music throughout.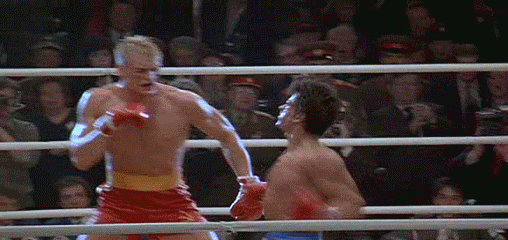 The first film has a wonderful story of Rocky simply aiming to make his mark by being the first man to last the distance with Creed. It's an inspiring display of underdog courage as Rocky refuses to quit in the face of a superior opponent and in the end exceeds his own goals by having Creed on the ropes at the final bell after delivering the same punishing body blows he displayed while training on the meat carcass earlier (see good storytelling, if you're going to blow up a shark with an oxygen tank you introduce it earlier in the film).
The fight in Rocky II too is great, a real work of art. Rocky has to survive the relentless assault of Creed who has a renewed focus and by the way Carl Weathers is simply terrific in mimicking Muhammed Ali. Throughout. Rocky is losing and outclassed but manages to get brief fluries of offence to keep himself in the fight until a punishing back and forth final round. The dramatic use of music is outstanding, switching constantly to match the turns in tide of the fight, along with the commentary and the use of closeups, slow motion, crowd shots and point of views. Every aspect of cinematic technique is utilised to successfully convey the exhausting drama that is unfolding and as a viewer you cannot help but get drawn in.
And holy fucking shit that ending!!!! Both Rocky and Creed falling in slow motion to the canvas together and struggling in to rise to their feet to beat the count, while the scene jumps from Mickey, Duke, Apollo's wife and Adrian and Paulie at home all screaming for them to get up. It's breathtakingly gripping and drains you as a spectator in a way for me the Rocky IV just does not match.
The fight in Rocky III adopts a crude version of "rope a dope" to tell a satisfying story of Rocky outsmarting his physically superior opponent and having to fight through a severe beating to do so. By comparison the fight in Rocky IV is simply non stop fairly even brawling until one man finally goes down. It's an enjoyable fight between the two baby oiled fighters, but the best greatest fight in cinema history? No way! I don't think it's near the best fight in Rocky history. Even the traditional Rocky fight celebratory theme music seems rushed as if they've trying to wrap things up fast.
Of course at the end there is the "We can change" speech which is supposed to add some morality and food for thought amongst all the jingoistic US vs Red nonsense. It didn't change Stallone though as he still went on to make the Red baiting film Rambo III a few years later.
So what have we learnt from all this? What can we gather from this epic rant? Is it that we should look at films from a more critical analytical point of view? Or should we accept that a quality of a film is a pure matter of subjective taste? Dunno….maybe I should learn to let things lie? Or maybe I need to get some hits on this page and thought trashing a Rocky film the week after that Creed gets released may help me do that?
Ah suckers!!!!
But seriously I do think Rocky IV is a bad film.
Anyway I'm going to watch a truly classic film now, the 1986 animated Transformers Movie. It's got a fight at the start with Optimus Prime and Megatron where Optimus Prime dies and a sad Hotrod goes after Megatron for revenge and beats him at the end. The soundtrack is awesome and they play some of the songs all the way through, it's great like a collection of music videos…oh bugger.
Dazza