It's with a heavy heart that I bid farewell to the 70's, probably my favourite decade for movies. Ten years that redefined films, with a gritty, rebellious creative drive and with the emergence of the blockbuster movie event.
We've so many great, iconic movies to cover in my three choice format (plus one way out moment of zen), it's understandable if I've neglected lately to throw in the lesser known cult type movies. This is something I can rectify now with a little known, almost underground hit that was notorious for the first video rental generation.
Couchzone readers, I give to you…….
King Frat
In a year that gave us Life of Brian, Apocalypse Now and Alien I can't believe that I'm going to instead talk about King Frat. But in many ways this movie was a landmark in my own movie watching life, as it was the first all out "Adult" movie I convinced my parents to let me watch.
When I was a kid, still at Junior School there were a number of films that had an almost mythic status on the school playground. Most of them were of the teen sex comedies variety, such as Animal House and Porkies. Yet at least in the school I went to, the gross out and sex craved antics of the horny youths in those movies were overshadowed by a low budget and rushed ripoff of Animal House that found a home in the grimy video stores of the 80's.
King Frat is an unashamed copy of Animal House, lifting its plot of a out of control College Fraternity made up of misfits and losers whose gross out partying puts them at war with a snobbish rival, rich kids college house and a Dean intent on driving them off campus. It has neither the cast or great writing of Animal House, however King Frat had two things that captured the imagination of my school mates that put it over the John Landis classic in terms of being must see.
First of all King Frat had  an opening where the boisterous members of Pi Kappa Delta fraternity drive down the street, mooning passers by (accompanied by the theme music of King Fraaaaaaaaaaaat, that is etched in my mind even today). Second and most importantly, King Frat  had a farting contest with contestants lining up to break wind into a fartometor (I guess) to determine who could give the biggest fart. Bare arses and farting, two things guaranteed to have twelve year olds in hysterics.
This film was legendary at the school I went to (ironically a religious themed school called Holy Cross) with almost everyone I knew raving about those two hilarious scenes. Naturally I became desperate to see this film,  feeling I was missing out on this rites of passage classic. Every visit to the video rental shop with my parents it would be there on the shelve like the Holy Grail wrapped up in a laughingly cheap sleeve, frustratingly denied me time and again as I  was forced to take home Blackbeard's Ghost or yet another Smoky and the Bandit style car chase movie.
I begged and pleaded my case to my parents, how every one at school had seen it and how I was left out by not having watched it. Quite why they finally relented I have no idea (maybe in their minds at least I wasn't begging to see video nasties), but give in they did and one Saturday afternoon I sat down to watch King Frat. Finally I would witness the spectacle of bare arses sticking out of a car window and people trumping into a fart measuring device.
It lived up to every expectation I had and more.
Make no mistake, King Frat is juvenile and over the top gross and incredibly cheaply made. if I watched it now I'd recognise it for the cringeworthy crap that it is, but as a kid I found it hysterical. I remember howling with laughter in one moment during the Farting contest when an unsuspecting dog drinks a laxative concoction intended for our leadguy JJ Grombroski to help his farting and sends the poor animal flying into the air with uncontrollable flatulence.   Grombroski by the way is played by John Disanti who went on to be come a television veteran and in an example of sheer memory playing tricks for years I mixed him up with John Belushi, being such a ripoff of the Animal House Bluto character was JJ.
Being so cheap, King Frat has a very grimy feel and look to it, which actually helps with the tone of the film. The dirty, crumbling dive that the slobbish Frats live in feels really authentically disgusting because of the rough texture of the film. It even kind of adds a weird low budget charm to the film. The humour is coarse and over the top, but delivers on the crude wildness that the genre always promised.
I loved the film as a kid, but was slightly bemused that all the talk I'd heard was of the farting contest. Because there was one other scene that I found far more hilarious and way more jaw dropping. It involves an ambulance scene where one of the Frats has been knocked outwhile wearing a gorilla suit out after falling out of a try while spying on a hot girl getting changed. The girl in question takes pity on the guy and shares his ambulance ride, while wearing a nightgown and seemingly nothing else.
Let's just say a very fast ride to the hospital throws the young lady around and she ends up thrown onto the gorilla suited fratboy and they kinda get "stuck" in a compromising position. This leads to a shot of the two being rushed through the hospital, her riding on top with a bag over her head.
Poor taste? Yes, but I found this hysterically, especially when an old woman berates the couple's friends as "you young uns, fuck everything in sight!"
Amazingly when I went to school next and I enthusiastically brought up the film having now seen it, when I talked about the Gorilla suit scene which I thought was the highlight of the film I got a weird muted response. Likewise any moment I talked about that wasn't mooning or fart contests was received with a strange, evasive, blank reaction.
This mystery was solved when my mum and dad attended a school parents evening when it turned out according to the mums and dads they mingled with, that  all those kids who claimed to have seen King Frat that I claimed I was ostracised from for not seeing it, in fact hadn't been allowed to actually see it. Making me possibly the only kid in my class who had actually legitimately watched King Frat.
So what was the point of all this? None really, it's just a bunch of stuff that happened.
But in many ways, I can't think of a film that better encapsulates the low rent feel and griminess of the early days of  video tape market than King Frat and it's cheap, independent rip off nature.
The Warriors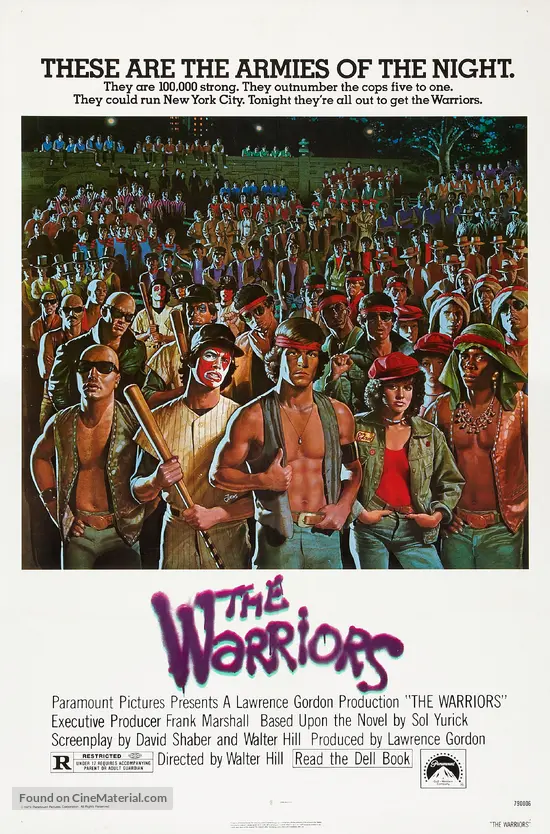 In my teens another film would take a hold in my mind with a mythic status, especially because I didn't know what it was called. In the mid 80's I took a brief interest in something called "Play by Mail". This was a crude precursor to online gaming, where you would take compete against other players in a game by mailing in your moves or actions and then been updated by mail with the results. One of the most popular was a game called "It's a crime" where you built up your own crew of streetfighters to commit crimes and battled other gangs to expand your turf. When reading a review of this it was likened to a 70's movie where "a streetgang have to battle their way across rival territories to get home".
It was many years before I discovered the film in question was called The Warriors and I finally got to see it one night on the Sky Satellite network. The assumptions about the film were  totally subverted, as I expected a gritty, violent realistic take on gang violence but instead found the film to have an almost comic book vibe , with the various gangs having gimmicks and images that were almost pro wrestling in their colourfulness. Nonetheless, I loved it, probably even more because of these reasons.
The Warriors are a streetgang from Coney Island who attend a massive meeting of all the gangs of New York, organised by "Cyrus" leader of the Riffs who wants to bring all the gangs together in an alliance to rule the city. After delivering a speech Cyrus is shot by the out of control leader of a gang called "The Rogues" who then put the blame on the Warriors. The leader of the Warriors is killed and the rest barely escape the meeting and have to make their way across the city and hostile territories, battling an assortment of gangs hunting them while saddled with a gang groupie.
The Warriors is in many ways a strange movie. From the synopsis and the film poster you would probably expect a realistic, violent and grim film. But such a assumption would better apply to the 1965 novel by Sol Yurick the film is based on, which is decidedly more hard hitting and disturbing, featuring a different gang (called The Dominators despite the novel still been called The Warriors) who indulge in random acts of violence, murder and rape as they make their way home. The Warriors in the movie, while still a gang are much more sympathetic, they're hunted for something they didn't do and aren't seen to attack innocents and only engage in violence to protect themselves (aside from the gang's resident arsehole Ajax who ends up arrested when trying to get rough with a woman who turns out to be an undercover policewoman).
There's almost a 70's disco vibe to The Warriors. All the gangs have their own individual themed matching outfits. In the opening we see an assortment of gangs making their way to the meeting via the subway (politely paying their way through the turnstyles) with outfits such as bright yellow jackets, black tanktops, purple waistcoats and fedoras and bizarrely a gang made up of mimes and the iconic baseball team gang. Later we see a gang with a skinhead gimmick, which feels odd with it including black members.
The Warriors themselves have their own gimmicks and traits. Swan is the responsible if reluctant leader, Vermin the heavy, Rembrandt so called as he's the graffiti artist, Ajax the loudmouth obsessed with scoring women, Coche has Native American feathers in his hair, Cowboy wears a cowboy hat, you get the picture. We even get a female companion in Mercy, played by fabulously as a wise ass, tough girl by Deborah Van Valkenburgh and her chemistry with Swan is off the charts. The group are almost like an ensemble of warriors from a fantasy game on a quest to get home.
The brawls between the gangs is also far from realistic, with the gang members throwing jumping style kung fu moves at each other. At times it even starts to feel campy, especially with the battle with the Baseball Furies and when several of the members are tricked into an ambush by the all female gang "The Lizzies." All this makes the film more enjoyable and fun and led to it's cult status.
What was very real however was the trouble that followed The Warriors during production and it's cinema run. Actually filmed on location in New York at night, some of the scenes saw cast and crew facing the threat of actual violence. Sometimes gang hoods turned up on set challenging the actors to fights and occasionally the crew would have to stop filming in neighbourhoods where real crimes were going on.
Worse followed on the release of the film. The Warriors attracted real gangs to theatres and brawls would break out between rival factions. Three deaths were attributed to showings of the film and studio Paramount offered to cover the costs of extra security for theatres and gave permission for showings to be cancelled.
Despite the trouble, The Warriors did well at the box office taking in 22 million against a budget of 4 million. It fared less well with critics who found the light and theatrical tone of the film a weird mix with it's street gang basis. Still the film gained a cult following, the costumes succeeding in making the film memorably iconic visually. It's also a beautiful looking film, the colourful palette of visuals contrasting with the jet black night background. There's also something haunting of the Warriors transversing the desolate streets at night.
This is also some memorable and quotable lines from the movie. Cyrus during his  preacher style speech waves his hands apart and yells "Can you Diggggggggggg it??" There's also Luther, leader of the Rogues, clanging small empty bottles together while sinisterly calling out "Warrrrrriors, come out to playyyyyyyyyy!" Also worth a mention is the DJ who's radio show is used to organise the hunt for the Warriors and update the other gangs on their progress, aptly playing "Nowhere to Run to," as a dedication to the Warriors.
One of my favourite scenes in the films is also quite touching. It sees Swan and Mercy battered, bruised and dirty from battling and being pursued all night, finding themselves sat across from two well dressed, rich couples. It's a tense, nervous scene, with the rich kids obviously scared, as they look at each other in silence. Mercy watches them with a real sadness in her eyes has a mixture of  envy for their carefree lives and shame at her own bedraggled appearance. At one moment she self consciously goes to fix her hair and Swan gently stops her as if to tell her she looks fine and doesn't need to. The scene ends with the couples getting off at the next stop, while one of the women drops her Corsage which Swan picks up and gives it to Mercy.
Despite the comic book style image, The Warriors does have a edgy subversive vibe. The Warriors are anti heroes, ones that the audience follows and roots for. The drama of the film comes in hoping for the gangs survival, as opposed to the destruction of the gang like in many other films where gangs are the villains. Also the warriors in winning out in the end, cement their status as a worthy gang. This isn't a redemption story where The Warriors turn their back on violence and start a new life (which ironically happens to a few characters in the grittier novel), or come to a bloody end in a crime doesn't pay trope, they instead walk off towards the sun (to the sounds of "In the City") happy and proud to be a gang.
The Warriors is great fun and one of the most curious cult movies of the 70's.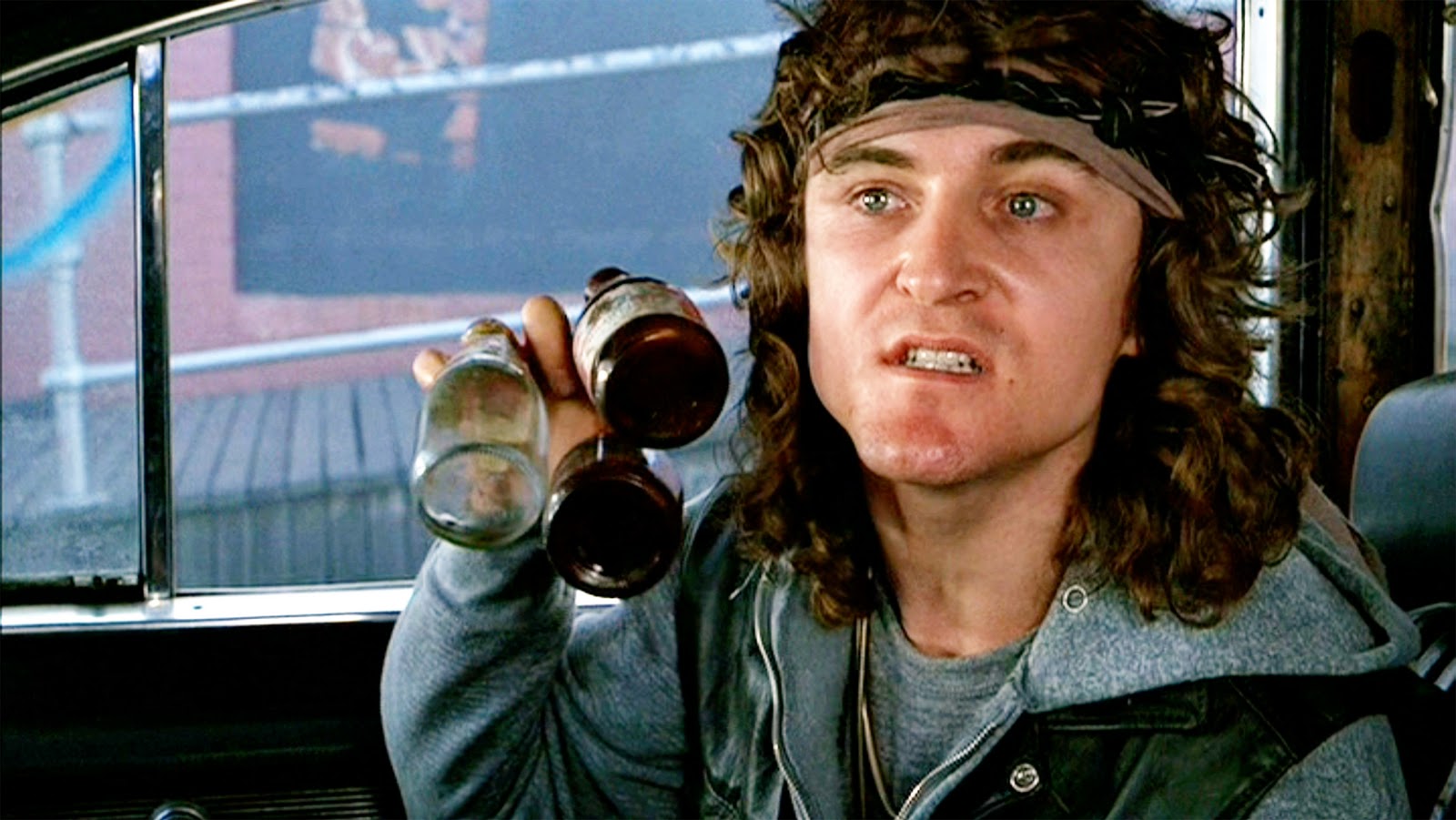 Rocky II
It's a very lazy conceit that sequels are never as good as the original film. Admittedly good as or better sequels are in the minority, but they do exist when film makers manage to tell a story that is a natural continuation of the first film as opposed to just creating a contrived reason to revisit the original concept but this time bigger.
A much underappreciated sequel I feel is Rocky II which I think is as good as the original and fits so seamlessly with the first  that the two movies can be watched back to back to make a whole better than any two movies I can think of.
It helps that Rocky II starts immediately after the first film, following the ambulances that Rocky and Apollo Creed are in after the gruelling fight of the first one. When we finish the first film Rocky has seemingly completed his hero's journey, he's finally made his mark on the world by going the distance with Creed and has won the love of his life Adrian. But that glory and high in Rocky's life is fleeting as he and his now pregnant wife  struggle to make a life for themselves. The money from the first fight runs out quick and it's completely in character that the good hearted but naive Rocky without boxing (he retires on the advice of Doctors due to an eye injury), painfully fails at every attempt to make a living. There's hardly any of the  boxing world in the first half of the film, aside from Rocky volunteering to help out at Mickey's gym as it's the only place he feels he belongs. It's an entire hour before the rematch is actually decided on as we concentrate instead on the lives of those who it will effect.
In between Rocky and Adrian's struggle we have Apollo Creed who has become obsessed with Rocky feeling the fight going the distance has ruined his legacy and he needs to beat him soundly in a second fight. It's a transition from the first film where Rocky was the charismatic and friendly figure motivated by show and spectacle, now he has a mean, angry streak and his taunting and harassment put him into a role of villain and unlike in the original this fight is as much about his quest as Rockys.
It's the emotional edge and character development that drives the build up to the rematch. Apollo obviously motivated for what he sees as revenge tears through sparring partners. However training goes badly for Rocky, as the drive he had in the original is gone as his motivation in life Adrian can't give her approval as she loves the man and not the fighter and fears he could go blind in the fight. Rocky's turmoil, distracted by the knowledge that the fight is hurting Adrian, and the devastation that rocks his life when she almost loses their baby and slips into a coma  is the human story that a certain later movie in the franchise would be so lacking.
Likewise the training montage in Rocky II serve a narrative purpose. They are not just the fetishistic training shots we'd see in a later instalment. Now with Adrian wanting Rocky to "Win" (in a corny but brilliant crowd pleasing moment) With the inspiring music, Rocky succeeds in everything that he was shown to fail in earlier, skipping the rope hitting the punch bag and catching the damn chicken, the montage is a triumphant cry that Rocky has put his doubts and problems to rest as Rocky is ready and the journey settled so we can sit back and  root for him in the big fight.
And what a fight it is.
In my mind he fight in Rocky II is one of the greatest fights in movie history and definitely the best in the Rocky series (honestly it's miles better than the slug trading we get in the later cold war clash ). It's a thrilling encounter, fifteen minutes of the most incredible emotional build that even though you know what the outcome must be has audiences on the edge of their seat. A good deal of this drama is the Creed vs Rocky dynamic and owes much to the work of Carl Weathers as Apollo who as well as playing the snarling, vindictive heel so well is an obviously gifted athlete (just watch the race between him and Stallone in Rocky III where Sly's head is all over the place and Weathers is solid as a rock) and he's able to portray the fast, dancing, skilled, flamboyant boxer so effortlessly and provides the contrast against the brawling but gutsy Rocky, who's heart outweighs his boxing skill.
The fight makes use of every cinematic trick to raise the big fight atmosphere. From the traditionally rousing score and rapid editing to convey the pace of the fight, while flashing from crowd shots, to the fighter's corners to Adrian and Paulie watching from home (a decision that works well and actually produced by necessity due to Talia Shire being unavailable during the arena fight shoot) but also Apollo's wife in the audience.
The drama is heightened by the also excellent work of the commentary team by real life announcers Brent Musburger and Stu Nahan who become virtually narrators to the fight. It's a war where Rocky is taking a beating for much of it, the first two rounds are without music as Rocky is destoyed and  mocked by a showboating Apollo and repeatedly finds himself on the canvas. When a fired up Rocky manages to fight his way back and the second round ends in a slugfest, that is the moment when the music first hits, with a foreboding, dramatic beat as the two fighters are held apart by their corners. "Everybody get ready for world war Three!" announces commentator Nahan as the music gives way to a fast paced tempo.
There's one point in the fight (round 8) that director Stallone utilises every cinematic technique to draw the audience in. Rocky is taking shot after shot  from Apollo as the scene drops into slow motion with a slightly cloudy tone. As he's taunted Rocky comes forward and begins to swing with a series of bodyshots, as each one lands with a thunderous boom, the camera switched to Mickey also in slow motion yelling in triumph and to Apollo's trainer Duke screaming in horror (Duke incidentally delivers one of my favourite moments in the film earlier when he tries to convince Creed not to pursue a rematch as Rocky's relentless heart makes him dangerous).
The film snaps back out of slow motion with the bell to end the round, Creed holding onto Rocky for dear life, the score switching to a  triumphant trumpet call as Nahan announces Rocky must have won that round. With uplifting music we see a tearful, proud smile from Adrian at home while a close up of Apollo shows concern in his eyes for the first time flashing to a shot of his wife now worried for him. The pace of the score increases again almost rousing and cheering as Rocky goes on the offensive in the next round and the crowd goes ballistic until Apollo again gains the upper hand.
It's an amazing fight, fast paced, heart stopping and builds to an amazing conclusion. A final round with both standing exhausted and going toe to toe. Duke screaming and distraught, begging Apollo to stay away from Rocky and take the points win, Micky screaming for Rocky to come forward. And holy shit it all ends in that  moment when Apollo finally falls in an amazing slow motion spot but so does Rocky as the two crash to the canvas. The count goes on both as they both struggle to get to their feet, tugging at the ropes exhausted, while all their corners and families scream for them to get up. Then in one moment Apollo looks like he's going to make it, but with a glazed look in his eyes the energy just fades out of him and sinks back against the ropes, which draws a howl of despair from his wife at ringside.
When Rocky makes it to his feet with a second to spare it's one of the most feelgood, uplifting moments in movies. Everything explodes, the music, the crowd, the announcers, Adrian and Paulie at home and if you have a heart in you then also you the viewer. If you're not full of goosebumps and full utterly drained as if you'd watched a real boxing match the previous four hours viewing Rocky's story has been a waste. His win is an earned achievement and payoff and makes Rocky II a necessary and worthy sequel.
The sequels would come thick and fast but began to adopt a more pop culture tone and became bogged down with a formula approach. Rocky transformed from a pudgy underdog to a chiselled  physique warrior and seemingly dropping the uneducated personality the moment he moved into a mansion.
Rocky III was rushed out, which was fun as a popcorn flick but no longer had the edge of the first two films. Mr T made a great, if one dimensional snarling villain contender with Adrian having to talk to a under confident Rocky becoming a trope of the series. His eyesight threatening injury had cleared up now and Adrian really liked him fighting now it seems.
Rocky IV in 1985 trod the same path as Rocky III but with a cold war propaganda plot and I still maintain is a glorified collection on music videos. But I've made my feelings on this in a previous article on Halfguarded and for a lot of people it is their favourite.
Rocky V in 1990 attempted to return Rocky to his working class roots with him losing his fortune. The film is a mess, but at least does attempt to build an emotional story of Rocky training a young contender and failing to keep him from the an unscrupulous promoter and the more unsavoury side of the boxing business (something ignored in the previous films).
Stallone changed the planned ending of having Rocky die in Adrian's arms at the end of V, which was lucky as although the series seemed dead it incredibly made a comeback fifteen years later with Rocky Balboa. This film was excellent and the first since Rocky II to have the feel of the first one. This in turn led to a new franchise of  Creed, with Rocky mentoring Apollo's illegitimate son and shows a lot of promise so far.
If pushed I will rank Rocky II as my favourite of the series. But It fits so beautifully with the first that if I can I treat the two on equal footing and recommend them as being watched back to back as one epic four hour movie.
WTF
Buck Rogers the Movie
What are we doing TV shows now?
Well not exactly. Yes, this is the Buck Rogers of the 1979 television series with Gil Gerard as Buck, Erin Gray as the kickass pilot Colonel Wilma Deering, Pamela Hensley as the recurring sexy villain Princess Ardala and Mel Blanc voicing an annoying robot sidekick Twiki (actually this is revisionism as all the kids my aged loved Twiki and his bedebee voice).
However originally the idea was to make the adventures of the new Buck Rogers (who would prove to give Captain Kirk a run for hooking up with aliens every week and giving them a "Rogering" ha, I'm here all week ladies and Gentleman, or maybe he "Bucked" them, I don't know), into a series of TV movies. Since Glen Larson's previous Sci Fi epic "Battlestar Galactica" had enjoyed a good run at international cinemas by combining the first two episodes into a feature length release, it was decided to give the first Buck Rogers film a theatrical run.
The film did well and would be used as the pilot for the now weekly TV series.
The show was picked up by ITV in the UK who placed the series on the prestigious Saturday early evening spot (where it beat the BBC's Doctor Who in the ratings), never bothering with the feature length pilot and starting with the weekly show. Despite us missing the background and origin of Buck being frozen in space piloting a space shuttle and returning to a much changed Earth five centuries later, the show was a massive hit. The first season being a fun adventure romp for kids with decent special effects for the time. The second series sadly was absolute crap, changing the format to a Star Trek style exploration style story, taking out a lot of the space battles, reducing the kick ass and independently capable Wilma Deering to a feminine communications role, adding a bunch of annoying new characters and  worse of all to young audiences changing Twiki's voice  though it was changed back after a massive backlash. Restoring Twiki couldn't save the show and the muted season after eleven episodes was cancelled.
I was a big fan of the series as a kid and when my parents got us a betamax video system (stop giggling) I spied the movie on tape at our rental store and it was one of the first movies I rented. Little did I know what awaited me as I popped the tape into the top down loader.
The familiar Buck Rogers opening began, detailing how Buck was piloting the last of America's deep space probes in 1987 when a space storm sent him off course and froze his life support, sending him into suspended animation for 500 years. But then the music changes, a more disco poppy reworking of the familiar tune begins with for the first time ever actually lyrics. This was in itself surprising, but this is Buck Rogers "THE MOVIE" after all so as a viewer accepted a little bit more grandeur than the television show such as a more disco vibe to the Buck Rogers logo.
Then things got really weird.
As the credits begin we enter what appears to be the dreaming mind of Buck, which begins with him asleep on a 70's style dancefloor that spells out Buck Rogers. He's then awakened by the first of a bevy of young ladies, all wearing very tight silver outfits and cavorting on the floor in various sexy poses, which Buck upon awakening begins to have his pick and make out with.
But oh it got better. The camera pans across the body of a young lady laid on the floor wearing what I can only describe as a tiny space bikini, until we reach her face to reveal that OH MY GOD THAT'S PRINCESS ARDALA!!! Princess Ardala in a Goddamn space bikini!!!!!
But we weren't done, as the camera pans up for the next shot to reveal potential feminist icon Colonel Wilma Deering on her knees, pouting at the camera while wearing a silver basque like swimsuit. And in a totally unlike Deering move proceeds to throw her head back seductively, shake her hair and bite her lip right in the camera.
"What will I see in the 25th Century?" asks the singer. Well if Gil Gerad's wet dream is anything to go be a whole lot of space totty that's what.  The whole sequence starts to feel like a Benny Hill segment and It's very fucking weird. Click on the link below to see for yourself:
Buck Rogers The Movie does have an ever so slight more mature sensibility about it. We get gags from Twiki about freezing his Ball Bearings, Buck and Princess Ardala get hotter with each other more than in the TV series and Buck wins a fight with the Ardala's henchman Tigerman by kicking him in the bollocks and it seems shoving a bomb up his  arse (he must have survived the explosion as he became a semi regular on the show).
There is also a scene that disturbed me as a kid, where Buck returns to the ruined city where he lived and is stalked and attacked by the savage mutated  remnants of its population. Honestly it's creepy as hell, especially when they're banging their weapons against buildings to raise the alarm of intruders entering their territory.
The movie would eventually be shown on UK television which I copied onto betmax and remained so on one of my few actual video tapes for a long time. Sadly this was heavilly edited for broadcast television as the naughty opening was cut, as was Twiki's references to his balls and Buck kicking Tigerman between his legs (which made a weird ending to the fight).
In any case I have fond memories of the movie. It's action packed, has a decent story of Buck being framed as a traitor by Princess Ardala and the Draconians who are planning to invade Earth under the cover of helping Earth from attacks from pirates.
It also makes me lament for the lack of decent action TV series that are  available for children nowadays. It seems compulsory now for  Sci Fi shows in 21st century television to have a post 9/11 edge to them (or I guess Post Trump election win now), even the return of Star Trek seemed unaccessible  to younger viewers. Outside of the DC tv shows such as Flash, Supergirl and Legends of tomorrow there is not a lot to introduce young fans to straight forward science fiction action shows.
See you all next time as we embark on the ultra bright world of the 80s
Dazza