"Greatness" in the world of sports – no matter how you define it – is a temporary quality. Thanks to better training regiments and sports-medicine innovations, today's athletes are unquestionably the absolute best to ever play their respective games. They are stronger, faster, larger, generally healthier and more technical than anyone before them. In the 1980s, Washington Redskins offensive tackle Joe Jacoby was an anomaly, tipping the scales at a then-unheard of 305 pounds. Fast forward 30 years and the average weight of an NFL offensive lineman is now 310 pounds. Atlanta Falcons cornerback Robert Alford hit a League-best 22.6 mph in the 2015 regular season – by comparison, the top clocked speed of Olympian sprinter (and the individual routinely citied as "the world's fastest man") Usiah Bolt is 28 mph. Even players on the college level are more impressive physical specimens than the professional players of just 10 years ago. Take Baylor defensive lineman Andrew Billings, who could deadlift 700 pounds while he was still in high school.
As good as the best were, that inherent greatness is locked to that specific point in time. Even a lower-tier NFL squad from 2016 like the Jaguars could beat the '97 Packers, and the absolute worst professional team today – your pick, Cleveland or Tennessee – would no doubt crush any Super Bowl winning team from the 1970s and earlier. Even the alleged "all-time greatest" would probably get stomped in competition against today's premier players. Sorry, western Canada, but the '15-16 Blackhawks and Kings would cream any of Gretzky's championship Oilers teams and I have no doubt in my mind that if the '98 Bulls went toe-to-toe with the '15-16 Warriors, Spurs or even Clippers, MJ and company would get blown out of the building.
This is doubly, perhaps even triply, true in the world of MMA. As a sport that's contestably only a quarter-century old, the rapid evolution of the mixed martial artist is apparent. In five years' time we went from one-dimensional, single-discipline fighters like Royce Gracie and Dan Severn and bar room brawlers like Tank Abbot and Kimo Leopoldo to multifaceted holistic fighters like Tito Ortiz, Wanderlie Silva and Matt Hughes who could strike, grapple and submit equally well. Five years after that, we saw the emergence of the first wave of true Ultimate Fighters, the likes of Georges St-Pierre, BJ Penn and Urijah Faber, who could lay claim to being all-around extraordinary athletes in addition to being the most technically proficient fighters on the planet. And today, we're seeing the first generation of mixed martial artists – people like Ronda Rousey, Conor McGregor, Sage Northcutt, Jon Jones and Stephen Thompson – who have spent their whole lives training as fusion fighters, complete with the most advanced and comprehensive science-informed regiments as the backbone of their multidisciplinary approach.
Alas, as great as you may be, you always wind up replaced by somebody who is even better. This is something Anderson Silva and Michael Bisping can both attest to.
From 2007 until 2013 – an incredible six-year reign – Anderson Silva was considered far and away the best fighter on the planet. His incredible combination of speed, precision and legwork made him an undeniably entertaining champion, whose diverse skillset also made him nigh unbeatable – if not untouchable – in the Octagon. While not quite as gifted as Silva, Briton Michael Bisping was nonetheless one of the sport's top middleweights during The Spider's illustrious championship run – indeed, he may still lay claim to being the greatest English MMA fighter of all-time.
Over that six year period, it's no secret that Zuffa direly wanted Silva and Bisping to face one another. Just making a foothold in the lucrative U.K. market, a middleweight champion clash between the two would have done gangbusters, especially in jolly old England. Unfortunately, every time it seemed like the big money match was on the horizon, something happened to derail it, either in the form of Silva taking a lengthy layoff and opting to tool around in the Light Heavyweight division or Bisping choking in a championship eliminator bout – which, as fate would have it, occurred not once (in 2009 against Hendo), not twice (2010 against Wandy), but three times (against Sonnen in 2012.)
Ten years after Silva won the 185-pound strap, we're finally getting a Silva vs. Bisping throwdown. However, it isn't for the Middleweight championship. It's not even for a shot at the Middleweight championship. And the kicker? Not only is it not a marquee, PPV-headlining mega-event, it isn't even being screened for free on cable television.
Silva vs Bisping- How did a dream match as recently as 2012 turn into a glorified, online-only exhibition bout?
The short answer is that old rogue, time. Since then, Silva has dropped the Middleweight championship and shattered his leg in a freak accident. Adding insult to literal injury, his most recent win – which was far from impressive – was overturned after he tested positive for PEDs. Bisping, on the other hand, has been schizophrenic in the win-loss column, being easily dispatched by Vitor Belfort, Tim Kennedy and Luke Rockhold although he does head into his latest bout with back to back victories over C.B. Dolloway and Thales Leites.
As hard as it may seem to believe, both of these men – at one point in time, considered the faces of the 185-pound division – are now duking it out as barely-top ten divisional fighters in a bout that, frankly, means absolutely nothing.
Irrelevant as it may be, I'm sure plenty of people are looking forward to the O2 showdown. Needless to say, Bisping seems to have a better shot at taking down a still-limping Silva now than he did in 2007, but neither of those guys can be considered "in their prime" anymore. Instead, it's just two guys who used to be great going one-on-one, for no other reason than the fact that it would have awesome five years earlier.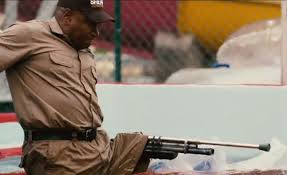 It's not as bad as watching a 49-year-old Royce Gracie fight a 52-year-old Ken Shamrock, of course, but the bout still reeks of a certain desperateness. This isn't a fight booked because the two opponents are among the best in the sport, but because they are marketable names and the sands of time are running low. Whoever wins isn't going to beat Chris Weidman, Yoel Romero or even Derek Brunson. It's a meaningless fight in every way … except, of course, for the fact that it would've had some meaning a half decade ago.
This weekend, we'll get to watch two formerly great fighters go at it in a bout that's at least five years too little and five years too late.
But in that, there might be some strange serendipity; as that mischievous fate often has it, the fight we never wanted might actually turn out to be an even better contest than the one we would have gotten back when it would've meant something.
And irony or no irony, I'm taking a great fight if it's being offered.