The day Anderson Silva retires is closer than ever before. He's 40 years old and hasn't technically won a fight since October of 2012. Suffice to say, his days of being the greatest fighter ever are over. And while, yes, everyone retires, his is on the horizon. Sadly, it may come too late to completely salvage his reputation but the sooner the better.
ANDERSON SILVA IS THE BEST EVER – ALMOST
The one thing MMA has missed is someone that can be pointed at and declared truly "the best ever." MMA doesn't have a Babe Ruth, Michael Jordan, or Wayne Gretzky – that one guy that is synonymous with the best to have ever done it. For a time, Silva was that guy. Now he isn't. And it's all because he blamed erectile dysfunction for his using PEDs.
Losing to Chris Weidman didn't tarnish Silva's legacy. Any fan with half a brain understands that if you fight long enough you'll eventually lose. A man getting older and then being taken out by a younger lion is natural: Willie Mays played for the Mets; Jordan for the Wizards; Ricky Henderson for every independent baseball team in America.
And the fluke nature of the rematch ending with a snapped leg gave Silva an out to try one more fight. Who could blame him? Even if he didn't make a run at the title again, there's respect in a man wanting to not go out on a literal stretcher.
But then he used drugs. He used drugs to win a lackluster decision over Nick Diaz. The man who once moved up in weight and made Forrest Griffin look stupid was reduced to facing an opponent who literally laid down in the middle of the cage – and Silva did nothing.
And maybe that would have been forgiven had it not been for the PEDs.
EVEN WHEN ANDERSON SILVA RETIRES IT MAY BE TOO LATE
There are a handful of fighters usually in debate for greatest of all time and most have a flaw. Fedor was a god until he came to America and lost fight after fight – all of those who said he was a product of a Japanese system that protects stars now had an argument. Georges St. Pierre was nearly flawless. He never failed a drug test. He "retired" (for now) as champion, having dispatched every viable contender. But he will always have that one KO at the hands of Matt Serra. Instead of an unblemished reign atop one of the sport's most difficult divisions, he has a Cindy Crawford mole.
But Silva was different. His run as UFC champion was flawless. He had memorable feuds with Rich Franklin and Chael Sonnen that forever gave the public signature moments to remember. He beat everyone in his division and a former champion a weight class above.
Further, Silva came across as clean. He showed no real signs of PED use, always carrying a lanky-looking frame with him into the Octagon. His entire run came outside of Japan, so there wasn't the chance to claim he was secretly dirty or protected. He was MMA's Babe Ruth. And then overnight he became MMA's Barry Bonds.
ANDERSON SILVA MUST RETIRE AFTER SATURDAY
This isn't to necessarily completely fault Silva for what he did. He had a shockingly high % of opponents who failed for drugs after fighting him, so it's not as if he was the only one cheating. And it would be naïve to think he was the only champion to be dirty. But perception is reality when it comes to legacies. Saturday, Silva is fighting history's judgment as much as he's fighting Michael Bisping.
Bisping is someone Silva should walk through. On paper, it's an almost perfect match-up for the Brazilian: a striker without a ton of power whose aggressive style perfectly plays into Silva's counter-striking preference. A win on Saturday should be Silva's last fight. A win and he retains some dignity. Fans can claim that the Diaz PED failure was a one-off fluke and point to (presumably) a clean drug test and win over a top 10 middleweight as proof that Silva still has it. Anderson Silva should retire after fighting Bisping.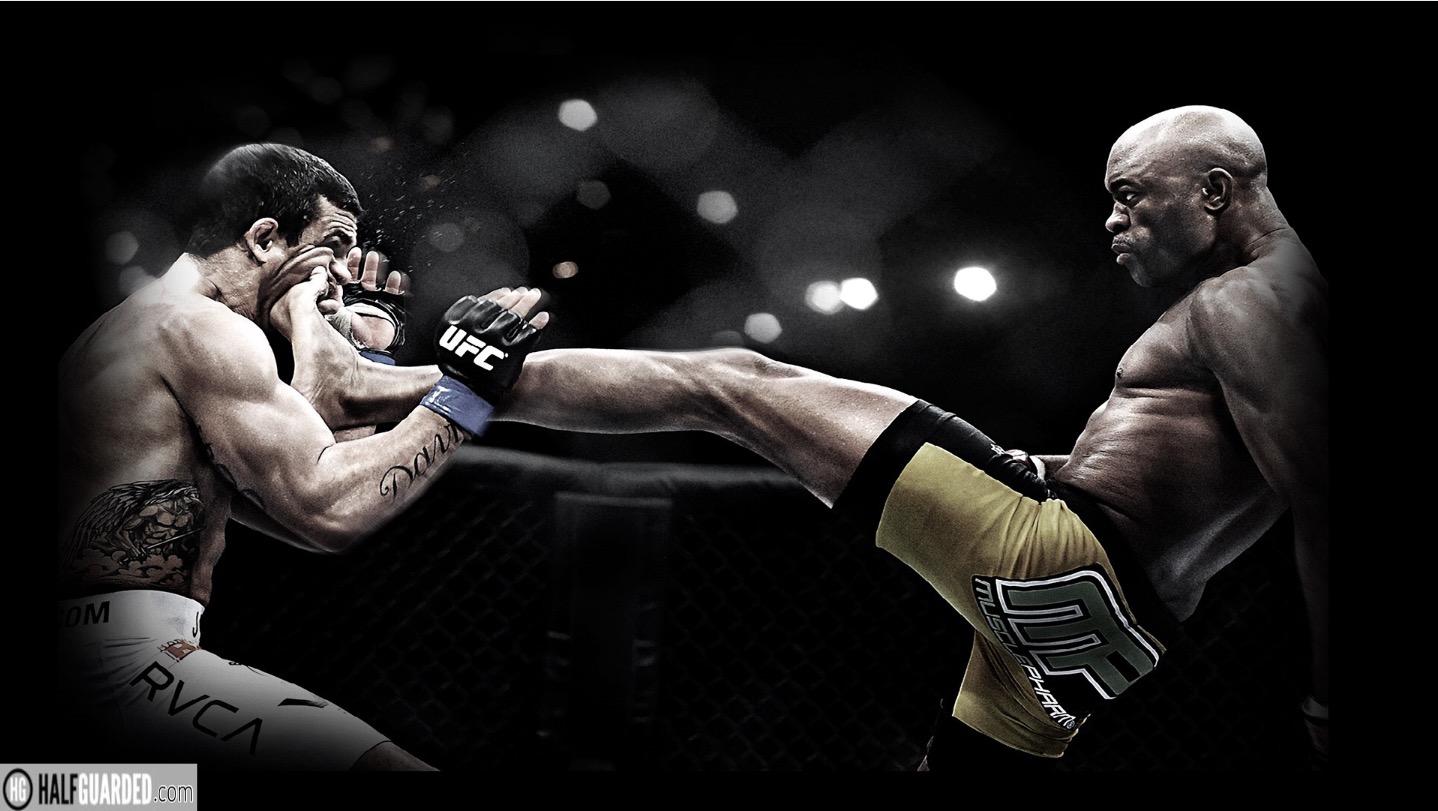 Not only should Anderson Silva retire with a win, he must with a loss.  A loss and he's done. With Bisping turning 37 on Sunday, Silva fans can't say it's a situation akin to Weidman, where time caught up with the champion. A loss means his streak of not winning goes on. A loss to someone almost tailor made for a win, someone who is good – but who has never been great – furthers the narrative that Silva was a product of PED use and that in a new era of intensified testing, he can't compete.
No matter the result – and I would expect Silva to beat Bisping with ease – Anderson Silva retires or further risks disgrace.
Worst case, he goes out on a loss, leaving people with a series of moments that will taint a lifetime of accomplishments. But at least a Silva retirement would stop the bleeding. Life with one leg is better than life with none.
Best case: Go out on a win, "proving" that he can compete with the best while clean.
Either way, the time has come. Silva may very well be the greatest in MMA history even with the failure. He has millions in the bank and titles and records galore. He has a wife and kids, fame and glory in his home country. Saving his remaining reputation is all that's left – not just for himself, but maybe for the sport. An Anderson Silva retirement might just give us all the best chance at having the greatest of all time.