Looking back at 1984 and it's astounding how many film franchises began that year. Ghostbusters, Karate Kid, Police Academy, Beverley Hills Cop, A Nightmare on Elm Street, Missing In Action all would spawn sequels some staying well beyond their welcome and there would be spinoffs into television, reboots and remakes years later with varying degrees of success and outrage.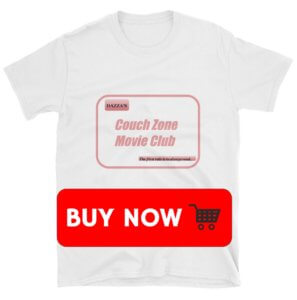 The year also saw a shift in the ratings systems. Up to that point in both the US and the UK there was a large gap between the age certificates of movies. In the US there was the PG rating and the R (under 17's having to be accompanied by and adult) and in the UK there was PG and 15. This gap meant PG films saw a healthy dose of violent action and sometimes risque humour. However film makers were increasingly pushing the envelope on it's family films, while 80's sensibilities were becoming more sensitive to what their kids could be watching.
One of the films that brought things to a head was Indiana Jones and the Temple of Doom. The film was awarded a PG despite it's scenes of graphic violence, torture and some gruesome death scenes but would lead to the introduction of the PG-13 certificate. The UK was slow to follow suit, as it's own comparative certificate the "12" would not come into play until 1989, prompted by the release of Batman.
The UK still manged to a award a PG certificate to Temple of Doom, not so much by cutting the more questionable scenes but by trimming them. Scenes were made more palatable just by cutting a few seconds from the amount of time we witnessed the characters screaming in pain or being lowered to a fiery end and by reducing the infamous Priest holding a beating heart to merely a glimpse. Thus the film appeared in UK cinemas practically intact.
However, there was another controversial film aimed at the family audience that UK censors felt they couldn't pass without butchering the film. Therefore the film would have be awarded a 15 certificate, thus deeming me four years too young to go see it and for the first time in my life I was denied a film I desperately wanted to see.
Gremlins

In 1984 I could buy the Gremlins Panini sticker album and spend a fortune on packets of stickers in the vain hope I'd get numbers 13, 84 and 322 to complete the album. I could read the novelisation. I could play the computer game on my Sinclar Spectrum, it being of the "adventure game" genre (you know the text command based one where you'd be "in a room with a axe on a table" and when you typed "pick up axe" the game would reply "do not know axe"). I could even have bought cuddly toys of the delightfully cute Gizmo.
But due to the censors and a media outrage that insisted the film was far to scary and violent for kiddies (Princess Diana was one such voice that after seeing it the Premiere said she wouldn't be allowing Wills and Harry to watch it)  I couldn't go see the actual film. I would have to wait until, well the film came out on video and the nice man at the rental store let me rent it. Even today rewatching with adult eyes and recognising the violence being stronger than in most children movies, I still find it unfair that 10 year olds were denied what was clearly created with the sensibilities of a family movie, albeit one with an edge.
The story sees a father in search of a present for his son, finding a cute, mystical, intelligent creature, a Mogwai in a Chinatown store. Although the owner refuses to sell the creature, citing that responsibility comes with owning Mogwai, the father buys it behind his back from his grandson.
Mogwai renamed Gizmo is a wonderful, charming addition to the all American family in their idyllic "a wonderful life" style neighbourhood. However when one of the rules for safeguarding Gizmo, keeping him away from water is accidentally broken he produces a gang of less friendly Mogwai. And when a further rule about not feeding them after midnight is broken, these new Mogwai transform into vicious gremlins, which run riot and tear the town apart on Christmas eve.
There's a real morality to the film which sets it up as a children's movie. All the trouble in Gremlins is caused because of the arrogance, disrespect, and carelessness of the family and their western values in taking Mogwai from where he belongs. There's a lesson to be learned type message to the film. But that children style movie is wrapped with some very violent and gruesome scenes. The most notorious of which is the kitchen scene where the mother fights through a gang of rampaging Gremlins. She dispatches the green critters in a variety of vicious ways, trapping one in a microwave and cooking him alive, dispatching another with a kitchen knife and forcing another into a blender, splattering the kitchen with green blood
In that scene the Gremlins are menacing and scary, but at other times they are strangely funny. During the scene we see them dressing up as carol singers, getting drunk and causing havoc in a bar and commandeering a cinema where they watch Snow White and sing along with the dwarfs to "Hi-Ho." In some of these scenes they are frighteningly adorable with their joyous, mischievous laughs. You can also argue that some of deaths of the humans victims (we don't see that many although more are implied) are a case of people getting their just deserts. For example the school teacher who is dispatched with a syringe to the butt has been experimenting on one of the gremlins. It's also impossible not to root for the gremlins when they launch Mrs Deagle into the sky on her stairlift as she's the witch like owner of the bank who has been making the lives of the town folks  hell during a recession that is making Christmas difficult
.
Gremlins is one of my favourite Christmas movies, even if it has a very dark take on the holiday. As well as all the carnage and destruction there is the infamous tale of Billy's Girlfriend Kate (played adorably by Phoebe Cates) who recites the reason why she hates Christmas is because her father died in a Santa outfit while climbing down the chimney to surprise the family. Warner Brothers baulked at this, thinking the story was a step too far and wanted it removed from the film. As dark a story as it is, the part that I think would have caused the most distress amongst kids would have been the line where Phoebe says "and that's how I found out there was no Santa Claus."
I re watched Gremlins last year around Christmas, and I was amazed how well it held up as a film. The puppetry is great, imbuing Gizmo and the Gremlins with real character and expressions. Meanwhile the theme song is brilliant, a mix of golden age monster movie themes, resembling the chaotic chattering of the Gremlins with a playground rhyme.
There's a fair amount of satire too on American life. Aside from Western arrogance being to blame for the outbreaks of Gremlins there is also an attack on over reliance on technology which comes back to bite the citizens of the small town. One resident is proud of only owning American made vehicles, until the Gremlins are able to take control of this tractor and attack him with it. Billy's father is an inventor of pointless items for a lazy and indulgent society such as all purpose remote controls and portable cigarette disposers. In many ways the film predicted the sort of products that people would waste money on with the explosion of shopping channels.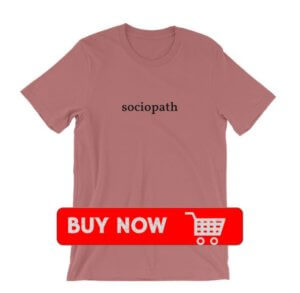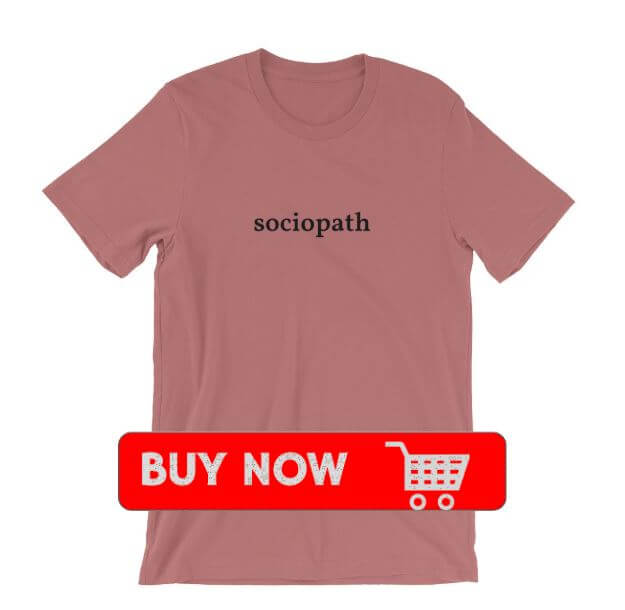 It was a whole six years before we got a sequel to Gremlins, which saw an outbreak of the Gremlins in New York. While the first Gremlins had satire on the cosy American small towns, this instalment raised the stakes taking a bite out of big business and consumer society.  Despite this the tone was less dark, with a more cartoony, slapstick comedy style. The film did poke fun of itself, featuring a cameo of Leonard Maltin being savaged by Gremlins while reviewing the first film (Maltin had trashed the original) and parodying Kate's Santa story with her about to tell a story of a trauma that happened to her on Lincoln day.
Gremlins 2 is a blast, but between the two films there had been a bombardment of inferior Gremlin clones such as Critters, Ghoulies and Hobgoblins and under performing at the box office the franchise ended there.
Gremlins was a joy. Cute, funny, a little scary and wonderfully anarchistic. Everything that children deserve in their movies.
This is Spinal Tap
"I do not, for one, think that the problem was that the band was down. I think that the problem *may* have been, that there was a Stonehenge monument on the stage that was in danger of being *crushed* by a *dwarf*. Alright? That tended to understate the hugeness of the object."
The delivery of the above line, combined with it coming a split second after we've seen the incident in question is an absolute genius display of timing in comedy. And there are moments like it throughout Spinal Tap, utterly quotable lines which are not delivered as jokes but just great displays of dry and naturally delivered humour that comes across as authentic conversation.
And that absolutely nailing it authenticity is  what makes This is Spinal Tap not just an hilarious comedy, but also an absolutely brilliant movie.
This is Spinal Tap is the fictional documentary of the English Rock band's disastrous US tour. Plagued by an indifferent record label, a fading audience, technical mishaps and infighting that erupts when the lead singer's girlfriend joins the tour and slowly makes a power play the film captures the downward spiral of the band as they fail to come to terms with the fact that they may have reached the end of their relevancy as a band.
What's brilliant about Spinal Tap is it has the faded look and feel  and is edited like an actual documentary. I actually do know of one person who started watching the film on television one night, not knowing what it was and for a time thought it was a really documentary about brain dead rockers until he recognised a well known actor in a bit part.
A good part of what allows the film to appear so genuine is it's subtle down to earth humour. Everything in it seems plausible, rarely relying on slapstick and when it does edge that way such as Bassist Derek Smalls being trapped in a gimmick pod shaped stage prop, it's done believable. Even the music manages to toe the line of being just ridiculous enough to be funny but not so over the top that it strays from the realms of possibility of a band performing this stuff. Being a rock fan of the 80's glam rock, such songs as Big Bottom and Sex Farm Woman aren't a million miles away from some of the tracks that Poison and Motley Cru were churning out.
So much of the plots in Spinal Tap can be attributed to events in real life Rock and Roll. References to choking on vomit (the fate of one of Tap's long line of drummers who met unfortunate demises) pulled album covers (the concept for Smell the Glove is reminiscent of WASP's Fuck like a beast) and the girlfriend driving a wedge in the band which has become a cliche ever since Yoko supposedly split up the Beatles all appear in the film. Even the scene where the Band get lost on the way to the stage is apparently based on a true story for Tom Perry and Heartbreakers.
Almost all of the film was improvised, with the actors just given an outline of where to take the scene. Most of what made it in the film was shot on the first take. The results were incredibly realistic. The stand out scenes being the moment where David pitches his girlfriend Jeanne signs of the zodiac costume idea to guitarist Nigel's chagrin. The epic fallout between the band and the manager Ian over the Stone Henge debacle, with everyone yelling is also incredibly convincing, including a subtle moment where Jeanne makes her play for management of the band and while yelling at Ian shoves David and tells her to shut up as she positions herself as the one in charge.
There's great subtly in the humour in Spinal Tap that doesn't hit you over the head by telegraphing that it's delivering a gag. The funny stuff comes in being able to see what the band themselves can't see. When the band are bad mouthing a star they've run into at the airport, David is hilarious when he without  irony says "we had to apologise for him, the crowd was still booing him when we went on stage!"
Spinal Tap succeeded more in drawing a cult audience than being a box office hit. However in relevancy it's far outlasted and aged better than many more successful comedies. It's naturally been a hit with rock fans who recognised the parodying of the ridiculousness of the music genre. Many professional musicians also stated the film wasn't that far from the truth in it's depiction of life on the road.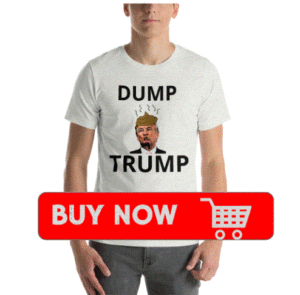 There was never a sequel to This is Spinal Tap, however in the early 90's there was a resurgence in interest in the film (probably not coincidentally at a time when stadium rockers were riding high) which led the the actors to come together to make appearances in character,  actually record music and play concerts. This sadly dragged out the joke too far and ironically further "reunions" stretched the gimmicks welcome mirroring the band's own reluctance to let go in the movie.
This is Spinal Tap remains one of the most hilarious movies I've ever seen which even today I will spot little mannerisms and off the cuff remarks I'd not seen before.
It's also worth comparing the film to a very similar modern film 2016 "Popstar: Never Stop Stopping" which while funny, shows the difference between the in your face humour of today and the dry, irony subtlety of a film like Tap.
It really puts the film into perspective……too much fucking perspective.
Body Double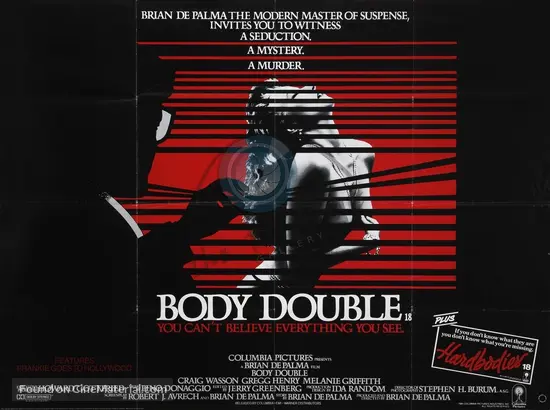 Brian De Pama's Body Double features Melanie Griffiths in a gold leotard, tights, high heels and and an 80's punky, peroxide blonde haircut.
Thus ends my case for recommending this movie.
Body Double was Brian De Palma's follow up to Scarface and was so brimming with good will was given carte blanche to do what ever the hell he wanted.  And what he wanted to do was make an erotic thriller, which legend has it was meant to be the first hardcore porn Hollywood movie, purely to piss off the censors and ratings board that had butchered his earlier film dressed to kill. While the hardcore idea was dropped, De Palma still pushed the envelope setting his film within the  world of adult movies, featured real life porn stars steamy sex scenes and had a leading guy who was essentially a stalkerish peeping tom.
In Body Double we follow struggling actor Jake Scully (played by little known journeyman actor Craig Wasson who's un-superstar looks are perfect for this role) his career hampered by crippling claustrophobia and personal life in tatters after catching his girlfriend in bed with another man. Down on his luck, he's offered the chance to house sit for his rich friend and stay in his luxurious dream Hollywood home. While there his friend shows him a telescope from where he can spy on his sexy neighbour who puts on an erotic dance in her bedroom at the same time every night.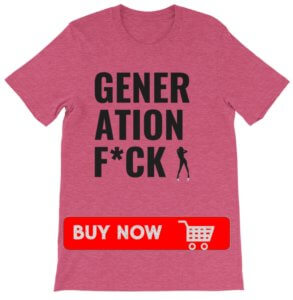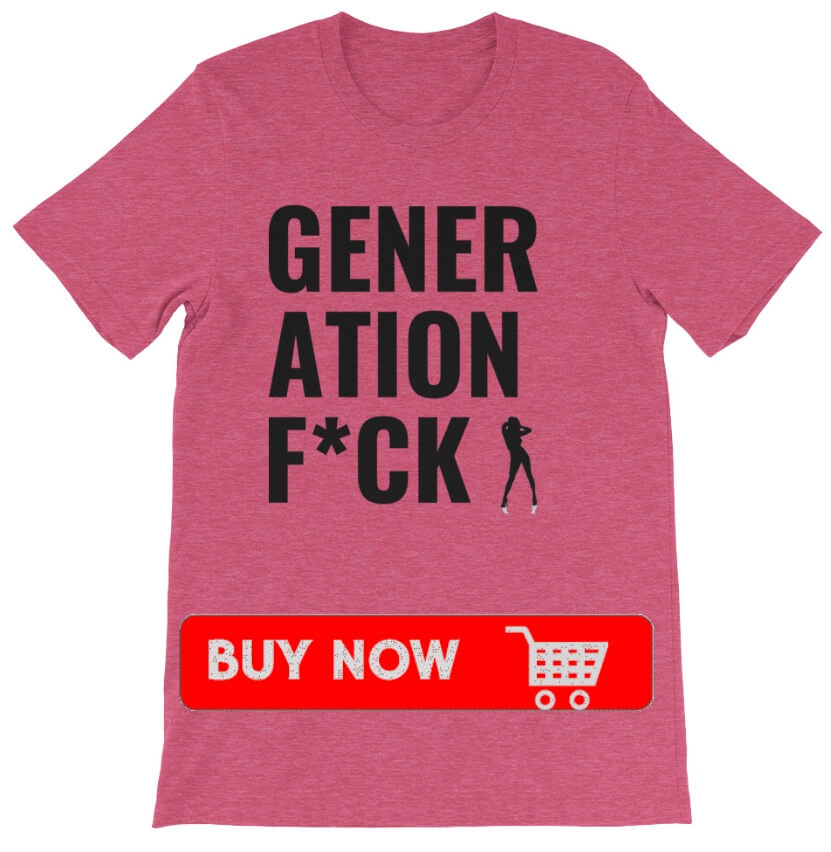 Scully regularly watches the woman named Gloria (played by Deborah Shelton who later played Mandy WInger in Dallas) and becomes obsessed with her. He begins following her while shopping and finds she is been stalked by a mysterious Indian. After a brief encounter with Gloria, Scully witnesses her been attacked by the Indian in her home and is too late to save her being gruesomely murdered via a large handheld drill. While the police rule the attack a break in, a despondent, Scully by chance views  a trailer for a porn movie which leads him to believe there may be more to the murder than meets the eye.
I first saw Body Double as a teenager on a rented VHS tape and before you start making insinuations I actually watched it with……my mum and dad. And yeah that may seem a bit of an awkward film for us to sit around as a family for our twice weekly movie night, but fortunately this wasn't of the Red Shoe Diaries variety of erotica (the God awful softly, softly erotic series) but actually an enjoyable thriller, with genuine twists and revelations with a mystery that really works and payoffs.
It may seem pretentious to describe it as such but Body Double feels like a Hitchcock story with and erotic vibe. Or to put it another way, this is Rear Window but where the guy uses his telescope to see tits and ass. It's very voyeuristic, occasionally sleazy and rather uncomfortable that you're asked to empathise with a guy who is practically a dirty stalker. You're hit with the sordidness of him following the lady while shopping when he tries to spy on her trying on underwear in a lingerie shop. Although this unlikeliest of heroes does have a decent story arc and shows good instincts in following the leads to get to the bottom of the scheme he's found himself involved in, as well as having to overcome the crippling anxiety that's plagued his career.
Body Double was absolutely savaged and dismissed by critics (except for Roger Ebert who praised the film as clever) as unsavoury sleaze and labelled De Palama a misogynist (De Palama reportedly lost his three film deal with the studio for turning this in). It's fair to say the depiction of women purely either as sex workers or victims would be savaged today too, especially with the disturbing scene of Deborah Shelton been pinned to the floor while her attacker's drill appears phallic like between his legs.
There's a case for it being exploitative, especially with it's glossy take on the porn industry. However it manages to place the erotica so intricately into the development of the plot that it just about manages to hide it from being gratuitous. Even the title Body Double is tied into a gag about the use of actresses for nudity scenes, which is a major plot point in the movie.
Body Double is a curious film. It has the tone and trappings of old school noir, but was ahead of it's time in it's depiction of erotic crime, half a decade before Sharon Stone crossing her legs became an iconic moment. It also gave a boost to the career of Melanie Griffiths, who with her flirtatious, Marylin Monroe like performance as Holly Body absolutelyshined with authenticity and despite the film being disliked was able to bag herself a Golden Globe nomination.
WTF??????? REVENGE OF THE NERDS
What flies for comedy in one decade can become a taboo in later years, with modern enlightened thinking deeming certain gags inappropriate or even offensive. Sometimes you can put it down to changing attitudes or overly sensitive political correctness. However there are times when you look back are something and think "did we never notice this was just plain wrong?"
Take for example Revenge of the Nerds, that for years I remembered as a light hearted underdog story of college campus nerds standing their ground against bullying jocks. Except the feel good story of being yourself feels very unsavoury when you realise that those lovable, harmless nerds are actually really creepy, sex deviants and that we're asked to laugh at women being assaulted.
One of the nerds methods of revenge is to invade the female sorority (made up of the cheerleaders and bitchy girlfriends of the jocks) where they manage to place hidden cameras in the showers and bedrooms and in the process catch a number of the girls naked. Fortunately we're spared the sight of the nerds jacking themselves off to the live feed, however the perverts further invade the girls' privacy by using the footage to produce naked photos and sell them at a charity event.
But it gets worse, oh it gets worse.
Because at the said charity event, head nerd Lewis disguises himself as  the head Jock Stan by stealing his Darth Vader in order to trick cheerleader Betty into a sexual encounter. It's a really creepy moment when Lewis comes up from between Betty's legs and unmasks to reveal his smiling face. But oh it's ok, because despite been the victim of rape by deception it turns out Lewis is really good at giving head and Betty discovers she's actually in love with him.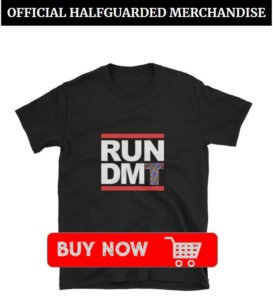 Honestly I'm the last person to try to be outraged by something just to appear "woke" (like I could ever be that) but this shit should never have flown in any decade, especially in a comedy. To make things even more disturbing, 1984 saw the release of Sixteen Candles, another coming of age drama that saw another popular geek Anthony Michael Hall (Breakfast Club/Weird Science) in a scene that implied he'd had sex with a passed out girl.
I think Amy Befor put this best when she said about film makers for that era "people were stupid about date rape."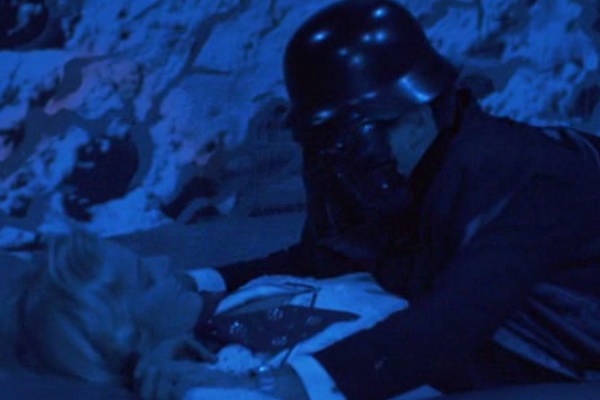 Frankly, I think these Nerds deserved to get the shit kicked out of them.
I'll be following my favourite films of 1984 naturally with my favourite films of 1985.
I've had a sneak look at what I have to choose from and I gotta say….I really wish I didn't have to.
Dazza