Trump Denies Ever Knowing Juan Epstein. Produces Proof From Epstein's Mom.
Washington D.C.-
Controversy won't leave President Trump's side as yet another photo has surfaced proving Trump to be less than honest with the country.
After reports surfaced that Trump may have been close friends with shamed billionaire Jeffrey Epstein, he immediately took to Twitter and denied these reports.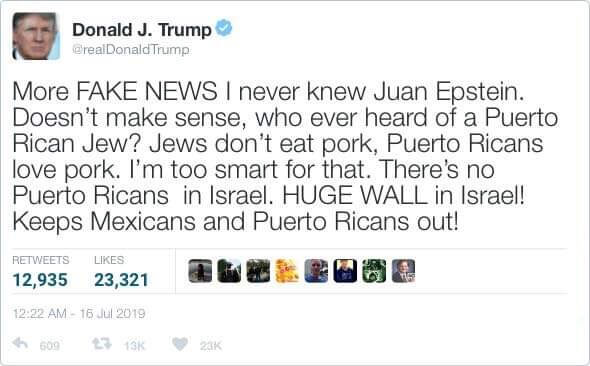 "More FAKE NEWS I never knew Juan Epstein. Doesn't make sense, who ever heard of a Puerto Rican Jew? Jews don't eat pork, Puerto Ricans love pork. I'm too smart for that. There's no Puerto Rican's in Israel. HUGE WALL in Israel! Keeps Mexicans and Puerto Ricans out!"
He doubled down later in the day when another photo surfaced online of Trump partying with Epstein many years ago. He said he was going to post a letter from a special woman that proved his innocence.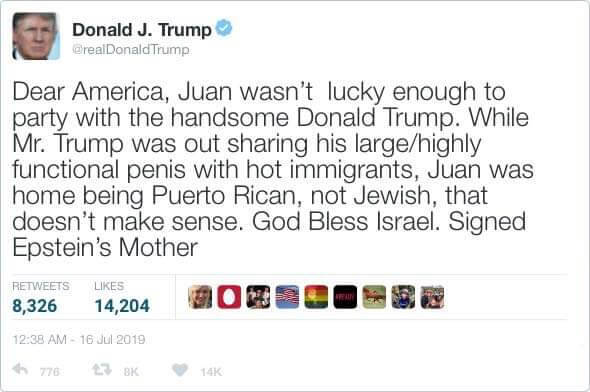 "Dear America, Juan wasn't lucky enough to party with the handsome Donald Trump. While Mr. Trump was out sharing his large and highly functional penis with hot immigrants, Juan was home being Puerto Rican not Jewish, that doesn't make sense. God Bless Israel. Signed Epstein's Mom"
It's hard to argue with a note from Epstein's mom ladies and gentlemen. Trump proves us wrong again, God Bless Israel.