@chris_najdek
Chris_najdek IG
Cnajdek27@gmail.com
Washington D.C.-
As Twitter continues to add fact check links to President Donald Trump's tweets, another social media giant has raised the ire of our fearless leader. MySpace's famed "Top 8" friends list is simply not enough for Trump. The Donald ranted that he should be allowed more than 8 top friends because "I have so many friends it's like nothing Tom has ever seen before."
Trump took to Twitter to let Tom from MySpace know how he felt:
"@TomfromMySpace I CAN'T pick 8 top friends! Have WAY too many, I need a section just for my top black friends alone! So many BLACKS are my friend, like Tiger Woods. Many ASIAN friends too, like, Tiger Woods. Plus my WHITE friends like Candace Owens & GAY friends like Mike Pence!"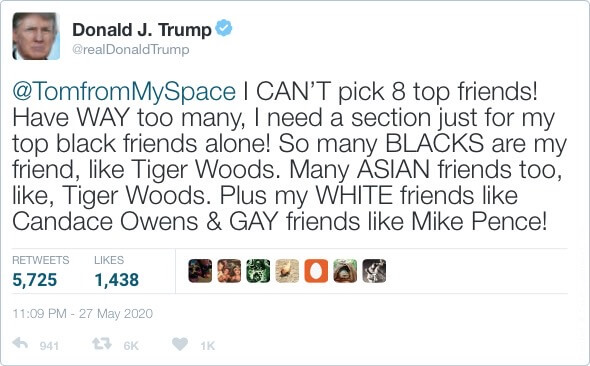 The President continued his rant at the White House in front of the media:
"It's silly. I'll end MySpace right now and start my own site if they don't let me pick more than 8! I have the most top friends anyone has ever had. I have so many top 8 friends it's amazing. If you added up all of my top 8 friends you'd have like many multiples of 8 top friends.
How can I choose 8? I have the biggest and best friends in the world! Friends like Kim Jung Un, Kanye West, Kanye West's white wife…is she white?…I think she's white… I dunno but I like her…maybe Puerto Rican…she might be Puerto Rican…Kid Rock, Vladimir Putin, Tiger Woods, The My Pillow Guy, and Jim Jordan…even though Baron said he had to block Jim…something about asking Baron if he's ever been in a Half Nelson while covered in baby oil. Jim's a kidder! Funny guy.
I mean I could have a top 8 list just for my 8 best dead friends! I knew so many dead guys who were major people when they were alive! Think about all of my dead best friends. I have President Ronald Reagan, my dead parents, Elvis, and my best friend of all, the late great Jeffrey Ep…"
At that moment one of Trump's aides jumped out of his seat and screamed "OK WE GOTTA GO!!!" while secret service dragged Trump to the back and covered his mouth with some sort of wet cloth.
When asked what name his new social media platform would have, Trump said he hasn't thought of it yet, but he mentioned First Last Melania will also be launching her own social media platform known as "Twatter".

Loading ...