If I misbehaved as a kid, grounding would not work as a punishment, instead I'd be ordered to go out and play with other children in the sun and fresh air. After all, why would I want to leave the house when between 4 and 6 o'clock (and on a Saturday morning), these awesome TV shows were on the telly?
Battle of the Planets
And if you grew up in the 70's and saw this show I'm betting you're already humming the epic tune to this. Go on say it with me " Always five, acting as one. Dedicated! Inseparable! Invincible!"
Probably introducing kids to Japanese Anime before they even realised it, Battle of the Planets was a thrilling addition to kid's tea time telly on the BBC here in the UK. A wild mix of superheroes, Star Wars, Thunderbirds and Kaiju, Battle of the Planets followed the adventures of a very 70's team of heroes all fitting into the familiar tropes. Mark (the goodie two shoes leader), Princess (the woman, who thrilled young lads as you often got to see her knickers when she did somersaults), Tiny (the comedy fat one), Keyup (a quirky robot in the form of a little kid) and Jason (the really cool, kick ass one).
Clad in insanely colourful bird style costumes, which allowed them to fly, "G-Force," as they were known battled the evil forces of Zoltar with an array of fancy gadgets (bomerangs, yoyo's), and awesome vehicles including a space ship "The Phoenix," which bizarrely could turn into an actual firebird like creature. Of G-Force's more surreal tactics to battle the many weird giant monsters sent to rob Earth of it's resources was to form a human pyramid and spin around creating a whirlwind.
The series of a whopping 85 episodes was actually an adaptation of the Japanese anime "Gatchaman". In order to make the source material more palatable to Western parents sensibilities, many elements of Gatachaman were toned down, with sexualised and violent scenes cut out or reworked storyline wise. Cities being destroyed would be rewritten as being evacuated by Western audiences, while vehicles blowing up would claim to be empty robotic craft.
In order to keep the narrative flowing when scenes were cut, extra scenes were added to the Western version featuring 7-Zark-7, and R2D2 ripoff robot who would act as narrator and fill in the gaps left by taking out the "questionable" content. Another alteration was the original hermaphrodite identity of Zoltar, who in Gatchaman could be male and female. Considered too confusing for kids by Western producers, this was ditched and the times Zoltar appeared as female it was rewritten as Zoltar's twin sister.
Star Fleet
Kid's adventure shows filmed with puppets (sorry supermarionation) were a staple of UK telly, most famously with Thunderbirds, Stingray and the whole catalogue of series made by Gerry Anderson. Yet for me the best wasn't actually an Anderson series (although some wrongly assume it was one of his), but was a Japanese show called X-Bomber, dubbed into English and renamed Star Fleet.
The 24 episodes of Star Fleet aired on ITV in 1982 on Saturday mornings, starting with an absolutely blistering opening show, one of the best in a children's episodic serial. In the year 2999 (apparently after the end of the "space wars", our solar system comes under attack by an alien force. Earth's base on Pluto (which I guess is reclassified as a planet sometime in the future) is destroyed and the invasion force demands that F-Zero-1 be surrendered to them. Earth doesn't have a bloody clue what F-Zero-1 is and instead sends a super-dope ship X-Bomber into action to sort these buggers out (although twist, one of the crew a young lass who walks around as if she's stoned half the time thinks she may be F-Zero-1).
Star Fleet was all sorts of damn awesome. The designs on the ships were impressive, with the alien craft in particular having a range of distinctive insect like designs. The space battles (you could normally count on at least one an episode), were lively and the effects quite impressive for a show of this nature. The alien baddies had an interesting classic Japanese samauri design, with a giant evil Emperor and his task force lead by Commander Makara (who according to a Star Fleet feature in Look In magazine was half male, half female), and Captain Orion who had a Megatron-Starscream dynamic going on.
The show borrowed heavily from Star Wars, with obviously X-Bomber having a souped up X-Wing feel while having Millennium Falcon style cannons. The crew naturally had an R2-D2 style robot (with C3PO annoying personality) as well as a wookie style alien creature. There was even a Han-Leia-Luke love triangle amongst characters Shiro-Lamia and Barry Hercules. The guy who played Biggs in New Hope also did a few voices.
There was lots of Japanese Sci Fi craziness, which seemed fresh to us UK kids. There was a mysterious old style Galleon ship flying through space, and three of the crew had their own small ships which could combine into a giant robot (although I could never figure out where the legs came from).
Star Fleet was a cracking show, full of action and the saga paced well with an epic run towards an apocalyptic conclusion. The series also got dark towards the end, with established characters being killed off and it fortunately came straight to the UK as I suspect if the American networks had got to edit it first some of the more violent moments would have ended up being cut.
Star Fleet also had an epic theme music, with a Brian May and Eddie Van Halen cover featuring in the closing credits.
Jason of Star Command
This is one what can be classed as "not ageing at all well." In fact I think even at the time I thought it was a bit naff. However it did have space ships shooting at each other and stop motion monsters, so it would keep me quiet for half an hour.
Jason himself was a bit of a smug Flash Gordon style hero, played by Craig Littler who was a mainstay guest star on shows like Love Boat, Days of our Lives, Knight Rider, you get the picture.
The series was notable for having James Doohan as Star Command's Commander in it's first season, who bailed and was replaced by a blue skin alien. However the main villain Drago was played by horror and grindhouse sat Sid Haig and his scenes were always the highlight of the show.
I remember enjoy Jason of Star Command purely because it was a space show, but even at a young age I found the show sickeningly wholesome. I picked up even at a pre-cynical age that the show was constantly reminding the audience during a space battle that the fighters being destroyed were all unmanned drones (even the baddies).
But hey, Sid Haig was a riot in it.
Captain Zep: Space Detective
It wasn't just Japanese and American imports giving us zippy, zappy space adventures as BBC in 1983 made us this little curiosity. Most people don't remember it, but I do, if only for promoting the colour orange in it's costumes.
Captain Zep, who according to the theme music was a SUPER space detective, would appear before an audience of kids (I think supposed to represent cadets in his space detective school), to present one of his past cases. After showing his adventure where he and his team would interact with animated backgrounds and aliens while investigating a crime, Zep would give the audience the chance to solve the case.
As a kid I enjoyed the stories, but I'll be buggered if I could figure out which badly drawn alien was guilty of the murder presented, which often required some lateral thinking or grasp of mathematics. After the solution was aired Zep would always ask the live audience to raise their hands if they got it right. Invariably all the kids would raise their hands which showed what lying little fuckers they were.
The really mystery that never got solved was how come Captain Zep changed in between seasons one and two.
Adventure Game
Honestly, this one I never quite got the grasp of, and to be honest the surreal nature of the show kinda scared me a little. I'd watch it because it often aired on BBC-2 (the more grown up channel and home to alternative vibe shows), after the regular children show slots on BBC-1 had ended.
The general concept was that each week three minor celebrities, normally from BBC shows, would be transported to the planet Arg, where they would have to solve a series of puzzles to make their way home. The residents of Arg were actually a dragon type race who would adopt human form, one of them as BBC newsreader Moira Stewart which was a little disconcerting.
There was something bizarre seeing these news readers, presenters and journalists being "themselves" trying to solve puzzles and interacting with eccentric alien characters, while trying to work out the currency of Arg. Especially unnerving was seeing celebrity scientists appearing as thick as shit in being unable to pass brain teasers that Keith Chegwin or Bonny Landford had breezed through the week before.
To come up with some of these puzzles may have taken the use of mind altering substances, which I'm pretty sure the writing teams used to come up with regular characters such a Australian who could only speak his sentences backwards and a plant (an aspidistra to be exact) that was supposedly Gandor the leader on Arg and would shake and mumble when he was talking. Incidentally the operator for for Gandor was one Kenny Baker.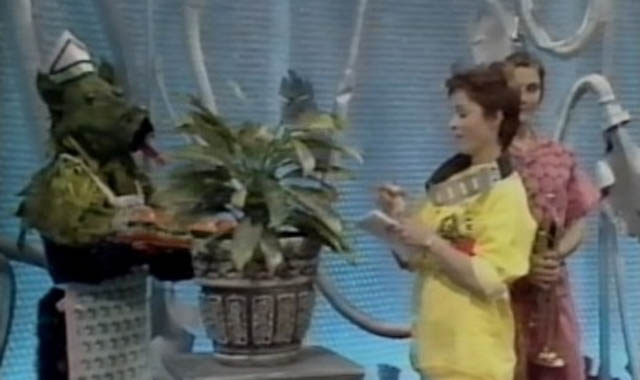 The finale on each episode was the Vortex game, where contestants would compete against the Args by trying to cross a game grid without coming into contact with the invisible to them Vortex. If you crossed the grid intact you got a lift home, if you stepped on the vortex you got transported into space and had to walk home.
As weird as the Adventure Game was it had a pleasing British vibe to it, drawing on the eccentric nature of Monty Python, Dr Who and Hitch Hiker's Guide to the Galaxy.
Nightmare
While the adults were having all the fun on BBC, over on ITV it was the kids who were getting to look a bit stupid and awkward on the very long running Nightmare. While the show came around when I was at the age my mum started pointing out I should really be moving on from kid's television (deep down I'm sure she's proud of my pop figure and Godzilla toys collection), I got a kick out of Nightmare, especially as the contestants generally made a hash out of things and ended up "dying," by falling down a chasm or getting frozen to death.
The concept for Knightmare drew on the Dungeon and Dragon's craze as well as video adventure games and invited teams of four kids to embark on a quest in a computer generated dungeon. More often the not I'd want the kids to fail, due to me getting into my cynical teens and the contestants always seemed to be annoying toffs.
One of the team would have the indignity of having a horned helmet placed over his head, rendering him blind and be navigated through a virtual reality of dungeon rooms by the other three watching on a monitor. As well as instructing their companion to "go walk left," "go forward" etc to avoid traps and the like, the team would have to solve riddles and obstacles while encountering characters (some good, some evil), who the poor horned helmet wearing contestant would have to awkwardly interact with.
Acting as Dungeon Master and guide to the show was the Knight Treguard, played by a stage actor Hugo Myatt, who would narrate and guide the team and improvise with a bit of sarky banter when the team screwed up. He brought some much needed life to the show, especially as the kids would often be as dull as ditch water personality wise. Rumour is that the producers would actually throw really tough challenges early on to get rid of the more annoying and clueless teams.
Nightmare was a massive hit, running for eight seasons, and through it's 112 episodes, only 8 teams were ever able to beat the dungeon. Amongst those victorious teams were not these guys below who were eliminated early on due to them being unable to comprehended the concept of left and right. Enjoy.
Buck Rogers in the 25th Century
August 1980, Dr Who returned for a new season to BBC Saturday early evening TV. In response ITV began airing a science fiction show from the US called Buck Rogers in the 25th Century, and amazingly this yank invasion won the battle for British nerds eyeballs and kicked little Dr Who's arse in the ratings.
Buck Rogers was a simple throwback to pulp science fiction. There was no social subtext of any kind, just the swashbuckling style adventures of a dashing shuttle pilot who gets frozen in space and returns to Earth 500 years later. Once thawed (and you'd have to get the movie on VHS to see how that happened because the pilot didn't initially air here), Buck enlightened this futuristic world with 20th century values, by knocking the shit out of every alien that got on Earth's bad side and spreading 1980's venereal diseases amongst his lady of the week co stars.
What Buck Rogers lacked in depth it made up for in sheer fun. It was full of bright shockingly 80's interpretations of the future with colourful decor and outfits. It was straight good guys and bad guys, with Buck invariably kung fu fighting some heavy and often engaging in a dogfight in his cool and sleek fighter. Aiding Buck in his adventures were his robot sidekick Twiki with a cool voice and cheesy one liners, as well as Colonel Wilma Deering a glamorous and gutsy pilot who was a match for Buck when the action started (although Buck actor Gil Geard was not happy about this and would lobby for her to be pushed to one side where possible).
While the episodes were always single, self contained stories, the one returning villains were the Draconians. This race, intent on conquering Earth were lead by the troubling sexy for a villain Princess Ardala. Ardala was hot and flirty and you got the impression that she'd rather bang Buck than kill him. It was very confusing for my seven year old self because she was snooty, selfish, treacherous, evil and wanted to wipe out the Earth, but God she was pretty and shook her bum whenever she walked. In a way she set the tone for all the women I'd ever fall for in later life, although at least Princess Ardala never tried to make off with my credit card.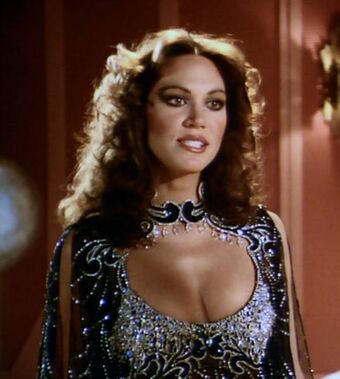 Sure, Buck Rogers was silly and aged very quickly, but back in 1980 it was perfect for kids on a Saturday evening who wanted a bit of simply lazer blasting action. Well, that's until the second season aired a year later and if I'd been a swearer at that age I'd have said "What the fuck is this?"
Some idiots decided to overhaul Buck Rogers completely, shifting the series from action packed adventures of Earth to a Star Trek like exploration of the galaxy. The stories were dull, with all the fun space battles and fighting taken out. Wilma had her kick ass jumpsuit wearing persona replaced with a role that reduced her to wearing a short skirt and manning communications. Princess Ardala's bottom was also nowhere to be seen.
In the final up yours to fans, they even changed Twiki's voice to that of a soppy child. Kids protested in an intensity not seen since Monk's set themselves on fire during the Vietnam war, and finally producers brought back original voice by Mel Blanc. But it was the only concession on a complete and utter calamity of a reboot.
Buck did not return for a third season, and frankly I wasn't bothered. By now I'd discovered that Battlestar Galacticawas airing in some ITV regions, and while it wasn't on Yorkshire TV (by area) I discovered if I stuck a coathanger in the back of my TV to use as an aerial and hold it pointing towards North East I could pick up a sometimes watchable picture of Tyne Tees channel and watch that. Which looking back was probably really dangerous and something my parents shouldn't have told me about.
But anyway, Buck Rogers intro was cool.
Take care, stay safe
Dazza