Chicago, IL-
Amidst the controversy swirling around the Lifetime docu-series "Surviving R. Kelly" the R&B icon has stepped up to help the country in a time of national crisis.
After watching President Trump's very heartfelt and sincere plea for help with our border crisis, R. Kelly released a statement that he wants to help The President and the country with illegal immigration, specifically the children.
"My heart is breaking as I watched President Trump talk about the border crisis. The little children are the ones that suffer. When their parents illegally enter our country, they have no where comfortable to lay their sweet, precious, delicious, little selves down to rest at night.
They don't have proper health care while being held at the border, they're dehydrated, so they're little mouthes are dry, which is never good! Their soft, pure, resilient skin loses its elasticity, we can't have that, they need water from daddy.
I pledge my services to President Trump, I will house the migrant children at my Chicago estate. I'll aid them in their citizenship process, they don't need no parents, send those m*ther f***ers back to Ecuador before they molest OUR children. We don't need them coming over her taking away our chance to moles… protect our kids.
If y'all woulda let me take Selena 30 years ago she'd still be here with daddy. I'd never let that ugly bitch who shot her near my home.
I'm an American, and while these fools want to slander my name I am stepping up in the name of my country, I'm calling this project "The Remix To Immigration". If my home can not accommodate all of these young olive complected children, I have partnered up with my man Kevin Spacey who will take in the boys.
God Bless America and F**k John Legend."
Donald Trump responded to the singer's offer with excitement on Twitter.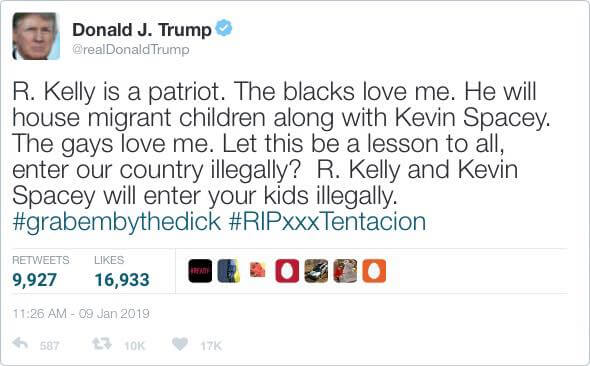 "R. Kelly is a patriot. The blacks love me. He will house migrant children along with Kevin Spacey. The gays love me. Let this be a lesson to all, enter our country illegally and R. Kelly and Kevin Spacey will enter your children illegally. #grabembythedick #RIPxxxTentacion"
Our Mexican correspondent Guillermo Toms contributed to this story.