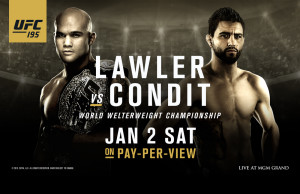 Welcome to the undercard of UFC 195 airing on Fox Sports 1. If you're reading this, then the show has already happened, and thus the results are out there. Hopefully, you didn't read any spoilers, and are watching on DVR. This piece is designed to be a read along, aka, what I'd be riffing about if we were sitting next to each other. Don't take my judging criteria or scoring too seriously as this is supposed to be high brow humor, not analysis… And by "high brow," I mean low brow…
Quick and Dirty Results from Fight Pass…
Wescott TKO'd Garcia in 1 with punches on the ground
Tanaka over Soto by Split Decision
Poirier over Duffy by Unanimous Decision
Scott Holtzman vs. Drew Dober – I actually got to train up in Glendale AZ two weeks ago and saw Holtzman getting ready for this fight. He took it on short notice, but he's ready. He's a fellow Knoxvillian so I'm pulling for him, which kind of sucks, because I've been hoping to see Dober make a run after that ridiculous "submission" loss to Leandro Silva, but he hasn't turned it around yet and did actually get submitted by Efrain Escudero in his last tilt. Escudero trains with Holtzman in Glendale, so that could make things interesting.
Dober won the first 10-9 and started to look comfortable. Holtzman and I are going to have a talk about whatever was sticking out of his waist band. If he's wearing one of those fucking Cheick Kongo style cups, I'm gonna be upset. I hate Cheick Kongo. I don't care if he knows that either. I'll fight Kongo, even giving up 70 lbs.
Dober wearing the Muay Thai style trunks is a good choice to stand out. He's like a younger, sexier, Ross Pearson. Holtzman put a shin on Dober's nose then took him down about half way through round two. Pretty even round, so I'd give a 10-10, but I'm sure most judges will give it a 10-9 to "Hot Sauce" Holtzman.
Dober really probably should have kept this fight standing, because he was getting the best of the stand up, but his ground stuff was good enough to win this round and the fight on my card. 30-28 Dober. A lot of blood already on the mat. The Poirier vs. Duffy fight was damn bloody as well. Go watch that on fight pass… Dober over Holtzman by Unanimous Decision
Nina Ansaroff vs. Justine Kish – Kish looked like a popsicle yesterday at weigh-ins. Her nose was red and she was pale as a ghost. She looks ready to go now. Ansaroff lit her up with some nice counters as Kish just charged in like a dummy. Defense is non-existent tonight. I just took my pants off because it's too hot in my TV room. In no way am I turned on by these women. This is a war with two "butter-faces," not to mention the huge bloody scab looking tattoo on Ansaroff's right ribs. Women, don't get tatoos. It's repulsive. 10-10 round, but probably 10-9 Kish. See, I usually give you my "True Ten" score first, followed by what I'd actually score if I were a judge and wanted to keep my job.
This round was crazy with kicks. Kish threw a spinning back kick to the head that almost connected. Kish ended up on top in a weird takedown, which put Kish in "scarf hold" or "100 kilos" or "big brother" or "school yard headlock" position. I give the round to Kish 10-9, so it's 20-19, or more likely 19-19.
There is some weird echo happening, while nothing is happening in the cage. Kish is now really pressuring. For real, the 115 lb women are the most exciting division in all of MMA, especially in tickle fights. I'd give Kish the third. True ten 30-28 for Kish. I'm sure the judges will score it 29-28 for Kish. Let's see… Justine Kish by Unanimous Decision
Kyle Noke vs. Alex Morono – I thought about picking Morono because I think Noke is old and done, but Morono looks like he's never seen a weight room, or the sun. Morono is throwing as hard as humanly possible. Noke is being patient but he needs to do something before he gets caught. Morono has a black belt in jits and a Gracie tattoo so that's gotta be worth something, but apparently not enough to try a takedown. I need to write an article about guys who have black belts and never try to go to the ground. I also need to do an article on the fucking retarded tattoos. I get that fighters are dumb and think cool shit looks cool and would make a cool tattoo, but they need a handler to say, "Hey dummy, a huge gorilla head with eagle wings is going to look fucking stupid when you're sober." 10-9 Morono for round one.
Morono went for the kill in round two after Noke slipped. The sound just cut out which means someone cussed. Yes, in 2016, we're allowed to watch two adults attempt to beat each other to death, but not use the f-word. Come on, Fox is classy. Noke just mounted the black belt. I have it 19-19 after two.
Noke's nose is fucked but he's bringing it with kicks in the third. Noke is just too big and has too much reach. Morono took the fight on 11 days notice and was game for the first 9 minutes. Hell, he's still bringing it. HOLY SHIT! Morono arm-barred the fuck out of Noke with 20 seconds to go but didn't get the tap. I give that round, and the fight, to Noke 29-28. We'll see… Morono by Split Decision
Big John needs to shut the fuck up during all fights. Why does he feel the need to comment all the time? Shut up dude, nobody wants to hear from the ref, especially the fighters. It's distracting. He's a good ref but he, and all refs, are not required to give their two cents. I hate stand ups but I hate even more when they say, "let's see some action." Shut up asshole. Tonight, Big John looks like he has the mumps or something.
McDonald vs. Kanehara – McDonald drops down for a guillotine on Kanehara, the BJJ black belt. Again, black belts not going for submissions or getting bested on the ground is so strange to me. Kanehara goes to my favorite arm hold, the Alvarez killer, where you trap one arm behind your opponent's back and use that to pass or punch. Kanehara 10-9
What a finish! McDonald was completely caught in a head and arm choke, but he escaped, took Kanehara's back and sunk in the rear naked choke for the submission. He just subbed the black belt. Great comeback.
Final Thoughts – There was a lot of action on the under card topped off by a great submission win with McDonald beating Kanehara. I can't wait for the main card!