MGM Grand Garden Arena
Las Vegas, Nevada
Yeah, I still feel New Year's Eve too… Anyways, these are your UFC 195 Free Live Stream of consciousness recap, results, play by play, whatever you want to call it.  It's free! It's LIVE! And in no way is it an actual stream like you cheapskates on the internet want; looking to screw the UFC out of money.  How dare you!?  Don't you know that only generated $600million last year!  Damn company is hanging on by a thread, I tell ya.  Anyways.  You know the drill.  We'll watch, you'll read, an old man dies and a baby is born.  Oh, and the Quick & Dirty Results – as always – are at the very bottom.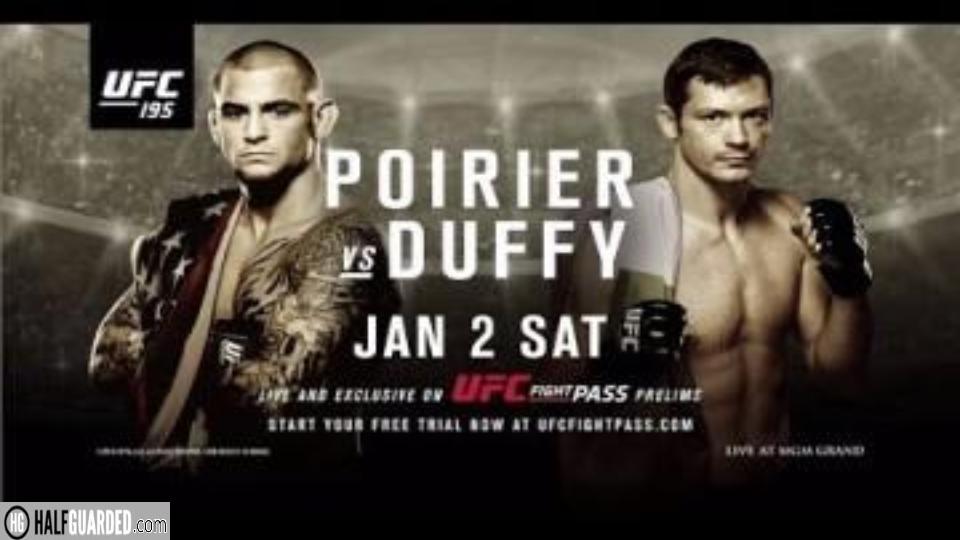 UFC 195 FREE LIVE STREAM of consciousness RECAP and RESULTS – First Round of Prelims – UFC FIGHT PASS 630/530/430/330
Edgar Garcia vs. Sheldon Westcott
Round One
Garcia has landed a straight right on the southpaw Westcott several times in the first minute. They must've hurt because Westcott immediately went for and got a takedown. The Canadian almost has the mount but instead takes the back.  He's flattened out Garcia and is pounding.  Very smooth BJJ from Westcott who continues to pound away and the ref as seen enough and it's over.  It's over after about a minute of punches Garcia didn't need to eat. Disgusting reffing here.
OFFICIAL RESULT: Westcott d. Garcia, R1, TKO
Joe Soto vs. Michinori Tanaka
Round One
Tanaka is in and out early, almost with a Machida-like manner.  He isn't landing really but Soto is having issues with the timing and distance.  Soto shoots but it's stuffed easily by Tanaka who responds with an excellent right hand.  Tanaka's ability to find angles is outstanding so far.  Soto sneaks in a left hook.  He follows that with a kick but Tanaka uses it for a takedown with a minute to go.  Soto tying a gogoplata.  It's pretty damn close but Tanaka survives.  That was a tough 45 seconds for the Japanese.
Round Two
Tanaka still moving but he's going backwards now.  The leg kicks from Soto in the first may being paying off.  Still, Tanaka is landing crisp, clean shots, especially with his hands.  Soto tried a takedown but Tanaka reversed with a nice Judo throw.  Soto threatening a guillotine but Tanaka fights off the hands.  Soto goes for a leg but Tanaka scrambles out and responds with ground and pound.
I wonder what happens if a corner gives advice to cheat…
Round Three
Soto is pressing hard now and has a cardio edge.  Tanaka is there but he's not nearly as sharp.  They are now just smiling and asking each other to hit one another.  Soto with a big punch.  Tanaka shoots and Soto has a deep guillotine.  Tanaka is stacking as hard as he can to alleviate the pressure and survives!  Man that was close.  90 seconds to go and they're in the pocket just throwing.  Soto takedown, mount, takes the back, tries a choke but it was only 10 seconds and Tanaka went the distance.
OFFICIAL RESULT: Tanaka d. Soto, dec.
Joseph Duffy vs. Dustin Poirier
Round One
Duffy on a different level with his hands.  A CRUSHING right staggered Dustin.  Duffy is simply sliding just out of reach and countering perfectly.  Dustin is reaching.  Dustin doing well in the clinch with some dirty boxing now and uses that to get a takedown.  Heavy ground and pound but Duffy uses the space to get up.  He defends a guillotine and another takedown attempt.  Duffy eats a left hook as he backs out.  Dustin definitely turned the round around.
Round Two
Dustin starts the round by getting an immediate takedown.  Duffy looking a little gassed but he's giving Dustin enough trouble that The ATT Member has to keep in down.  Dustin's nose is shattered and the whole, "River of blood" is so appropriate.  I think it actually tripped into Duffy's mouth.  YOU DON'T KNOW WHERE DUSTIN'S BEEN, DUFFY!  Big elbows here are crushing Duffy.  This is a mauling now.
Round Three
Duffy's left eye is completely closed.  They're boxing here and when that happens Duffy wins.  To which Dustin says: and now I take you down.  These two look like something out of a Rocky movie.  Duffy rolled for a kneebar.  Dustin defending well.  Duffy transitions to a heel hook but Dustin looks calm as hell.  And now Dustin is on top with two minutes to go.  Ref stands them with a minute to go and the crowd … Boos.  That's new.  Duffy landing his right hand over and over but then gets taken down.  Duffy trying a triangle. And has it as the clock expires.  WOW!  Awesome fight.
OFFICIAL RESULT: Poirier d. Duffy, dec


UFC 195 FREE LIVE STREAM of consciousness RECAP and RESULTS – Second Round of Prelims – Fox Sports 1 8/7/6/5
Alex Morono vs. Kyle Noke
Round One
Had a computer issue. Round sucked other than us noting that Morono looks like a fat, less talented Joe Lauzon.
Round Two
For a guy on 8 days notice, Morono is doing very well.  Noke tried to take the back but Morono shook him off.  Then Morono tried to take Noke's back but fell off and now Noke is on top pounding.  Noke to mount.  Morono counters into a heel hook. This round is very much the opposite of the first because it is good!
Round Three
Both guys are tired and throwing isolated punches. Morono grabs an armbar and MYGOODNESS is it deep.  How is Noke's arm not destroyed?  Amazing ending.
OFFICIAL RESULT: Morono d. Noke, dec
Drew Dober vs. Scott Holtzman
They look like twins.  And the trunks aren't helping. Fuck's sake.
Round One
They fought in the clinch a lot for the first two minutes and because they're twins it's anyone's guess as to who did what.  Dober finally got a takedown but Holtzman stood right away.  Dober is a bit more aggressive and landing with counters.  He spun around at the end like a fool.
Round Two
Holtzman ran into a brutal right elbow by Dober.  Dober is then hitting straight rights as a counter.  He's edging away slowly but surely.  Holtzman with a nice trip takedown.  Holtzman with another takedown and it looked like Dober twisted his knee.
Round Three
They starting out clinching and struggling for who is on top.  Dober gets it for a second but then they stand.  Despite being twins, they're both giving it their all.  And are bleeding.  Dober gets a solid takedown in what has to be an exhausting as shit fight.  Dober backing up and landing nice counters with both hands.  Dober with a takedown, briefly, at one minute.
OFFICIAL RESULT: Dober d. Holtzman, dec
Nina Ansaroff vs. Justine Kish
Round One
Sweet fuck, they come out like Frye-Takayama to start.  Nina got poked in the eye.  It looks to be worse than normal as a doctor is in there checking her out.  She seems distraught.   But, she's gonna fight.  They throw again like wild women.  Kish is a non-stop forward fighting machine.  Looked like Kish just grabbed the hair and used it to land a big knee.  This is just awesome.
Round Two
Kish's aggression has betrayed her as Nina clipped her.  Kish is hurt but damn if she doesn't tough it out and fight through it.
Brian taking over…
I wasn't paying attention to who is who, but the brown haired figniter is getting more aggressive and it's working for her.  The blonde gets a nice takedown with about a minute left and goes for a very hard to get arm lock, fails, and the brunette nearly gets up. Half guarded (like the site!) but the brunette has a really good under hook so the blond does not.
Round Three
Nina gets on top a minute in.  Not a a lot.  They stand.  And now Kish gets on top.  Kish has the back and is looking for a choke with 45 seconds to go.  They've slowed but are still going for it.  Ends with Nina on top.  Again, it slowed as it went on but that first round was amazing.
OFFICIAL RESULT: Kish d. Ansaroff, dec
Masanori Kanehara vs. Michael McDonald
Round One
Kanehara gets a quick takedown on McDonald.  McDonald trying a guillotine over and over but to no success.  Nothing is happening.  Well.  That sucked.
Round Two
Beautiful entry into a double leg by Kanehara.  McDonald goes for the guillotine and doesn't come close.  Mount.  Kanehara with a deep arm triangle.  McDonald slips out. OMG!  HE TOOK THE BACK AND GOT THE REAR NAKED CHOKE!  One of the most amazing transition finishes ever!
Official Result: McDonald d. Kanehara, R2, sub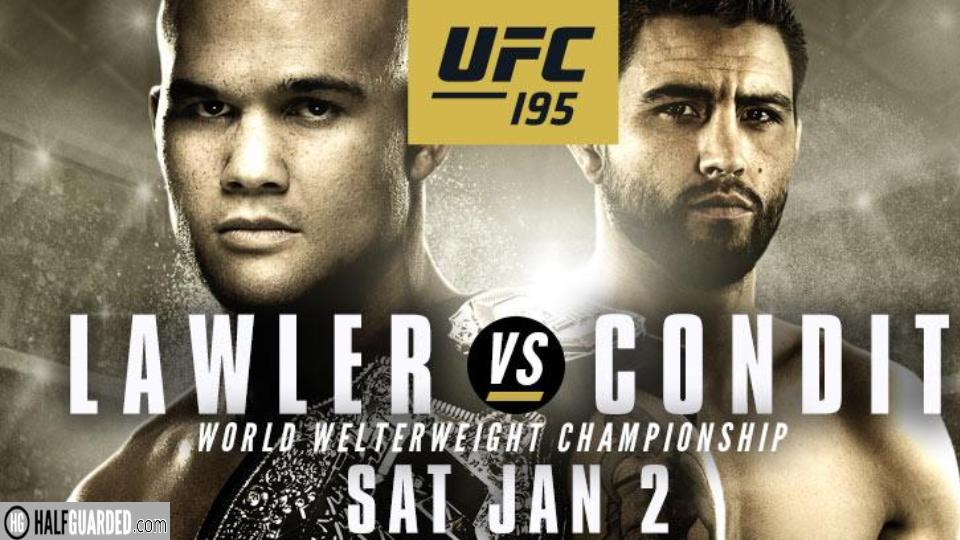 UFC 195 FREE LIVE STREAM of consciousness RECAP and RESULTS – MAIN CARD – PPV 10/9/8/7
Tony Sims vs. Abel Trujillo
Round One
Sims shot and got caught in a ridiculously deep guillotine and that was that.
Official Result: Trujillo d. Sims, R1, Sub
Diego Brandao vs. Brian Ortega
Ortega has a cup so big that the only explanation is he has an erection.
Round One
Diego slams Ortega early, using the cup for leverage.  Then does it again.  Going to be tough to to tap Brandao.  Most of the round was them trading isolated punches.  The cup is still OK.
Round Two
Both again throwing shots in isolation, one for one, but neither doing much damage.  Ortega is slowly landing more and more clean shots.  Could be even.
Round Three
Ortega ended up pulling guard and attacking with submissions. One after another that ended with a mounted triangle, rolled over, and finished!
Official Result: Ortega d. Brandao, R3, sub
Lorenz Larkin vs. Albert Tumenov
Round One
Both relatively equal on the feet with Larkin's kicks landing as Tumenov looks to box more.  Tumenov landed a series of punches that have Larkin hurt.  Larkin winged a punch and was countered for his efforts.  The more Larkin boxes the more he loses.  Larkin now landing kicks with such effectiveness that they are visibly hurting Tumenov.
Round Two
Larkin just blew his nose.  May be broken and that's the worst thing to do.  Tumenov trying to press in for boxing but Larkin doing well staying on the outside and kicking well. Left to the liver of Larkin had to have hurt just now.  Three more shots that would make Bas Rutten proud.  Larkin times a punch and slams a right hand into Einstein's head.  Tumenov with a slick lead left hook near the end of the round.
Round Three
Larkin kicking the leg over and over again.  He's throwing spinning back kicks to the leg.  Tumenov basically can't walk now.  Tumenov is trying but he's almost just doing enough to keep things honest and survive the fight.
Official Result: Tumenov d. Larkin, dec
Andrei Arlovski vs. Stipe Miocic
Round One
They didn't do much at all and then Miocic lands one huge right hand that ended Arlovski.  A few more shots on the ground was nothing but punctuation.
Official Result: Miocic d. Arlovski, R1, KO
Round One
Robbie moving forward early, looking for bombs,  but appears to have slipped or something as he went down.  That said, he's a bit wobbly on his legs.  Seems to have regained his composure but Condition is now in control of the distance and it's allowing him to land more kicks and change levels with his strikes.
Round Two
Robbie lands a HUGE right hand and drops Condit.  Carlos has recovered and is no slouch on the ground.  Lawler lets him up.  Point fighting thereafter but the moment may have passed for Lawler.
Round Three
Condit continues to stay on the outside with kicks as Lawler tries to fight his way inside.  Condit keeps landing combinations and Lawler can't figure out the timing.  Lawler is loading up on one big punch but if it doesn't land then he's losing rounds.
Round Four
Still more of the same, Condit on the outside hitting a series of strikes but that aren't doing huge damage and Lawler looking to land a bomb that never finds a home.  Condit is growing in confidence as this moves along.  Conversely, Lawler seems like he's becoming demoralized as the seconds tick away.  Condit landed to the ear and Lawler is hurt.  He's in a complete defensive shell and will survive the round but barely.  Lawler needs a KO to win this fight.  Carlos Condit is five minutes from becoming the undisputed champion of the world.
Round Five
Lawler is out like he's 19 again just throwing everything he has with every punch.  Condit answers back with a variety of strikes from every angle you can imagine.  3 minutes until we have a new champion.  Condit is hitting Lawler at will, doing whatever he wants, whenever he wants.  Lawler just can't deal with the range.  LAWLER LANDS A HUGE SHOT!  CONDIT IS HURT!!!!!! There's a minute to go.  Condit looks out on his feet.  He's almost out.  Lawler is throwing with his soul.  30 seconds to go.
Official Result: Lawler d. Condit, split dec, retains the UFC Welterweight Championship
QUICK & DIRTY UFC 195 FREE LIVE STREAM of consciousness RECAP and RESULTS
Sheldon Westcott d. Edgar Garcia, R1, TKO
Michinori Tanaka d. Joe Soto, dec
Dustin Poirier d. Joseph Duffy, dec
Alex Morono d. Kyle Noke, dec
Drew Dober d. Scott Holtzman, dec
Justine Kish d. Nina Ansaroff, dec
 Michael McDonald d. Masanori Kanehara, R2 Sub
 Abel Trujillo d. Tony Sims, R1, Sub
 Brian Ortega d. Diego Brandao, R3, sub
Albert Tumenov d. Lorenz Larkin, dec
Stipe Miocic d. Andrei Arlovski, R1, KO
Robbie Lawler d. Carlos Condit retains the UFC Welterweight Championship