(If you clicked this looking for an illegal stream – shame on you, the UFC needs more money)
MGM Grand Garden Arena
Las Vegas, Nevada
Follow our amazing Twitter where we'll just be asking you to come back here for most of the night
Welcome to the most amazing UFC 197 coverage you will ever find, anywhere, ever.  We promise.  We'll be updating this post throughout the week with the little bits of news and stuff that trickles out all leading to this Saturday when violence occurs.
And now it is Saturday. Fight day. The best day of the week. Our coverage is awesome. All of the updates throughout the week are at the bottom now because … just because.
The Quick & Dirty results only, no PBP, is at the bottom as well.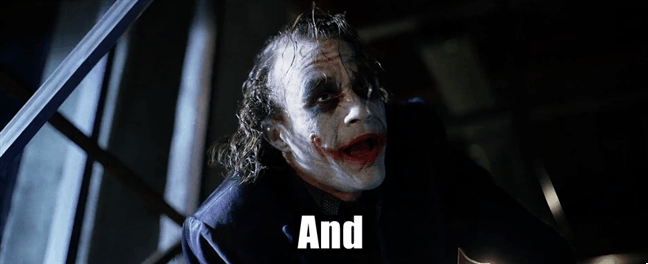 UFC 197 FREE LIVE STREAM of consciousness RESULTS and RECAP PRELIMINARY CARD UFC Fight Pass, 6:30 p.m. ET/530CT/430MT/330PT/130 Hawaii Time
Efrain Escudero vs. Kevin Lee
Round One
Lee on the his bike early, moving around a lot, keeping away from Escudero's hands and wrestling.
Lee with takedown attempts against the cage now.  Escudero is being smothered and seems lost.
Escudero doubles up his jab, follows with a right hand, and hurt Lee briefly.  Now Lee on the defensive.
Close round.
Round Two
Escudero ducking under a right and briefly gets a takedown but Lee is right up.
Theere's been a notable change in momentum here, as Lee is much more defensive now.  And now Lee struggling for a TD against the cage but Efrain elbowing the head and stops it.
Now Escudero in on the hips against the cage but no takedown.  They're clinch fighting a bit.  Break and Lee with a nice kick to the belly.
Mexico's pride (sure…) trying for the takedown but no dice.  Grueling for both men, as they're wearing on each other with these sprawls.
Lee is a little more versatile with what he throws, but Efrain has more power in his hands and throws more combinations.
Another close round.
Round Three
And Lee gets kicked in the cock.  That's not fair because he's got a bigger target.  Because he's black. Because no one will ever, ever, ever correct that stereotype.
Rogan and Cormier are giggling like they're high (Rogan? Never…) and talking about how they don't like the CompuStrike thing.  THANK YOU!!!
Efrain holding Lee against the cage and kneeing the legs.  Yup.  This is boring as hell and I regret life.
Lee with a big slam.  Finally something happened.  And Cormier called it perfectly.  I guess he might know a thing or two (I'm still smarter).
Halfguard(ed.com) now as Lee grinds.  This may win him the fight.
Efrain trying to create distance but he's been flattened out well.  He keeps trying to get up but Lee is Manning him down.
Lee counters an Efrain standup attempt with a guillotine attempt.  Pure neck crank.  But nope.  Efrain then grabs a leg but nothing to it.  And that exchange ends with Lee on top pounding.  That was the most action in the fight.
Winner: Kevin Lee, dec.
Should You Watch?
If you do, I'll find you and slap your balls.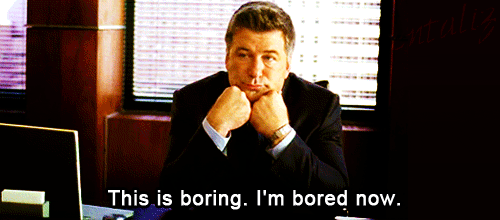 Clint Hester vs. Marcos Rogerio de Lima
Round One
Hester swung wild but de Lima swung back and dropped him 30 seconds in.  Peru on top pounding but Hester has tied him up and is regaining his composure.
Hester with an undertook now looking to stand, so I suspect he's recovered.  Or not as de Lima slides to mount.  They're close to the age, so he won't have a lot of room to do anything besides an arm triangle choke and pound but it's not good for Hester.
But maybe Hester is a horrible person, ya know?  Beats his kids and wife, runs a sweat shop, all that, so he deserves this beating.  Probably not and I publicly state I made all that up.
Lima puts himself back to halfguard(Ed.com) and is punching.  Hester hips to full guard.  Lima pounding BIG hear, even inside the guard.  Hester is trapped against the cage.  He's moving but now he's given up an arm triangle, Lima slides over, and TAP!
Almost more Hester looking for a way out, really.
Winner: de Lima, R1, sub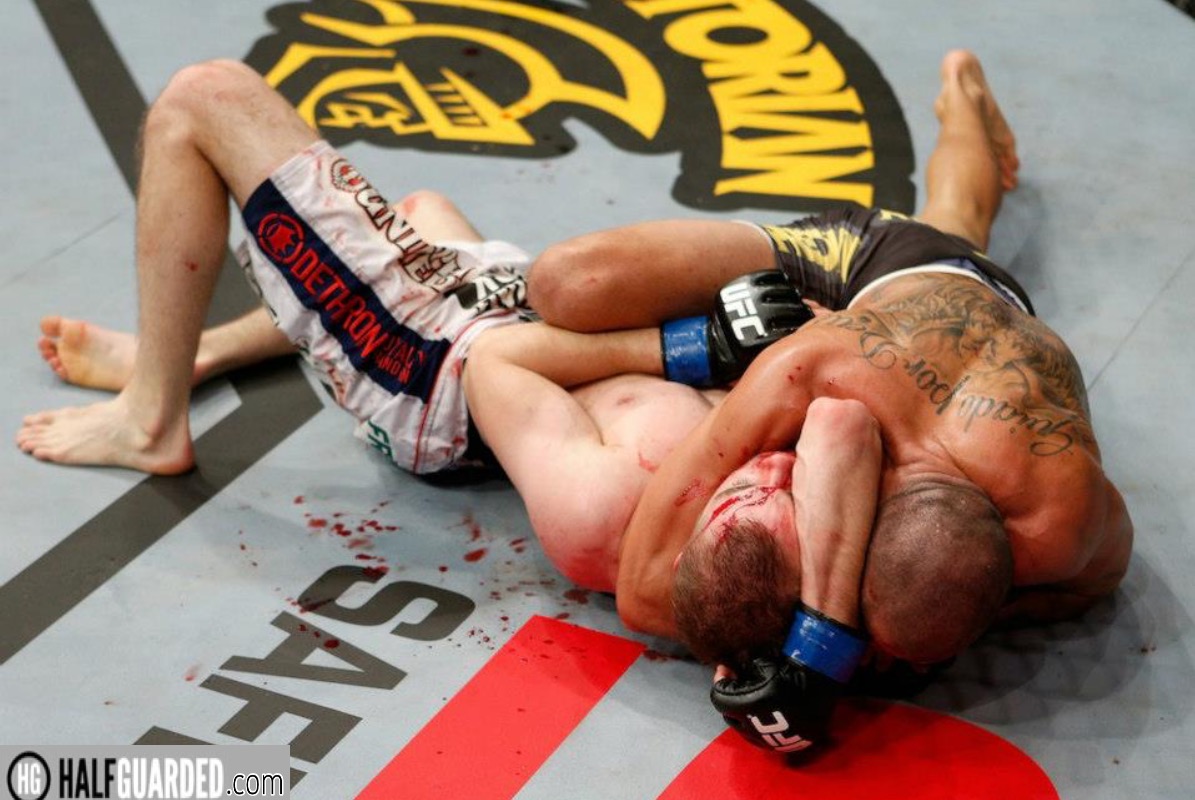 Should You Watch?
Honestly, for a single round fight that featured a knockdown, brutal GnP, and a submission, it was remarkably boring.
Cody East vs. Walt Harris
Round One
East is a "hot prospect."  Physically, he makes Tim Sylvia look like an Adonis. Really.
Cormier keeps saying Harris is "athletic."  Sigh.  Racism isn't cool, Dan.
East kicks Harris in the belly.  Or, as my brother just said, "The skinhead is assulting the black man."
(It's not assault, it's battery.  Battery is the hitting of someone, assault is the threat of hitting someone.  I know, I know, no one gives a shit but it's a LAWYER!!!! Peeve of mine.)
"Put your hands up, you fucking suck" said an observer in the crowd.
HOLY FUCK!  Both men just put their heads down and started throwing back and forth. AWESOME!!!
Somehow, no one goes down.
AND HARRIS CRACKS HIM HUGE!  OMG!!!!!!! THIS NEEDS TO BE ALL CAP.  HE'S POUNDING WITH SICK PUNCHES.  AN MORE.  OMG.  THIS IS BRUTAL.  EAST IS A GOD FOR SURVIVING.  HOW IS HE ALIVE.
IIIIIIIIIT'S OVER!!!!!
Winner: Harris, R1, KO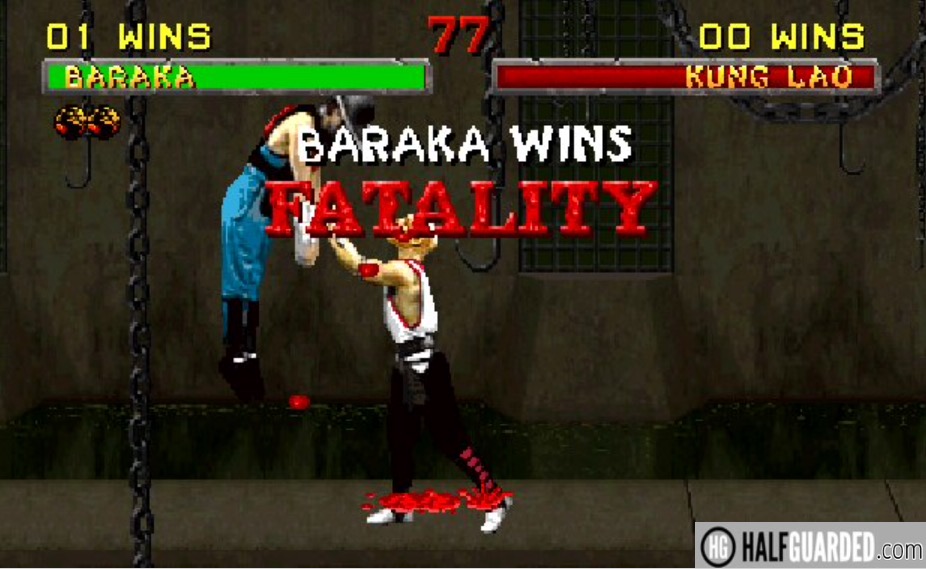 Should You Watch?
OMG YES!!!!  BETTER THAN SEX!!!!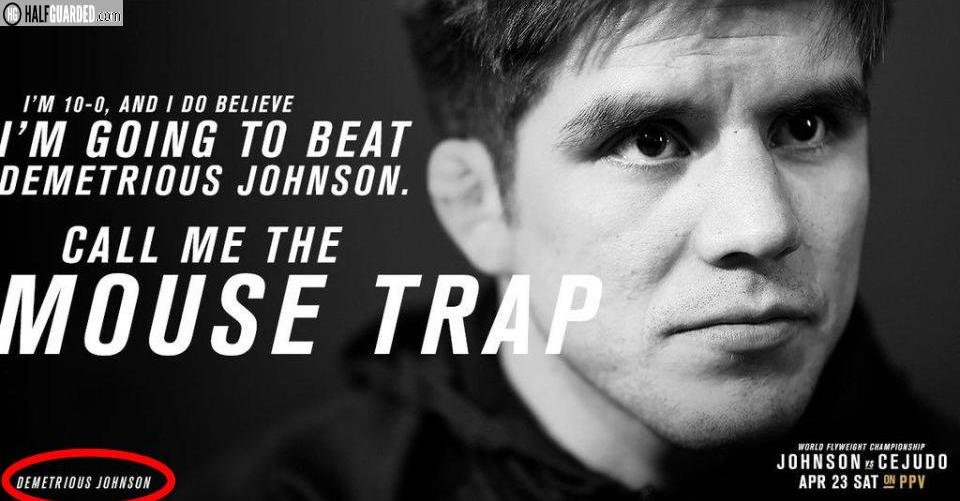 UFC 197 FREE LIVE STREAM of consciousness RESULTS and RECAP PRELIMINARY CARD FOX Sports 1, 8 p.m. ET/7/6/5/3
Glaico Franca vs. James Vick
Round One
Better be good.
Franca hit Vick with a punch and took him down, like his namesake did a 12 year old.
Vick stands up.
Franca with the TD and now holding Vick down and pounding.  That said, Vick is eyes wide open, controlling the wrist, tried to use a guillotine to stand but Franca identified it and defended.
Vick but scoots and stands.  Franca holding a body lock, tries a trip, but Vick avoids it.
Franca snaps back the head of Vick with a right hand.
Franca caught a finger to the eye but Steroid Ref didn't see it.
Vick is pressing, kicking the body, throwing punches now.  BIG punch to the liver.  Good action.
Franca ducks under though and gets a takedown.
Round Two
NOW Steroid Ref is having the Dr. Check on Franca's eye.  Fabulous.
"He doesn't speak English.  Where's the translator?"  "Can you see?  You need to tell the truth."  Right.  Take his word for it.  Did they import a doc from Texas?
Vick pumping the jab.  Jab.  Right hand and Franca is hurt.  The length of Vick is playing a big role here now.
Franca just eating shots now.  Jab.  Jab.  Right hand follows.  Lead hooking jab now.  Franca is taking them well but "taking punches well" isn't good.
Franca gets a good takedown.  Full guard.
Stand up.  Franca is tired here and getting picked apart by Vick's lengthy jab.
Franca winging punches but catching nothing but air.  True fact: you can't KO air.
Round Three
We start off the same, with Vick picking his shots and Franca unable to get inside for anything.  That said, Franca isn't quitting and IS going for it.  True Fact: going for it doesn't mean you're winning.
Jab. Jab.  …. Jab.
Clinch.  Vick using his head well to control position.  A Vick takedown would probably secure the fight for him.  First round was close, but I can see Franca getting it.  2 was all Vick.
Just learned that Mary Tyler Moore once offered a restaurant $1000 to free a 65 year old lobster from a restaurant. Rush Limbaugh heard about this and offered them $2k if he could eat it.  Hero.
VICK FRONT KICKS FRANCA'S FACE!  Close round but likely Vick.
Winner: Vick, dec.
Should You Watch?
Not really, no.  Find the most unusual porn ever and watch that instead.
Carla Esparza vs. Juliana Lima
Round One
Carla got a takedown to avoid getting hit by Lima.
Lima is threatening on the bottom and Carla can't get much going as a result.  Carla wants to pass but she's unable and her GnP isn't effective.
While in full guard, Lima is using a very high guard.  And if Carla stands, Lima is kicking up very well.
Close round.
Round Two
Carla takedown.  But it's the same as round two.  She can't pass, Lima can't tap, it's a stalemate of styles.
Yawn.
Round Three
Same. Exact. Thing.  I wish I could give insight but it's just a Carla takedown, Lima high guard, Lima up kick.
On their feet but the down.  Carla at least in side control.
Sigh.
I wonder if Owl's are actually smart?  Who?  Owls, can't you read?
Winner: Esparza, dec.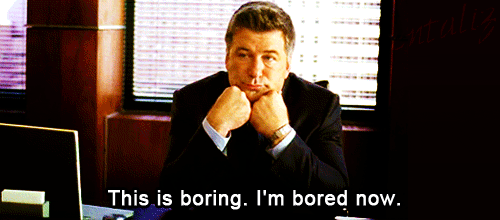 Should You Watch?
Do you desperately need sleep?  Then sure.
Danny Roberts vs. Dominique Steele
Round One
I just learned that BOTH of the dudes who created The Matrix are transgender now.  That's weird.
Weird as in different.  Not bad weird.
Steele with a early takedown and some pounding.
Roberts stands.
Roberts cracks Harris.  Harris does the wobbly leg dance.  Roberts in on a TD (sure…) but doesn't get it.
Both guys getting in good shots from a Thai clinch.
Steele with a slam!
A little pounding here but Roberts doing well with heels on hips to control distance.  And Roberts stands.
Round Two
A check kick had Roberts fall and roll over. Both guys are tired as fuck.  Maybe they watched the last fight.
Steele, who I know I've said this before but has a great porn name, working the clinch well.
Robert is moving forward but Steele is hitting better and cleaner.
Kick by Roberts to the forearms hurt Steele and momentarily changed things.  Both men then throws knees are the same time.
In the clinch, Steel is throwing knees and Roberts is throwing punches.  Grueling affair.  Not barn burner amazing but just two dudes fighting and beating on one another.
Stelle with a takedown but Roberts gets up quickly.
Round Three
Roberts lands a straight left right away.
Steel with a scoop and slam but Roberts is fighting it like hell with a switch.
BIG elbows from Roberts now.  It lets him stand.
Steele is glued to Roberts here and my gosh, I can just feel how tired they are. This is Sparta like war.  Two men just fucking beating on each other.
Roberts legs are giving out on him from exhaustion.
Steele with a TD attempt but Roberts somehow sprawls.
Steele isn't giving up on that TD though.  And Roberts won't stop on the sprawl.
Roberts with Ronda Rousey's BF's elbows.
90 seconds to go and I just want it to end because both dudes deserve a beer and $50k (which they won't get)
Steele tags Roberts.  Roberts is hurt but he just throws back on instinct.  Steel then tries a takedown but Roberts sprawls.
They both deserve a standing O. (If you're a woman, just fake it – you're used to doing so.)
Winner: Roberts, dec.
(I thought Steele had it but oh well)
Should You Watch?
This was not exciting fight ever.  Not even close.  But I was in awe at two men spending 15 minutes absolutely burning out their bodies for every single little thing.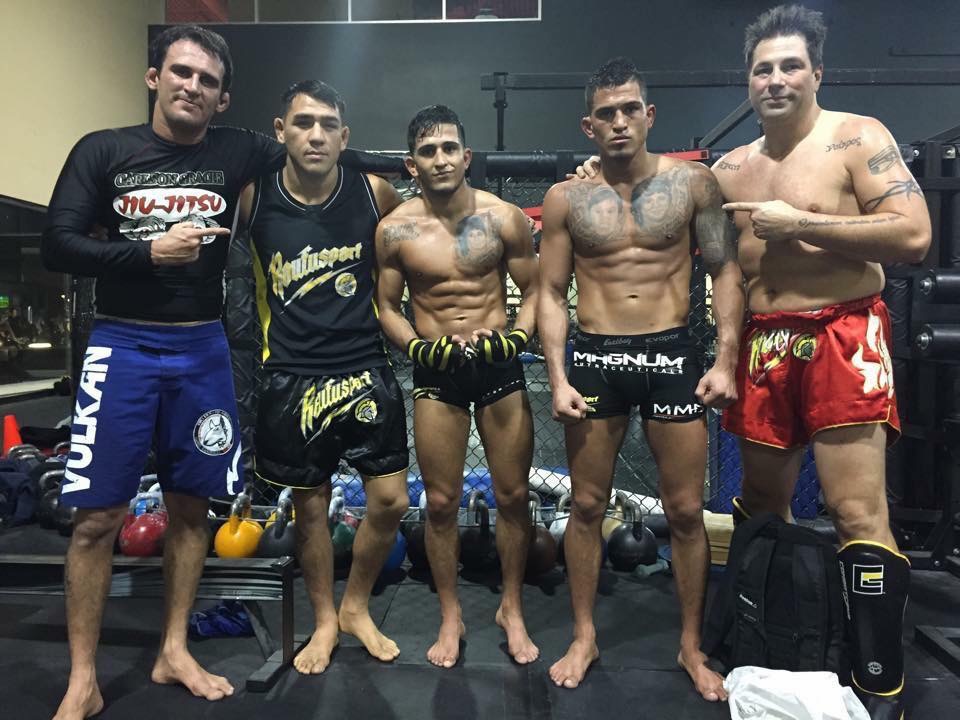 Chris Kelades vs. Sergio Pettis
(Normal deal where I say: Mike is close friends with Daniel Wanderley who is the lead BJJ coach at RoufuSport and thus anything written about this fight should acknowledge that. He (I) probably won't be biased but you deserve to know.)
Round One
I was recounting the exact moment when BJ Penn beat Hughes the first time, and how it was one of the best moments of college, and my brother says, "You're such a nerd."
Pettis clip Chris with a punch.
Pettis is showing WAAAAAY better movement on the feet, dancing around in a way that basically says, "You aren't on my level."
Pettis kicking and jabbing as he stays out of range.
Petis catches a kick and sweeps the leg in classic Muay Thai style.
Pettis passing attempt but no dice. (Sorry, Daniel.)
They stand.
Round Two
Chris gets a takedown off a kick and Sergio with a slick attempted triangle.  It didn't happen. (Daniel, what's up with that???)
Pettis with a picture perfect butterfly sweep.  Marcelo Garcia is jealous of how good it was.
Pettis lands a thudding elbow as he tries to pass.
Chris trying a sweep of his own but no good.
Chris up and gets the back, laying in knees half way through the round.
Pettis turns and presses Chris against the cage.
Pettis steps a half-step back and cracks a right hand.
Rogan name dropping Izzy Style Wrestling (which IS good) but it's like, "Dude, you're trying for Hipster MMA Cred with that."
Off a clinch break, Pettis with a kick to the head which is blocked but looked cool.
Round Three
Start off with Chris missing punches as Pettis slips with ease.  Pettis tried a trip from the clinch but didn't get it.
Separation and after Chris swings wide, Pettis times a takedown well and is on top in Halfguard.
Not much, Chris stands, and Sergio dances out of the way of strikes and resumes a takedown attempt.  Odd strategy but I applaud anything a Pettis Brother does.  For objective reasons, you see…
Pettis trying a guillotine but Chris doesn't seem to mind. Pettis knee.
Winner: Segio Pettis, dec.
Should You Watch?
Well, DUH!  My friend is in the corner, of course you should watch.  Though, if your friend isn't in the corner then … No.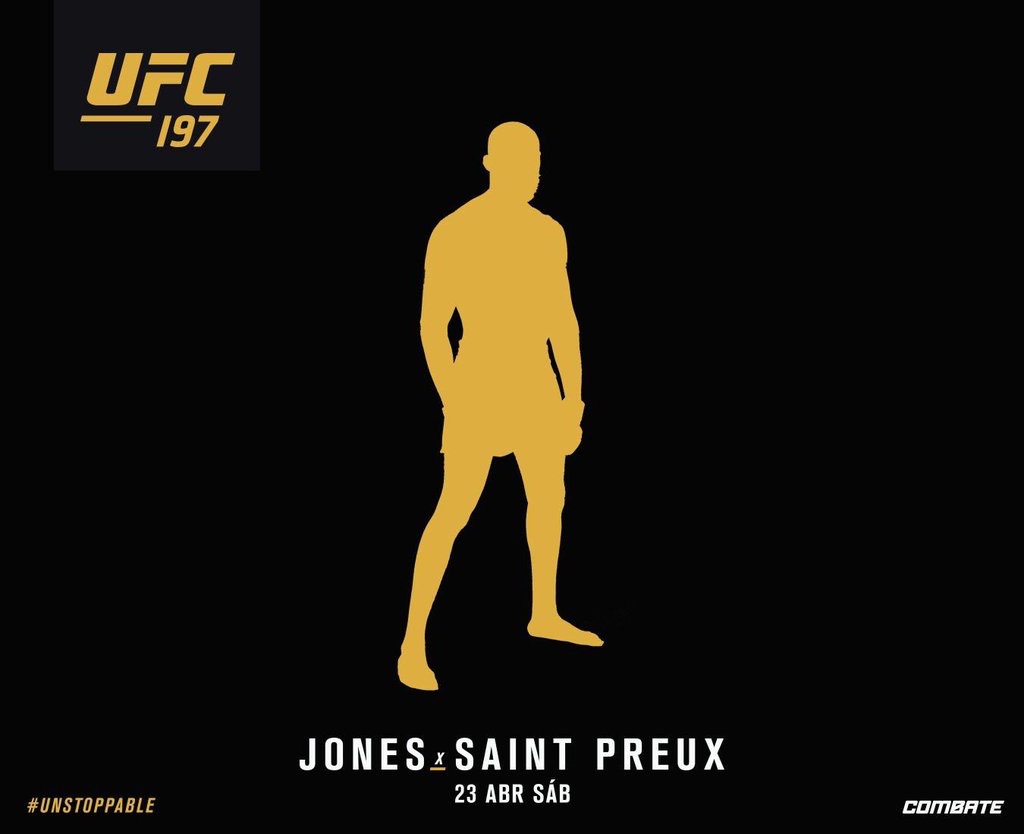 UFC 197 FREE LIVE STREAM of consciousness RESULTS and RECAP MAIN CARD Pay-per-view, 10 p.m. ET/9/8/7/5
Andre Fili vs. Yair Rodriguez
(Not quite the same, but the coach for Team Alpha Male is Fabio Prado and he's close with Daniel and has always been super super nice to me. He may be the nicest human on earth, tbh.  So: Go Fili.)
Round One
Yair …what kinda name is that?  Come on, Mexico.  Get it together.
Fili taken down off a kick/slip.
Yair drops some BIG elbows while on top.
Fili with a good kick off his back.  Yair thinking heel hook.  Nope.
Yair passes the half guard.
Standing now but Yair kicking well.
Fili with a nice straight left hand that hurt but not enough to win the round.
Round Two
OMG!  Yair murdered Fili with a jumping kick to the head.  This is a KO like … Whip it out and go to town.  HOLY FUCKING FUCK FUCK FUCK!!!!!!!!
Winner: Yair Rodriguez, R2, AMAZING KO!!!!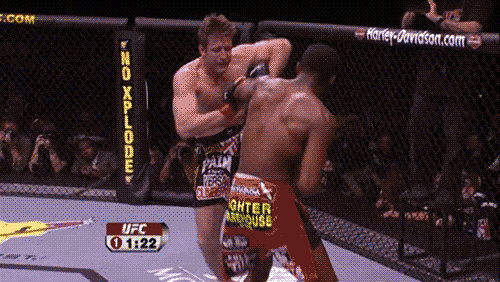 Should You Watch?
If you don't see the finish, there is something wrong with you and I hate you.
Rafael Natal vs. Robert Whittaker
Round One
 Natal is out to the Brazilian national anthem.  I think.  It's HORRIBLE.  WTF? Brazil????  It sounds like a USSR thing.  You guys mastered Fake Tits and Party Time. You need an anthem you can dance to.
Natal is throwing wild and Robbie is just outclassing him.  It itsn't bad but he's just better.  Whittaker just smoother here.
"You know that Jewish tradition requires a body to be buried within 24 hours of death?" "Really."  "Yeah."  "… Because thery're vampires and no one wants them to feed."  – NOT ME!!!
Whity catches Natal with a big strike.  And another.  The Brazilian is on Queer Street (some saying needs to be preserved in 2016 – that isn't one of them).
Round Two
Just guys trading strikes.  No one landing much.  I have ZERO to report. Plus: I wasn't paying attention that much, tbh.
Round Three
Rob using a double jab now but it's so just two guys throwing random, isolated strikes here and there.  It is kinda crap.
Rob drops him briefly at the very end. But … This wasn't "outstanding" as Goldie said.
Winner: Robert Whittaker, dec.
Should You Watch?
No.  Flog yourself like a dark ages Catholic instead.
Edson Barboza vs. Anthony Pettis
(Normal deal where I say: Mike is close friends with Daniel Wanderley who is the lead BJJ coach at RoufuSport and thus anything written about this fight should acknowledge that. He (I) probably won't be biased but you deserve to know.)
Round One
Pettis a bit more aggressive. Lands a lead uppercut.  Both guys being respectful here though.
Respectful?  WTF does that even mean?  They're grown men in a CAGE FIGHT.
Barboza with a left hook that has Pettis bleeding from the eye.
Barboza is quicker with the hands so far.
Pettis with a more squared up stance, which is great for MMA but not striking and this is mostly striking.
Round Two
Lots of point striking, tbh. Pettis is on his heels and Barboza is pressing.
BTW, I 100% called this on Five Star Radio.  And I'm not kidding.  I'm a genius.
Pettis finally attacking the body with kicks to the liver.
Round Three
Pettis is getting his ass kicked, tbh.  Barboza, The Pirate that he is, just kicking the shit out of Pettis's legs.  Again: I predicted ALL of this on my show.  I know that's annoying to hear but I'm super duper smart.
Pettis just beaten at kickboxing.  That's all.  He isn't the striker that Barboza is.  That's all there is to say.
Winner: Barboza wins, dec.
Should You Watch?
No.  It wasn't horrible but life is short and you should spend it maximizing your happiness. This won't do that.  Watch The Edge, starring Anthony Hopkins instead.
Demetrious Johnson vs. Henry Cejudo for the UFC Flyweight Championship
Round One
Cejudo out to the Olympic music.  Then it morphed into Mexican music.  Am I high?
Cejudo with an early takedown.  And it was easy.  DJ pushes off and kicks his way free.
Mouse with a big knee in the clinch and it hit square.
Mouse with a HUGE elbow in the clinch.  Then a knee in the clinch.  And the a shot to the body AND IT IS FUCKING OVER!  HOLY BUTT FUCK!!!!!!
The knee hurt.  The elbow hurt. The liver shot hurt.
Winner: Demetrious Johnson, Mighty Mouse, R1, TKO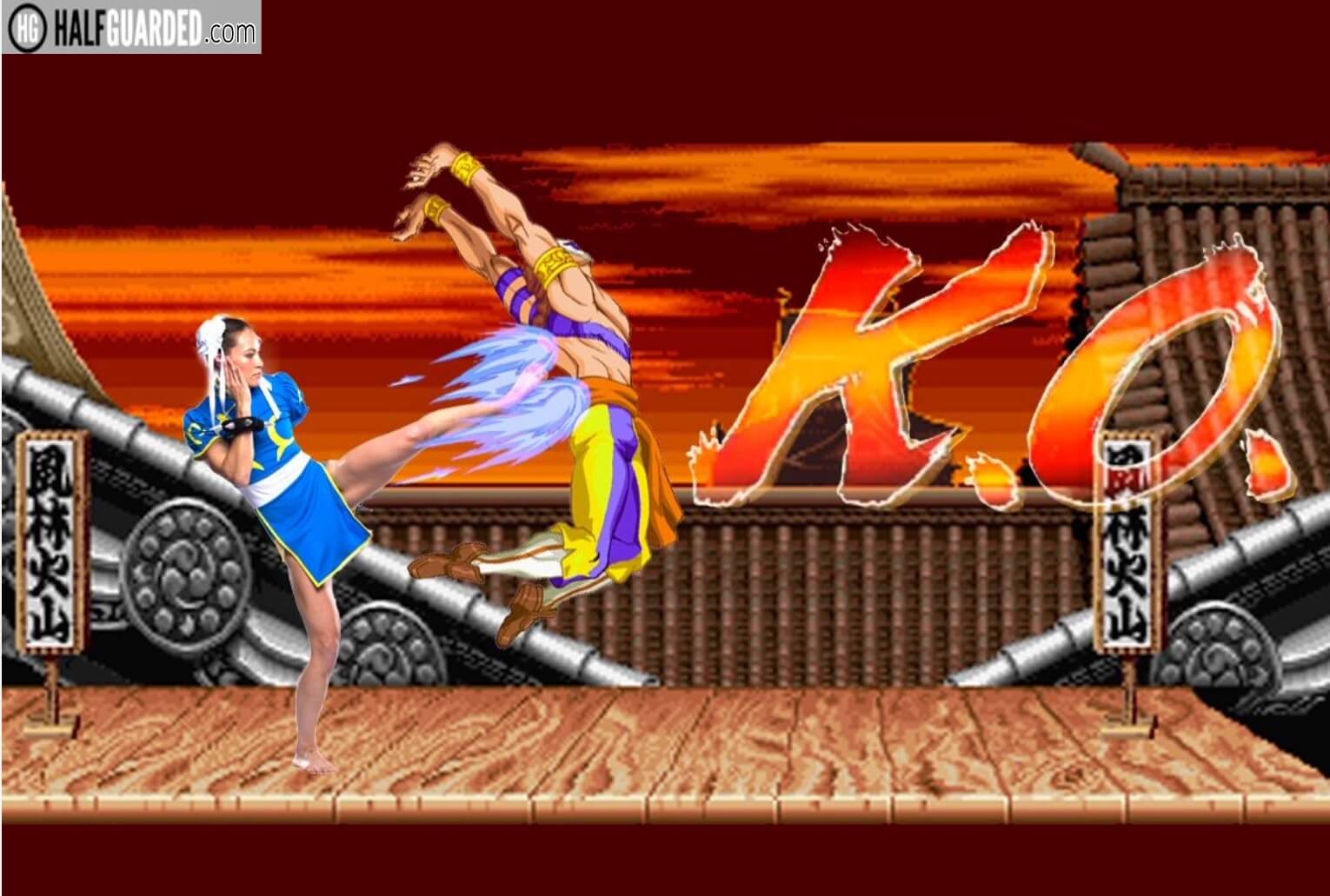 Should You Watch?
FUCK.  YES.  Mighty Mouse is truly special. He's approaching that level of amazing where he's due for a crazy loss where we all go, "WTF?"
Jon Jones vs. Ovince Saint Preux for the UFC Interim Light Heavyweight Championship
Round One
Jones is FIVE FUCKING YEARS YOUNGER than OSP (yeah, you know me). Fucking fuck.  What a freak of nature.
Jones is SO much bigger.  And starts with the kick to the knee. Then the body.
Side kick to the body from Jones.
Half way through this and Jones is just hitting what he wants.  He isn't overextending himself but he's on a different level and it's clear.
LOL @ Goldberg saying that Gustaffson gave Jones his toughest fight – with Cormier sitting next to him.
Round Two
Jones caught a kick, tried to trip OSP with a high "teepee" trip, but didn't get it.  Props to OSP.
OSP lands a nice right but Jones has a chin of granite.  In addition to all of his other other worldly skills… I'm good at writing things while drunk.  –  I hate him.
Jones did a low stomp kick to the foot and it hurt OSP.
OSP is tired and Jones did a Spinny kick to the body.  OSP doing ok in boxing range but that's all.
Round Three
Jones is doing what he owes.  Oblique kicks (did I spell that right?). Jabs.  Using distance and such.  Kicks to the knee.
Jones with a spinning elbow.
Jones with a straight left to the body.  Ugh.  OSP is tough.
Jones with more kicks.  Legs.  Body.  Legs again.
What's crazy is that, at will, Jones could take OSP to the ground.
Jones's length is way beyond anything OSP can handle.  OSP just can't figure out that distance and Jones is kicking him at will. (I know, I repeated myself.)
Round Four
Jones with a stupid easy takedown but … OSP uses butterfly hooks to get up.  Good for him.
But it is mostly just Jones on the far outside, using his jab and kicks.  OSP just can't deal and nowhe's getting hi with elbows and
Another big takedown.  Jones in side control.  OSP is tired.  He's putting him in the Jesus position (you get the reference, fuck you).
OSP trying to use the cage to escape but Jones has incredible control.
OSP explodes and almost gets up but Jones takes him down and has a mount.  Back control. Jones let's it go, and is punching OSP like it's nothing.  OSP barely survives.
Round Five
Same verse, same as the first four (that doesn't rhyme, I know).
EASY giant slam from Jones.  OSP looks dead tired.
Jones good up, kicked the body, and let OSP up.  What an owning.
A minute to go and they're clinched with Jones, ya know, winning it all.  Elbows. Knees.  Whatever.
OSP just wants to say "I lasted five rounds with Jon Jones" at this point.  And he will.
Winner: Jon Jones, dec.
Should You Watch?
Crowd boo'd.  It wasn't really exciting but there is always something fascinating about watching The Best do what they do.  But from an action POV?  No.  This was relatively pedestrian.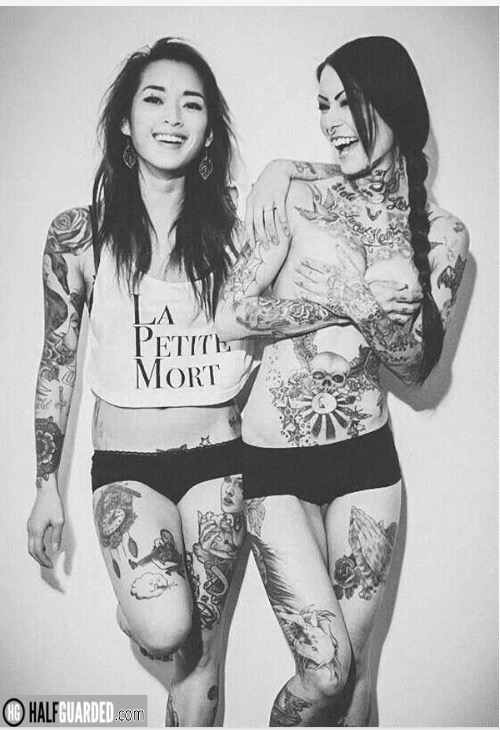 QUICK & DIRTY UFC 197 FREE LIVE STREAM of consciousness RESULTS and RECAP
(Winner in bold)
Efrain Escudero vs. Kevin Lee
Clint Hester vs. Marcos Rogerio de Lima
Cody East vs. Walt Harris
---
Glaico Franca vs. James Vick
Carla Esparza vs. Juliana Lima
Danny Roberts vs. Dominique Steele
Chris Kelades vs. Sergio Pettis
---
Andre Fili vs. Yair Rodriguez
Rafael Natal vs. Robert Whittaker
Edson Barboza vs. Anthony Pettis
Demetrious Johnson vs. Henry Cejudo for the UFC Flyweight Championship
Jon Jones vs. Ovince Saint Preux for the UFC Interim Light Heavyweight Championship
---
1. Jon Jones thinks Cormier is faking his injury.
3. UFC Embedded saw Jones rob a bank.
4. What's the motivating factor behind why Jones and Mighty Mouse are looked at differently? (Swift being THE MAN!)
7. Can anyone actually beat Jon Jones?
8. Amazing audio breakdown of UFC 197 by Mike (who in no way is writing this right now)
9. Weigh ins were fine. OR WERE THEY?!? (They were.)
10. Ten things you need to know about Henry Cejudo.