Poll: How do you beat Jon Jones?

Loading ...
---
Just because something hasn't been done doesn't mean it can't be done. Scale a mountain, cross an ocean, walk on the moon – impossible until done.  MMA is no different. Still, we tend to succumb to The Now and lend ourselves to thinking that because someone hasn't lost that means they never will.  Fedor lost. Silva lost. Ronda lost. McGregor lost.  It happens to the best. Except Jon Jones.
And can it? Can Jon Jones lose?
With Ronda, the blueprint was there: keep it standing, avoid her clinch, and outstrike her.  It wasn't a guarantee of success but it was the most likely path to victory.
McGregor.  Don't get sucked into the mind-games, have a good gas tank, get him to the ground and either submit or ground and pound him.  Again, no guarantee.  Chad Mendes took him down with ease and still got finished in less than ten minutes.  But when Nate Diaz tapped McGregor with a rear naked choke, while historic, it confirmed a belief.
Even Anderson Silva was clear: put him on his ass.  While Weidman may have ultimately beat him with a legendary hook, Chael Sonnen showed the initial way to beat possibly the greatest of all time.  Silva couldn't wrestle and his guard wasn't dynamic.  Too bad Sonnen had a history of making stupid mistakes on the ground and Silva had an almost unbreakable will. But don't think that Weidman's early, easy takedowns didn't help open Silva up just a little bit.
Can Jon Jones lose?  Is it even possible?
But what about Jones?  How do you beat him?  What kind of fighter do you construct from scratch to take away his brilliance?  Matt Hamill was the closest and that strategy was, "Get beat up so bad they DQ Jones."
Jones isn't an artificially created prop either.  He's spent the better part of a decade fighting the creme de la creme at light heavyweight, from great strikers to wrestlers to guys who can drop a mountain with one punch.  Short, tall, strong, fast, it hasn't mattered.  They're all losing and losing in such convincing fashion that Jones is rendering rematches pointless.
If you strike with Jones, his reach is so unnatural that it as challenging as climbing Mount Everest while wearing flip flops.  Even if you can avoid staying on the end of his punches and kicks – all of which have been cultivated by Greg Jackson and Co. to take maximum advantage of his length – Jones has messed up one opponent after another in the clinch.  Or with front kicks.  Or with jabs.  Or with body shots normally not appreciated by a fighter until later in their careers.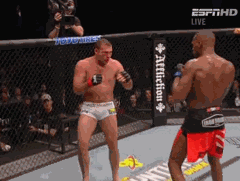 Glover Teixeira had one special talent, to get close and land thunderous hooks.  And so of course Jones fought most of the fight inside a phonebooth, battering the Brazilian with elbows, cakewalking his way to a victory.  And just for good measure, Jones took a few punches square on the jaw and didn't flinch, as if to let us know that even if you do land, it won't matter.
In theory wrestling could work, as a long, lanky guy like Jones traditionally has a tough time sprawling.  Of course it hasn't.  In fact, most attempts at taking Jones to the canvas result with him on top and a hailstorm of elbows following.  Hell, he fought one of the best wrestlers in MMA history in Daniel Cormier, and seemingly dared the Olympian to out-wrestle him.  For most of five rounds, Jones was content to fight close enough that Cormier should've – should've – been able to dump the champion on his ass at will.  Instead…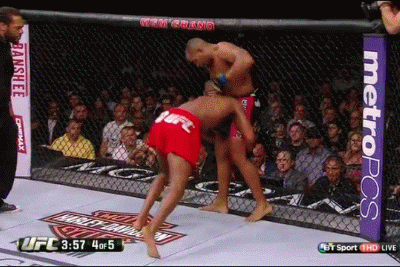 Jones has even demonstrated the rare ability to come back and adapt on the fly.  When he faced Alexander Gustafsson, after initially being surprised by the Swede, Jones regrouped and took over.  There are numerous cases of talented fighters who as soon as things get tough they shut down (BJ Penn; Vitor Belfort).  Not Jones.  He has every physical gift imaginable and the cliched "winning spirit."  For someone with a reputation of not-caring, of being somewhat lazy at times, Jones demonstrates a remarkably strong mindset.
Perhaps a high level submission ace?  Someone like Vinny Magalhaes might be able to catch Jones early (Belfort almost did), with those long limbs being the jiu-jitsu man's red meat.  Of course, that would require Vinny to first earn a shot, which seems unlikely, and would also depend on him being able to get close enough to Jones, probably pull guard, and not get hurt before he can snatch a limb.  Then again, trading submissions with Jones doesn't always work out so well…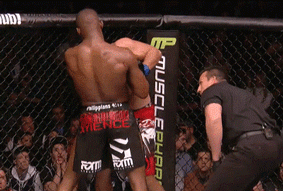 A heavyweight?  Maybe.  Some of them should be able to neutralize Jones's physical strength, but even then Jones will have a reach advantage on most.  Plus, when the best path to beating a guy is, "Have him fight people 40 lbs heavier" that's not much of a plan, is it?
Hell, the Cormier fight was against an undefeated freak, who'd been dominating at heavyweight, and Jones appeared to spend half his training camp joy riding, wired on cocaine, and at parties.  Not even the normal self-destructive behavior associated with The Greats Falling seems to stop Jones.
Strikers can't beat Jones.  Wrestlers can't beat Jones.  Tough guys can't beat Jones.  Even Jones can't beat Jones.
Can anyone beat Jon Jones?