No two fighters are as bound to a single moment as Michael Bisping and Dan Henderson.
When you look at their Hall of Fame careers – combined, they've had 82 professional fights – you see a who's who list of MMA royalty. That includes victories over Fedor Emelianenko, Anderson Silva, Wanderlei Silva, Antonio Rodrigo Nogueira, Shogun Rua and Luke Rockhold.
But despite all of these accomplishments, few instantly think of Hendo knocking out "The Last Emperor" or Bisping grinding out a hard-fought victory over arguably the greatest MMA fighter of all-time in his own backyard. Instead, the first – and really, only – image that comes to mind when you hear either of their names is THAT punch.
Yes, THAT punch from UFC 100. Even seven years after the fact, it's considered by many MMA forum-dwellers to be the single greatest knockout blow in the sport's history. It's an immortal moment that's been .GIFed, PhotoShopped and memed into oblivion, a "where were you when it happened?" touchstone of modern MMA, probably about as iconic as the image of David Tyree reeling in that helmet catch from Eli Manning at Super Bowl XLII or Michael Jordan launching that buzzer beater against the Jazz in game 6 of the 1998 NBA Finals. As soon as the dreaded "H-bomb" landed on Bisping's chin, it become automatic sports lore.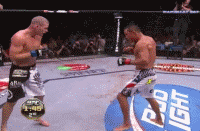 And since 2009, both men have remained cloaked under the shadow of that moment. As much success as Bisping has had – and that includes winning the UFC Middleweight Championship – he's still "that British guy who got Falcon Punched in real life." And despite Hendo's hardships in the cage – back-to-back losses to Vitor Belfort, getting tapped by Daniel Cormier and getting punched out by Gegard Mousasi – he's always going to be revered and respected for that one devastating overhand right.
That Bisping – age 37 – and Henderson – age 46 – are even having a rematch in the year 2016 is, in and of itself, pretty amazing. But the fact that these two men are going toe-to-toe at UFC 204 … for the Middleweight Championship of the world? That's almost too insane to believe, even for a sport defined by it brain-fryingly improbable comebacks.
We all know how Bisping got here. Since 2015, he's been on a four fight tear, culminating with back-to-back victories over Anderson Silva and Luke Rockhold. Since 2014, however, Hendo has gone 3-3, with his most recent win being an astonishingly brutal knockout of Hector Lombard … which, as fate would have it, was on the very undercard of the show in which Bisping, after 10 years with the company, finally got to strap UFC gold around his waist.
Sure, sure, you could reasonably argue that there are other fighters in the Middleweight division who deserved a title shot more than Henderson (Ronaldo Souza immediately springs to mind.) Alas, no MMA purists are complaining about the UFC 204 main event.
And it's for one very simple reason: the unpredictability.
Common sense (which, honestly, doesn't even matter in a sport anchored around trying to knock people unconscious and rip their joints out of their sockets) would lead one to believe that Bisping has this one in the bag. He's younger, he's spryer and he's definitely looked better in his last four bouts than Henderson has in his last two years of professional fighting. Indeed, with Hendo declaring this upcoming bout his final MMA fight ever, one really doesn't see what sort of incentive "Dangerous Dan" would even have for the matchup. He goes in, he gets his head knocked off, everything comes full circle, he rides off into the sunset and Bisping makes the Manchester faithful very, very happy. The story, effectively, writes itself.
That said, MMA doesn't have a script. Yes, Hendo may go in there and put in a lackluster performance en route to retirement, but at the same time, he might just go in there prepared for one final war. Maybe Bisping doesn't take him seriously, and maybe the champ's cardio isn't up for championship rounds? Or perhaps Bisping makes the ultimate Octagon mistake and leaves his big, bulbous chin wide open and undefended, allowing the U.S.S. Henderson to bombard the living hell out of The Count's face?
So many things could happen this weekend. Bisping could T.K.O. Henderson in the first, or he could grind his adversary out in a long, grueling, 25-minute attrition-showcase. Maybe both men's gas tanks will run out in the third, and whoever does the best job laying and praying in rounds 4 and 5 picks up the victory. Hell, we might even witness ourselves some outstanding celestial justice, with Bisping dropping Hendo cold with a heinous, hellacious hook of his own.
And maybe … just maybe … Henderson will rear back his elbow, take a one-step, two-step forward and celebrate his retirement with the greatest going-away gift of them all: the sweet, sweet sound of fist exploding on jaw, followed up by the even sweeter sound of limey hitting the canvas before his own countrymen.
Simply put, anything is bound to happen this Saturday night. And if what happened the last time these two men duked it out is any indication, whatever that "anything" resembles is almost certain to be awesome.