@MichaelCoughlin
Max Holloway is very good at fighting. Charles Oliveira is very good at fighting. They fight on Saturday. That's all anyone will and should care about for UFC Fight Night 74. No, this isn't some childish BOYCOT THE UFC AND SHOW THEM GRRR ANGRY thing. Just a recognition that the undercard is full of guys you've either never heard of or have barely heard of.
Where?
That doesn't mean they're bad or suck or aren't good just … what a lack of star power. Sorry, Saskatoon, but it appears that you're not necessarily the big market the UFC likes to stack shows for. Those living there, all 250,000 of you, will no doubt be surprised.
This is where you live, Saskatoonies: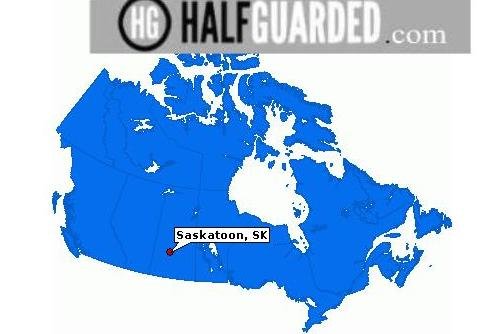 You know you're not surprised by this card. I think the nearest major US State is Montana. Or Idaho. Which are even more desolate than Saskatoon. Your town sounds like a non-alcoholic beer.
Stop Making Fun of Canada (NO)
But, the main-event could be good. Could. It all comes down to Oliveira. He can be brilliant but is mentally weak and physically not tough. He's been dropped by more than one body shot in his career and has a propensity for finding ways out of fights.

Holloway was super young once but that he did what most people do: got older. He also got better. His current claim to fame is being the only man to go the distance inside the Octagon with Conor McGregor. Hey: take your fame however you can get it.
OK, he's also won five in a row since the McGregor win, with four finishes, and he's improving wicked fast. He's still more of a striker than anything but he's learning to use his reach and talents and all that clichéd stuff. Hey, he finished Cub Swanson and that's no easy feat.
What Will Happen
Long and short, if it stays standing the fight is even, leaning towards Holloway. He's tougher and doesn't wilt when hit in the belly button. On the ground, Oliveira is dangerous as all get out. He's hyper aggressive with submission attempts, he's creative, and it doesn't matter if he's on top or bottom. He also has pretty good takedowns.
Those takedowns are what change the fight. Oliveira, despite coming in as a fighter of the future (and he is)(sorta), has recently gone to the ground more and more. Nothing wrong with that, it's netted him 4 straight Ws, with three submissions. He even tapped out submission ace Hatsu Hioki, proving once again that Japan is Japan when it comes to producing great fighters.
THE WINNER BY SUBMISSION IS…
Charles Oliveira. He's simply too good on the ground. He has all the potential in the world to be a legitimate threat to anyone. And whilst he is a bit of a pussy when it comes to getting punched – a character flaw one really shouldn't have when engaging in a sport that requires you to get punched a lot – he's still super duper good. And Super Duper good is brilliant technical analysis that you don't get elsewhere.
THE FULL CARD FOR UFC FIGHT NIGHT 74 FROM MIDDLE OF NOWHERE
Max Holloway vs. Charles Oliveira
Neil Magny vs. Erick Silva
Josh Burkman vs. Patrick Cote (ten years after anyone would have cared)
Chad Laprise vs. Francisco Trinaldo
Olivier Aubin-Mercier vs. Tony Sims
Valerie Letourneau vs. Maryna Moroz
Misha Cirkunov vs. Daniel Jolly
Felipe Arantes vs. Yves Jabouin
Nikita Krylov vs. Marcos Rogerio de Lima
Frankie Perez vs. Sam Stout
Chris Beal vs. Chris Kelades
Shane Campbell vs. Elias Silverio