@MichaelCoughlin
Ronda Rousey will defend her UFC Women's Bantamweight Championship against challenger Holly Holm on January 2, 2016 at UFC 195. This will mark the 7849th attempted defense by Rousey.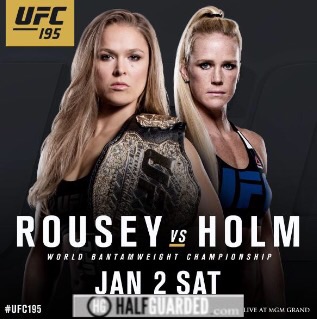 Holm was long considered a rare prospect in the women's game, as her world champion boxing skills proved dominant at the lower levels of the sport. That, combined with her longtime association with the Greg Jackson camp, had observors excited. Holm has had a few tune-up fights inside the Octagon as her camp wanted to get her ready for the larger cage and bigger stage.
Apparently the time was right (read: money) for Holm to step up and be the latest victim challenger. Whilst the headliner at the moment, it's always possible the UFC adds another high profile fight underneath. Cain vs Werdum is the rumor I will now make up.
Where this leaves Boobs McGee is unknown but one suspects there's a tanning bed nearby so she'll be ok.