Before I begin, I must preface this article by giving you my Top 5 all time favorite fighters list:
Dan "Hendo" Henderson
Georges "Rush" St. Pierre
Mauricio "Shogun" Rua
Fabricio "Pitbull" Werdum
"Suga" Rashad Evans
What a disappointment. That's all I kept thinking as I left the Amelie Arena in Tampa last Saturday night. UFC Fight Night Tampa was only the second time the promotion had come to the Tampa Bay Area. The first was in 2009, when UFC came for UFC Fight Night: Lauzon vs. Stephens. If I had a time machine, I'd have gone back and watched that show instead. Let's examine what happened to this theoretically awesome card.
Disappointment 1: This card had so much potential from top to bottom. At the top, it was expected to be headlined by a potential UFC light weight (155lbs) title eliminator bout between undefeated Khabib Numagomedov and Tony Ferguson. This match would have been great, and probably set up the next challenger at 155 to face Raphael Dos Anjos. In fact, this match was originally slated for The Ultimate Fighter: Team McGregor vs. Team Faber finale' which was in December, but Nurmo got injured. The bout was rescheduled for April 16, but on April 5, Ferguson pulled out citing a "lung issue." That left UFC without a main event on short notice
Later, it was announced that Nurmo would be fighting after all, facing a late replacement tomato can Darrell Horcher in a catchweight bout at 160 lbs. (Horcher actually missed weight by a pound but made the weight an hour later.)
Disappointment 3: Another original match-up between Rashad Evans and Shogun Rua had already been scrapped about a month prior when Shogun pulled out due to an injury. This led to a late replacement, Glover Teixeira, getting the match with Sugar Rashad instead. This was meant to be a three round fight, but when the five round main event got scrapped in early April, this match was made the de-facto main event, and a five rounder, not that it would end up mattering much. Still, Shogun is one of my all time favorites and I've never seen him fight live. Disappointment number 2.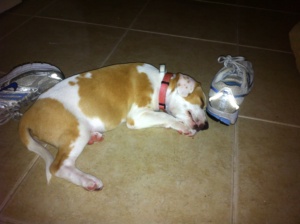 Disappointment 3: Another exciting match that was supposed to take place was Cezar Ferreira against Caio Magalhaes, but Magalhaes got injured and was replaced by Oluwale Bamgbose. I was actually ok with this swap as I think Bamgbose is a tough dude and will be a player soon. He just ran out of gas against the much larger Ferreira, but I was looking forward to seeing Caio Magalhaes. I'm a big fan of his BJJ.
Disappointment 4: Then, the final blow… A rematch between Lyoto Machida and Dan Henderson was cancelled. Here's the kicker on this… Machida didn't even fail a test. He would have, but USADA didn't even need to test him. He wrote on his physical form that he was taking a banned substance, so he immediately got axed. It was too late at this point to find a replacement, so my hero, Dan Henderson, was left without a fight. BULLSHIT!
Disappointment 5: If that wasn't bad enough, after the weigh-ins, USADA announced that Islam Makhachev was being removed due to another PED infraction, this time involving meldonium, which is a recently banned substance. Makachev was removed from his scheduled bout against Drew Dober. I know, nobody will give a shit about that, but I had Drew Dober on my Draft Kings team, and since he wasn't fighting, my roster got scrapped.
So what started out as me potentially getting to see three of my top five all time favorite fighters, plus an awesome main event, ended up with me getting to see just one of my favorite fighters, get knocked out in less than two minutes, in a terrible main event. I flew all the way to Tampa, missed two days of work, and didn't get to see much of what I anticipated when this card was announced. Am I disappointed? Big time.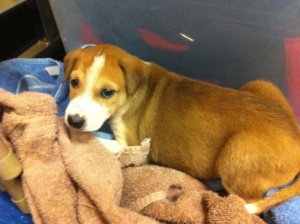 Yes, I wrote this column basically just so I could publish photos of my dogs… So here is a photo of my fourth dog just because…