In an era when free content is the norm, many people refuse to pay for anything; even when it's of superior quality. On Saturday, December 12, the greatest main card in UFC history will take place. UFC 194, headlined by Jose Aldo vs. Conor McGregor for the Featherweight Championship, is loaded with amazing fights. No hyperbole here, it is the most talent laden MMA pay-per-view ever. If you are considering skipping or streaming it, please think again. With this show, the UFC and these fighters undoubtedly deserve your money.
To be clear, I do not work for the UFC, it does not benefit me in any way if you purchase UFC 194, but this card is special and you should pay for it. This show is MMA at its finest; the most elite fighters in the world, in their primes, going to battle. Haley's Comet is the best analogy. Cards like this rarely come around. But when they do, everyone should clear their calendars, get a good seat, and watch the show.
Don't watch a crappy stream online. Don't find the fights the next morning on Daily Motion. Buy this show and watch it live with the rest of the world. You will not be sorry.
In the main event, Jose Aldo defends the Featherweight Title against Interim Champ Conor McGregor. This is easily the biggest fight in the history of the featherweight division. Aldo (25-1) has been undefeated for over ten years and his only loss happened when Chuck Liddell, Matt Hughes, and Rich Franklin were UFC Champions. It was long time ago. His resume includes wins over Frankie Edgar, Kenny Florian, Chad Mendes, Urijah Faber, Cub Swanson, and Mike Brown. Many experts rank him as the top pound-for-pound fighter in the world. He is 29, in his athletic prime, and truly special. His opponent, Conor McGregor (18-2), is the loud mouthed, brash interim Featherweight Champ from Ireland. At 27 years old, McGregor is much more than a quick witted, contender being fed as a sacrificial lamb to Aldo though. He has become the most popular male MMA fighter in the world because of his trash talk AND his fighting ability. Undefeated in the UFC, McGregor has victories over Max Holloway, Dustin Poirier, and Chad Mendes. He is a real, legitimate threat to end Aldo's stranglehold on the Featherweight division.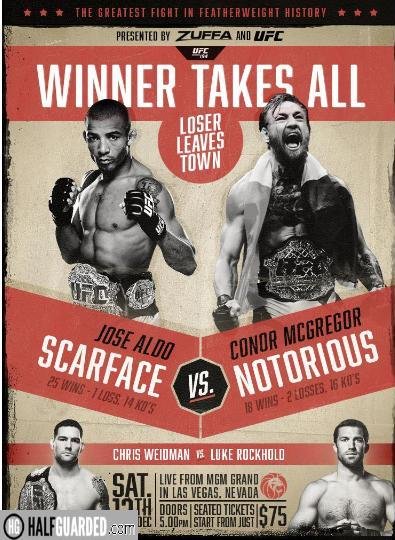 Not only are these guys at the top of their games, but their respective fighting styles should ensure an exciting fight. Both fighters prefer to strike. Aldo is quick and elusive. His leg kick game is stuff of legend. Just ask Urijah Faber. When Aldo strikes, he is legitimately trying to end his opponent. On top of Aldo's ferocious striking, he is a Brazilian Jiu Jitsu black belt and has, what many consider, the best takedown defense in the division. In contrast, McGregor is not afraid to take a shot in order to lay in one of his own. His power is extremely underrated. He has knocked out Denis Siver, Poirier, and Mendes. His straight left does serious damage. McGregor's leg kicks aren't bad either; he throws gliding side kicks and switch kicks like no one else in the world. This fight will presumably take place on the feet and should be spectacular, with the two best Featherweight strikers throwing down with malicious intent.
That one fight alone is worth $65.00. But this is the greatest show ever after all, and there is so much more on the main card.
The co-main event of UFC 194 will feature the two best middleweights on the planet, when Chris Weidman defends the Middleweight Championship against Luke Rockhold. The 31 year old, Weidman is one of the most underrated fighters in the world. He has not gotten the press or credit that he truly deserves. Currently, he is 13-0 (9-0 UFC), with two wins over Anderson Silva and other impressive victories against Lyoto Machida, Vitor Belfort, and Uriah Hall. His game is very well-rounded with NCAA Division 1 wrestling credentials, a black belt in BJJ, and a nasty left hook that rocked two of the best strikers in the division, Silva and Hall.
Meanwhile, Rockhold (14-2) is no joke either. His resume highlights include wins over Jacare Souza, Tim Kennedy, Michael Bisping, and Lyoto Machida. Nine of his wins have come via submission. It's likely that Rockhold is the most complete fighter that Weidman has ever faced. Training out of the American Kickboxing Academy, Rockhold has a black belt in BJJ, trains with the best wrestlers in the world, and has a vastly improved striking game. He can really do it all. Many have called this bout a toss up, because, much like the main event, this fight will feature the two best fighters in their division, in their primes, fighting for a world championship. It does not get any better than this.
Or does it?
The other fights rounding out the main card of UFC 194 all offer something special as well. Yoel Romero vs. Jacare Souza is a number one contender's fight for the Middleweight Title. Romero won a Silver Medal at the 2000 Olympics in Freestyle wrestling and even defeated all time wrestling great, Cael Sanderson on two occasions. He is 10-1 in MMA and is riding a five fight win streak, headed into his matchup with Souza. While Romero was establishing himself as one of the best amateur wrestlers on the planet, Souza was becoming one of the greatest BJJ practitioners of all time. As a multi-time Jiu Jitsu world champion and Abu Dhabi champ, Souza has been able to transition to MMA better than just about anyone. Overall, he is 22-3 (1), riding an eight fight win streak. This matchup is intriguing and another one that is tough to pick. Both fighters have unique, but vastly different skill sets. Souza has never fought a wrestler with Romero's credentials. Conversely, Romero has never competed against an elite BJJ artist at Souza's level. There is a good chance this fight will remain standing, where both guys will throw bombs; with one guy getting knocked out and the other getting a shot at the Middleweight title. A lot will be riding on this one.
Moving further down the fight card, we will also get to see two of the best BJJ fighters in MMA square off, when Demian Maia takes on Gunnar Nelson in a Welterweight scrap. This is a dream fight for grappling fans. At 38, Maia is getting up there in years, but he is on a three fight win streak and just recently beat Neil Magny by rear naked choke. Nelson is eleven years younger than Maia, but has been impressive coming off a submission win over Brandon Thatch. This fight will go a long way to establish how much Maia still has left in the tank and how good Nelson can become.
Rounding out the main card is Max Holloway vs. Jeremy Stephens. This should be a fun, exciting featherweight fight to start the pay-per-view. Both guys are ranked in the top ten of the division and typically like to stand and trade. Holloway has 6 wins via knockout and Stephens, with 16 KOs, could be the hardest puncher in the division. On paper, this opener should be the antithesis of dull.
Every fight on this card features elite fighters, with unusually high stakes. There are two phenomenal title fights and intriguing matchups throughout. At UFC 194, it can be argued that the UFC has assembled their best overall main card ever. It will be awesome. As the kids say, "I can't even."
So, again, I will encourage everyone reading this to purchase this show on pay-per-view. Buy yourself an early holiday gift and enjoy it in HD in your living room. Throw the best fighters and the best fight promotion in the world a few bucks. You will not be disappointed. Cards like this do not come around often; you should definitely take advantage of it.
And don't forget, all month long we'll be featuring our 27 UFC Gifts for the Fight Fan in your life post just for you so you can make Christmas easier on yourself while also being a hero!