Saitama Super!!!!!!!!!!!! Arena
Saitama, Japan
@MichaelCoughlin   @HalfGuarded
He's gone.  Finally.  Off to go throw the family fortune down the hole as he gambles away the night.  He'll be back, smelling like cheap booze and cheaper women.  You don't care though.  Now it's just you, wine, a 10 pack of AA batteries and UFC Japan Results watching fun.  See, if you're reading this then you're really enjoying the UFC Japan Results and not UFC Japan itself.  This makes me grateful because your one click can help feed an African orphan for a day.
Plus, part of the show is on Fox Sports 2 and NO ONE gets that channel so you'll need you fix.  And we've got what you need, baby.  So relax and let us do all the work as we cover UFC Japan.  It's coming to you from the SUPER Arena so you know it's important.
(Yada yada, at the bottom are the Quick & Dirty Results for those who don't like reading too much) And in honor of it being National Batman Day: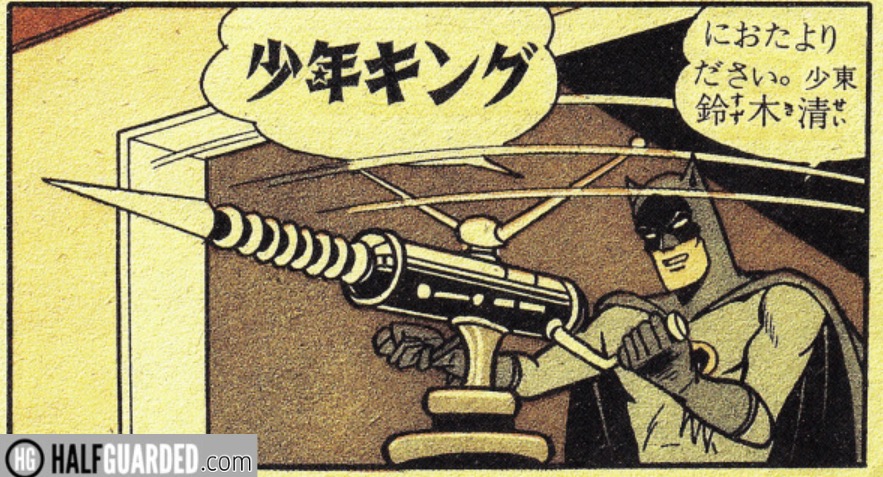 UFC JAPAN RESULTS and Play By Playing With Yourself – FS2 (8/7/6/5)
Shinsho Anzai vs. Roger Zapata
This Burger King commercial where a chicken sleeps with french fries and it results in "Chicken Fries" is weird – especially because the younger brother chicken says, "Again?" after the parents have lost it and gotten upset. Like, is the Burger King chicken a … "good time girl"?
Round One
Roger out as southpaw to start. Anzai ducks under a high kick that came surprsingly close to landing. Anzai responds with a shot but it is defended well.  Another takedown attempt, this time a single switched off to a double but it is defended almost too easily.  Of course, as I write that, Roger is brought to the ground.  Roger is in good position to wall walk but isn't doing so yet.  I think he'll get it but he's allowing valuable time to be eaten by Anzai.  And there it is.  A standup by Roger. Anzai is winning this round so far, barely, simply because he's more active. Roger fighting like someone who knows he's better but is a bit too much on cruise control.  With 30 seconds to go in the round, they're clinching and fighting dirty.  Neither with an advantage.
Round Two
After neither guy doing much on the feet, Anzai secures a takedown roughly half way through round two.  Roger forcing a guillotine and it's simply a waste of energy, tbh. All credit to Anzai as he's fighting atypically for a Japanese fighter as he's simply grinding away like an American.  Beautiful pass by the hometown boy leads to him getting the back for a moment but Roger uses it to stand.  Still, Roger simply isn't doing much and letting Anzai outwork him in every single position.  30 seconds to go sees Anzai again trying for a TD.  He doesn't get it but he's at least trying.
Oh, by the way: this fight sucks. 
Round Three
Roger with his hands down at his waist now despite showing nothing in the first ten minutes to suggest he's some great striker.  ???  Roger looks like he's hurt or something.  Maybe a broken finger?  It's all speculation.  But … that should be the end of the fight.  Like, Anzai hurt him enough to win.  Hey, that's what happened!
OFFICIAL RESULT: Anzai d. Zapata, R3, TKO, injury to little finger…
Kajan Johnson vs. Naoyuki Kotani
Round One
Johnson, a CANADIAN (!), used his reach and overall superiod skills to control round one.  He rocked Kotani at one point but the Japanese "star" was able to use his heart to overcome.  Mostly Johnson at distance and landing what he wanted as Kotanai seemed a bit overmatched.
Round Two
Johnson pressuring Kotani. He's looking to trap Kotani and then unleash.  He's fighting like a guy clearly comfortable in his kin and then drops Kotana with a right hand. Kotana with heels on hips and is trying to defend but Johnson keeping steady and smart pressure.  Amaazingly, Kotani scrambles to his feet.  Good for him.  He's still losing in front of his family, friends, lovers, and everyone.  Kotani hurt with a knee to the body.  He shoots desperately but Johnson with an easy sprawl, spins around, gets behind, and his pounding but son of a B – Kotani stands!  "Heart" is the word being used to describe a man who refuses to get beat up.  I call it … actually, heart is good.  Another right hand from Johnson looks to have dropped Kotana for a second.  This is appearing to be a matter of time until a finish.  Or maybe Kotani survives.  KEEP READING TO FIND OUT!!!
Round Three
Kotani more aggressive to start and it pays dividends as he lands some punches leading to a takedown.  Maybe Johnson is a bit gassed  and/or figuring he's already won so why waste energy?  Counter: it's a fight and getting punched in the face sucks.  Johnson goes for a leg lock out of half guard.  Kotani recognizes, defends, and secures top position – but inside the guard.  This looks like it's going for a decision.  Kotani surprises by divingon a foot lock but with no luck.  Like a gambler without a dollar to his name.  Wait, does that make sense?  Whatever; he failed on the attempt.
OFFICIAL RESULT: Johnson d. Kotani, dec
Unofficial (but totes legit) rating: ass.
Nick Hein vs. Yusuke Kasuya
Japan vs Germany. AKA:AMERICA BOOKS REVENGE FOR WW2!  This is Hein's FOURTH UFC fight.  I find this impossible to believe.
Round One
Feeling out early but we've already seen Kasuya with solid striking and a decent shot.  He's "Japan's Best 155 lb fighter" they tell us all.  So … he's third on the card on FS2 which is probably appropriate.  KNEE TO THE PENIS!  Despite the Asian man having a naturally smaller penis (racist) he is in pain from said shot to the groin.
Round Two
Kasuya is following too much as the round marches forward.  Marches, like a member of Hiro Hito's evil Empirial Empire.  Or a Nazi.  … Just make up your ornw Axis of Evil jokes.  Anyways.  If this is the best Japan has to offer at 155 then there ain't gonna be a Japanese lightweight champion in a looooooooooooong time.  Hein is content to dance and stay on the outside.  That may hurt him with the judges, even though he's probably landing cleaner, better, more efficient (German joke) punches.  Judges are stupid.
Round Three
This. Sucks.  I hate both of these men now.  I am glad that America won World War 2 and even all this time later I can still brag because both countries were total bad guys.  No shade of gray here.  They have just wasted fifteen minutes of my life.  Hein backed and circled away, Kasuya followed but couldn't land, no one threw many kicks, neither landed many punches.  Just utter garbage.  God hates us all.
OFFICIAL RESULT: Hein d. Kasuya, dec
Li Jingliang vs. Keita Nakamura
Japan vs China.  Please remember that, despite what you've been lead to believe, the Japanese people are HORRIBLY bigoted.  There's, no joke, a very good chance that many in the crowd view Li as sub-human.
Round One
Nakamura swarming early, dropping Li, and is on top inside the Chinaman's guard (not there preferred nomenclature, I know).  Li looking for subs and such but … he sucks.  Not even close.  Nakamura is pounding on him from inside the guard.  I would lke to make a Rape of Nanking refernce but am unsure if a situation will present itself allowing such a refernce to be made.  In case it doesn't happen, know that I am wordly and know about such events.  Also: Nakamura has just been inside the guard the entrie round barely landing shots and there's been no stand up.
In order to spare you all from the terrible boringness that has been this show so far, I present how Japan would do a Batman movie: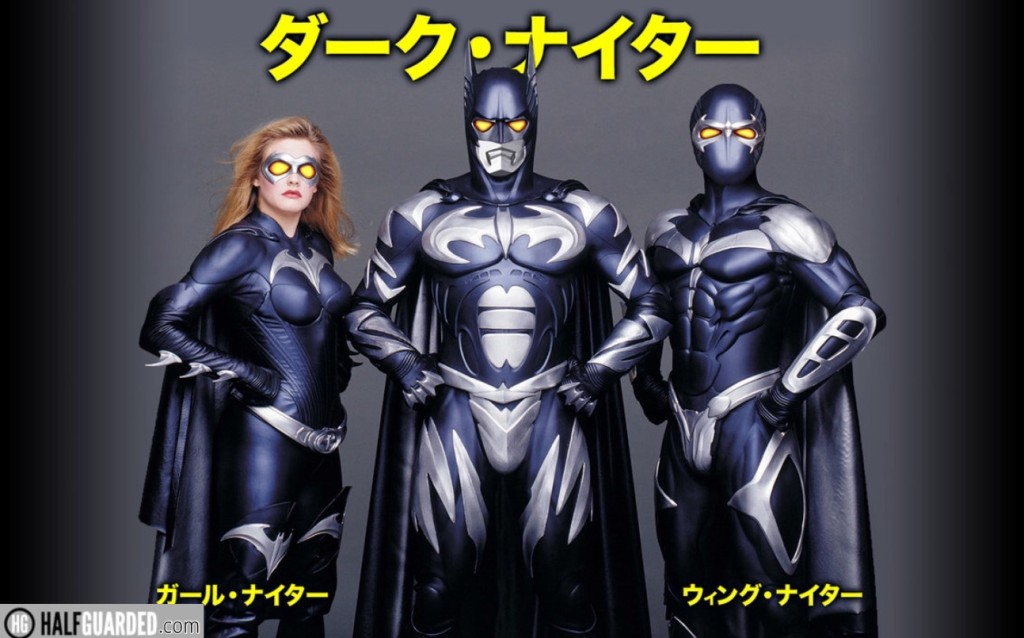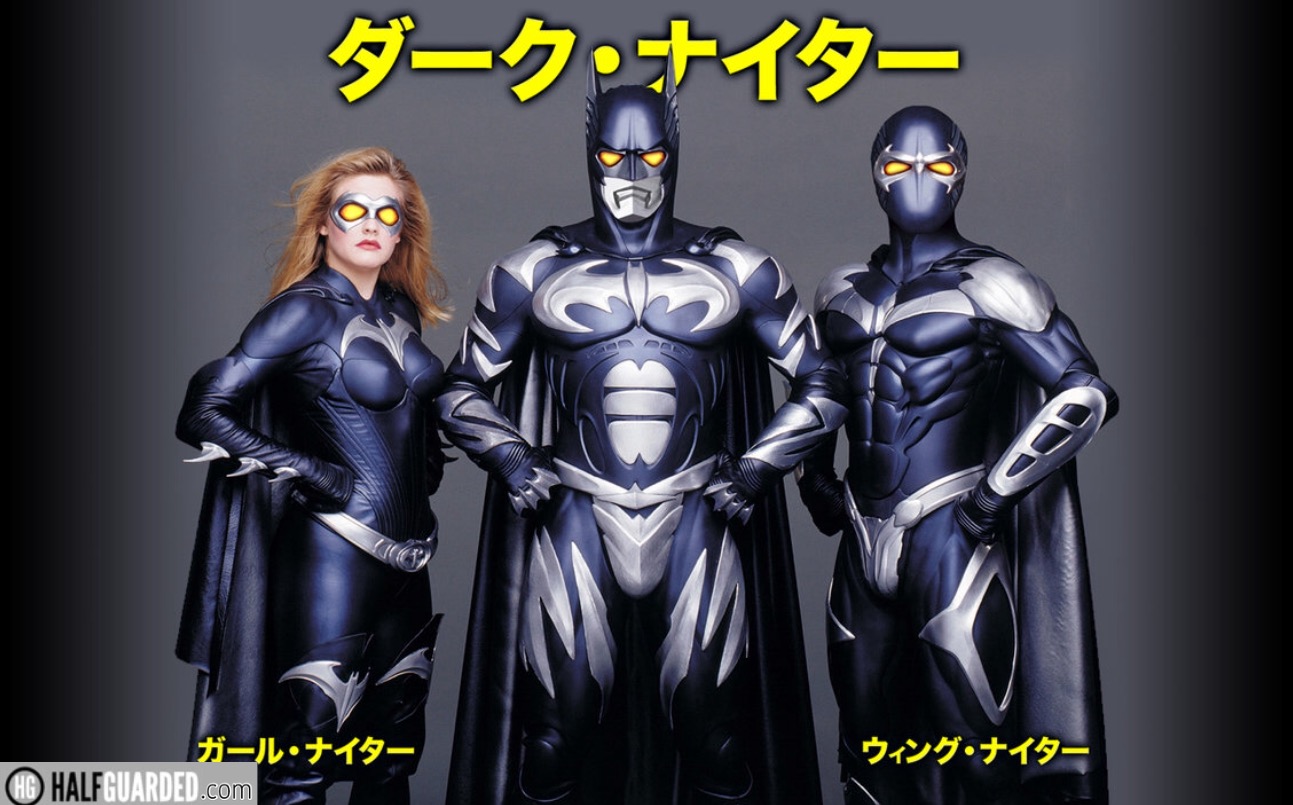 Round Two
Li doing better in the second as it's all on the feet and his speed is winning.  He is able to counter better.  The decendent of someone who was alive when Evil Japan did Pearl Harbor looks to be tiring.  Maybe he too has been bored to death.   Li doing very well.  Shots to the body, then hooks to the head.  He's dropped Nakamura.  He's pounding.  THIS IS FOR NANKING! (Got it in.)  Nakamura is using a knee shield half-guard to defend.  Li stands and kicks at the legs.  Now both are on their feet.  Li countering.  Round ends.
Round Three
Nakamura out early pressing for a takedown but isn't finding the right opening.  Li switches things up and gets a brief takedown.  That'll keep Nakamura honest. Will it?  Really?  Who knows (or cares)?  Li stuffs a Nakamura takedown.  Nakamura switches thingsup well, takes the back, sinks in the hooks, and locks in a rear naked choke out of nowhere for the win!  Li is out COLD!  AMAZING finishing sequence. The most entertaining thing – by far – of the night.
OFFICIAL RESULT: Nakamura d. Jingliang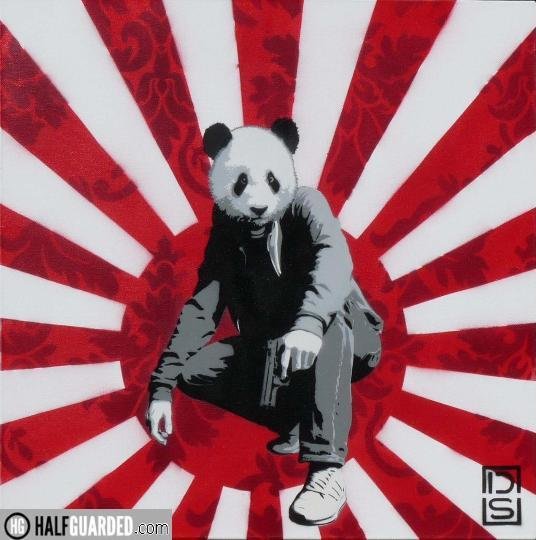 MAIN CARD!!!!! UFC JAPAN RESULTS (10/9/8/7)
Mizuto Hirota vs. Teruto Ishihara

"Road to UFC: Japan" tournament final
Round One
Entire round was  Ishihara on his heels and countering.  Dropped Hirota multiple times.
Round Two
Hirota was getting countered early but his pressure paid dividends. He slowly but surely began to wear on Ishihara though he didn't come close to  finish.
Round Three
A continuation of round three as Hirota pressuring a lot.  Using it for success and just winning via being "more man."  That's some high level analysis, I now.  It's not a bad fight.
OFFICIAL RESULT: Hirota DRAW Ishihara
Diego Brandao vs. Katsunori Kikuno
My apologies.  I had technical difficulties.  Meaning MY DOG PISSED ON MY BED RIGHT IN FRONT OF ME!!  Brandao dominated, dropping Kikuno with a big right hand and getting the TKO!
OFFICIAL RESULT: Brando d. Kikuno, TKO
Takeya Mizugaki vs. George Roop
Round One
Roop fought like an idiot. As he often does. Rather than take advantage of his length on the outside, he tried to use it inside.  That CAN work, as knees and strikes from the clinch usually slightly tilt towards the taller fighter but it also enabled Mizugaki to do what he does best which is box in that mid-range.
Round Two
Second verse, same as the first.  Fighting in close, allowing Mizugaki to stay in the fight.  This is especially so when they're not striking as the shorter guy generally has an advantage in the Greco clinch because his hips are lower.  They braek for a second, exchange, and then go right back to it.
Round Three
Anyone's fight here.  Not bad.  Not good. Just there.  It exists.  This fight will have occured but few will reember it.  It is, in a weird way, Schroedinger's Fight.  AREN'T I SMART!?!?!   Even if the reference doesn't actually makesense.  They are just content to do a 50/50 over-under clinch and knee away.  And, SHOCKER, it's boring.  Roop is fighting like a fool.  Mizugaki has dishonored his ancestors.  As is the way of the Japanese.
OFFICIAL RESULT: Mizugaki d. Roop, dec
This attractive as hell blonde chick with a nice British accent told us the Road to Japan final will see both guys get contracts.  That hasn't ever happened before …
Chico Camus vs. Kyoji Horiguchi
Note: Like last night with Sanchez, Camus is a product of the Duke Roufus school. His BJJ coach and cornerman is Daniel Wanderley. Mike is very close with Daniel as Daniel was his first BJJ coach and someone Mike considers a close friend. Any coverage may be clouded by this but we'll try our best to be unbiased.
Round One
Chico mixing up his stances early.  Seeming to have issues getting Horu to engage him. Horiguchi definitely is plaing for the counter, both striking and grappling. Chico timed a missed spin well and is in behind but he lets go because he probably felt sexually uncomfortable. (I didn't.) Not a ton happening, really.  Horiguchi is the last Japanese fighter on the card so the entire country's pride and honor are on his shoulders.  Should he falter, Japan's NIKKEI stock exchage drops 25% tomorrow.  This is an important fight.
Round Two
Blistering pace early as Horiguchi swarms Chico and has him hurt.  Chico backin up, covering up, trying to regain himself.  And he does.  Impress from Japan's Last Hope.  Hori with a more diverse striking attack, mixing up hands with kicks well and Chico doesn't seem to see them – or at least see the openings to counter.  Chico is chasing but it's matador and bull stuff here, really. Feels like Horiguchi's round.
Round Three
They appear even at first glance in exchanged but Hori is initiating them all, landing cleaner, and getting out on his terms. Definitely a fight where you can say "Chico deserved to be in there" but at the same time it must be said that being in there isn't the same as being there.
OFFICIAL RESULT: Horiguchi d. Camus, dec
By the by, this show: le suck…
Uriah Hall vs. Gegard Mousasi
I FEAR this fight.  It could be a boring fifteen minute point fest.  Japanese people, despite their inherent racism, acceptance of rape, outdated views on a woman's role in the world, are polite and won't boo.  Alabama would boo.
Round One
Mousasi with an immediate TD, so he sees that as Hall's most exploitably hole, which is fair.  Hall controlling the wrists but to no avail.  Mousasi gets to side control. Hall escapes to guard but he's on pure defense.  Mousasi passing while also setting up arm-triangle but Hall recognizes and defends easily.  Mostly this has been Mousasi on top inside Hall's guard, doing random punches and then … goes to mount.  Hall uses it to attack for a leg but it's useless and not even close.  Hall grabs a kimura.  It should be easily defended and passed by Mousasi but as the not-American moves hall switches to an armar.  It doesn't work.  Mousasi to mount.  Takes the back.  45 seconds to find a choke. Reaaaaaaaaaal close. But: NO!
Round Two
Uh. WHAT IN THE FUCK??!?!?!? Hall lands a spinnins back kick to the face that killed Mousasi.  Then a flying knee than ensured he wouldn't come back ala Jesus.  Brutal. Amazing. Once in a lifetime highlight level impressive.
OFFICIAL RESULT: Hall d. Mousaisi, R2. KO OF AMAZING!
Roy Nelson vs. Josh Barnett
Nelson out to "Born in the USA" a song written to subvert America and the American Dream.  It's essentially an anti-American song.  But: the hook sounds groovy.  Barnett will probably be out to something like a Pokemon song.  Nerd. Yup. Out to some weird Japanese shit. Oh, and he's on steroids.  That's 100% speculative but he looks the way he did when he was on the gas.
Round One
A surprising takedown by Nelson early one, which no one saw coming but which will keep Barnett guessing for the rest of this fght.  He may be fat abut he's smart.  Not smart enough to worry about the dangers of high cholesterol but still smart.  Nelson using his size to control from half-guard.  Not a lot of danger or punishment but … oh, a forced standup.  Barnett pressing early with strikes.  He cleaerly is looking for the clinch.  That's the Barnett sweet spot.  It's smart.  Eliminates Roy's right hand, hits the body and hurts Roy for later.  Smart man, that War Master.  Roy in tight with a bodylock and gets a TD off of it.  Nelson changing things a bit from his normal gameplan.  Good for him
Round Two
Nelson starts the second stanza by throwing his legendary power death right hand.  To be fair, Nelson is fighting smarter than we've ever seen him fight.  Barnett is as crafty and experienced as they come but I wonder if he'll be thrown off by Nelson's "ever changing" game.  Josh sat back on the right hand from Nelson, took it, rolled, and used the momentum to swarn on Nelson with a nice up and down combo of punches, kicks, and knees.  Josh now doing good work in the clinch.  Likely the best place for Josh as he can avoid the big punch.  They separate and NELSON with a big KICK!!! (what world am I in???).  Joah takes it as he is Joshsome.
Round Three
Clinch early. Ref threatnes to separate. They … look tired. More clinching half way through the round leads to separation.  Roy deep on a single.  I have a suspicion that Barnett wasnt't expecting it.but his natural talent allows him to stop them.  30 seconds remain in this round and nothing will come of them.  Because god is a superstitioun and he hates us all.
Round Four
This is one ugly, awful, punishing war of attrition between both men.  Nelson with a momentary TD but Barnett reverses.  Interested to see what would happen if Josh tried the TD and got it. Suspect he'd do well. They're in the clinch but Josh has found distance and is landing at will. Roy throws just enough in return to keep Josh honest but Barnett is taking over here.  All of this???  Leads to Roy diving and succeeding on a single leg, which Josh rolls out of.  These big boys are working hard as porn stars.
Round Five – FIGHT
Barnett has simply pressed more throughout.  He's been the on the front foot always, pressuring Nelson, and working harder inside the clinch – especiall as things have gone on.  Round by round judging means this really could be anyone's fight but no matter to us all: it's a GOOD fight.  Who cares who wins or loses?  Were you entertained?  I was.  That's all that matters.  Werdum and Cain will keep the HW belt in limbo for five years anyways. Nelson with another takedown.  I would say, easily, that Roy's wrestling has been the biggest surprise of the fight.  That said: he hasn't done much with any TD.  With a minute to go, it's fair to say that the last 60 seconds could decide everything.  DRAMA, mother fuckers.
OFFICIAL RESULT: Josh Barnett, d. Roy Nelson, dec
QUICK AND DIRTY UFC JAPAN RESULTS
UFC JAPAN RESULTS for FOX SPORTS 2 PRELIMS
Shinsho Anzai vs. Roger Zapata, R3, TKO, injury
Kajan Johnson d. Naoyuki Kotani, dec.
Nick Hein d. Yusuke Kasuya, dec
Keita Nakamura d. Li Jingliang, R3, sub
MAIN CARD UFC JAPAN RESULTS
Mizuto Hirota DRAW. Teruto Ishihara "Road to UFC: Japan" tournament final
Diego Brandao d. Katsunori Kikuno,TKO
Takeya Mizugaki d. George Roop, dec
Kyoji Horiguchi d. Chico Camus
Uriah Hall d. Gegard Mousasi, R2, BIG ASS KO!!!!
Josh Barnett d. Roy Nelson, dec