Hey, cats and kittens and people with severe sleeping disorders!  Welcome to our – somehow – UFC Korea FREE LIVE STREAM of consciousness coverage.  It's FUCK YOU O CLOCK IN THE MORNING but we're here.  I don't know how we're here but we are.  I'm actually prepping this part of the post the day before.  I did learn once that if I drink A TON starting at 5pm – and when I say a ton, I'm talking just non-stop – that I tend to pass out on the couch at 1130 and ALWAYS wake up at 4am.  So, I may be doing that and thus I have a hangover as these are going down.  I mean, that's kind of a stupid way to do things but I'm determined.  Because I love you guys.  All of you.  As we do, the UFC Korea FREE LIVE STREAM QUICK & DIRTY results are at the bottom, for those who just want to know what happened and don't feel like reading the ramblings of a madman.  It's after the chick.
UFC Korea FREE LIVE STREAM PRELIMS – Fight Pass, 5/4/3/2 IN THE FUCKING MORNING
Holy. Fucking.  Shit.  I'm actually awake… My dogs are looking at me like I'm an asshole.
"Maestro" Dong Hyun Kim vs. Dominique Steele
The first Dong of the night is here.  Also: Dominique Steele is totally a porn name…
Round One
Steele lands a left hook 30 seconds in that drops Dong.  Dong recovers and gets to his feet.  The Korean crowd is very, very much unlike Japan as they're cheerng for every movement of Dong.    They love seeing Dong move.  Steele is landing much more in every position while Dong seems to be leaning on his judo base, almost too much. Sweet fuck, they're just letting their hands fly and trading bombs!  Steele has had enough and gets a solid double leg with 90 seconds remaining.  Dong rises, as they do in the morning.  Steel takes a Dong shot to the body to close things out.  Darn entertaining.
Round Two
Kim's been switching his stance a  lot but he's not really that effective in doing so as Steele just bull rushed him with a right hand into a takedown.  Dong does wiggle around to stand.  Dong really, really wants a takedown and to be on top.  He's desperately trying a trip from the clinch but Steele just grabs a simple double double leg and dumps him with ease.  Steele is poundng Dong, just really giving it a flogging.  Crowd is booing as Steele works over Dong.  Big ground and pound from Steele while inside the guard.  And we finish with Steele slapping the Dong.  Dong needs to pull out … a finish in the third.
Nothing is working right now, says Dong's corner…
Round Three
Steele runs in and slams Dong so hard that Dong is limp!  He's out!
OFFICIAL RESULT: Steele d. Dong (Kim), R3, KO
Marco Beltran vs. Ning Guangyou
A Mexican and a Chinaman fight in Korea.  Sounds like the setup to a joke. (I didn't say it was a GOOD joke.)  Beltran is a TUF LATAM vet.
Round One
Beltran keeping on the outside early, throwing kicks that elitcit "OOOOH" from the crowd but which aren't landing.  Ning managed to hit Beltran in the balls with a kick while slipping.  Beltran switching stances a lot but content to throw isolated kicks and Kenny Florian just said "He needs to stopping putting his groin in the way of those strikes."  This is boring.  I'd be more bored if my brain wasn't still confused by what time it is.  Beltran continues circling, throwing a kick, and moving away.    I'll score this Unicorn-Pony in favor of Beltran.
Round Two
Ning aggressive out of the gate, landing a solid punch.  He tries for a takedown, doesn't get it, but Beltran slips so it's all the same.  Ning inside the guard of Beltran, trying to find space for punching.    Beltran doing a good job of tying him up and avoiding damage and the ref stands them up.  More of the same here, with Beltran circling and throwing kicks in isolation.  The man whose ancestors built the railroads, Walter, just can't get inside.  I mean, it's not like fuck all is happening, because why give us action at 4 in the fucking morning you two dickheads.
Tonight's main sponsor is "Bodyfriend" which, if this was Japan, I'd think is a sex doll but is probably a bed or something.
Round Three
Ning getting closer but not letting his hands go.  Beltran keeping on the outside and not letting anything go.  I hate you both.  Beltran kicked Ning who caught the kick tried for a TD but no luck.  2 minutes to go, nothing at all is happening, besides Beltran dancing out of range.  I pray they both are stricken with illness.  Beltran landed a knee off a clinch break which may have hurt Ning.  Beltran momentarily throws punches and knees.  Now he's back to being a boring suck hole.
OFFICIAL RESULT: Beltran d. Guangyou, dec
Fredy Serrano vs. Yao Zhikui
Yao is a master of "Chinese wrestling."  Not wrestling, CHINESE wrestling.  Whatever the fuck that is.  And I think they said Serrano's nickname is "Co Pay."
Round One
Fredy with an immediate takedown and quick ground and pound and that's it!  So quick I almost missed it while making jokes.  Looks as if Yao posted his elbow on the takedown, dislocating his elbow.  Ugh.
OFFICIAL RESULT: Serrano d. Zhikui, R1, TKO
Promo for the main event saw Masvidal say, "If God is with me who could be against me?"  Uh, Satan.  Duh.
Cortney Casey vs. Seo Hee Ham 
The battle of chicks who have both lost to Joanne Calderwood.  Ham is dancing, prompting the nameless PBP dude to say she has her "groove on."  
Round One
Casey looks like she's a giant next to Ham.  Pawing at one another early.  Casey with a right down the pipe.  Ham lands a left but it looks like it has no effect.  Casey is just so much bigger.  Casey lands a big kick to the head that hurt Ham.  But: Ham recovers immediately.  And now Ham is firing back.  Brief break for accidental headbutt but now their back.  Casey digs with a leg kick.  Round ends with both just throwing down!
Round Two
Casey drops her for a moment 90 seconds in.  Still mostly them pawing at one another, each trying to land their lead power hand.  Casey is throwing more combinations and landing more as a result.  Ham is having too much trouble with the distance.  Ham lands a kick to the body and I think it may have hurt Casey more than Ham realizes.  Ham gets in on the clinch now but pushes away.  Ham doing a better job closing the distance and … Casey gets kicked in the vag.  So, that IS a foul.  A good exchange of punches.  Ham is landing but Casey is just more powerful.
Round Three
Big left from Ham has Casey hurt.  Ham kicks the body.  She's taking over here.  A right hand slips in and lands flush on Casey.  Despite the size advantage, Casey isn't muscling around Ham.  Ham throwing kicks and punches so much that Casey is biting hard on the feints.  It's the repeated kicks to the body that are allowing Ham to set up punches to the face.  90 seconds to go.  Ham landing more and more in every exchange.  Casey has power still but she's not getting off first.  They swing away to end the fight.  Close good fight.
OFFICIAL RESULT: Ham d. Casey, dec.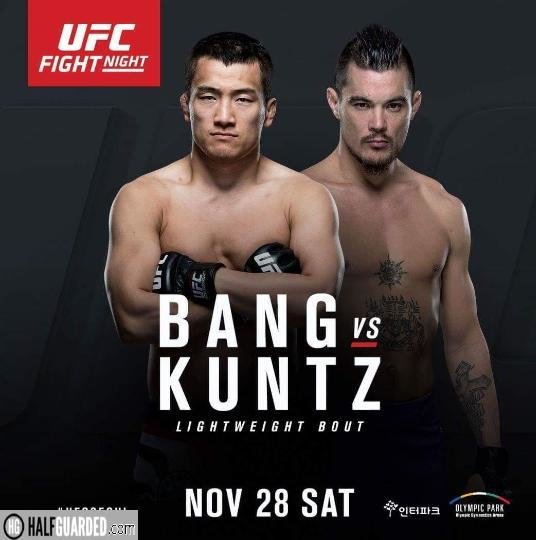 BANG KUNTZ. Yup. I'm five.
Tae Hyun Bang vs. Leo Kuntz
Kuntz is from North Dakota, which has cowboys.  Bang is from Korea, which does not.  But it is Bang out with a cowboy hat on and cowboy music.  The initial, "I can't believe I'm awake" rush is wearing off.  I want a nap.
Round One
Both coming in and swining and Bang drops Kuntz.   Bang choking Kuntz now with a guillotine.  He's deep in the Kuntz.  Bang readjusting but eventually lets go of Kuntz.  Bang has a cut near his eye as he uses the cage to stand. The eye is a swollen mess.  Bang with a spinning elbow that lands.  When Bang is landing he's doing damage but Kuntz is more mobile.  Bang looks tired.  Kuntz with a TD and some pounding with a minute to go.  Kunz repeatedly landing a right hand to the quickly closing eye of Bang.
Round Two
They've traded big punches in isolation.  Bang showing more power though, as his punches seem to be heavier.  More leather slinging with Bang, despite looking more tired, landing more and with greater power.  Kuntz tired of that and got a takedown.  He's trying for the back.  Kuntz is thinking choke.  Bang isn't defending it with his hands at all.  It worked.  Bang on top and hits a few shots before Kuntz scrambles.  Bang is gassed on his feet.
Round Three
Early on, Bang is the aggressor, despite being tired.  Bang dives on a guillotine. It's tight-ish.  But Kuntz remains calmand escapes.  Bang looking to stand but Kuntz drags him back buuuuuut the ref stands them up.  Bang runs though a takedown but Kuntz springs back up.  One minute to go and this could decide the fight.  Right hand from Bang hurts Kuntz.
OFFICIAL RESULT: Bang d. Kuntz, dec
Yui Chul Nam vs. Mike De La Torre
Round One
DLT with some heavy hands early on that rocked Nam.  They fight for position in the clinch, separate and throw reckless shots, then clinch again.  Both looking for trips out of the clinch but with no success.  Nam's left eye is a fucking mess.  It almost looks like its cut vertically.
Round Two
Nam shoots right away but DLT sprawls all the way back to the cage.  DLT momentarily had double underhooks as they've resumed fighting for position in the clinch.  Nam ducks under and is on the hips but can't finish the TD.  DLT lands his left hook and Nam retorts with a failed shot.  DLT continuing to find a home for his left hand. Namwith an overhand right that he uses to transition to a takedown.  DLT setting up a switch but instead they resume clinch fighting.  That's how this ends.
Round Three
DLT lands a kick to the head right off the bat.  Namcatches a kick, gets a TD, but DLT is up quicker than a hiccup.  And hiccups are very quick.  Nam doesn't have much here.  He's in on a leg, then back to the clinch, but never seems to be able to do anything in any position.  Yay.  Clinching.  Guys, I'm too fucking tired for this.  Go away.  "De la Toree just trying to chink up on the scorecards."  That's 1. not a saying; 2. not one you say in Asia.
OFFICIAL RESULT: De la Torre d. Nam, dec
Jake Collier vs. Dongi Yang
Round One
Yang starts the fight off with a thundering kick to the tummy.  Yang with more kicks and he's man handling Collier at times. Collier fires back and drops Yang with a punch.  Yang poked in the eye.  No one understands anyone.  Yang is smothering Collier but his TD fails as Collier reverses and ends up on top.  They're up and Collier is circling away, not wanting to taste the power.
Round Two
Collier grabs a neck and falls on it.  Yang escaps and is ounding as Collier turtles and then rolls for a kneebar.  He has it in.  Almost.  Collier is turtled up and it's over from GnP!
OFFICIAL RESULT: Yang d. Collier, R2, TKO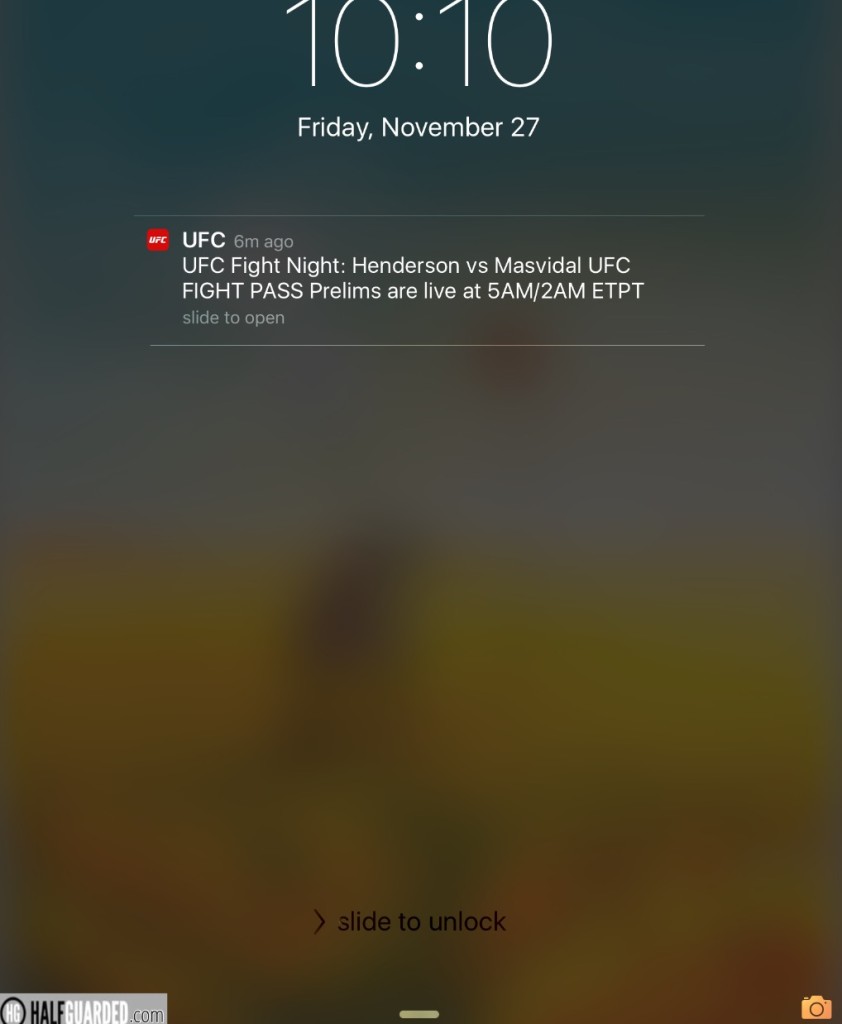 UFC Korea FREE LIVE STREAM RESULTS MAIN CARD – Fight Pass 8/7/6/5 IN THE MORNING
Doo Ho Choi vs. Sam Sicilia
Round One
Choi eaerly, drops him, it's over.  Quick and fast striking.
OFFICIAL RESULT: Choi d. Sicilia, R1, TKO
Barely hanging in here…
Yoshihiro Akiyama vs. Alberto Mina
Round One
Both trading leg kicks.  Really just feeling out for the full five with little really happening.
Round Two
Mina returns to leg kicks.  Akiyama landsa hard right hand.  Akiyama firing off leg kicks of his own and they're visibly hurting Mina.  Akiyama steps in and lands a massive uppercut!  Heaven knows how Mina is still onhis feet.  Akiyama returns to the leg and each kick is causing more and more reactions from Mina.  Akiyama shrugs off a TD attempt.  Akiyama definitely finding his range in this round.  And as I write that Mina lands a series of punches that snapped back the head of Akiyama.  He then kicks Akiyama in the cock.  Mina hits a left hand square that momentarily stunned Akiyama.  More shots.  Big right hand dros Akiyama.  He's in survival mode and makes it to the bell.
Round Three
Both trading punches early.  Akiyama barely missed sending Mina's head into the crowd with an uppercut.    A left hook gets through.  Despite how last round ended, Akiyama seems teh more aggressive fighter here.  Mina tries to pull guard but no dice.  His leg is a mess.  Akiyama stepping in and landing at will now.  Mina lazily shoots and tries to again pull guard.  Tries.  More punches from Akiyama, all of them landing.  Mina is completely stationary.  Mina flails for a TD but Akiyama reverses, ends on top, and pounds a bit.  A minute to go now and Akiyama continues to be fresher and quicker.  This is almost 10-8, even by Vegas standards.    Round ends with Akiyama on top just pounding away.
OFFICIAL RESULT: Mina d. Akiyama, split dec.
Not sure about that one…
Just had a commercial for BodyFriend.  It's … a massaging chair.  THAT'S the big sponsor?!?
Dong Hyun Kim vs. Dominic Waters
Waters was referred to as a "former UFC Marine."  So, the company has a military now…
Round One
Waters drags Kim down right away and tries to get the back but Kim defending well.  They're clinched up now and sure enough Kim with a beautiful throw.  He has Waters in the crucifix and is punching away.  Waters is trying to squirm but he's eating elbows.  They're peppering shots but Kim is doing an outstanding job of controlling Waters.  Waters is moving less and less as Kim is raining down punches and that's it.  The ref has seen enough.  Almost a perfect fight for Kim.
OFFICIAL RESULT: Kim d. Waters, R1, TKO
I'm gonna make it.  One more fight to go.  I can power through…
Benson Henderson vs. Jorge Masvidal
Round One
Masvidal feinting early, looking to box while Henderson is saying outside and kicking.  Henderson ducking down a bit and almost ate a kick.  Masvidal rifles off a combination, just nice straight, crisp punching.  He's walking down Henderson best he can, trying to get him against the cage.  Henderson drops Masvidal with a punch but Jorge is up right away.  A they separate, Masvidal digs a hook to the body.  Masvidal is now throwing one kick after another.  Henderson sells out on a TD attempt but Masvidal stuffs it beautifully to end the round.
Round Two
Both guys disguising everything they throw very well.  Henderson slips on a kick and Masvidal pounces, threatening a d"arce choke.  They're up and Masvidal lets his hands go, forcing Henderson to sprint out of there.  Henderson with deep double underhooks but Masvidal pummels out of them and now we're back to boxing.  Henderson shoots, Masvidal threatens a guillotine, Henderson slips out and ends the round kneeing the legs of Masvidal.
Round Three
Henderson slowly taking over here.  He's finding his distance better, landing more punches, and now in for a single leg.  Masvidal using a guillotine as a counter again.  Accidental shot to the cock stops things a bit.  Masvidal breathing through an open mouth now and looking just a bit more labored in his movements.  Henderson snapping hard straights to the body.  Kick to Henderson's body ends the round.  Or, well, almost.  One second before the round ended Henderson took a kick to the nuts.  So, Herb Dean made them wait until Henderson was OK and THEN he ended it.
Round Four
Henderson clips Masvidal early with two right hands.  Masvidal stuffs another takedown attempt.  Henderson content to clinch and just kick away at the calf.  After they break, Masvidal immediately presses but over does it as Henderson shoots.  He misses the TD though.  Two minutes to go in the round and Henderson gets a solid takedown in the middle of the cage but Masvidal immediately springs out of it and is now trying his own TD.  Henderson countering with a Kimura.  Masvidal defends well and ends up on top.  Henderson simply stands up though and we're striking again.
Round Five
Masvidal looks like he's timing a knee, expecting Henderson to shoot.  Henderson does a good job of disguising his TD as he first jumps with a knee then dives on it.  Masvidal stops it and is trying a guillotine.  It's deep.  Real deep.  Henderson bails to his back to escape.  They're clinching again and this isn't going to do it for Masvidal.  Henderson shoots and Masvidal does an outstanding job of defending.  Goooooooood scrambling for position eats away at the clock.  Henderson almost gets the back but with 30 seconds to go it's Masvidal with a single leg attempt.  Round ends there and it should be Henderson's fight.
OFFICIAL RESULT: Henderson d. Masvidal split dec.
A good, solid, professional fight.  Nothing crazy happened, not fight of the year, but two guys at a really high level using all the techniques available to them.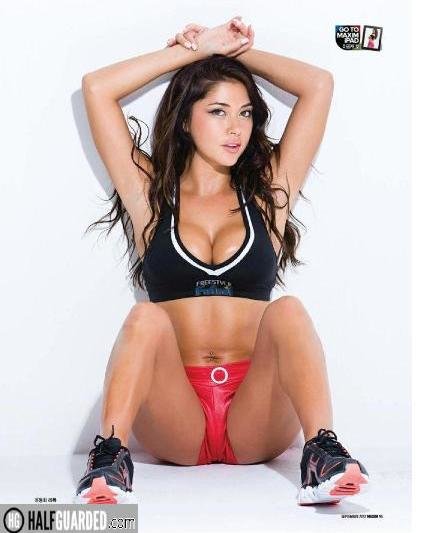 QUICK & DIRTY UFC Korea FREE LIVE STREAM RESULTS
UFC Korea FREE LIVE STREAM RESULTS MAIN CARD – Fight Pass 8/7/6/5 IN THE MORNING
Benson Henderson d. Jorge Masvidal, split dec
Dong Hyun Kim d. Dominic Waters, R1, TKO
Alberto Mina d. Yoshihiro Akiyama, split dec
Doo Ho Choi d. Sam Sicilia, R1,TKO
 UFC Korea FREE LIVE STREAM PRELIMS – Fight Pass, 5/4/3/2 IN THE FUCKING MORNING
Dongi Yang d. Jake Collier, R2, TKO
Mike De La Torre d. Yui Chul Nam, dec
Tae Hyun Bang d. Leo Kuntz, dec
Seo Hee Ham d. Cortney Casey,dec
Fredy Serrano d. Yao Zhikui, R1, TKO
Marco Beltran d. Ning Guangyou, dec
Dominique Steele d. "Maestro" Dong Hyun Kim, R3, KO
And don't forget, all month long we'll be featuring our 27 UFC Gifts for the Fight Fan in your life post just for you so you can make Christmas easier on yourself while also being a hero!