Welcome to the first of THREE DAYS OF VIOLENCE!!!!!!!!!!!!  Isn't this the best time to ever be alive?  Sure, Jon Jones fucked up some of this but – seriously – look at how many awesome fights we still get?  And we start out with THE LIGHTWEIGHT CHAMPIONSHIP OF THE WORLD BEING DEFENDED!  FUCK. YES.
So, sit back, relax, enjoy, and watch UFC Vegas: dos Anjos v. Alvarez with us! (And if you like, the quick & dirty results are at the bottom.)
UFC Vegas: dos Anjos v. Alvarez FREE LIVE STREAM of consciousness
Welterweight Vicente Luque vs. Alvaro Herrera
Round One
just caught the tail end of R1. Luque seemed to get the better of it. Faster striking and much better wrestling.
Round Two
Luque w an easy TD to start. Big elbows follow.
Herrera just holding on to stall.
As Herrera tries to stand Luque throws a spinning elbow. Double knee. TD.
Luque running away w this as Herrera is also gassing.
Anaconda … Tap!
Winner: Luque, R2, sub.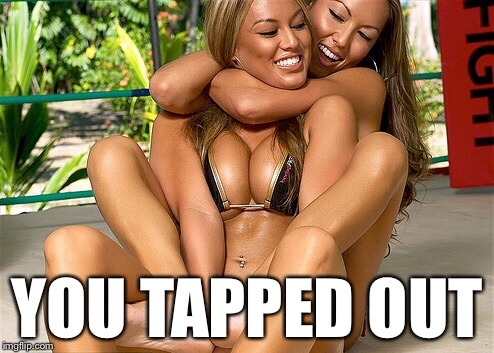 Should You Watch?
Eh.
Bantamweight Marco Beltrán vs. Reginaldo Vieira
Round One
No,  it's OK: most people watching don't know either guy.
Beltran trains in Chicago apparently. No clue where.
Beltran noticeably longer here and so far he's bouncing around and using it.
Vieira shoots in and gets an easy TD but Beltran gets right back up.   Beltran tries to sprawl but is taken down again.
They're up now.
Beltran lands a left hook off a fake knee.  Check left from Betran and that looks like it connected solid.
Beltran with a cracking knee in the clinch.  He's dancing and landing a lot.  Looks really comfortable on his feet.
Round Two
Vieira has a bad cut over his right eye.  Ya know, I can't remember the last time I saw a cut stoppage.  Seems like it used to happen a lot more.
They both land left hooks.  And again.  Vieira is selling out on massive punches.  Beltran dancing away, lands a knee inside, Vieira with a big TD.  They're in the middle of the cage.
Vieira with some ok GnP.  Beltran lands an upkick.  And another one and it drops Vieira.  Vieira grabs the foot on his way down, threatening a heel hook.
Beltran takes the back in a scramble and … RNC!  TAP!!!
Winner: Beltran, R2, sub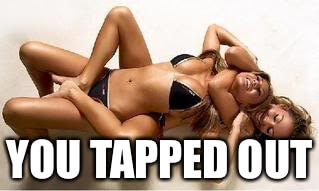 Should You Watch?
Yeah.  This was fun, especially the second round.
Lightweight Gilbert Burns vs. Łukasz Sajewski
Round One
Gilbert Burns is still fighting?  Why do I feel like he's been around forever.  Maybe I'm overthinking this.
I think it's because I know Burns from BJJ.  That must be it.
Jason Herzog is the ref.  He's the best looking ref in the business.  I hope he puts that on his business cards.
How many Polacks does it take to win a fight?
…
One, you bigot.
Lukasz … Lucas.  Lands a series of punches then backs away.
And Burns punts Lucas in his Polish Hammer.
LOL, Ref telling Lucas to put his hands up and shake it out or whatever.  Stann, "That doesn't help."
Burns maybe clipped the Pole.  Lucas survives a guillotine attempt and rolls to his feet.  Nicely done, guy who is from a country that may have inadvertently ended the EU.
They're clinched up and then burns with a big right hand.  Burns uses the momentum of that pain to get a TD.
Gets the back as he punches.  Looking for a choke. Uh oh…
Armbar attempt at the end… TAP!  Wow.  Fucking awesome technique.
Winner: Burns, R1, sub.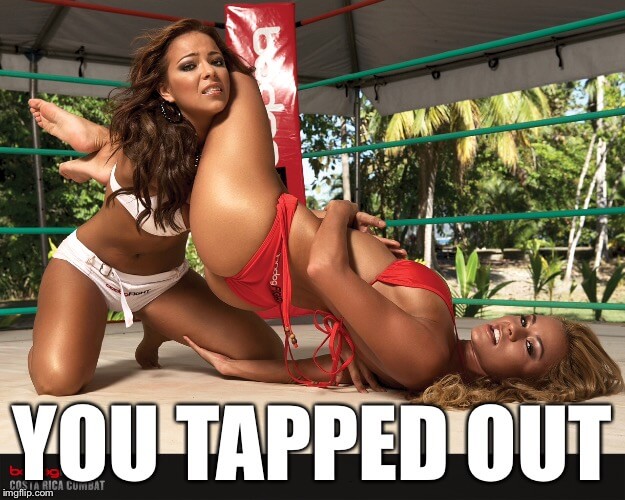 Should You Watch?
For sure.  This was fun and Burns is a god on the mat.
Btw, if anyone wants to Tweet Magana and tell her she was a good interview that would be sweet and help my continued chances at hitting on her. (I'm playing it cool and being all, "Eh.  I don't need to text her all the time.")
Bantamweight Felipe Arantes vs. Jerrod Sanders
Round One
Arantes is in his NINTH fight in the UFC.  I have zero recollection of him.  Maybe there are too many shows…
I mean … NINE FIGHTS and I'll bet no one knows him.  WTF?!?
Can Felipe deal with the HE MAN PHYSIQUE (I misspelled that, didn't I?) of Sanders?
Felipe on a d'Arce choke but he gives it up to take the back.  Sanders recognizes and scoots his hips to end up on top.  He has the mount off a scramble.
HEAVY hips from Sanders.  Ugh.  I wanna vomit looking at them.
Felipe tries to uses the cage to push off but Sanders with excellent control, maintaining his mount.
That all said, Sanders is ONLY controlling and hasn't done anything.
Ref said, "Work to improve."  Uh … Like, do you want him to pull out a knife or something?  It's MOUNT!
Halfguard(Ed.com) now from Felipe. (I get that joke in every show if I can.)
Full guard.
Oh.  BIG hammer first from Sander had to hurt.  Now some thundering short elbows.  Felipe is taking them but those are "scoring points" as they say.
Round Two
Immediate TD from Sanders starts off the 2nd stanza.
Felipe using his guard but it's all defensive here.  And not that great of defense because Sanders is able to pepper away.
But what do I know because out of no where Felipe snatches an arm for the tap!!!!!
Winner: Felipe, R2, sub.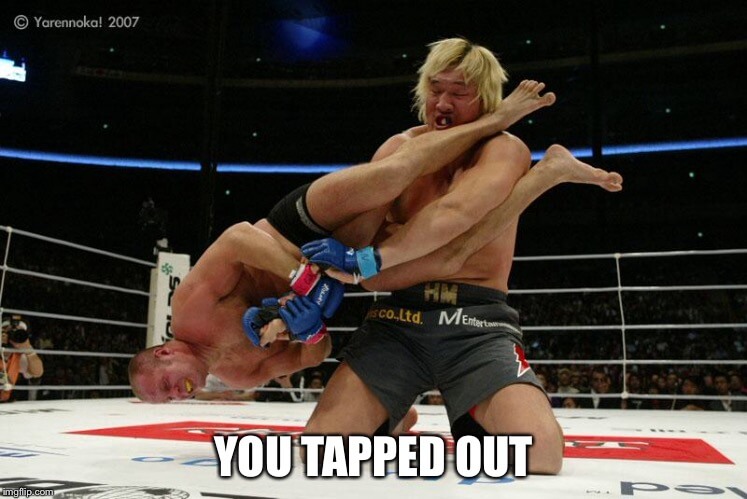 Should You Watch?
It wasn't bad.  You get a finish early in the 2nd, how do you really complain?
The UFC is, in theory, worth FOUR BILLION DOLLARS, can they not have a full-time translator?  At least for Portuguese?  Having random dudes every other show is dumb.
Bantamweight Russell Doane vs. Pedro Munhoz
Round One
Doane has a son on the way. "He didn't have to look any further for motivation."  Like, did he sit around looking at his pregnant GF (you know he's not married)?
Doane out aggressive as shit early.  (Shit is known to be aggressive.). Lots of kicks to the body.
Monhoz counters with a left hook as he switches stances.
Doane with a combination ending with a knee.  Left hand snaps back Munhoz's head.
And another right.
Doane looking confident but Munhoz stays in there, lands and elbows, gets a TD!  But Doane scrambles his way up immediately.
Munhoz dives on a guillotine and TAP!!!!  Damn!!!!
Winner: Munhoz, R1, sub.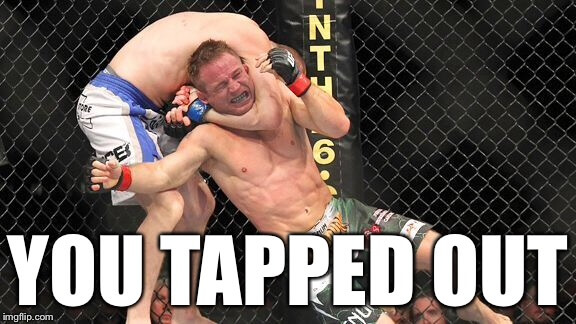 Should You Watch?
If you don't, you'll have missed an AWESOME fight.
Bantamweight Anthony Birchak vs. Dileno Lopes
Round One
Feels like forever since the last fight.  Sheesh.
Lopes name is pronounced like it rhymes with "slopes."
Lopes in aggressive, double under hooks, drags Birchak down, but only briefly.
Lopes is relentless on this body lock.  He won't let go and is determined to muscle the fight to the mat.
Lopes tries a suicide throw but fails.  No.  He holds on, MANS his way up, and gets Anthony down.
Back take by Lopes.  Birchak walks to his corner for instructions.
Lopes fishing for the choke while he hangs like a backpack.
Birchak shrugs him off, they scramble, and both are standing.
Head kick from Birchak lands.  Lopes eats it and throws back.  Absurd!
Lopes drags it down.  Another back take.  Birchak out.  30 to go.
Round Two
Lopes lands.  Birchak … Fires back!  Lopes is hurt!!!
Theyre both tough as used cigarettes and refusing to go down.
Clinch to regain their senses.
Lopes with under hooks. Trying for the TD but Birchak stuffs it.  Now back to double under hooks from Lopes.  This is exhausting even though maybe not exciting for the moment.
Round Three
Our first third round of the night!
Both are tentative early on.
Birchak throwing more but Lopes with more power.  Either guy could win this round and maybe fight.
Birchak slams a right hand that wobbles Lopes.  But Lopes, true to form, stands tall and throws hooks.
Lopes with a left.  And another.  Another.
Lopes shoots but it's easily stuffed.
One minute to go and the crowd cheers.
Lopes with a Liddell-like left hook.
Lopes ducks under but doesn't get the TD.  They're both exhausted.
Winner: Birchak, split dec.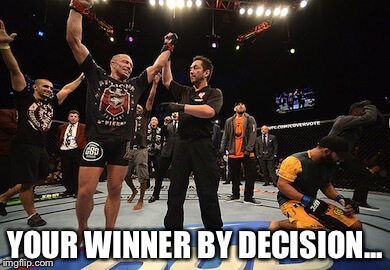 Should You Watch?
It wasn't bad but if you skip it your life won't be bad.
Lightweight John Makdessi vs. Mehdi Baghdad
Round One
All on the feet so far.  Both guys mixing it up with punches, kicks, and knees high and low.
Buuuuut: no one is really landing anything significant.
John likes throwing his little bullshit side kick thing to the stomach which just stalls action and doens't finish and … I have to blame someone for me not being entertained.
Baghdad with a BIG leg kick.  Is this Iraq vs Canada?  Winner becomes America's new BFF?
Round Two
Iraq slips off a high kick.
Canada with a punching combination.  Stann is slobbering on Canada's striking.  He IS moving forward a bit more but let's be real: neither guy is taking a risk here and is content to point fight.
Canada missed a wheel kick but … Everyone acted like he did something impressive.  Guys, I too could miss a kick in a fight.  In fact, I'VE DONE IT BEFORE!!!!
Canada with a "beautiful spinning back kick" that I think was blocked.
I'm probably irrationally angry about this fight but I hate it and hate them because of it.  This is my Thursday night, I should be watching … OK.  This is better than nothing but only barely.
LOL.  Now they say, "Well, Iraq is landing more and being more active."
Round Three
Iraq lands a right hand.  Now a punch more punches!!!!  Canada is hurt!!!!!
GO, IRAQ, GO!!!!!!!!
Iraq goes for a flying armbar.  NOOOO!  He missed it.  This is why you guys lost a bunch of wars to 'Merica.
Canada is burying his head in the stomach of Iraq like a cheap whore.
Iraq stands up.
Iraq with a combination ending with a leg kick.
GIANT left hand from Iraq and somehow Canada just eats it.  Fuck. Me.
Canada lands a spinning backfist.  Iraq takes it.  Now Canada pouring it on.
Uppercut barely misses from ISIS.
(I'm proud of that joke.  Fuck you.)
Fucking. Stann. He just said, "Canada now slowing down Iraq.  Iraq has out struck him barely each round and you have to think that's adding up."  He literally said those sentences back to back. With no sense of how stupid they are.
Canada with a big punch!  Iraq is hurt and he's down!  Canada is pounding away as we have 20 seconds to go.
Gonna be a close one.
Winner: Canada, split dec.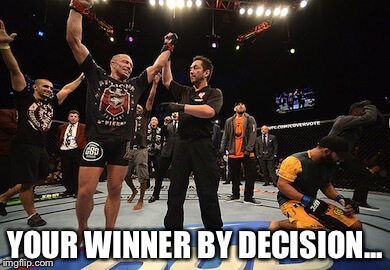 Should You Watch?
Last round was good.  First two were not.
Welterweight Mike Pyle vs. Alberto Mina
Round One
Not sure why but NO interest in this.  It's Pyle, ya know?  He's good but we know how good he's gonna be.  Mina?  He teaches BJJ in Hong Kong.  I LOVE Hong Kong.  To death.  But it isn't a hotbed of MMA.
Mina drops Pyle.  Pyle is hurt.  (This is 4 minutes in so not much has happened.)
Pyle survives because he's a veteran.  Fucking PROMISE they'll say, "Pyle using his veteran skills to survive."
In fact: take a shot every time Pyle and Shot are mentioned together.  You'll have alcohol poisoning in no time.
Mina with a final TD as the round ends.
Round Two
Mina lands a HUGE strike.  Pyle is down.  He's out!!!!!
MASSIVE flying knee of death!  Wow.
Winner: Mina, R2, KO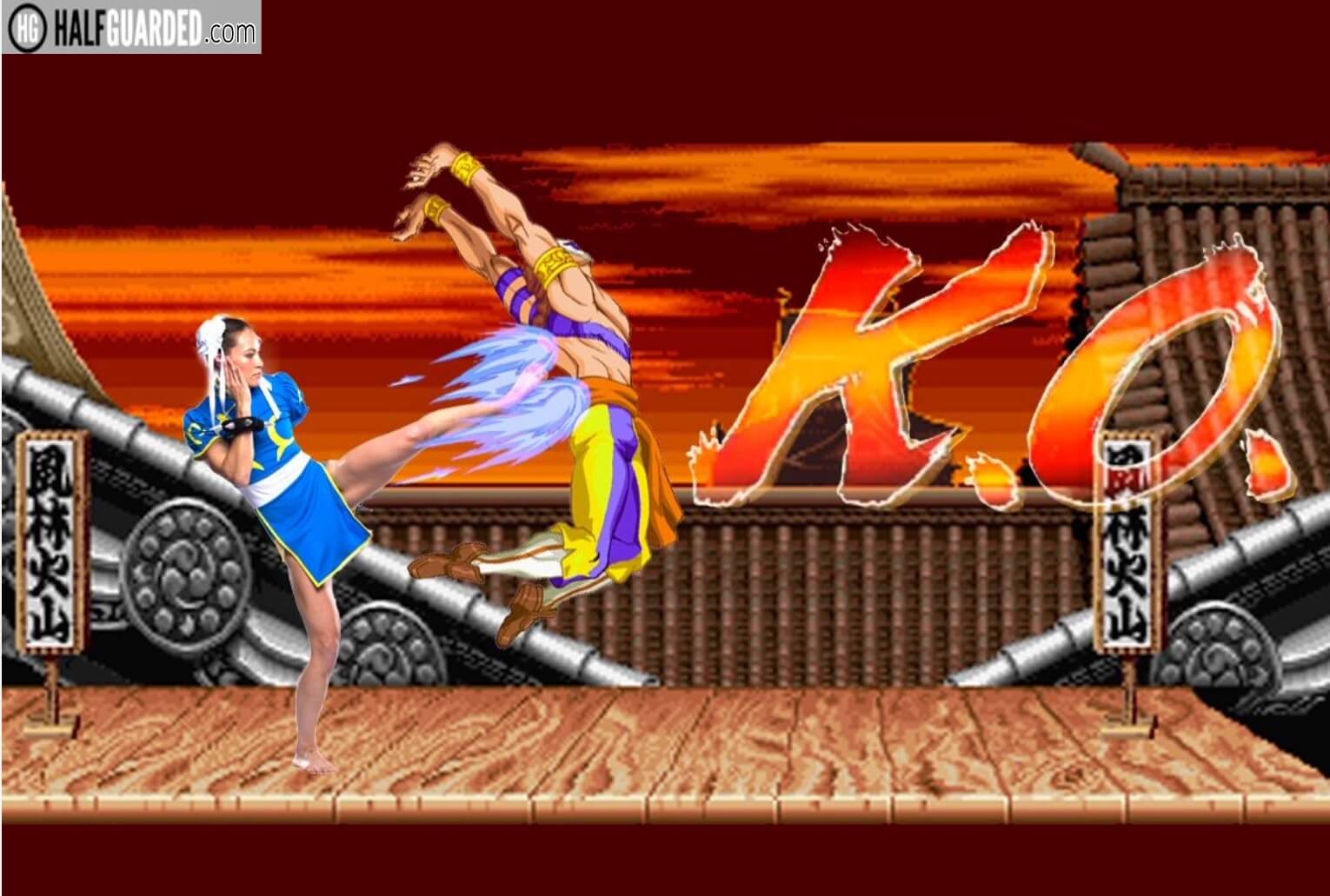 Should You Watch?
Just for the finish alone, yeah!
Lightweight Joseph Duffy vs. Mitch Clarke
Round One
Clarke's nickname is "DANGERZONE." … That's the worst nickname ever.
DUFFY DROPS CLARKE RIGHT AWAY WITH A RIGHT HAND!!!!!!!
Duffy takes the back.  Choke.  TAP!
Winner: Duffy, R1, sub.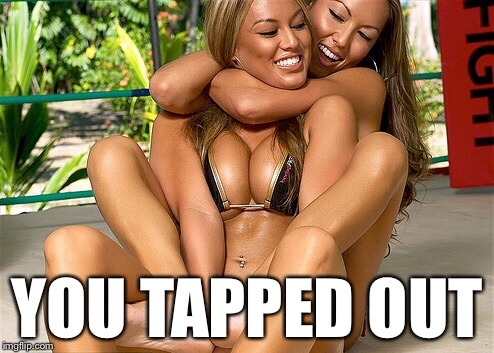 Should You Watch?
Holy shit fuck yes!!!!!!
Welterweight Alan Jouban vs. Belal Muhammad
(Note: Belal trains in Chicago with an affiliate of Mike's gym.  I know his BJJ coach and think he's one of the nicest guys around.  I haven't ever met or trained with Belal but I'm all about being above board with any potential conflicts.)
Round One
Jouban drops Belal early.  Belal sweeps and is on top controlling and pounding a bit.
Jouban with a kick to the body.  Ugh.
Belal already shaking out his arms.  That's not a good sign.
JOUBAN KICKS BELAL IN THE HEAD AND HAS HIM ALMOST DEAD!!!!!!!
Jouban with GnP. Somehow Belal is surviving but this is a swarm.  Jouban kneeing the body.  Elbows to the head.  A minute to go still.
Belal stands up!  Damn.  That's recovery powers.
Round Two
Belal walking forward for the first two minutes but neither guy is landing really.
Jouban lands a BIG right hand that drops Belal.  Fuck.  But Belal is up!  Sheesh.  That's tough.
Belal on a single but Jouban defends with ease.  Belal is at least clearing cobwebs but … He sells out on a TD to no luck.
Jouban is tighter with his strikes and that's the big difference.  Belal's punches are predictable.
Belal gets a TD for a half second but the round ends.
Round Three
Jouban with a blistering leg kick right away.
Belal shoots but is easily stuffed. No set up at all.
Belal lands a right hand and has Jouban hurt.  And another.  This is Belal's best chance.
Jouban responds with a jab and stops the momentum.
Belal seemingly taking over as the fight enters the last 90 seconds.
Riht hand hurts Jouban!  Another right lands.  Then a left hook.
Belal with ANOTHER big right hand.  Then an uppercut.  He has 40 seconds here but he's definitely taking over and landing a TON of punches.
Jouban is surviving because he knows how to but with 10 seconds to go …. He survives.
Winner: Jouban, dec.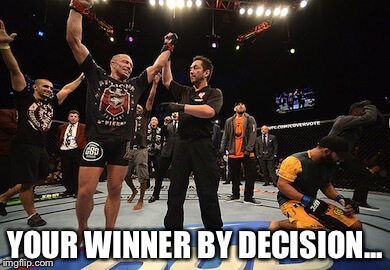 Should You Watch?
Last round was really, really good.  First two weren't bad either.
The skeleton of Diego Sanchez is on screen hyping his fight with Lauzon.  Fuck.  There's cutting weight and then there's this…
Heavyweight Roy Nelson vs. Derrick Lewis
Round One
Anyone think this goes 3?  We better hope not…
Lewis is noticably bigger.  Fuck me.
Wait.  No.  Please don't.
Nelson clinches up and is looking for the TD.  Maybe just wants to grind Lewis down. (I type that and then Stann says the same on air.  HE READS MY MIND LIKE ROGAN DOES.)
Lewis landing some BIG shots!  Nelson bobbing and weaving.
Nelson with a TD, halfguard(Ed.com)(only like the 2nd time tonight for that one).  Aaaaaaand I think one of my dogs has to pee.  DOG PEEing ALWAYS WINS OUT PEOPLE.  Trust me.
Dog is out.  Lewis is letting loose.  Nelson just taking big strikes left and right.
Nelson clinches to slow the pace.
Separation.  Lewis just letting it ALL go.  Nelson counters with a TD to mount.
Helluva round.
Round Two
Lewis with … A FLYING KNEE!  Fuck's sake.
Lewis looks like an amateur wrestling wise but a different level striking.  Weird.  Terrifying.
Nelson w double under hooks. Nelson should have a big advantage on the mat itself but Lewis is a BIG boy…
Nelson w a TD. Side control with ease.  Two minutes to go and Lewis is on his back like a corpse.
Lewis stands up though.  Good on him.  Nelson though w a brief TD.  Lewis up.  Wearing someone down can also can wear YOU down.
TD.  Since control.  Round ends.
Round Three
Nelson w a TD right away.  He knows what's up.
Lewis is being dominated on the ground … But then stands up!
Half a round to go.  Gonna be close, won't lie. (Why would I lie?)
Nelson with under hooks  Grinding against the cage.  But Big John makes them separate and dance.
Lewish throws a big leaping left hook.  Now some uppercuts.  Nelson times a punch, ducks under, and clinches.  Boring but smart.
NELSON IS 40?!?!?!?!?!?!
Lewis with a right hook. A HUGE RIGHT HOOK OF DEATH BUT NELSON TAKES IT!  Fuck.
Winner: Lewis, split dec.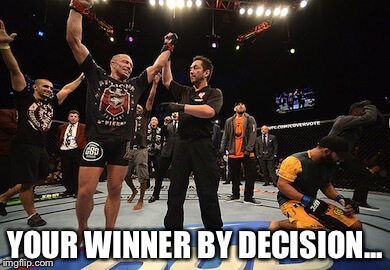 Should You Watch?
At times, it was a spectacle. Some of it was boring and that's all on Nelson.  I'd watch the first round and last 30 seconds.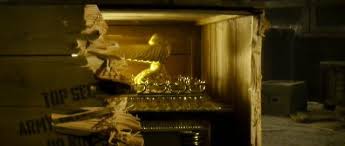 Lightweight Rafael dos Anjos (c) vs. Eddie Alvarez
Round One
Yay for a fight so big it could big the biggest fight of the month for the UFC but instead it's … Thursday on FightPass.  Sheesh.
RDA landing a nice lead uppercut a minute in.
RDA with a head kick then straight left following.
Alvarez w a shot, RDA reverses, they stand.  Eddie also had a HUGE cup, btw.
RDA with a TD attempt now.  Eddie sprawls w ease.
Alvarez lands a MASSIVE RIGHT HAND OF DEATH!!!!!!!!!!!  RDA is hut so bad!!!J!J!J!J!J!J!J
Somehow, RDA is not LITERALLY dead.  Eddie with a flying knee of murder.  Buuuuuuut, RDA somehow ends up on top.
They're standing.  RDA IS OUT ON HIS FEET!!!!!!!  IT IS OVERRR!!!!!!!!!!!!!!!!!!!!
Winner: EDDIE ALVAREZ, R1, KO, NEW CHAMPION!!!!!!!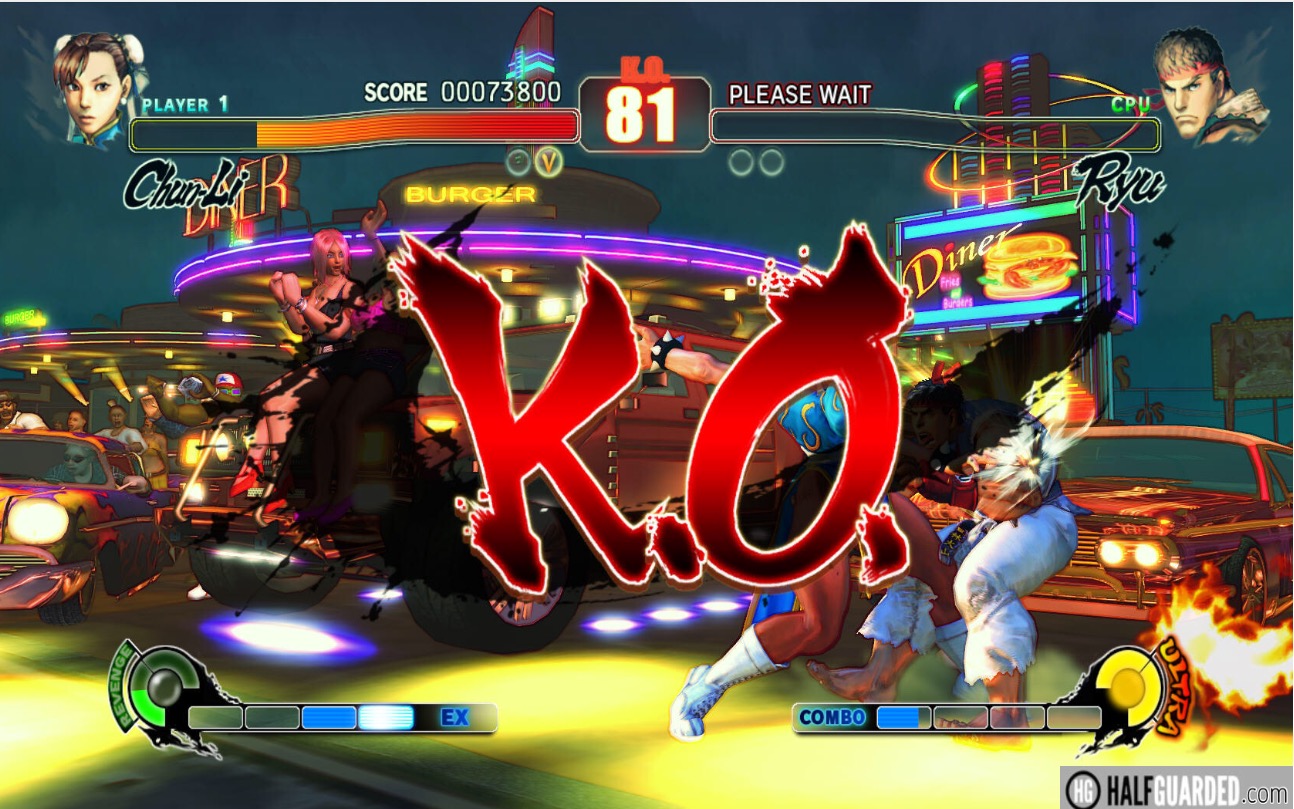 Should You Watch?
FUUUUUUUUUCK YEEEEEEEEEEEEES!!!!!!!!!
Quick & Dirty UFC Vegas: dos Anjos v. Alvarez FREE LIVE STREAM of consciousness
(Winners in BOLD)
Welterweight Vicente Luque vs. Alvaro Herrera
Bantamweight Marco Beltrán vs. Reginaldo Vieira
Lightweight Gilbert Burns vs. Łukasz Sajewski
Bantamweight Felipe Arantes vs. Jerrod Sanders
Bantamweight Russell Doane vs. Pedro Munhoz
Bantamweight Anthony Birchak vs. Dileno Lopes
Lightweight John Makdessi vs. Mehdi Baghdad
Welterweight Mike Pyle vs. Alberto Mina
Lightweight Joseph Duffy vs. Mitch Clarke
Welterweight Alan Jouban vs. Belal Muhammad
Heavyweight Roy Nelson vs. Derrick Lewis
Lightweight Rafael dos Anjos (c) vs. Eddie Alvarez!!!!!!!!!