Well, UFC 196 ain't what it used to be, that's for sure.  In fact, it has magically transformed into UFC Fight Night 82 a totally new card losing one of the bigger fights of the year.  In its wake is this: UFC Hendricks vs Thompson.  As a UFC Fight Night, UFC Hendricks vs Thompson is a fine way to spend a Saturday evening.  And I shall do so and you shall do so and we all shall be happy.  Quick & Dirty results are at the bottom.
Update: Video preview view here.
Update: Weigh-ins featured only one marriage, which is a first. 
Update: an inside look at why Johny Hendricks's restaurant failed.
Update: How did we get here breaks down the fights themselves. 
Update: Donald Cerrone himself liked Matt Grady's awesome piece on him. Nothing to do with tonight but it shows how powerful we are!

UFC: Hendricks vs Thompson FREE LIVE STREAM results – FIGHT PASS 7/6/5/4
Artem Lobov vs. Alex White
What Happened
They slugged it out in kind of a modern day "solid MMA" fight. Lobov was exhausted at the end and literally just lie on the mat after the bell gasping for breath. H got beat down Couture style. WHITE WINS
Should You Watch
If you're bored and hate th Super Bowl, sure.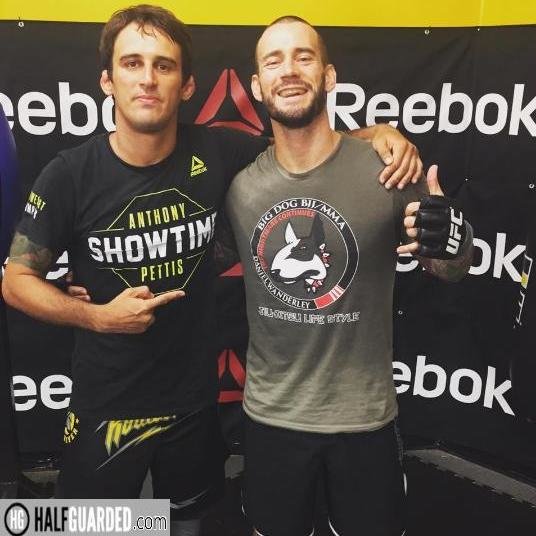 What Happened
Gall looked perfect. He came out, floored Jackson, ground and pounded him, and got the rear naked choke. GALL WON.
Should You Watch
Yup. Gall looked great. He cut a good promo on Punk. Punk and he shook hands. If you have a learning disorder you'll for sure lose your mind.
Omg. They spent like 15 minutes straight talking about how CALM Gall was. If you took a shot every time they mentioned it you'd die in a half hour.

UFC: Hendricks vs Thompson FREE LIVE STREAM results – FS1 Prelims 8/7/6/5
Noad Lahat vs. Diego Rivas
What Happened
Lahat outgrappled Rivas on the mat with some beautiful BJJ. Second round started and Rivas lands a highlight of the year flying knee and kills Rivas. RIVAS WON BY DEATH
Should You Watch
YES. YES. YES. (Meg Ryan)
Ray Borg vs. Justin Scoggins
What Happened
This is a 125 version of the main event. Weird. Scoggins used his distance to do karate stuff mostly. Not a ton of big strikes and damage. Kinda fun to see Scoggins do his karate dancing stuff. SCOGGINS WON.
Should You Watch
Eh. It was there.
Damian Grabowski vs. Derrick Lewis
What Happened
This is the new greatest fight ever. Lewis was nothing but pure fucking muscle. He used one arm to both sprawl and throw Damian. He then punched Damian with Bob Sapp like thunder bombs. So fucking great. LEWIS WON BY MANLINESS
Should You Watch
Right fucking now. It was the bestest ever!!!!! King Kong ain't got nothing on Lewis.
Josh Burkman vs. K.J. Noons
What Happened
Nothing happened. At least through two rounds. It's just awful. No one is landing anything or even trying. They suck. BURKMAN WON.
Should You Watch
Never ever. Omg  awful. I hate them to this.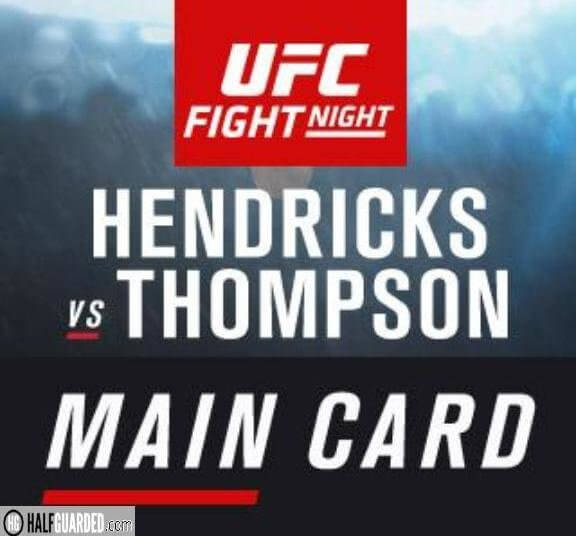 UFC Hendricks vs Thompson FREE LIVE STREAM results – FS1 MAIN CARD 10/9/8/7
Mike Pyle vs. Sean Spencer
What Happened
Spencer sropped Spencer  with a big punch but he was too afraid to jump and GnP as he feared Pyle's bjj. That was round one.
Round three, Pyle lands a massive spinning elbow, stuns Spencer, and beats the fuck out of him with knees and elbows. PYLE WINS.
Should You Watch
At least watch the last round.
Misha Cirkunov vs. Alex Nicholson
What Happened
Misha beat him up a lot in the first round but didn't kill. Second round, he got the back and a quick tap. Looks like Alex has a broken jaw as he immediately grabbed is jaw and the chocke was never under the chin. MISHA WINS
Should You Watch
There are other fights to watch before you get to this. Kind of a Tuesday afternoon and I'm bored fight to watch.
Joseph Benavidez vs. Zach Makovsky
What Happened
They fought like flyweights. No one got hurt. No one gained a clear advantage. There weren't technical mistakes or anything. After 15 minutest you knew BENAVIDEZ WON but it's not like he murdered a man.
Should You Watch
eh. Your life will be ok without it.
Rafael Cavalcante vs. Ovince Saint Preux
What Happened
OSP doing well but lands a kick and appears to have cracked his foot. He can't put weight on it and is reading to all leg kicks.  Feijao isn't super patient here. Not swarming. He's almost letting OSP off the hook. And the OSP lands a massive punch that has the Brazilian hurt. OSP almost got the finish – on one foot.
OSP gets a takedown. Pounding inside the guard. OSP does the same in round three. Ass. OSP WINS
Should You Watch
NO. This sucked ass. Crap ass boring shit fest for the last ten minutes.
Roy Nelson vs. Jared Rosholt
What Happened
Two guys pawed at each other. Nelson tried harder and hurt with some leg kicks. Jared isn't stupid so he kept on his bike and backed away a lot. NELSON WINS because someone had to.
Should You Watch
If you do your mom will cry.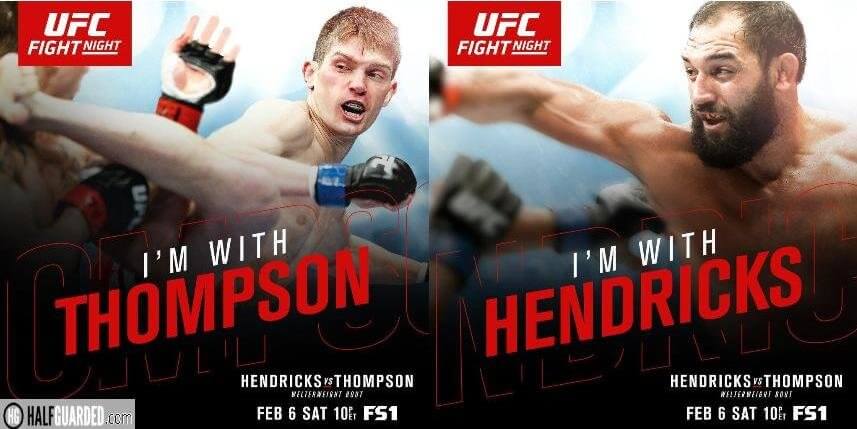 Johny Hendricks vs. Stephen Thompson
What Happened
OMG. Wonderboy was on another level. It was as one sided an owning you'll ever see. WONDERBOY WINS. He moved well, countered, and had increasingly harder shots. It was as perfect a fight as you could have.
Should You Watch
Yes. Now. DUIT!  This was a new generation of fighter exposing a former champ.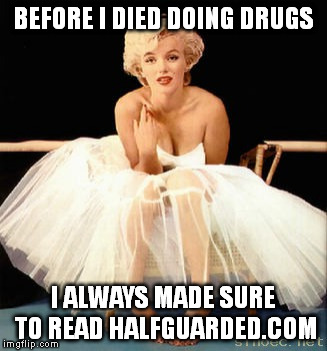 UFC 196 UFC Fight Night 82: Hendricks vs Thompson Quick & Dirty Results
Stephen Thompson d. Johny Hendricks
Roy Nelson d. Jared Rosholt
Ovince Saint Preux d. Rafael Cavalcante
Joseph Benavidez d. Zach Makovsky
Josh Burkman d. K.J. Noons
Derrick Lewis d. Damian Grabowski
Mike Pyle d. Sean Spencer
Misha Cirkunov d. Alex Nicholson
Mickey Gall d. Mike Jackson
Alex White d. Artem Lobov
Justin Scoggins d. Ray Borg
Diego Rivas d. Noad Lahat – DEATH KO