Remember this stupid colossal waste of time? This season was the first to feature only female fighters and was used to determine the first UFC Women's Strawweight Champion. Well, we all thought it was going to be a stupid colossal waste of time, but it turns out, the UFC's Women's Strawweight division is currently one of the most popular.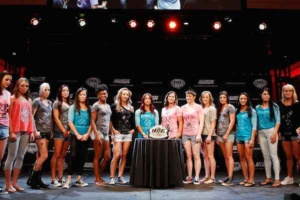 I'm not going to lie. I watched about 3 episodes of this season. I was one of the people who thought that we didn't need another title, be it male or female. And I also thought, "Who the fuck could possibly care about 115 lb. women punching each other?" Turns out, a lot of people, including me. I fucking love this division, and it all happened when I saw Joanna Champion lay a monster beatin' on Carla Esparza. It was fucking badass. I remember where I was and who I was with when I saw that fight, and I remember because I was just going on and on about how retarded it is going to be… By the end of that fight, everyone in the room was like, "Holy fucking shit, that was an amazing performance!" I showed ass that day.
Airdate: Fox Sports 1, September 10 – December 10, 2014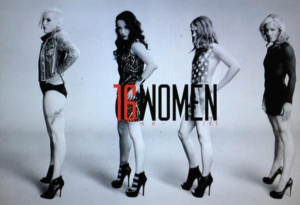 Anthony Pettis and Gilbert Melendez coached this season. I honestly had to look that up. I had no idea. Eleven fighters were initially announced as already having been cast for the show in December 2013; however, Cláudia Gadelha, Juliana Lima, and Paige VanZant were eventually removed from the cast due to being unable to stay on weight throughout the program, not speaking English, and being too young, respectively. How the fuck do you not realize someone who can't speak English is going to be a problem, BEFORE you cast them? Same argument for Paige. How the fuck do you over look the fact that she was only 19? Don't you ask that before you cast them? Ridiculous. What's ridiculous is that they had to kick off, by far, the 3 hottest females. It's a good thing they did too, because it turned out better for all of them. Nobody was going to beat Esparza.
The Teams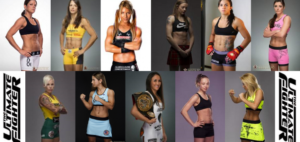 Team Pettis: Carla Esparza, Randa Markos, Joanne Calderwood, Alex Chambers, Jessica Penne, Felice Herrig, Justine Kish, Aisling Daly
Team Melendez:
Angela Hill, Tecia Torres, Emily Kagan, Rose Namajunas, Lisa Ellis, Heather Jo Clark, Bec Rawlings, Angela Magana
Highlights
Dana White acquired 11 strawweight female fighters from Invicta Fighting Championships, an all-women's American MMA organization, with 8 fighters competing on TUF while the remaining 8 auditioned for the show when try outs were held at The Palace Station Hotel and Casino in Las Vegas.
Pettis and his assistant coaches pay a visit to the TUF house to celebrate Randa Markos' win with fast food. Herrig makes a friendship bracelet for Pettis' younger brother, UFC fighter Sergio Pettis, as the ladies tease her for having a small crush on him.
In answer to Team Pettis' "panty wall" in their locker room, the ladies on the purple team pull their first prank when they take a pair of oversize "granny panties" to add to the collection. Penne and the rest of the team do not take kindly to the new addition and stretch the panties on Melendez's portrait, which he takes lightly and is amused by.
Angela Magana shares details about her difficult childhood with Rose Namajunas, saying "I was born addicted to heroin, and I had to fight just to survive my first few weeks of life. My parents were drug addicts; my mom was a drug addict. The same bullet that shot my mother in the neck grazed me. She was so high I had to tell her she was high. I've eaten out of trashcans. I was there when my mom had to prostitute just to make money."
At the TUF house, both teams watch UFC Fight Night: McGregor vs. Brandao in Daly's home country of Ireland. Knowing that she is on the show, Daly's Dublin training partner and flyweight fighter Patrick Holohan dedicates his win to her after his first fight in the UFC, and she is motivated to win her fight.
The fighters relax at a pool party at "The Pond" in Green Valley Ranch Resort, but the claws come out when the Skrappettes unexpectedly leave early, saying Rawlings had no need to be out in the sun before her weight cut. Ellis then comments that the Skrapettes are a "little five-some clan under the leadership of Magana with their bullying and they're a bunch of mean girls."
It was time for the season's coaches' challenge: Pettis and Melendez go head-to-head in a different kind of competition. This year's TUF Coaches Challenge is a UFC trivia contest hosted by UFC fight announcer Bruce Buffer for a chance to win their team $10,000 cash. In past seasons, the coaches typically faced-off in a physical challenge, but Pettis' lingering knee injury prevent him from doing so. The trivia categories were divided into "The Ultimate Fighter History", "UFC History" and "UFC's Famous Finishes". It was a tie after two rounds, but Melendez won the third, and a surprise sudden-victory round gave Pettis a final opportunity to take the lead. But he answered the final question incorrectly and waged all of his points, making Melendez the winner. Melendez received $10,000 as a prize, as well as, $1,500 for each member of his team.
The Finale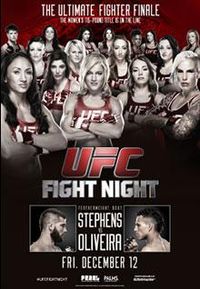 Women's Strawweight: Carla Esparza def. Rose Namajunas Submission (rear-naked choke) 1:26 of round 3
Catch weight (146.5 lbs.): Charles Oliveira def. Jeremy Stephens Decision (unanimous) (30–27, 29–28, 29–28)
Lightweight K.J. Noons vs. Daron Cruickshank: No Contest (accidental eye poke) 0:25 of round 2
Where are they now?
Carla Esparza: She won the strap, then a few months later in her first defense, she ran into the buzzsaw known as Joanna Champion. She took over a year off and was successful in her return defeating Juliana Lima by decision in April. She's only 28 and has an 11-3 record. She'll get her rematch at some point.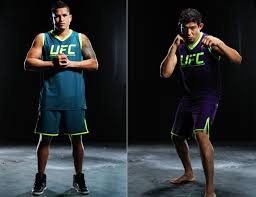 Summary: It was a season that ended up turning out a bunch of awesome fighters in a shockingly popular weight class. I don't know if they will ever be a PPV draw, but one women's strawweight fight per show is ok by me. Everyone thought Rose was a shoe-in for winning it all, but if you saw how Esparza dominated with wrestling, it was not. It was sort of like season 17 where everyone expected Hall to KO Gastelum, but instead he got wrestle fucked. Never under estimate the wrestler… unless it's against Demetrius Johnson.