Join us tonight as our resident Strong Black Woman does her world famous live blogging of Walking Dead!! It's a Walking Dead love fest!
---
NOPE! It's me, Mike! The woman was going to do it but she's watching a co-workers dog and he's currently dominating her life with cuteness. Seriously. You get my non-funny ass because she has puppy love.
Carol's cookies are symbolism.
Fuck, I hate commercials. I forgot how annoying they are. Though now I want Taco Bell.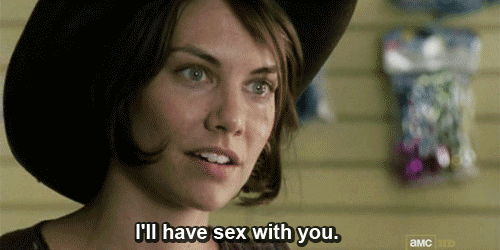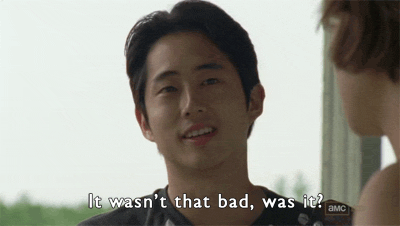 Poor Glen.
Rick is telling them all that they're basically the Republicans of the area Bc WAR!!
Morgan wants to talk; Rick has bloodlust!
Build a wall; kill every single person who might hurt you before they get a chance. Donald Trump is show running this thing.
The ginger giant acted like a douche to a girl out of his league. Now that creepy nerd is there staring at her.
They're gonna try some Trojan Horse shit. You know this will be fucked.
KFC commercials freak me out. Col. Sanders was an actual human being FFS.
Some chick I recognize but don't know who she is said "puta" and wants to kill Morgan. And Carol is smoking. What's happened to you people? You used to be cool, man.
We're half way in and this is what has happened: Rick said lets go kill; Morgan said no; they all went for a walk to scout the bad guys. That's it.
Rick just punched a zombie head for artistic purposes.
This Dodge commercial just sold itself as, "It will help guys fuck your daughter."
The bad guys we've seen are both minorities. This really IS a Trump wet dream.
FUCK ME! Daryl just up and murdered a dude! This is now a Michael Mann film.
Now Rick did a murder. Like, all they know is one group said these guys are jerks. They don't really have proof, right? This is A LOT of murder because of rumors.
Glen with a murder!
The Walking Dead Love For Murder Episode
So, a lesbian confesses to a black priest … That's the start to a joke, I'm sure of it.
Bad guy sounded the alarms!!
The Toyota Camry sells itself as a car that will help you stop your daughter from getting fucked. Over protective dads must be the key demographic.
A priest and a guy named JESUS are shooting things with guns. My dead dad has a boner.
Black guy quoting the bible now before killing. This show is now Pulp Fiction.
Seriously, it's action to a comical degree – like how 8 year old me would do it. Right down to them having comically oversized machine guns.
Microsoft's version of Siri is "Quintana?"
Now they're montaging to celebrate their successful mass murder.
Bad guys talking to them with a walkie talkie. They have Carol and Maggie. OOPS!!!!
fin
---