We are in the midst of Season Six of The Walking Dead.  I'm still watching even though it feels like a chore at this point.  I didn't bother with the clear attempt at cashing in produced Fear the Walking Dead.  In large part, I keep watching The Walking Dead because it's not bad – which isn't to be confused with good.  I also watch because of the tried and true, "I've come this far, I might as well see it to the end."  In that way, my watching of the show mirrors the show itself: I'm just trying to get through it all.  They survive for the sake of surviving; I watch for the sake of watching.
It wasn't always this way.  The first episode of the show, directed by the legendary Frank Darabont, was magic.  In fact, the entire first season (all six episodes) was amazing.  As someone who'd read every single issue of the comic from its debut, I was ecstatic.  It was a fully realized vision of the comic come to life.  It was perfect.  I thought it was the greatest show in the history of great shows.  I'd watch and rewatch every episode.  I was hooked.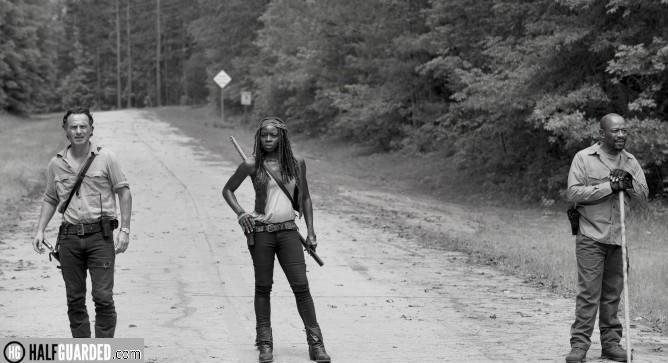 Slowly but surely though, that's been broken.  It was first noticeable during the half-season where nothing happened except no one went into a barn.  It was slow, deliberately so.  The final reveal was excellent but the "less is more" approach wore on me.  This is a comic book that is approaching its 150th issue.  There's a ton of story to mine.  I can understand if Game of Thrones wants to move slow – they're catching up to the most current novels and will soon be in the awkward position of telling an adaptation of a story that hasn't yet been written.  The Walking Dead doesn't have that issue.  Or at least it shouldn't.  But like a walker on the show, it slowly moves forward, threatening, ominous, but ultimately … dead on its feet.
A Walking Dead Season Is now The Walking Dead Staffel
The term Staffel is German for "season." (I think – blame Google translate.)  The Walking Dead feels German to me now.  Or Russian.  Cultures not built on the hopeful optimism that is America; or the live and let live, let's all drink and have sex on the beach cultures of Spain, France, and Italy.  Germany and Russia are countries that survive.  They slog through brutal cold of winter or through bitter past of sin.  They keep their heads down, don't speak loudly, drink the heaviest and hardest of liquors, and just keep not dying.
Which is not inherently wrong.  But it's bleak.  The Walking Dead started with optimism.  Rick finding his wife, him having a daughter on the way, raising his son – in a world of pure misery, he was still optimistic.  That's gone.  His best friend is dead after sleeping with his wife, who is also dead, who died after giving birth to his daughter.  Rick tells himself – tells others – that they're making something new, building society, and so on but it rings hollow.  We are watching The Walking Dead Staffel 6, not The Walking Dead Season 6.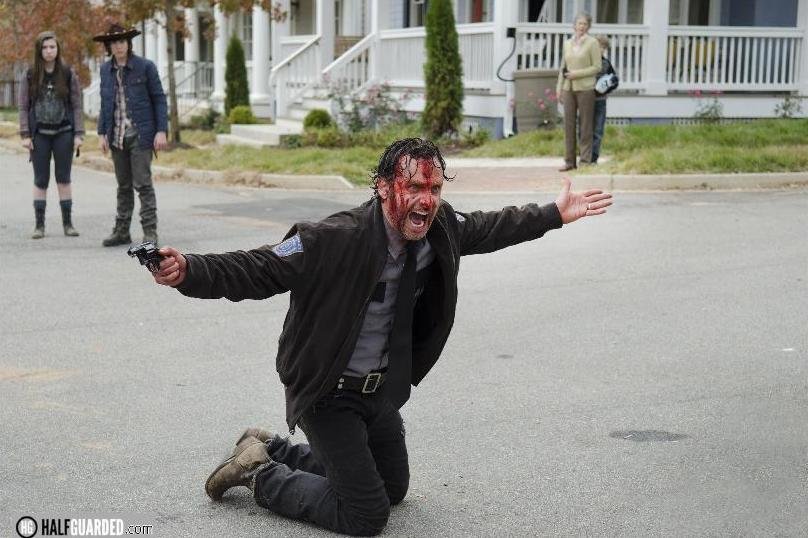 Without going too in depth as to the actual ins and outs of the recent seasons/episodes, the basics are clear enough: Rick and Co. find an idyllic town that has essentially never experienced the brutal reality of the world.  Rick sees in this a chance to start over, to settle down, to maybe be normal – but can't help himself.  He constantly wants to remind and train the townspeople that evil lurks over the walls.  That they must always be prepared.  Rather than find and embrace a potential paradise, Rick focuses on everything that could go wrong instead of what has gone right.  His mind is gone.  The optimism of Rick is gone, replaced by what isn't a grounded realism but flat out pessimism.
Even the term season, while English (obviously), has an inherent optimism to it.  No matter how cold a winter, it is only one of four seasons.  You know spring is coming.  By definition, the term season implies a future of rebirth.  Maybe Staffel does so in German but my suspicion is the Germans have a word for "hope for rebirth" – actually, a quick Google translate tells me it is Hoffnung auf Wiedergeburt.  That certainly rolls off the tongue and doesn't at all sound like something said to Indiana Jones.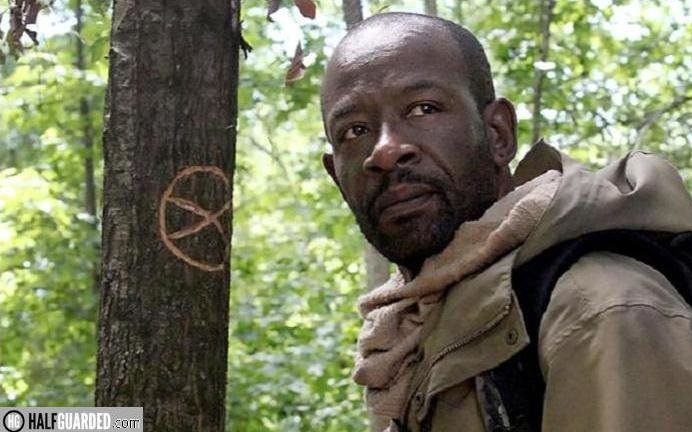 The Walking Dead Staffel has been highlighted all the more by the return of Morgan Jones.  He knew Rick before Rick walked through hell.  He knew the optimistic Rick.  The Rick who was a good man.  He's told Rick that the Old Rick still exists but his belief is waning.  His conviction that a Good Man exists is lessening.  One hopes this is the bottom, the springboard for more and that it leads to the rebirth of Rick: The Optimist.
The Walking Dead Staffel: Cowboy Up
I talked in my piece about Liverpool FC's new manager, Jurgen Klopp (a German, no less!), about how America is defined by the cowboy.  Man on a horse, setting out, doing what's right for the simple reason that a man does what's right.  That was the early image of Rick.  The man literally rode a horse into town while wearing a cowboy hat.  Now?  Now he's coming closer and closer to outright murdering people because "it's for the greater good."  No offense to Germany, but that's kind of one of the things you guys were known for last century.  His optimism is gone; he's just surviving.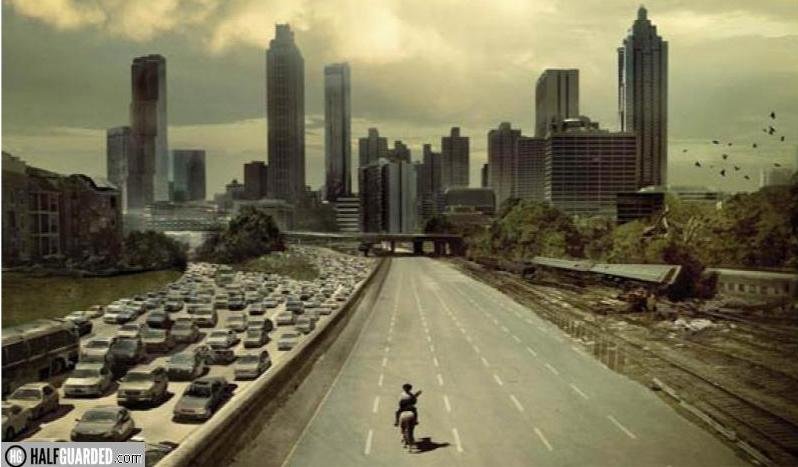 And I with him, as I move forward and don't give up on the show.  I'll retain my optimism, I guess.  A hope that the series concludes on some note of optimism.  That it was all worth it.  Because if you go through life surviving, barely even enjoying individual moments, just making sure you breath one more breath, what's the point?  The Happy Ending may be a cliche, maybe it makes people roll their eyes, but it's needed here.  Rick and Carl can't just die, being eaten alive.  That's no lesson.  That's no story.  That's a failure.  That's the story of people who couldn't even survive.  That's me having invested years into characters that ultimately were little more than rats on a wheel.
I don't want to just watch The Walking Dead Staffel, I want The Walking Dead to once again become seasons. I want them to do more than walk – I want them to walk towards something.  I don't want to just watch a story of surviving, I want to watch a story of survival – a story of having survived.