Glasgow, Scotland, Not-America
Usually, I'm all set to make jokes and allusions to the women folk getting naked but Calderwood is so cute!  I just want to eat her … up.  NOM NOM NOM.
Right.
…
I have nothing else.  It's a video of people standing on a scale.  Then it is text that tells you what happened in that video.  That's all.
WEIGH INS for UFC Fight Night: Nelson vs. Ponzinibbio VIDEO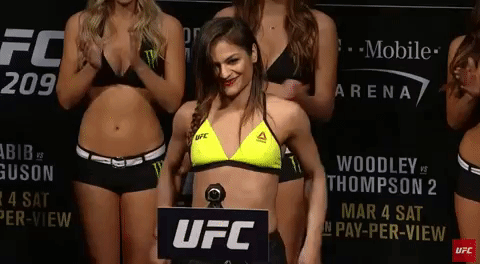 UFC Scotish Land Weigh In Results
MAIN CARD (FS1, 3 p.m. ET)
Gunnar Nelson (170) vs. Santiago Ponzinibbio (171)
Joanne Calderwood (118)* vs. Cynthia Calvillo (116)
Paul Felder (154) vs. Stevie Ray (155)
Ryan Janes (185) vs. Jack Marshman (185)
Paul Craig (204) vs. Khalil Rountree (203)
James Mulheron (240) vs. Justin Willis (264)
PRELIMINARY CARD (FS1, 1 p.m. ET)
Bobby Nash (170) vs. Danny Roberts (170)
Alexandre Pantoja (125) vs. Neil Seery (125)
Galore Bofando (170) vs. Charlie Ward (169)
Danny Henry (155) vs. Daniel Teymur (155)
PRELIMINARY CARD (UFC Fight Pass, noon ET)
Brett Johns (135) vs. Albert Morales (134)
Amanda Lemos (134) vs. Leslie Smith (135)
* – Missed weight; bout continues as a catchweight affair with Calderwood fined 20 percent of her purse, which goes to Calvillo