Perhaps as a result of their recently rejuvenated Divas division, WWE.com celebrated with a Top 10 List of the best Divas Matches of all time. Despite being of all time — which would theoretically mean going back to the days of The Fabulous Moolah — only one of their ten matches took place before 2013. WWE.com is boastful of this.
Their insistence on promoting the recent product is good business sense. When writing about your own product, you wouldn't want to remind your viewers of how great things were in the past as opposed to now. Still, there are several matches of the "Golden Era" that WWE.com could have included. Without necessarily re-ranking the list, we offer a few humble additions.
First, here is WWE.com's official list:
#10 –  Emma vs. Paige (NXT ArRIVAL)
#9 – Brie Bella vs. Stephanie McMahon (SummerSlam 2014)
#8 – AJ Lee vs. Kaitlyn (Payback 2013)
#7 – Charlotte vs. Nikki Bella (Night of Champions 2015)
#6 – Charlotte vs. Sasha Banks (NXT TakeOver: Evolution)
#5 –  Becky Lynch vs. Sasha Banks (NXT TakeOver: Unstoppable)
#4 – Bayley vs. Sasha Banks (30 minute Iron Man match; NXT TakeOver: RESPECT)
#3 – Lita vs. Trish Stratus (Unforgiven 2006)
#2 – Charlotte vs. Natalya (NXT TakeOver)
#1 – Bayley vs. Sasha Banks (NXT TakeOver: Brooklyn)
Some of these matches are indisputably worthy of being on a Top 10 list. The Bayley/Sasha Banks matches have cemented the current era of Diva Revolution more than any other matches seen on WWE TV or PPV recently. But we do wish WWE.com would have tried to recognize the Golden Era a bit more.
For the uninitiated, The "Golden Era" is often spoken of among divas fans but was only mentioned on WWE programming in retrospect, when Trish Stratus received an induction into the WWE Hall of Fame.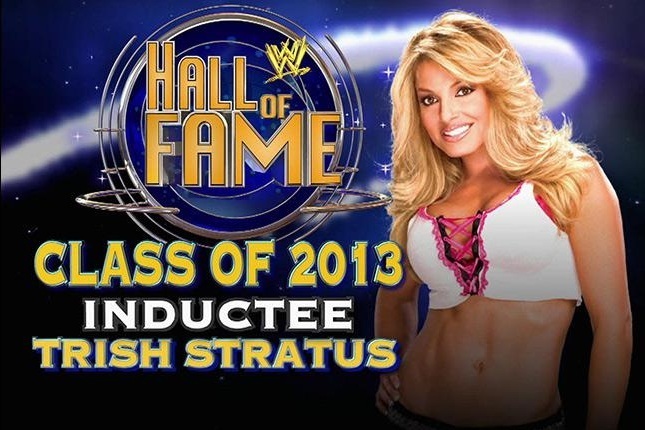 In her speech, Trish — who has made post-retirement appearances like any other wrestler but whose official tenure occurred between 2000 and 2006 — acknowledged the fact that her success and popularity had to do with being surrounded by the right people at the right time.
https://www.dailymotion.com/video/x2jwey8_trish-stratus-wwe-hall-of-fame-speech_sport#tab_embed
"It's not my body of work, it's our body of work, and when I speak of that combination of moments and matches and partnerships and opponents, I speak of 'The Golden Era" … I'm taking about women who were strong, athletic women who could kick ass in the ring, and I'm talking about Ivory, Jacqueline, Molly Holly, Jazz, Victoria, Mickie James, and of course, my bestie, Amy, A.K.A. Lita."
While we're going to give some wiggle room for the Attitude and McMahon-Helmsley Eras (which encompassed the whole roster, not just the women), one could argue that the Golden Era officially started when Trish Stratus won the newly vacated WWF Women's Championship at the 2001 Survivor Series, and ended two months after her retirement, when Lita did the same at Survivor Series 2006. While not included in this list, we could choose to stretch out the Golden Era a bit further — we had the Beth Phoenix/Mickie James/Melina/Michelle McCool Era — and argue that the women's division didn't truly die in the WWE until Michelle McCool retired at Extreme Rules 2011. Her former partner in crime Layla defeated her in a retirement match, Kharma came out and destroyed her, and a sense of excitement was happening around the women again. Unfortunately, Kharma left due to personal and medical reasons. Mickie James was released. Talented wrestlers like Melina, Gail Kim and Natalya were put on the back-burner in favor of Kelly Kelly and Eve Torres, the latter of whom finally got interesting toward the end of her career when she became a full-fledged heel. While the efforts of the women weren't unnoticed, this would lead us to the "Bathroom Break Era", a time of pointless 12 and 16 diva tag team matches, feuds that went nowhere, and a sense of apathy from the audience whenever a women's match was announced.
Here are some of our favorite Golden Era matches worth a second look.
10 WWF Women's Championship Match: Stephanie McMahon-Helmsley [c] (w/Kurt Angle & Triple H) vs. Lita (Raw is War)
Special Guest Referee: The Rock
August 22nd, 2000
Lafayette, Louisiana
This match is McMahon-Helmlsey Era and not necessarily Golden, but we defend its placement. While Trish and Lita's RAW main event (which we'll get to later) is more historic, it is if often erroneously thought of as being the first time the Women's Championship match headlined RAW. In actuality, Lita has the honor, but she shares it not with Trish but with … Stephanie McMahon. The "billion-dollar princess" Stephanie McMahon-Helmsley miraculously defeated Texas tough Jacqueline for the title on the Smackdown before WrestleMania 2000 and spent an entire summer parading around the championship, while her husband Triple H lost, re-gained and re-lost his WWF Heavyweight Championship. While occasionally being forced into mixed tags by Commissioner Mick Foley, Stephanie only granted her #1 contender two title matches that summer, and both times the challenger was screwed over. Six days before SummerSlam, when her husband Triple H and her "good friend" Kurt Angle were set to challenge The Rock for the WWF Title, Mick Foley gave the WWF Champion referee duties on the night Stephanie was finally to give Lita her fair one-on-one shot. The match perfectly synchronized all three personalities involved in the upcoming Triple Threat match, set the tone for the fallen alliance of HHH and Kurt, and gave the fans what they had been clamoring for ever since Stephanie's shocking heel turn nine months prior: The spoiled billion-dollar princess didn't just lose her stolen title, but got the beating she deserved.
9 WWE Women's Championship: Molly Holly [c] v. LITA (Survivor Series 2003)
November 16, 2003
Dallas, Texas
http://dai.ly/x3n5dp
Having missed the renaissance of the women's division due to a neck injury, Lita had a lot of ground to make up when she returned to active duty in September of 2003, saving former rival Trish Stratus from the evil and dedicated duo of newcomer Gail Kim and Women's Champion Molly Holly. Lita's comeback was leading up to a perfect storybook ending; she and Trish defeated Molly and Gail at Unforgiven, and she won a Fatal Four Way match to earn her title shot at Survivor Series. But despite shockingly kicking out of a Molly Go Round, it wasn't to be, as the crafty champion used an exposed turnbuckle to do away with her fiery challenger. After seeing Trish understandably dominate the division for a year and a half and Jazz twice leave the canvas due to injury, it was exciting for a fresh feud to be the center of the Women's Championship picture.
8 Steel Cage Match: Lita v. Victoria (Raw is War)
November 24, 2003
Salt Lake City, Utah
http://dai.ly/x8z4nu
Just eight days after losing at Survivor Series, Lita finds herself on our list again. Short story long: The day after Survivor Series, Matt Hardy appeared to be ready to propose to Lita on an episode of the Highlight Reel before being interrupted by Molly Holly, who complained of not getting enough attention despite being the champion. The Highlight Reel host, Chris Jericho, was apparently granted match-making authority and suggested that Lita and her reunited lover team up against Molly and a male partner of her choice. Molly, whose "virgin" angle was thankfully dropped but still had no storylines with male wrestlers, chose Raw GM Eric Bischoff. Does this make sense yet? It's about to make even less sense! Eric Bischoff decided to wield his power and allow Lita a title shot if she won — but if she lost, she was FIRED!! Matt and Lita had a mushy pep talk backstage. And now this is going to go even further of the rails!
You see, during the actual match, Matt Hardy — who an hour ago seemed to be ready to propose to Lita — jumped off the apron and left her high and dry, and Bischoff covered her in a skeezy fashion. Lita was fired. She cried backstage. Then, Christian, who had a "favor" from Bischoff due to being on the winning team at Survivor Series, used his favor to get Lita her job back. (Skipping ahead, this would all be a ruse in the Chris Jericho/Christian "Canadian dollar bet" storyline, which is one of the best storylines ever done on the WWE midcard).
Anyway! Here we are! Raw Roulette was done every now and then during WWE sweeps and never made for a dull show. Eric Bischoff would spin a heavily rigged wheel that led to various stipulations — Handicap! Weapons! Falls Count Anywhere! — that added variety and pizzazz to the show. Whenever the girls had a match, it would always magically appear on Bra and Panties. But while that would happen later that night (Trish Stratus vs. Miss Jackie), WWE Creative had an ace up their sleeve for the first match of the night.
As Lita stood in the ring awaiting her fate for her match against Victoria, Eric Bischoff decided to let the dastardly Women's Champion Molly Holly spin the wheel. She did so accordingly, and the wheel landed on steel cage! The crowd audibly gasped and Bischoff noted that this would be the first time we would see two women in such an environment.
The match works so well not just because of its historic status — Lita even thanked Victoria for it in her Hall of Fame induction speech — but for Jim Ross's masterful description of how the cage currently represents Lita's life, and his reluctant sympathy for the psychotic heel Victoria for also being placed in such an environment. The psychology is surprising as the beleaguered face Lita starts off as the aggressor, desperate to succeed. The ending is unfortunate WWE bullshit — Matt Hardy attacks Lita, Victoria wins, and then Christian makes the save (we're only bitter because the Matt Hardy heel turn of that year went nowhere) — but the dangerous match itself and the work of the women are historic highlights.
7 Fatal Four Way for the WWE Women's Championship: Jazz [c] (w/Theodore Long) v. Jacqueline v. Trish Stratus v. Victoria (w/Steven Richards) [Judgment Day 2003]
May 19, 2003
Charlotte, North Carolina
http://dai.ly/x208k6s
Jazz, now aligned with Theodore Long, a manager who blamed any problems she had on racism (in one of WWE's effective-but-sometimes-icky storylines), thought her Fatal Four Way match was a plan from "The Man" to keep her down. In actuality, it was "The Women" elevating their division. On paper, the girls were put in the "death slot" between the title matches of the evening (HHH v. Kevin Nash, Brock Lesnar v. Big Show), a spot they often received on pay-per-views. However, HHH and Kevin Nash's title match only went seven minutes and ended in a bullshit finish (HHH intentionally DQ's himself, Nash then power-bombs him through a table), upsetting the crowd. It was actually the women who brought them back, and not the other way around. The match — which included an impressive double-submission spot and Trish Stratus legitimately losing a tooth after an ill-conceived bump to the outside — was so intense and technically sound that it actually earned praise from SLAM! Wrestling, which almost always gave the girl matches one star or less.
6 Six-Pack Challenge for the WWE Women's Championship: Trish Stratus vs. Jacqueline vs. Lita vs. Ivory vs. Molly Holly vs. Jazz (Survivor Series 2001)
November 18, 2001
Greensboro, North Carolina
While Trish Stratus had the least wrestling experience of all six ladies (including ECW thoroughbred Jazz, making her WWF debut), she would get the duke after executing the Stratusfaction on Ivory, becoming the new Women's Champion after contract negotiations broke down with the previous champion, Chyna (in part because she didn't want to be in the women's division). And while the match itself didn't even go four and a half minutes, Fit Finlay packed a lot into that time frame. While she erroneously confused this match with the 2003 battle royal that gave Gail Kim the title, Ivory praised this match in her recent "Table For 3" appearance, noticing that all the women got things to do. The sequence of events that leads to the finish, with all six ladies using a finisher, is downright masterful.
5 Stephanie McMahon-Helmsley vs. Trish Stratus (No Way Out 2001)
February 25, 2001
Las Vegas, Nevada
http://dai.ly/x3c2pc9
On paper, it was a match that appeared to be disastrous: Two (relatively) untrained female talents being booked for a catfight on Pay-Per-View — and did we mention both were heels? But Stratus and McMahon proved the naysayers wrong when they tore down the house in an emotionally charged bout that, in the words of Jim Ross, "has gone beyond anything we dreamed it would."
What helped this match was that both women had strongly defined characters. Stratus was the bombshell mistress ready to prove just who Daddy's Girl was (more likely to be cheered by the men) and McMahon was the shrill yet vindicated daughter ready to take out the trash — which made her more sympathetic to female fans.  Adding to the formula was that the women trained their asses off for it,  with Molly Holly going over it with them and teaching them how to avoid blow-up. On her 2003 100% Stratusfaction Guaranteed DVD, Trish noted that, at the time, this match was still what fans most praised her about in meetings.
The "catfight grudge match" scenario, based on two women getting down and dirty in the ring over an issue not pertaining to a title, still occasionally gets booked on PPV's and often comes up short — Layla vs. Summer Rae at Money in the Bank 2014 or the absolutely abysmal Jenna Morasca vs. Sharmell at TNA's Victory Road 2009 — in part because the bookers forget that when you put together such a match, you have to give the women enough character, story, and fire to make up for the lack of wrestling finesse. Some could argue that Trish and Steph had too much build-up before their match, but by the time Trish walked to the ring and told William Regal, "I've got a bitch to slap", we all believed her. The match itself included Trish being doused with water and one of her butt cheeks being exposed by a cheeky Steph, Stephanie executing a powerbomb, Trish channeling Haku in the corner at one point (noticed by Bryan Alvarez at the time), and weasel-ly antics from Regal that left the audience wondering what would happen the next night.
4 Chicago Street Fight for the WWE Women's Championship: Victoria [c] w/Steven Richards) vs. Trish Stratus (Raw)
January 27, 2003
Chicago, Illinois
http://dai.ly/x13m930
While this match wasn't the first or last time we would see Trish and Victoria mix it up with weapons, this remains our favorite. Trish, having pinned Victoria in a mixed tag match the week prior, was ready to reclaim the championship she had lost two months prior at Survivor Series. But Victoria now had an additional advantage on Trish, as her lackey Steven Richards often interfered in her matches, and it was perfectly legal under the structure of this match. While Richards would receive whacks with a Kendo stick for her troubles and Trish came thisssss cloossssse to winning after a Chick Kick, the numbers game was too much for her, as the wily champion would pin her on the outside. As if that wasn't enough, Jazz — who hadn't been seen since May — made her return post-match and beat the ever loving crap out of Trish (to the point that she'd be kept off TV for a month to sell the injury). The angle led perfectly into our #3 pick and showed that the Golden Era Divas never needed some silly excuse like a pay-per-view to bring their A game.
3 Triple Threat Match for the WWE Women's Championship: Victoria [c] (w/Steven Richards) v. Jazz v. Trish Stratus (WrestleMania XIX)
March 30, 2003
Seattle, Washington
Jazz and Victoria had become reluctant allies in the past two months, but that was all set to change once the gold was on the line at Safeco Field … not to mention the fiery blonde challenger that both equally hated had a major score to settle. Given surprisingly ample time and a well-placed time slot (still an unfortunate rarity of the era), all three women put on a show at WrestleMania XIX. While the match was nearly won by Jazz who had Trish in an STF, it was miscued interference by Steven Richards and a roundhouse kick by Trish that gave the Canadian her fourth Women's Championship.
2 WWE Women's Championship: Trish Stratus [c] vs. Lita (Raw)
December 4, 2004
Charlotte, North Carolina
The iconic main event match most commonly referenced by fans of both women cannot go ignored. Booked by Trish's scorned ex-lover Chris Jericho — who had GM duties for the week — Lita's overdue one-on-one match against Trish for the title came after months of being bullied and psychologically tortured by the now devious blonde, who had relished in Lita's pregnancy and forced marriage to Kane (just go with it). Held in Lita's home state of North Carolina, the match had extra gravitas for being placed in the main event. No guest referees, no male talents at ringside, just the two women being highlighted in the last segment of the show.
The match certainly delivered, with Lita taking a terrifying tope through the ropes that led fans to question if her surgically repaired neck had again been injured. Trish took off her protective mask, revealing her nose injury to be a rose. A superplex wowed the crowd, as did a sequence of near-falls that almost allowed Trish to escape with her title thanks to holding onto the ropes. Ultimately, Lita would win her second championship after a Moonsault. Jim Ross lost his voice. While placing the women in the main event seemed like mixed signals considering just weeks prior, John Laurnaitis released half the women's RAW roster (including Gail Kim, who had just been introduced into the Lita/Trish angle!), it proved to be a wise decision. The ratings held firmly at 3.4 for the fourth week in a row.
1 WWE Women's Championship: Trish Stratus [c] vs. Mickie James (WrestleMania 22)
April 2, 2006
Rosemont, Illinois
In a testament to the talent of the participants and to good writing, the Trish/Mickie feud — helmed by head writer Alex Greenfield — finally came to a head at WrestleMania 22, months after the pathological admirer of the champion made her television debut. What makes this match so great is that it could very well be a triple threat match, with the third contender being not another wrestler but the Chicago-area crowd itself.
About halfway through the match, a strange shift occurs as the psychotic Mickie scores offense on the spitfire champion. Slight "Let's go Mickie" chants start bubbling through the arena. Then Trish's textbook comeback is soundly booed. And when Mickie finally gets the pin and the title, the crowd erupts in united cheer, prompting Jim Ross to speculate if they should join the nutjob in the asylum (remember, Chicago at this point did not have a "bizarro world" reputation like Toronto did). This may have been because the last time Trish had ever been pinned was in the previous match we mentioned, which was over a year ago. It may have been because Mickie was so good at playing her Single White Female on Adderall role. It may have been because she really won them over when she pantomimed "The Shocker" (a move that earned the ire of Vince McMahon and was subsequently deleted from the DVD). On his nightly recap, Dave Meltzer noted that it would have been the best match of the night had the finish not been botched, a slight that the fans even seemed to forgive.