Update for November 4, 2015. After careful consideration and feedback we have decided we wouldn't change a damn thing. This IS the true 2015 Pro Wrestling Hall of Fame!!
If there's one thing this site is known for it is our unabashed love of gay sex.  If there's a second, it is knowledge of professional wrestling second to none.  From the brilliance of our G1 coverage to the Fire Pro podcast to even our coverage of WWE PPVs when we are bored, we do pro wrestling better than anyone.  We know this carries with it a great deal of responsibility as well: you can't be an industry leader and then half-ass your way through life.  No, we proudly Bear this burden.
With its rich tradition of racial stereotypes, sexism, and murder, pro wrestling – more than any other industry – deserves a proper hall of fame and that's what we're doing.  The first of its kind: the 2015 Pro Wrestling Hall of Fame.  We are inducting ten members and explaining why.  Because explanations are important.
This hall of fame is the result of countless hours of debates amongst the greatest minds in the sport.  We asked people from many different IP addresses for their input.  We weighed all opinions properly and devised a complicated algorithm to adequately do justice to this important list.  This truly is the creme de la creme of America's greatest export.
The HalfGuarded.com 2015 Pro Wrestling HALL OF FAME!!!!!
1. Sting
A 30 year career on top of every promotion he's ever been in.  He has main-evented for every company on earth and one time defeated Hulk Hogan!  A win over Hogan instantly makes you a hall of famer.
2. Big Daddy
The most popular wrestler in English history.  And keep in mind: England has like 60 million people.  Think about it: we hear arguments all the time about how popular a guy was on some loser island like Puerto Rico (which may not even be a real island) and there are like 5 people there.  England is a BIG country and this BIG MAN was the best ever.  A pure marvel of athletic amazingness.  He also never lost a single match.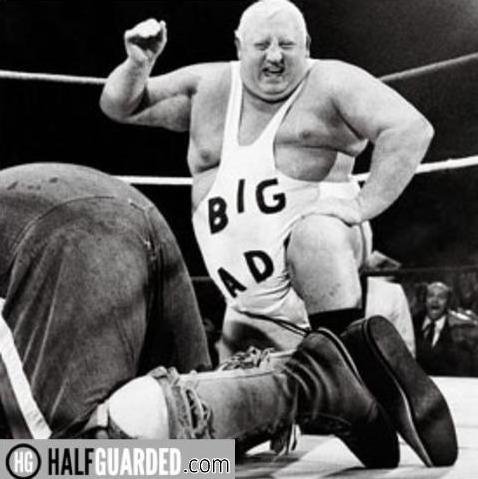 3. Jimmy Snuka
He invented high flying.  Prior to Snuka, no man had ever actually jumped while inside a wrestling ring; no man had ever jumped off a rope; no man had ever jumped off a top rope; and no man ever jumped off a cage.
He gets bonus points for getting away with murder for 30 years.
4. Ultimate Warrior
No one who isn't a dickhead doesn't worship and love the Ultimate Warrior.  He one time held the Intercontinental AND World Title at the same time!  And this was back in the day when he had to take on huge, massive, giant strong men.  None of this modern pussy shit where a guy weights 170 lbs.  Warrior Warrior beat giants – including Hulk Hogan.
5. Sgt. Slaughter
How many pro wrestlers not only dominated the squared circle but also helped fight terrorism?  None except Sarge.  As a top figure in WWF, he was an amazing performer.  And as an important member of G.I. Joe, he kept the world's worst terrorists at bay.  It isn't a surprise that 9/11 happened after he retired.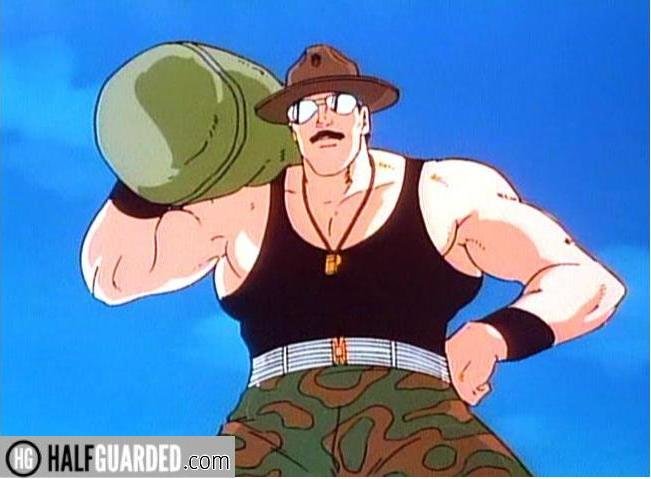 6. Mr. Perfect
His name is MR. PERFECT.  I'm sorry, but you cannot be perfect and not be in a pro wrestling hall of fame.  Hell, he should be in EVERY hall of fame.  Also: he gets credit because there is not a single person reading this right now who does not try to hit their gum when they spit it – all because of Perfect.
7. Jesse Ventura
He was governor of America's 38th most recognizable state.  He helped kill AN ALIEN KILLING MACHINE.  He not only fought a war hero in court, he beat him!  And is now forcing the late hero's wife to pay him money.  That takes courage of conviction and courage of conviction is the number one criteria for entry into the HG 2015 Pro Wrestling Hall of Fame.  Oh: And he looked like this: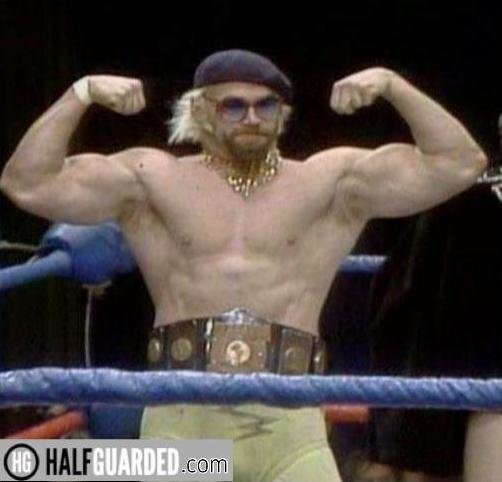 That's a Hall of Famer if there ever was one.
8. Haystacks Calhoun
My dad – who is dead – knew who he was.  My dad thought pro wrestling was the dumbest thing on earth, full of big fat fake losers engaging in slightly homoerotic (not to mention sometimes outright gay) behavior.  He laughed at it every day and went to his grave whispering Rosebud Pro Wrestling Is Stupid.
And he knew Haystacks.  BOOM!  Instant member of the 2015 Pro Wrestling Hall of Fame of fakeness.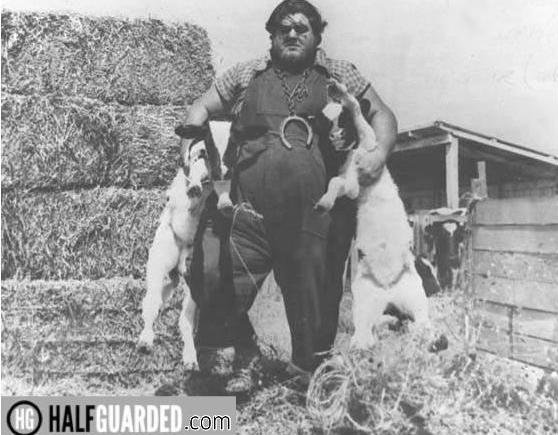 9. Junkyard Dog
The first black man to ever be accepted by a white person anywhere ever.  You know his name, even today.  That alone is enough because it's the hall of FAME not hall of good fake punches.  He was also popular in the south.  THE DEEP SOUTH.  Do you know how fucking amazing you need to be to be popular in racist land while being black?  I'll tell you how amazing: 2015 Pro Wrestling Hall of Fame Inductee level amazing.
10. Royce Gracie
Without Royce, there is no UFC.  Without UFC, there is no pro wrestling today because MMA is pro wrestling.  He also successfully conned people into paying money to see him win fights that were essentially predetermined: total carny; total pro wrestler.