Bear witness as Mike sits down for an hour with ESTHER KU!!!! Ku is a person who tells jokes for a living. She has even been on TV. Have YOU been on TV telling jokes? Didn't think so.
Ku was on Last Comic Standing, has hosted shows on MTV, and is the brains behind a very legendary podcast: Ku and the Gang! (I listened to it for like a month before I got the reference. I'm kinda dumb.)
During this …
ESTHER KU INTERVIEW
(Hi, Google…)
The two go over everything from therapy, masturbation, local Chicago TV commercials, and more.
What else more should you expect in the …
ESTHER KU INTERVIEW?
Lots of talk about pooping. Whether her gang of followers will go after cops here in Chicago. Has she seen an alligator? Why Asians hate her and why there isn't Korean fast food! Plus, confusion over whether or not she did voice over work for a Cadillac commercial and what life is like on a reality tv show. (Spoiler: it's not all real.)
What? You need MORE reasons to listen to the…
ESTHER KU INTERVIEW
?
How about just the fact that she's a really nice person who is interesting? Shouldn't that be reason enough? How about her remembering my name for the entire interview? THAT MAKES ME IMPORTANT!!! It was good and she's funny and you like to laugh, don't you?
You can even now WATCH the…
ESTHER KU INTERVIEW!
Oh. You don't? Well…fuck you then. I hope your mom trips, falls down the stairs, and lands face first in a pile of stale pine needles that then catch on fire because they're all dried out. (But only after you listen, KTHXBYE!)
BTW: PLUG TIME!!!! (Visit or I cut you.)
HER:
SNAPCHAT: EstherKuKu (I have no clue how you link to snapchat)
And now another picture of her, because while women deserve to be respected for their intellectual contributions to society, perverts tend to hover on websites longer when there's visual stimulation, and those seconds of hovering mean big bucks in the advertising world.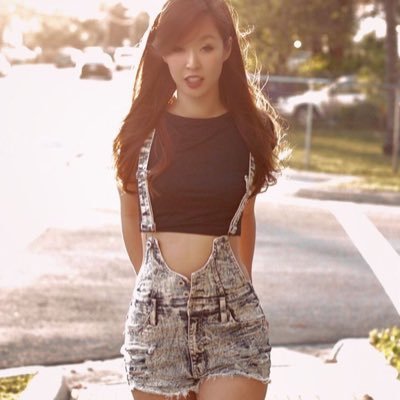 GO LISTEN TO THE ESTHER KU INTERVIEW!
Podcast: Play in new window | Download
Subscribe: RSS