Imagine you're a brand new UFC fan. You enjoy the fights, have become a fan of particular fighters and it's becoming where you're counting down the days until Saturday night for the next show. Maybe you decide to expand your fandom and start to interact with other fans to share your passion on social media and message boards and see what other fans have to say on the sport that has grabbed your imagination.
Well ask yourself, after glimpsing the negative, whiny, miserable world of the wannabe experts that pollute the MMA internet community, would you really want to stick around?
Mixing with hardcore fans can be such a wretched experience. The endless arguments and one upmanship. All that bitching about how there's too many shows, as if you're contractually obliged to watch every single one. How it's spoiling the sport because you don't know who all the fighters are any more. "Sorry MMA fighters we're having less fights and cutting your opportunities to make money because Liddellfan91 from Kansas can't keep up with you all!"
Then there's those obsessing over buyrates and TV ratings, as if they're invested in the health of the business. So many times I've seen a title change hands and the talk on message boards isn't what new title fights we can look forward to but "how much of a draw they're going to be!" Discussions about Rousey vs Cyborg and how awesome a match up would seem less important than how much business it would do. Look get your MMA kicks however you want but until Dana White tells me that I'm getting a cut in the buyrate I'm going to refuse give a fuck what's going into the Zuffa bank accounts.
Don't get me started on those armchair experts who can tell how UFC is doing it all wrong and how it would be so much better if only Dana would listen to them. "The sport's dying why can't they see that?????"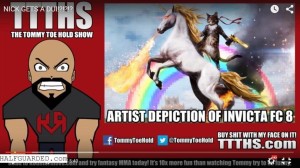 Well thank God that there is someone out there who remembers that watching MMA is meant to be Goddamn fun! And if it takes a foul mouthed cartoon character yelling at us with the intensity of a tazmanian devil on acid to show us the way, so be it.
Ladies and Gentleman I give you Tommy Toe hold, the man who makes MMA more fun than the thought of Matt Hughes going hunting and having the shit kicked out of him by a gang of deer.
The maniacal Tommy Toehold has been bombarding the senses of MMA fans for years now from his own youtube channel with a mixture of skits, recaps and commentaries doing for MMA what the puppet show Spitting Image did for politics all those years ago. Tommy is able to parody all things MMA by talking still photos of stars and animating only their mouths in a crude flapping motion in the same manner that Terry Gilliam did with Monty Python.
It should be a concept that has an amusement value of approximately five minutes but in the hands of a motherfucking genius like Tommy Toehold it's an indispensable part of my own MMA experience. Just look at how Tommy has handled the major moments of UFC history. Most shows can say how disgusting the sight of Anderson Silva's leg break was but only Tommy illustrates the point by throwing up in his introduction. Other shows can debate whether Ronda should have shook Misesha Tate's hand, but Tommy shows Ronda going further by turning full on heel, popping a child's balloon ringing the bell at survivor series 97 and joining the NWO bragging about how she pays people to boo her because boos fuel armbars. And while most media was tut tutting at the Jones and Cormier brawl, Tommy was gleefully re-enacting it while proclaiming it as "Christmas in August" and the best thing to happen in forever.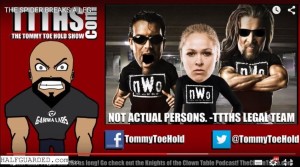 Maybe I'll watch a UFC show that sucks farts out of a cat's ass with every fight going the distance in onesided displays of lay and pray homoerotica. Fear not at least I'll have Tommy's postmortem to rip the shit out of it. You see Tommy follows most UFC shows with his own mock press conferences presiding over by a grumpy Dana White who orders the press to "Sit the fuck down and shut the fuck up.." before announcing a ridiculous exaggerated ppv or attendance figure. All the combatants are parodied, with some straightforwardly obvious such as the Diaz brothers being joint smoking nutcases who don't have any fucks left to give and Conor Mcgregor yelling "AHH MUTHERFUCKER" out of nowhere. Other impressions cross over to the surreal with Stipe Miocic becoming Stone Cold Steve Austin or Ronda Rousey morphing into a Super Saiyan God (I don't know what it is, it's Japanese anime shit).
I can't do justice to the humour, because it's just so wild, surreal and over the top, but rest assured it's hilarious. It goes beyond the MMA in jokes with constant references to popular culture. What other MMA commentators reference the X-Men animated series theme music, have constant appearances of the Ultimate Warrior or perform a hilarious karaoke version of Total Eclipse of the heart. Seriously if their aren't tears running down your face at this obscenity laced rendition you're probably already dead.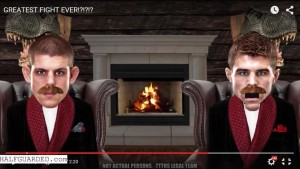 If you're thinking it's just all frivolous jokes, think again. Tommy also offers quickfire previews and predictions of entire cards for his Kountermove.com game. Even here Tommy is on fire, as she blazes trough the entire card, shilling how holy fuck awesome shows are going to be, how goddamn fucking hyped he is and promising how someone is getting knocked the fuck out.
His enthusiasm is infectious, Tommy doing as good a job to promote fights as any countdown show. I wasn't especially hyped for Joe Lauzon vs Al Laquinta, but after seeing the Tommy video where both fighters promised the greatest fight of all time, sporting moustaches they'd just grown and sat in front of a fireplace over which hung the heads of two T-Rex's they'd killed after catching them fucking a house, well I became sold on the fight.
Here's the thing, Tommy is taking the piss of fighters but it's done with someone who is truly passionate about the sport and wants to highlight the good and make it fun and hyping fighting as the greatest sport imaginable. A longtime supporter of Invicta he once illustrated how awesome the shows were by posting a painting of a cat with a bandanna, shooting a Golden gun while riding a firebreathing unicorn that's jumping over a rainbow.
Tommy loves this sport but to express that love is focusing on the things that matter, the fights, the fighters and the overall awesome great feeling you get when you're enjoying the fun in a show.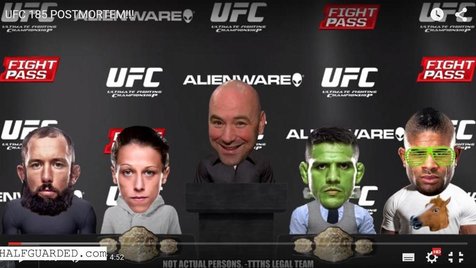 Yeah I may be kissing Tommy's arse in this piece, but so what? I'd get on my knees and blow his pixelated penis in thanks for all the laughs he's bought my way (actually I wouldn't but I'd buy him a big ass steak and drinks all night). He's totally changed the way I enjoy the sport and influenced how I see fighters. I can't look at T J Dillashaw without thinking of an overexcited kid yelling "Spagetti-os" I see Vitor Belfort I expect him to talk about Jesus Bro and being ducked and when Bigfoot Silva wins a fight I expect him to yell for "ICE CREAM!" The catch phases are infectious, simply put if you're s fighter and have no discernible personality traits, then Tommy will Goddamn create one for you.
Tommy is the guy you want to be following on twitter during fight nights, because often he'll be live tweeting and pointing out the fun stuff. Never mind those keyboard experts who think it's their job to infest your feed with updates on every fight on the show, tweeting how they scored every round to their 143 followers as if it really matters. Seriously my feed used to look like a chuffing stock exchange with all the 10-9's going up it. So unfollow and block those arseholes right now, have one window open on Tommy's feed and the other on Halfguarded.com live coverage and you'll have the time of your life during even the most average of UFC cards.
Have you seen how informative and overall insanely entertaining and funny Halfguarded's show coverage has been the last couple of shows when compared to the other, plain, dull by the numbers stuff other sites have on their frontpage? Yeah you know what I'm talking about. Observe This! The Saturday night wars are on baby.
So if you're an amateur MMA writer, ask yourself if you're contributing something which is either insightful or positively worthwhile to the MMA audience. Something fun, something entertaining. If not then get the fuck out because there are plenty of actual professional writers who do actually know their stuff and are constantly reminding us of what sucks about the sport.
If you haven't come across the Tommy Toehold show by now then hopefully I've convinced you to give it a try. Do so, it's hilarious and fun and can even be insightful.
My favourite shows are where Tommy goes through the history of MMA fans, gives his thoughts on how a fighter can market themselves and thoughts on judging decisions. One video really stands out above all others, it's the insanely great and inspiring "Why I love fighting" piece which practically brings goosebumps to me as it explains everything that is awesome and a joy to the sport we are all meant to be loving and if you're a true fan it will hit you right in the heart.
To conclude: "LET'S DO THIS SHIT!"