From all of us here at halfguarded.com, we want to remind you that we know more about everything than you do anything.  To further this claim, our own Matt Grady has fashioned this quiz.  Can you succeed?  DO you know MMA? Our 2015 MMA Year End Quiz will leave you knowing one thing and one thing only: Mike writes these opening paragraphs like a jackass. (HEY!)
1. Which of these UFC-Reebok merchandising errors did NOT happen in 2015?
A. Gilbert Melendez's name was misspelled as "Giblert" on his fight kit
B. CM Punk's fight kit featured his real name, Terry Bollea
C. An Ireland-UFC tshirt was created featuring a map, without Northern Ireland
D. A Conor McGregor hoodie was made with a yellow "USA" emblem on the sleeve
2. Jon Jones had an interesting 2015, which of these did he actually accomplish?
A. He successfully defended his Light Heavyweight Championship twice
B. He moved up to Heavyweight for a dream fight with Cain Velasquez
C. He switched training camps
D. He lost his sponsorship deal with Reebok, after disappearing for 24 hours, after crashing his rented SUV into a car, injuring a pregnant driver
3. Bellator is fun. Which of these fights was NOT promoted on Bellator television in 2015?
A. Ken Shamrock vs. Royce Gracie
B. Kimbo Slice vs. Dada 5000
C. Tito Ortiz vs. Andre 3000
D. Gabi Garcia vs. Lei D' Tapa
4. In 2015, which fighter was quoted as saying, "I'll beat Ronda Rousey. Then she'll make me a sandwich."
A. Holly Holm
B. Tank Abbott
C. Miesha Tate
D. Paige Van Zant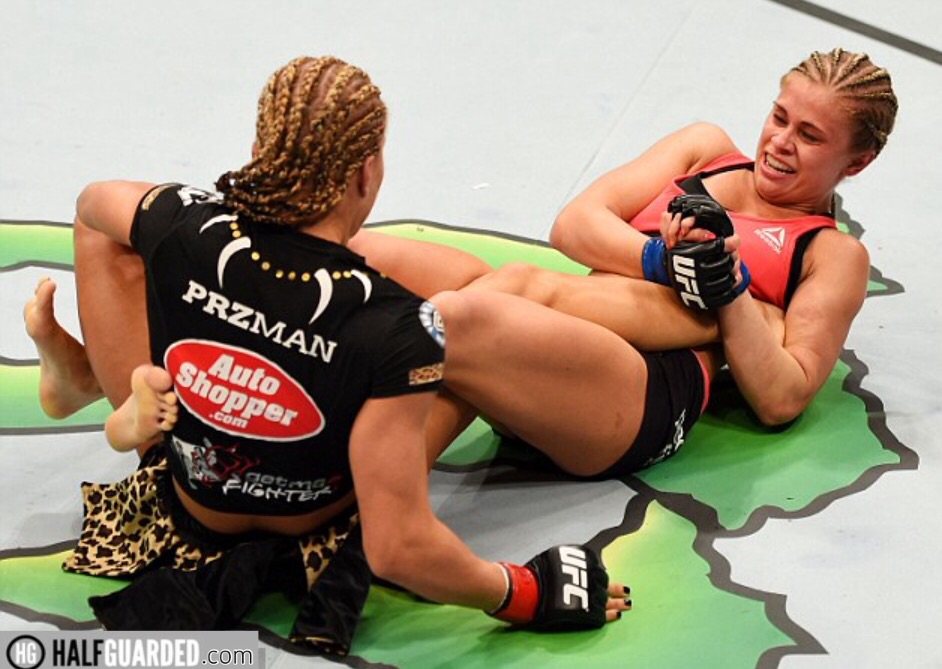 5. True or False: This year, Demetrious Johnson headlined the least purchased UFC pay-per-view since UFC 53 – Arlovski vs. Eilers in 2005.
6. Yours truly, HalfGuarded.com, correctly predicted the following:
A. The WSOF one night tourney would be a disaster​
B. A UFC fighter would be reprimanded for training with someone
C. Ronda Rousey was overrated
D. All of the above
7. Which of these MMA fighters did not spend time in jail/prison in 2015?
A. Chris Leben
B. Jon "War Machine" Koppenhaver
C. Jon Jones
D. Travis Browne
8. Holly Holm pulled off the biggest upset in MMA history when she knocked out Ronda Rousey in November; what did she do to celebrate?
A. Go on a multi-week media tour and celebrate with a parade in Albuquerque
B. Destroy a hotel room
C. Gloat about her win and mock Ronda Rousey
D. Blow her purse on coke and hookers
9. In August, MMA legend, Anderson Silva appeared before the Nevada Athletic Commission to defend two failed P.E.D. tests, what was his primary defense?
A. He admitted guilt and his use of drostanolone and androsterone
B. He blamed a "tainted" supplement
C. He claimed that the testing facility was not sterile
D. He had taken a sexual performance enhancer in a blue vial, made in Thailand, from some guy he trained with a couple times
10. Bellator is fun. Which of these fighters did NOT leave UFC for Bellator in 2015?
A. Josh Thomson
B. Josh Koscheck
C. Thiago Silva
D. Phil Davis
11. True or False: The best MMA-based twitter account of 2015 belonged to @SuperCalo
12. In 2016, the United States will elect a new President, which of these fighters did NOT publicly support the nomination of the Democratic Socialist Bernie Sanders'?
A. Ronda Rousey
B. Tim Kennedy
C. Jon Fitch
D . Wanderlei Silva
13. Which of these former UFC fighters joined an anti trust lawsuit against the UFC?
A. Chuck Liddell
​B. Don Frye
​C. Phil Baroni
​D. Cung Le
14. Which of these UFC fighters went 3-0, with three Performance of the Night Bonuses in 2015?
​
A. Thomas Almeida
​B. Joanna Jędrzejczyk
​C. Ray Borg
​D. Benson Henderson
15. Bellator is fun. Which of these Bellator cards had the highest peak viewership in 2015?
​
A. Bellator 138, "Unfinished Business" : Kimbo vs. Shamrock
​B. Bellator 142, "Dynamite" : Ortiz vs. McGeary
​C. Bellator 145, "Vengeance": Freire vs. Straus
​D. Bellator 134, "British Invasion": McGeary vs. Newton
16. True or False: It has been over a year since CM Punk announced his plans to fight in the UFC.
17. Which of these quotes was made by Dana White in 2015?
​
A. "There's never been a bigger star than Ronda Rousey."
​B. "Frank Shamrock is an irrelevant jackass."
​C. "F-ck you, Loretta Hunt"
​D. "Greg Jackson is a f*cking sport killer."
18. Fedor Emelianenko announced his return to MMA in 2015, MMA fans were thrilled to hear he would be fighting for which company?
​
A. Ultimate Fighting Championships
​B. Pride
​C. World Series of Fighting
​D. Rizin
19. Which of these fighters did NOT main event a UFC event in the past year?
​
A. Ryan Laflare
​B. Tim Boetsch
​C. Sage Northcutt
​D. Louis Smolka
20. UFC Bantamweight champ T.J. Dillashaw made a lot of headlines in 2015, when he:
​
A. Gave Renan Barao the worst beating of his career on Fox
​B. Signed a bout agreement to fight Dominick Cruz in early 2016
​C. Received a sponsorship deal from Everlast
​D. Left his training camp to train somewhere else, like a snake in the grass
21. Which one of these fighters had over 100,000 people sign a White House petition to overturn his unjust five year suspension by the Nevada Athletic Commission?
​
A. Hector Lombard
​B. Nick Diaz
​C. Rousimar Palhares
​D. Gleison Tibau
22. All of these shows drew over 20,000 spectators in 2015, except this ONE:
​
A. UFC 193: Rousey vs. Holm
​B. UFC 188: Velasquez vs. Werdum
​C. UFC 194: McGregor vs. Aldo
​D. UFC on Fox: Gustaffson vs. Johnson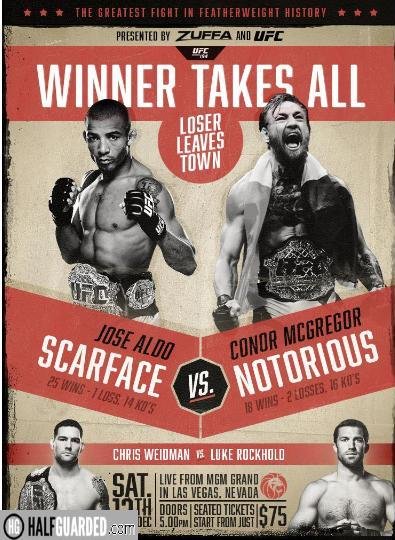 23. True or False: All of these under-30 year old fighters retired in 2015: Nick Newell, Frankie Perez, Cathal Pendred, and Jordan Mein.
A. 18 days after Pacquiao-Mayweather, USADA granted Mayweather a retroactive therapeutic use exemption for a procedure that's on the WADA "Prohibited Substances and Methods List".​
B. There has been only one PED failure in the UFC since July, when USADA came on board
C. It banned Hector Lombard, who was suspended for a PED failure, from cornering Valerie Letourneau
D. All of the above
25. On Valentine's Day 2015, the UFC promoted a Fight Night show on Fox Sports 1. Joe Silva knows all about romance and put together this sexy main event together for the show:
​
A. Benson Henderson vs. Brandon Thatch
​B. Bigfoot vs. Mir
​C. Mendes vs. Lamas
​D. Miocic vs. Hunt
​
26. Again, we do have a Presidential election on the horizon; which candidate did Dana White pledge allegiance to?
​
A. George Pataki
​B. Ben Carson​
​C. Hillary Clinton
​D. Donald Trump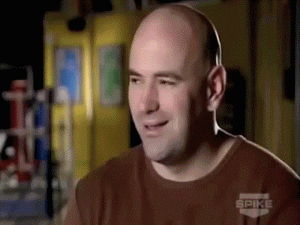 27. World Series of Fighting promoted a one night, eight main lightweight tournament that ended with?
A. Record high ratings
B. Several new big stars created
C. A guy winning the tourney by beating a guy he had already tapped out to two hours earlier
D. Zero injuries to the fighters
28. Conor McGregor had a great 2015. Which of these did he accomplish?
A. He went 3-0, with 3 KO/TKO, in just over 12 minutes of total fight time
B. He won the UFC Featherweight title in 13 seconds
C. He promoted fights on Jimmy Kimmel, Conan O'Brien, and Sportscenter and became the biggest male star in MMA
D. All of the above
29. Bellator is fun. Which of their fighters fought on UFC Fight Pass, while still a Champion with the company?
A. Vitaly Minakov
B. Will Brooks
C. Liam McGeary
D. Marcos Galvao
30. True or False: This was the best MMA Quiz you took in 2015.