Growing up in Atlanta in the early 1990s, it was pretty hard to not be into baseball. For one thing, my local team had one of the all-time greatest bullpens in MLB history (and no, I am not referencing the holy trifecta of John Rocker, Tim Spooneybarger and Ray King) and were a perennial World Series challenger. But even outside of Braves country, there was plenty of stuff to get excited about elsewhere. At the beginning of the decade, you had power sluggers like Frank Robinson, Ken Griffey, Jr. and Tony Gwynn bopping dingers like crazy, and by the time the aughties rolled around, jacked-up hitters like Barry Bonds, Mark McGwire and Sammy Sosa were chalking up home runs with the frequency of little league line drives. Oh, and if you wanted pitching duels, by golly, you got some good 'uns from the likes of Roger Clemens, Curt Schilling, Orel Hershiser and the criminally underrated righty Kevin Brown all decade long.
The good times rolled all the way up until the mid-point of the 2000s. Who can forget Randy Johnson and his mullet dashing New Yorkers' World Series dreams right after 9/11, or Steve Bartman probably costing the Chicago Cubs a World Series berth or Pedro Martinez getting into a fistfight with 72-year-old Don Zimmer in game 3 of the 2003 ALCS? All good times, indeed.
Unfortunately, Major League Baseball has been on a downward trajectory ever since they let the Boston Red Sox win the pendant back in 2004. Seeing as how everyone who played the game before 2005 shot steroids into their eyeballs for breakfast, more rigorous performance enhancer screenings have led to a remarkable reduction in home run production. For example, in 1996, AL and NL sluggers combined for 4,962 homers, a sum that got as high as 5,693 in 2000. Since 2010, however, Major League Baseball hitters have failed to hit more than 5,000 homers in a single season, with no National League hitter posting a 50-plus home run season since Prince Fielder did it in 2007. And no, that little statistic isn't because pitching has gotten any better; in fact, there hasn't been an AL pitcher with more than 300 strikeouts in a season since 1999, while Clayton Kershaw's League best 301 strikeouts in 2015 is a lower sum racked up by season strikeout leaders Jim Whitney, John Clarkson and Larry Baldwin … in the 1880s.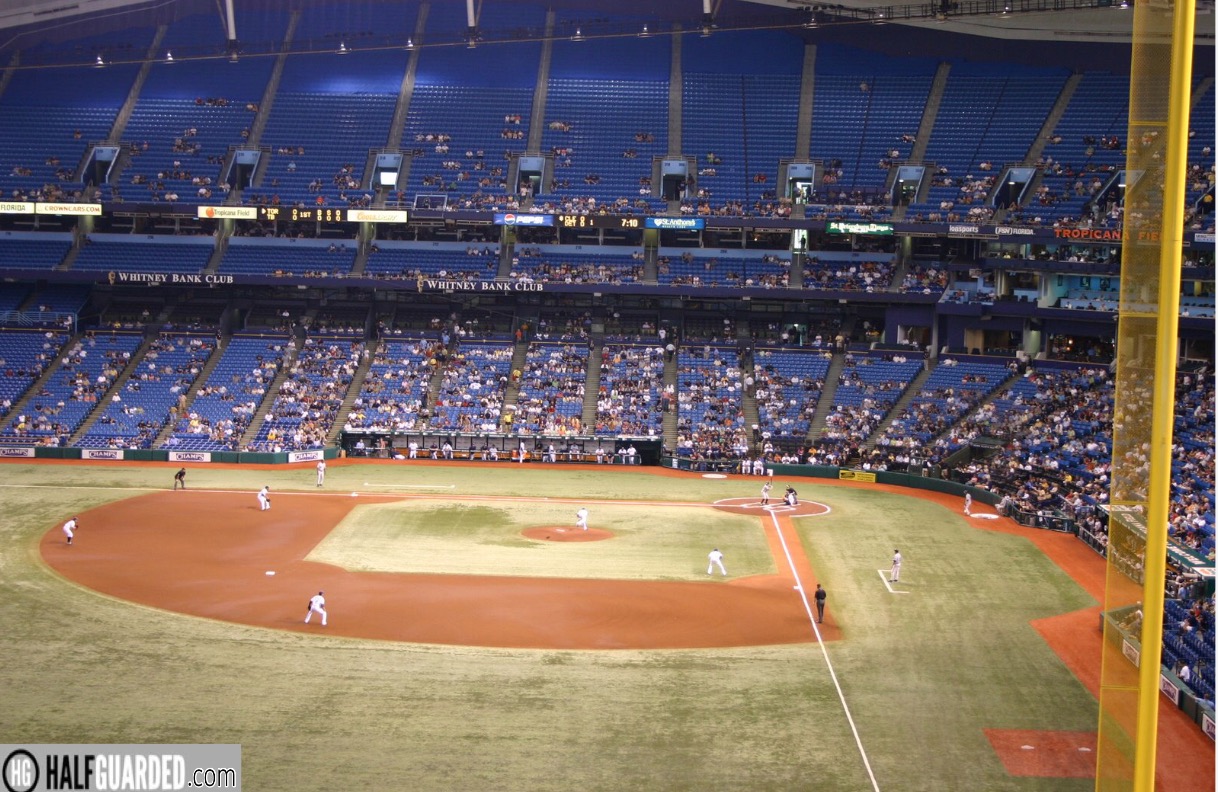 Clearly, Major League Baseball has some problems these days. While I can name at least three defensive starters on every NFL team off the top of my head, I honestly couldn't name any three players on the 2016 Braves roster and if you ask me to name ANYBODY playing for the Twins, Diamondbacks or Padres this season and I couldn't tell you a darned thing. In fact, Major League Baseball is so off my radar, I still don't know who the 2015 World Series MVP was – comparatively, I can name the MVP of every Pro Bowl, a meaningless NFL exhibition game, dating back to 1990.
Sorry, MLB enthusiasts, but you've got to accept some difficult truths. Simply put, baseball is so boring nowadays that it is practically unwatchable. In fact, it's so boring, it's too boring to drink to, and that's coming from a guy who has gotten hammered to Spider-Man and His Amazing Friends before.
As a 19th century pastoral sport, baseball just doesn't resonate with The Hunger Games and Ritalin generation. It is too staid, too laid-back and too uniform for anybody under the age of 30 to be invested in it for more than fifteen seconds at a time. For baseball to remain relevant in the Angry Birds and Snapchat era, it has to make some key infrastructural changes – and here are five suggestions that I believe are excellent places to begin retooling America's pastime.
1. Institute a "shot clock" for pitchers
It's the most obvious remedy to baseball's stifling pacing problem, it's something people have been clamoring for since the first Bush was in office and it is a framework that has already been implemented – and proven to enhance the quality of play – in football and basketball. Simply put, it's a mechanical change so natural, it really should have happened 35 years ago. Instead of letting pitchers go up to the mound and scratch their armpits and hock Skoal on the ground for three minutes, why don't we put a 15 second timer up and let the player at-bat take a strut to first base if the ball doesn't leave the pitcher's hand before the 00:14:59 mark? It speeds up games, it makes the later innings all the more exciting and, honestly, I can't think of a single reason why it shouldn't have been the norm even when the Soviet Union existed.
2. Eliminate "balls" from the game
No, I don't mean taking the actual spherical oblates out of the sport. I mean taking balls – those things that aren't hits and aren't strikes – out of the game's framework. Now, this one is a bit more controversial than the pitcher's clock, but it similarly makes games move along faster and creates more drama from start to finish. If a batter hits the ball out of play, it ought to be a strike. Similarly, errant pitches outside the batter's box ought to be penalized, too. So how about making pitcher miscues as costly as quarterback miscues in football? That's right, every wild pitch should result in a live ball, thus allowing on-base players to start scrambling like crazy. To keep it from turning into Blernsball from Futurama, the actual player at-bat wouldn't be allowed to make a b-line for first base, though. Hey, we can't make the game too exciting, you know.
3. Let the players use metal bats
Yeah, pitching duels are great and all, but let's face it: there's only about five or six pitchers in baseball who are entertaining to watch and by the seventh inning, most games have come down to third and fourth-tier pitchers anyway. You know something baseball fans do like, though? Freaking home runs, that's what. If we're not going to see dudes like Jose Canseco tear the seams off balls with their steroid-fueled swings, at least compensate for the obvious reduction in muscle power with good old fashioned metallurgy. Unless we want final scores in the triple digits, though, perhaps it is for the best if we leave this in as a one and done variable. My proposal? Each team is allowed to use the non-wooden instruments for one inning per game. And if the game heads to extra innings? Then they become mandatory. With a policy like that in place, even Mets fans might stick around after the sixth inning!
4. Truly internationalize the game
Despite a rapid and suspicious decline in African-American players over the last two decades – in tandem with an equally rapid and doubly suspicious increase in the number of stadiums being constructed in predominantly white suburban enclaves – baseball remains a sport with a fairly broad global fan base. Instead of hosting teams in boring places like Milwaukee, Denver and Kansas City, Major League Baseball should be making great strides to expand its presence into the Latin American market, where fans are truly passionate about the game. Why not move the Miami Marlins and Tampa Bay Rays to Havana, Cuba and San Juan, Puerto Rico, and relocate the Los Angeles Angels of Anaheim and the Seattle Mariners to the Dominican Republic and Venezuela? Also, there should be at least one or two teams in Japan, although for the sake of keeping scheduling simple, perhaps they can split their away games with coastal California sister cities? I don't know about you, but I really like the sound of the Tokyo-Oakland A's and the Osaka-San Diego Padres, personally.
5. Shorten the season by at least half
As the success of the NFL has no doubt proven, less is certainly more when it comes to the number of televised games aired each season. While each pro football team plays 16 regular season games, pro baseball teams play 162. That means, comparatively, each NFL game is 10 times more important than a single MLB game, and really, with so many games being played that are utterly meaningless, it is far too easy to get burned out on the product. If you are a Phillies fan, is it really necessary to see your team play the Nationals twenty times a year, anyway? The NBA and NHL seem to do just dandy with their 80-game or so seasons, and I think that's a pretty reasonable quantity for Major League Baseball, too. And while we are at it, how about getting rid of regular season inter-league play so that the All-Star Game actually means something again, guys?
So there you have it – five ultra-simple quick fixes to make baseball more entertaining that in no way, shape or form muddle with the core concept of the game or compromise the sport's general integrity. And on top of that, every last one of them can be seamlessly integrated into Major League Baseball RIGHT NOW.
What are you waiting for, Commissioner Manfred? These ideas are solid gold … and absolutely essential if you want to keep the sport's popularity with Millennials from going the way of the Montreal Expos – which isn't to Washington, D.C., mind you, but out of existence altogether.