Original Airdate: Spike TV April 2, 2008 – June 21, 2008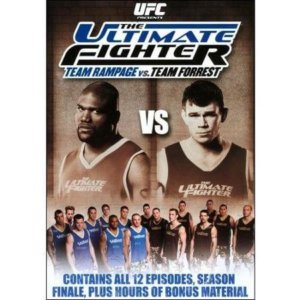 Season 7 featured only middleweight fighters. This was also the first season that the show began with 32 fighters having a match to whittle the group down to 16, so we got the never ending debut show featuring 16 bouts. It also has the dubious distinction for debuting my two most hated fighters of all time, C.B. Dolloway and Amir Sadollah.
Quinton "Rampage" Jackson vs. Forrest Griffin
Team Rampage: C.B. Dollaway, Matthew Riddle, Paul Bradley (replaced by Patrick Schultz), Dan Cramer, Gerald Harris, Mike Dolce, Jeremy May, Brandon Sene
Team Forrest: Tim Credeur, Amir Sadollah, Jesse Taylor, Matt Brown, Cale Yarbrough, Dante Rivera, Nick Klein, Luke Zachrich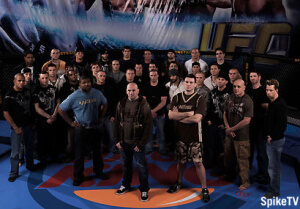 Highlights
Each fighter must win a fight to make it into the house, because Dana hates posers
Episodes 1 and 2 were just fights
Episode 3 finally had the teams decided
May put lime juice into Brown's dip; you don't fuck with a man's dip
Forrest smashes a door in frustration setting a precedence that will be followed up on in later seasons
The teams went go-karting
Jackson showed up late for an important meeting and that made Forrest mad
The coaches' challenge for $10,000 is a game of HORSE and Forrest kicks Rampage's ass. It was a massacre, and every member of Team Forrest got $2,000
Jesse Taylor kicked out a limousine window in Vegas and gets booted so Dana makes Dollaway and Credeur fight to see who replaces Taylor in the finals against Sadollah
Dollaway wins and so we get to see a rematch of the semis as the finals
The Finale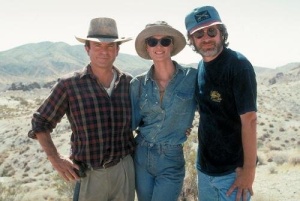 After being submitted by Sadollah in the semi finals, Dollaway returns the favor and submits Sadollah in the finals to win the contract. In the other main event, Kendall Grove beat Evan Tanner by split decision.
After the show at UFC 86, Forrest Griffin defeated Quinton Rampage Jackson by unanimous decision to become the new Light-Heavyweight Champion, until immediately losing the title to Rashad Evans in his first defense.
Where are they now…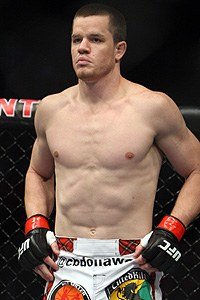 C.B. Dollaway: Age 32, 15-8, and currently on a three fight losing skid, Dollaway never was able to win the big one and really jump up to the top of the middleweight division. His last fight was December 19, 2015 a KO loss to Nate Marquardt.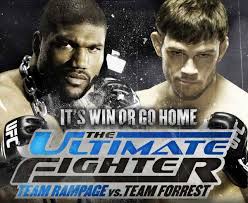 Summary: This was a good season. Forrest is one of my favorite fighters of all time, and his antics were great. The season was typical with the usual debauchery and ballyhoo taking place at the house. The HORSE episode was fantastic, and there was a lot of awesome Rampage.