Hi there, I'm not going to take my coat off I'm not staying long.
By now people know I absolutely adore the greatness that is Invicta FC, to the extent that when I start talking about it I probably illicit the kind of "here we go again" groans reserved for when one of your facebook friends posts their insufferable daily update on every stage of their wonderful bloody kid's development (little Anthony using a potty for the first time? Great thanks for sharing, he is fucking seven though.)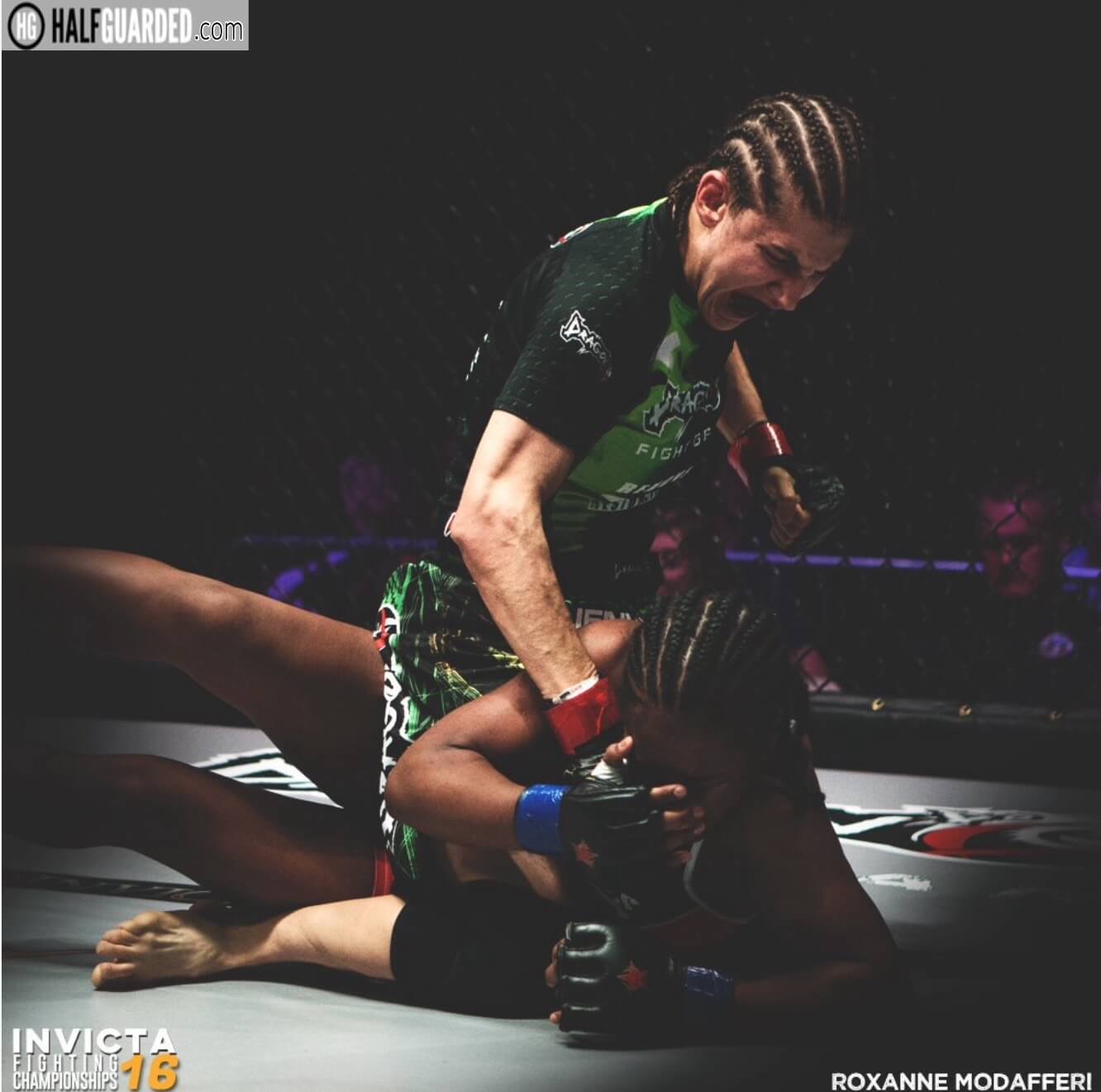 But I simply have to pay tribute to this weekend's Invicta 16 from the Tropicana in Las Vegas. It had all the colour, fun and that oh so infectious feel good passion that infuses itself in every production element from the announcing to the intros to even the opening credits. This show featured knockouts, absolute back and forth wars, performances that made you look at fighters in a new way (like when you go to a work's night out and see a work colleague all dressed up for the first time and think "damn!"), legs kicked to holy hell and more than one instant of ladies so tough they seemed to be settling for everyday life with only one good arm for the next few months.
So very quickly, here's what you missed if you didn't watch the show (and if you didn't you deserve Trump, there I said it.)
Professional debuts in the opener saw Ashley Greenway get a decision win over Sarah Click. It took a few rounds to get going, although perky punky Ashley showed she likes throwing spinning backfists a lot and Click proved she is tough enough to take them. Then in the last round it went to the ground and an absolute limb bending festival broke out with Greenway furiously going for triangles and armbars having them so tight I was winching expecting an arm to snap. Click not tapping was a testament to her toughness and Greenway is off and running with her first win.
Aspen Ladd utterly mauled Kelly Mcgill, throwing her around and pounding the hell out of her with sickening stirkes and elbows. The referee showed mercy and brought the mugging to an end in the third round and Ladd began to stand out in the pack of Invicta's bantamweights. As we say in the UK the lass looked a bit "useful" and hopefully her next appearance will be a key match.
A lot was at stake next with veteran Sarah D'Aleio undergoing a regroup of sorts with a spotty recent record and Andrea Lee having that potential "next superstar" tag on her. The fight was a beauty, going back and forth with Andrea's strong striking rocking D'Aleio and possibly putting her ahead on the scorecards. D'Aleio was tough throughout and was especially dangerous when getting Lee down and going for submissions and this saw her through to a third round win, pounding on Lee until getting a choke and a tap.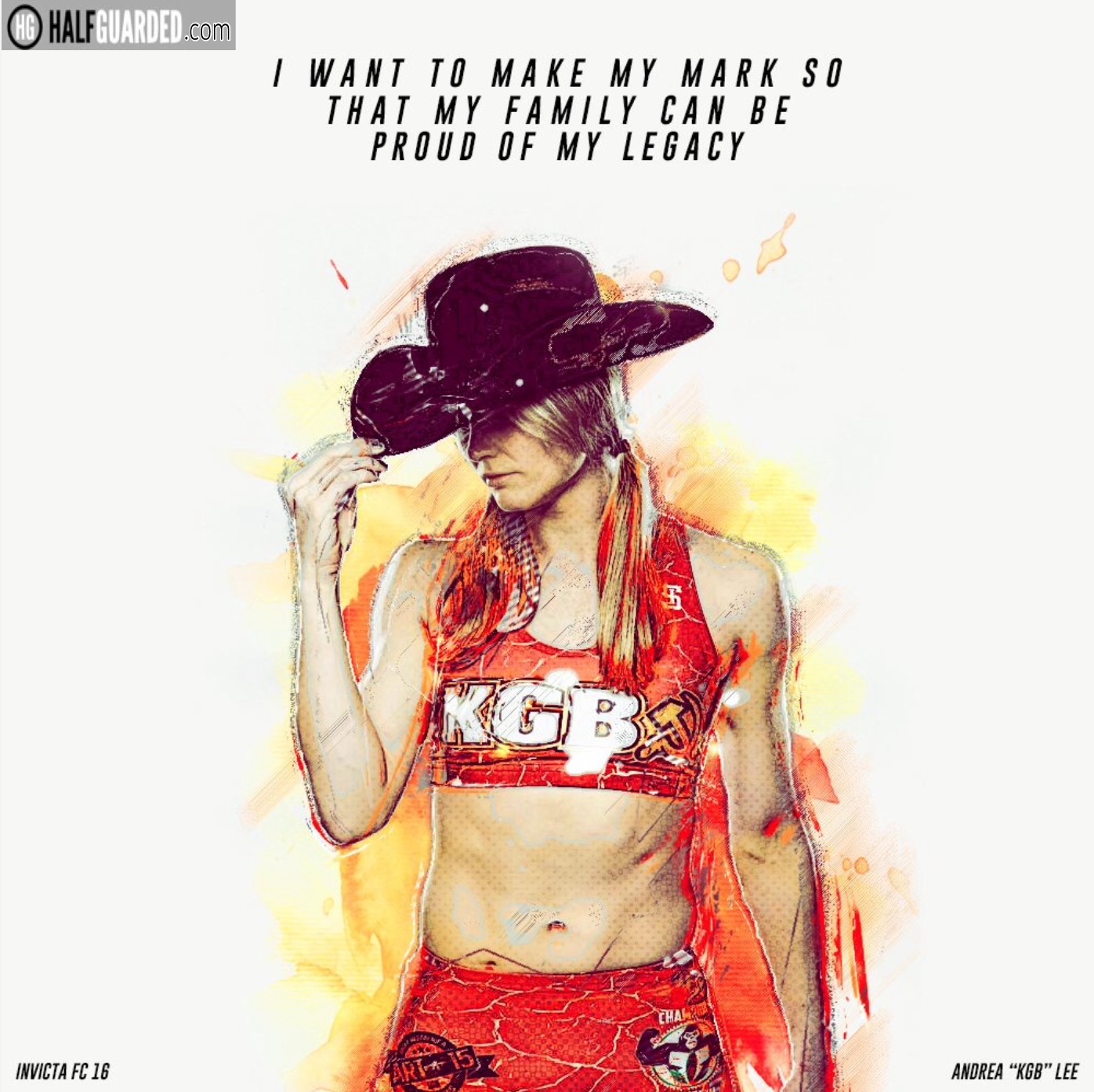 I wouldn't be surprised to see this on Invicta's match of the year voting come December.
Comedy moment of the night came at the final bell when after going the distance with Jinh Yu Frey, Herica Tiburcio ran around screaming with delight and jumping on the cage celebrating her victory. In her mind she was probably rehearsing what she was going to say in her post fight interview and who she should thank when to her shock the unanimous decision was announced as going to Frey. In truth it was a close fight and Frey probably edged it with some methodical striking and certainly delivered the more significant blows, putting Tiburcio down at the end of the second. Frey's leg was red raw from the kicks though.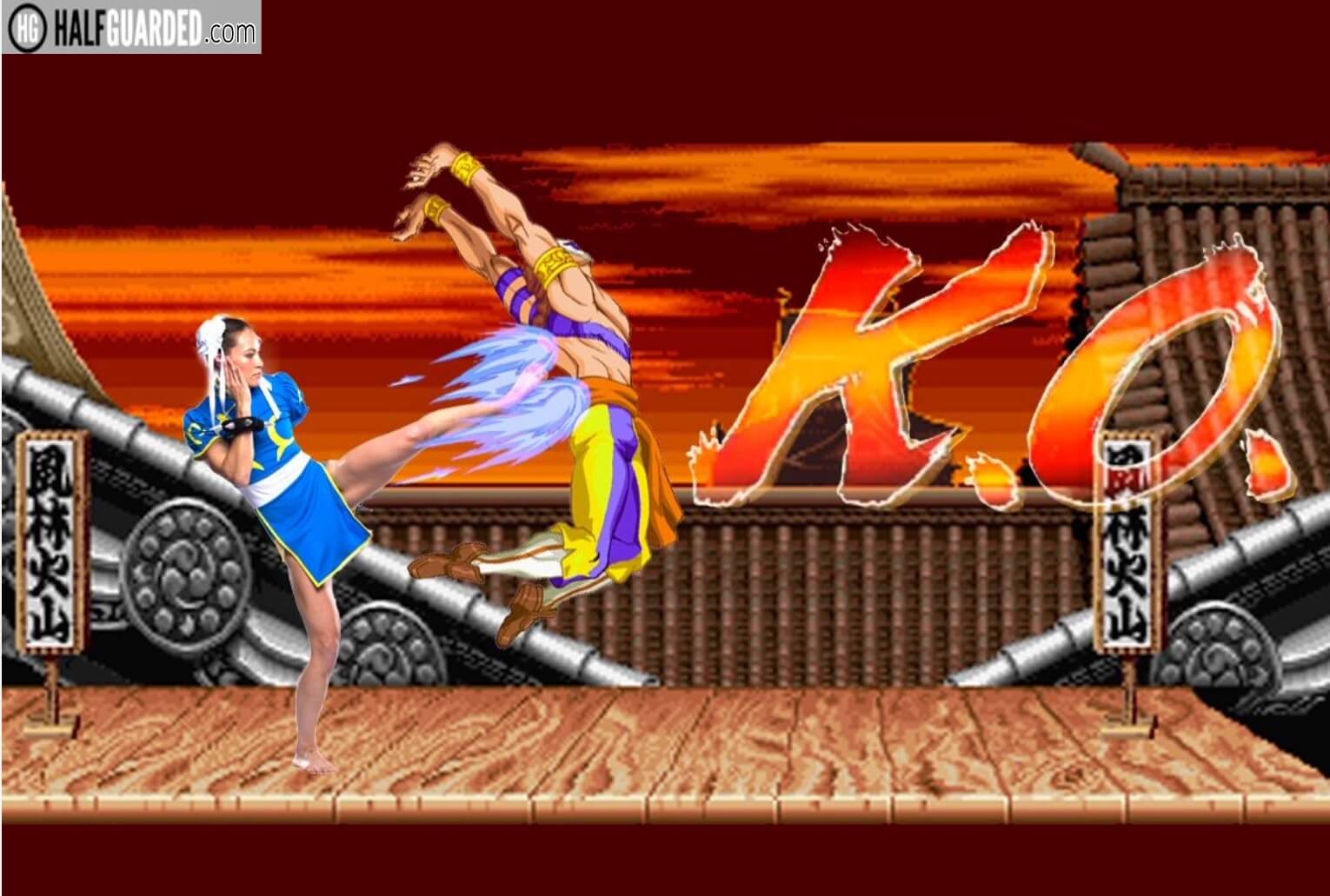 Frey who by beating the former champ may have put herself next in line for a shot at the Atomweight belt, came to the weigh ins dressed as Laura Croft from Tom Raider. And speaking of ladies who like cosplay…
Roxanne Modaffrei had come out to the weigh ins in her trademark cosplay style, dressed as Mileena from Mortal Kombat and got her entire team in on the act, something those snooty buggers from Reebok would never allow. Let's face face it Roxanne is an absolute, fan friendly delight, always bringing the fun and coming across as just out right, down to earth nice. She normally wins her fights by working with her experience and textbook technique, but on this night she came out very aggressive and was beating opponent Deanna Bennett to the punch with some heavy blows right from the start.
This may have been Roxanne's best performance in Invicta and it paid off with a spilt decision win continuing her inspiring comeback run she's been on since the Ultimate Fighter. Having a career in the sport that spans over a decade and competing in over thirty fight professional fights it's simply wonderful to see Roxanne enjoying success on a national platform for women's MMA. She deserves it, a great example of hardwork and believing in yourself paying off and I am really hoping that this story continues with her getting a shot at Invicta gold. It would be a magical moment in Invicta history and just a great story to get behind.
By the way, If you don't already I highly recommend having Halfguarded's live coverage to shows like this one to accompany your viewing pleasure. Also have a page open on Twitter to follow such people as Tommy Toehold and other fighting personalities, all of it enhancing the experience. Especially awesome was In between fights when I noticed Bec Rawlings had posted a video of herself on twitter shaking her ass, which is always nice.
Irene Aldana returned to the form that had apparently attracted the notice of UFC with a blistering first round knock out of Jessamyn Duke. Aldana is a dangerous striker who's one Invicta blemish was a loss to Champion Tonya Evinger fought while actually ill. One would imagine a return match at some point may be on the cards for 2016.
The heartache was clear on Duke's face after the loss and it couldn't have helped with yahoos immediately taking to the internet and calling for her to call it quits and using her profile as a Four Horsewoman member as something to beat her with.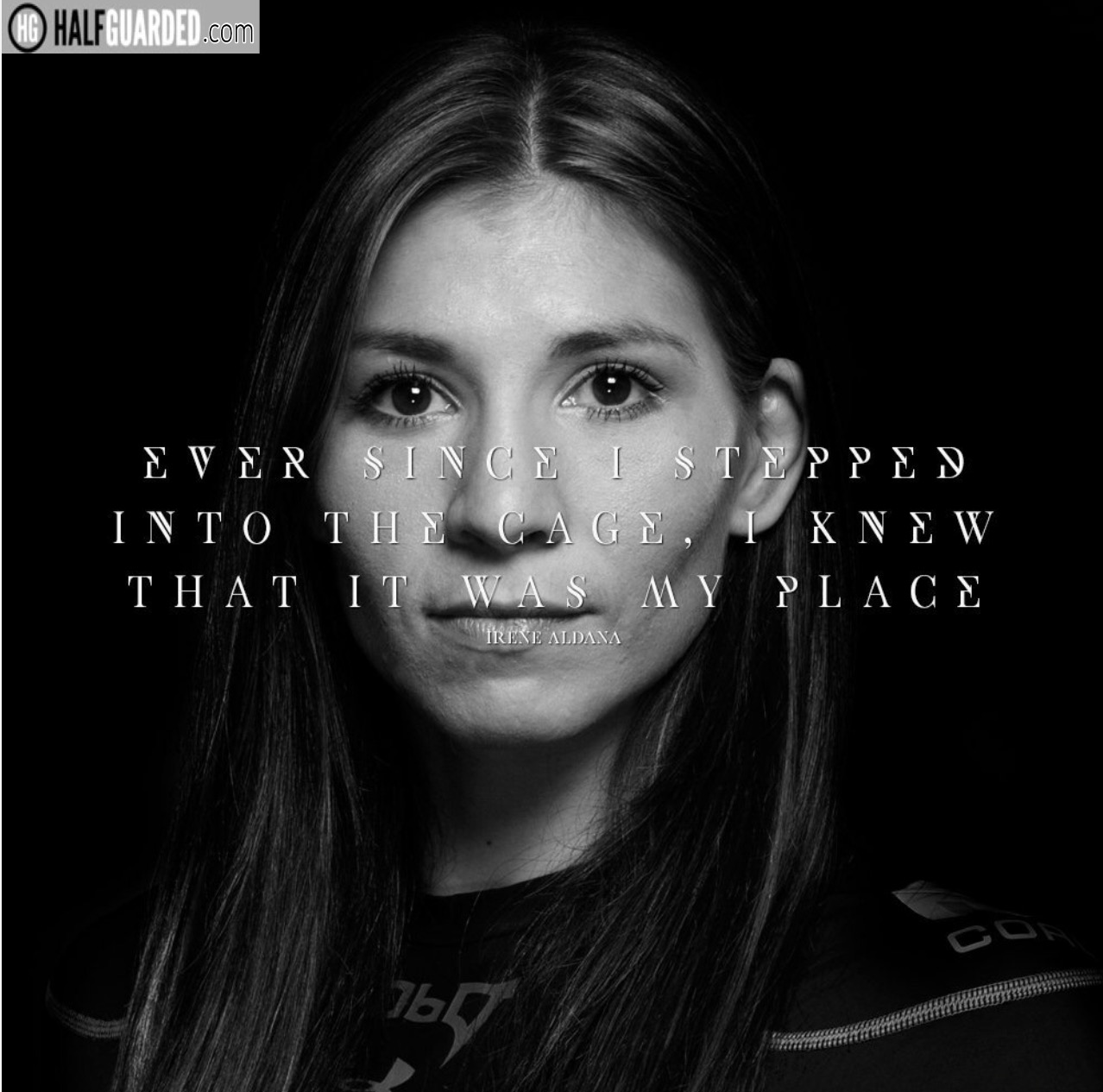 Seriously it's amazing that the Four Horsewomen gimmick, something that grew out of a few fighters friendship and comradely and added a bit of fun and colour to MMA seems to be taken so seriously by some fans as if it's a real pro wrestling storyline. Fighters lose, sometimes very quickly, especially in MMA but us non-fighters could never understand the passion it takes to drive someone to be one and as her friend Shayna Bazler pointed out, it's up to Jessamyn to choose her path in life. Angela Hill may have only had a few weeks notice to take on Stephanie Eggink but she still managed to come up with a costume for her weigh in, dressing as Street Fighter's Dhalsim. This cosplay stuff is awesome, but with all the video game stuff please can someone at the weigh ins for Invicta 17 dress as Tifa from Final Fantasy?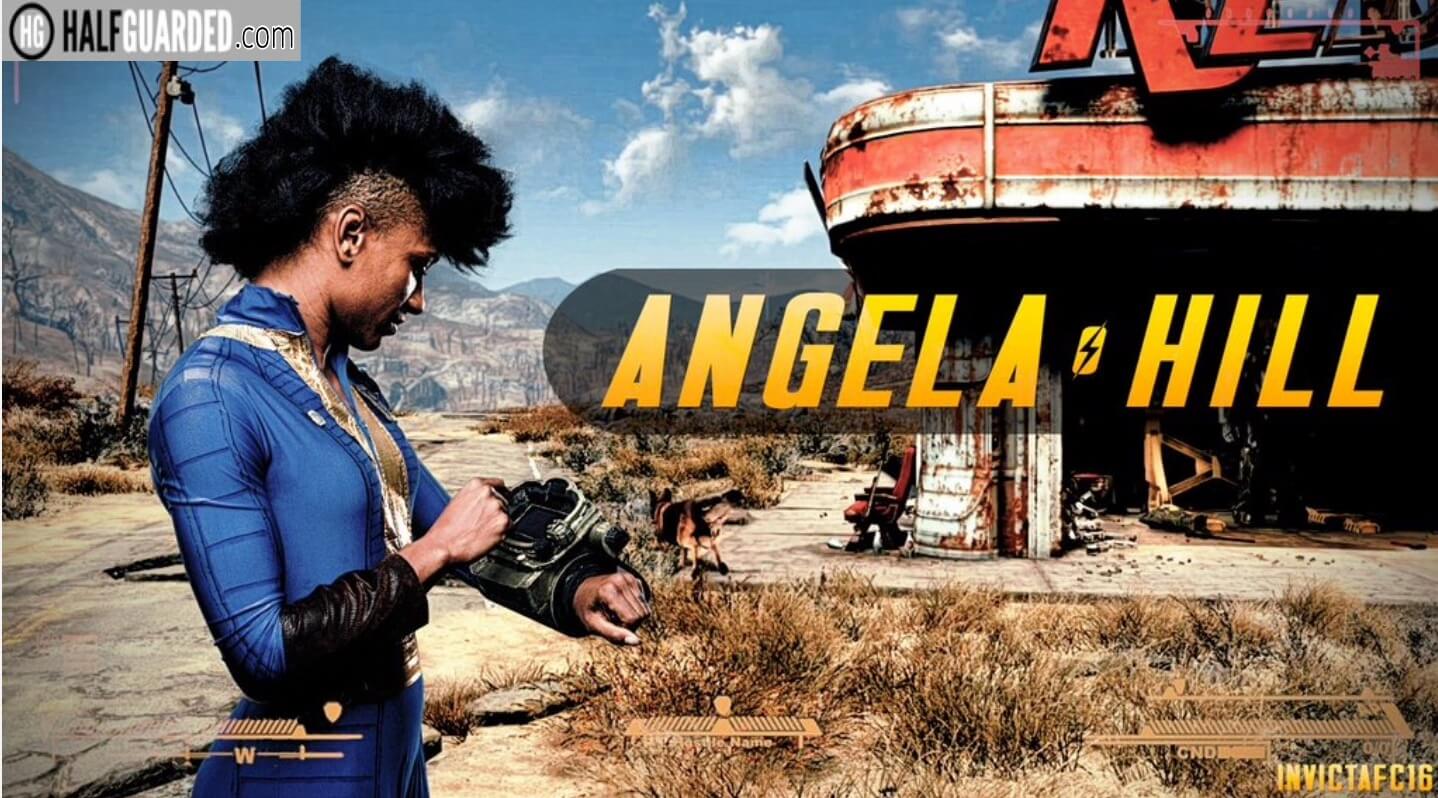 Anyway Hill got her second knockout win of 2016 in the second round with an overhand right and is fast becoming a favourite in Invicta with her likeable smiley personality and highlight knock outs. No doubt she's extra motivated to prove UFC wrong in cutting her and she may well end up headlining a card in 2016 if a title match comes her way.
Speaking of title matches we finished of with two great ones on this show. For the Interim Flyweight we had Jennifer Maia vs Vanessa Porto which started cagey but by the time the bell rang to end the fifth and final round had descended into a war. It was absolutely action packed, with trading of heavy blows, slams, lots and lots of blood, tight guillotine and armbar attempts that were so close to getting a submission and a dumb move by a referee who broke up a submission attempt on the ground to check a cut and had them start again from a standup.

This turned into another cracking scrap and it was Maia who got the decision and bless her heart was in floods of tears of joy during her post fight interview. Hopefully actual champ Barb Honchank should be back soon for a big unification fight. If not, give the Happy Warrior a shot.
The main event saw the night finish with an engrossing display of ground fighting between Amber Brown and Ayaka Hamasaki for the Atomweight title. Anyone not a fan of grappling can frankly "go and do one" because this was great and intriguing (even at 5:30am in the morning, by which time the sun had come up and a giant goldfish with sunglasses was sat next to me to watch the fights) with both women fighting for position and Brown seemingly tantalisingly close to walking out with the belt and one of Ayaka's limbs as she cranked away on the Japanese champion with guillotines, triangles, keylocks and loads of other things which really looked like they hurt and thank God for Julie Kedzie being able to explain to a non fighting dork like me what was going on (incidently she's really grown into her role as the voice of Invicta).

The night was not to be Brown's however as Hamasaki managed to hook in a Kimura that led to an Armbar (don't ask me how all that happened, I can show you my X-Men comic collection though) and from there Brown was fighting to survive, switching and rolling like mad to escape but the Japanses girl would not be denied. There was no escape and challenger's arm was starting to bend in a brutal way and despite her obvious toughness and heart you wanted to Brown to tap before serious damage was done. The referee stepped in anyway as Brown was finally motioning to tap with absolutely no shame in a great effort.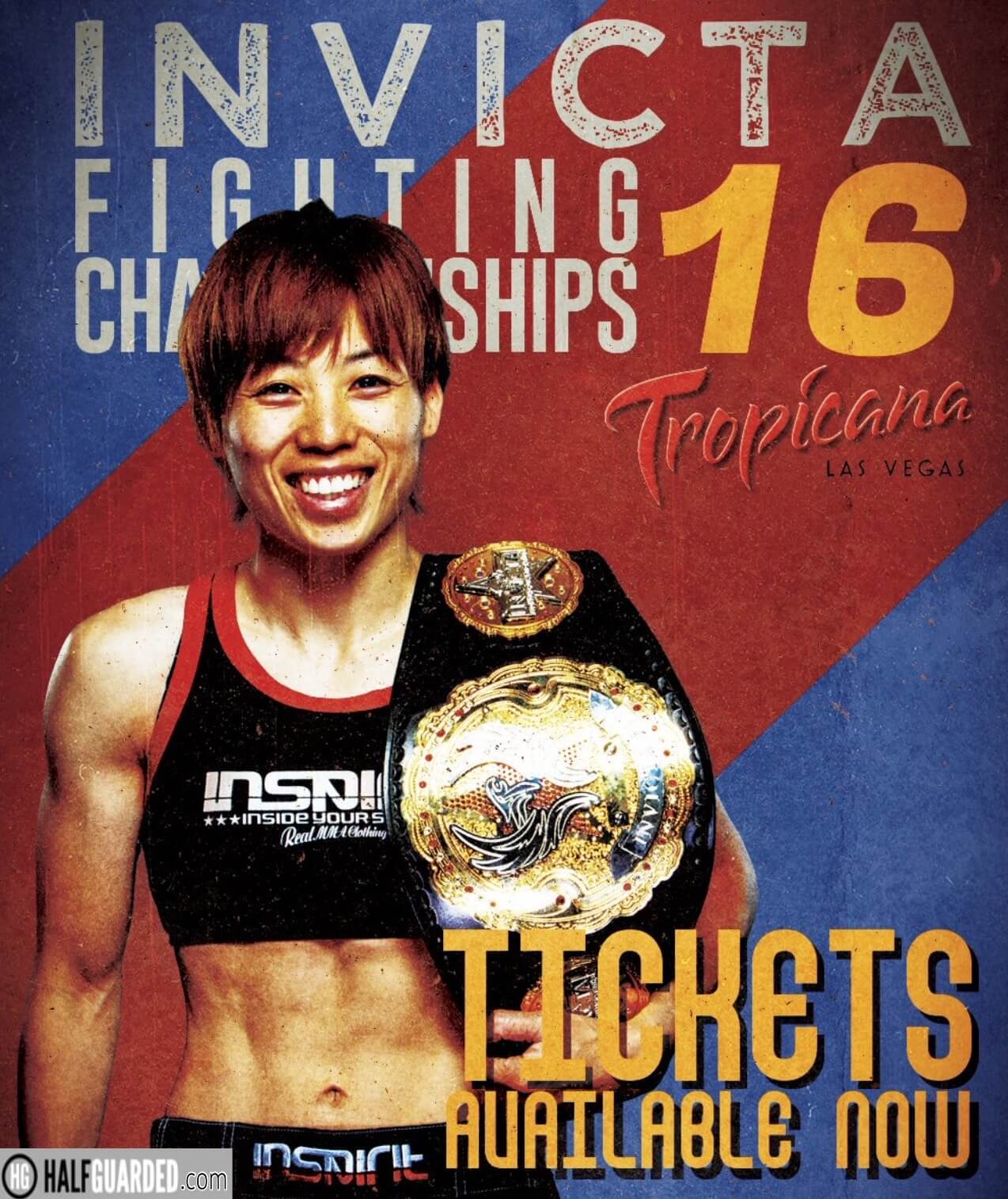 In her post fight interview Ayaka paid tribute to the 18,000 victims of the Tsunami in Japan that occurred five years to the day of the show. With her second successful defence she's now firmly established as a sold champion and it's going to be interesting who Invicta sends after her in 2016. Personally I wouldn't be surprised if Brown crosses her path again at some point.
So that was Invicta 16, there were fights, there was victory and there were tears and body parts that no doubt needed a bit of Vegas care and attention afterwards. Invicta 17 will coming our way in May, hopefully it will be just as great after all Invicta has a stable of fighters such as Tonya Evinger, Christine Stanley, Pannine Kianzad, Amanda Bell and many, many others eager to fight.
By the time It comes around Batman will have fought Superman, Captain America will have fought Iron Man and X-Men will have had an Apocalypse. I'll have to settle for that until then.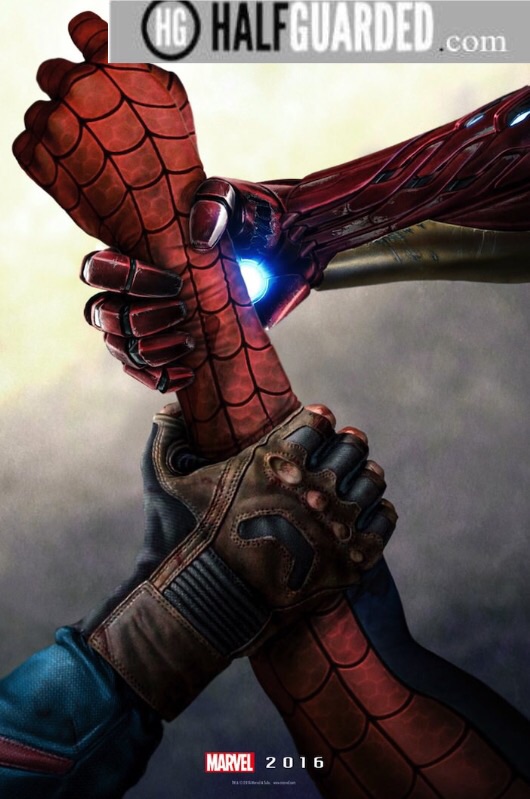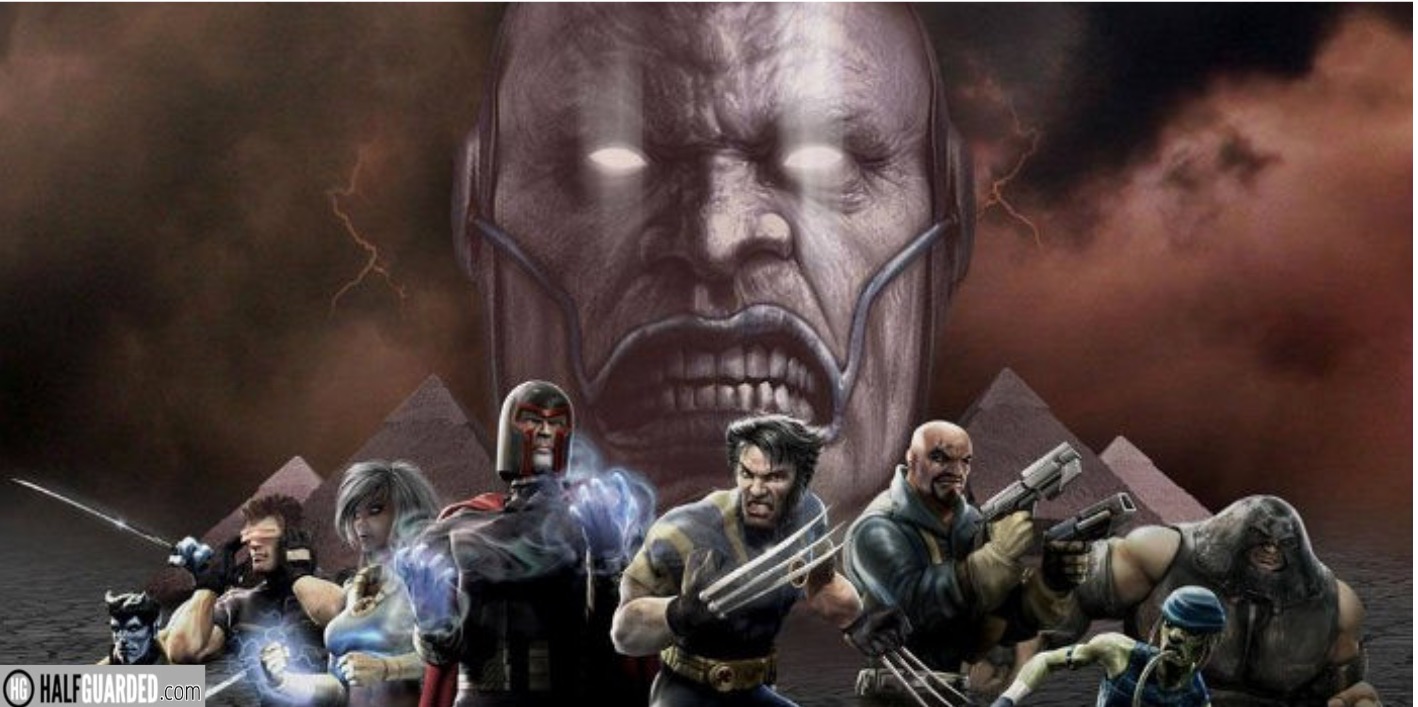 Til Next time
Dazza