@MichaelCoughlin
ADCC is the acronym for the big no-gi (pajamas) grappling tournament. It's kind of the Olympics of fighting without punching. It's this weekend. It's an all day deal for two days, what with there being 16 people in each division (8 in the women's and even that's stretching things) and 89 weight classes. The initial match-ups are below. When we see things, we will update this. You can actually watch a stream online for like $40 or so. I'm such a nerd I'm contemplating it. Anyways, if you care about ADCC 2015 Results you'll find them here. If you don't, you won't. (Well, you will, but you can read about our Creep App Idea.)
In addition to the below results, we also have an overall analysis for day one HERE. Finally, ADCC 2015 DAY 2 RESULTS HERE.
ADCC 2015 SUPER FIGHT RESULT
After going forever Ricardo Liborio defeated Mario Sperry.  It was, in some funny way, an all Carlson Gracie Sr. affair, as both come from the same lineage. Moreover, Liborio founded ATT and Sperry was one of the originals at BTT.
Male -66 kg
Rubens Charles vs. Tezekbaev Rasul
Gianne Grippo vs. Gabriel Marangoni
Augusto Mendes vs. Nicolas Renier
Asadulaev Surkhay vs. Edward Cummings
Bruno Frazzato vs. Mark Ramos
Yuto Hirao vs. Renan Sancar
Jeff Glover vs. Daniel Hortegas
Alexandre Vieira vs. Geovanny Martinez
ADCC 2015 Under 66 kg RESULTS:
Rubens Charles d. Tezekbaev Rasul via rear naked choke
Gianne Grippo d. Gabriel Marangoni via points
Augusto Mendes d. Nicolas Renier via points
Edward Cummings d. Asadulaev Surkhay via heel hook
Bruno Frazzato d. Mark Ramos via points
Renan Sancar d. Yuto Hirao
Jeff Glover d. Daniel Hortegas via heel hook
Geovanny Martinez d. Alexandre Vieira via armbar
QUARTERFINALS
Rubens Charles d. Gianni Grippo via points
Augusto Mendes d. Eddie Cummings on points
Bruno Frazzato d. Renan Sancar
Geo Martinez d. Jeff Glover via points
ADCC 2015 Under 66 kg SEMI-FINALS tomorrow:
Rubens Charles vs. Augusto Mendes
Bruno Frazzato vs. Geo Martinez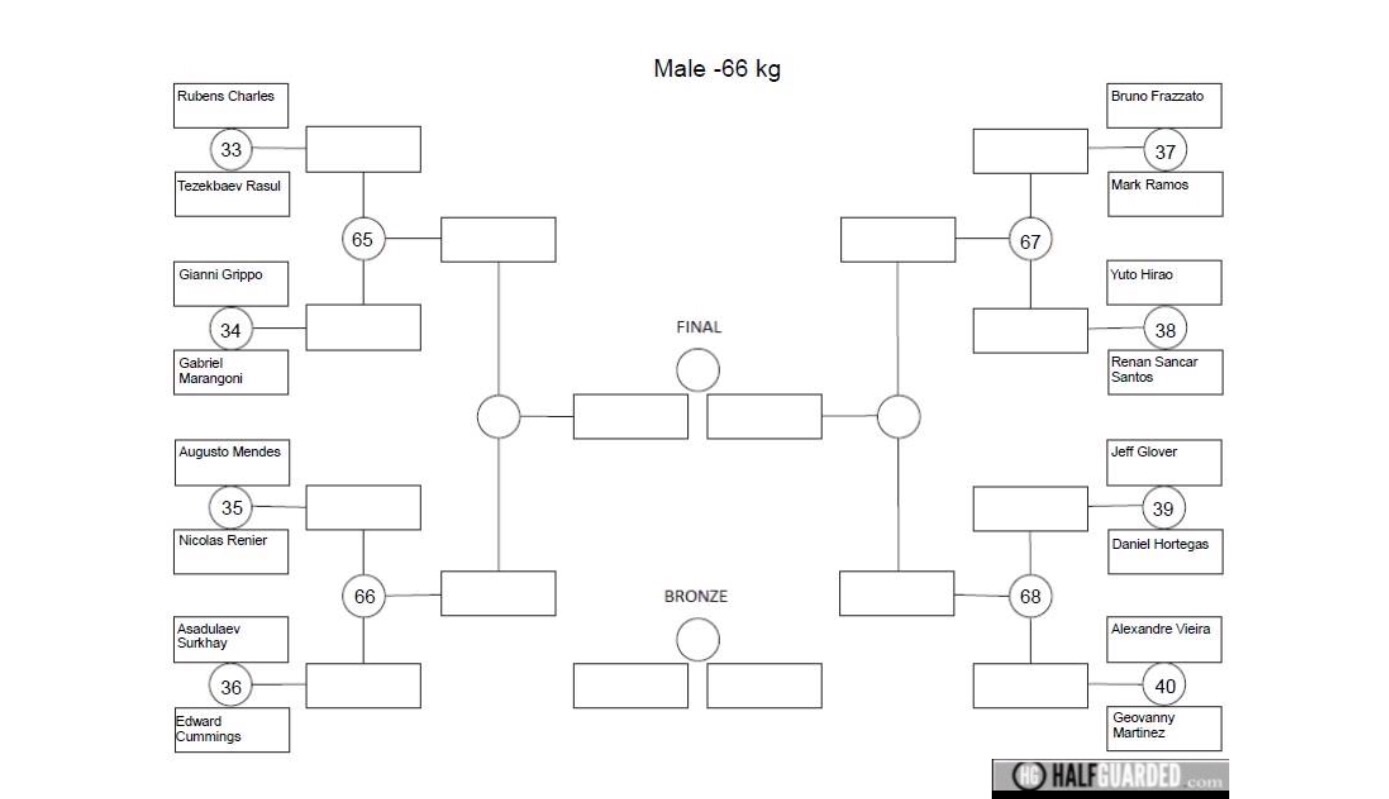 Male -77 kg
Otavio Souza vs. AJ Agazarm
Milton Vieira vs. Vagner Rocha
Lucas Lepri vs. Gamrot Mateusz
Dillon Danis vs. Garry Tonon
Davi Ramos vs. Young am Noh
Enrico Cocco vs. Gabriel Rollo
Gilbert Burns vs. Lachlan Giles
Ben Henderson vs. Abdukadirov Magomed
ADCC 2015 Under 77 kg RESULTS:
Otavio Souza def. AJ Agazarm via rear naked choke
Vagner Rocha def. Milton Vieira via points
Lucas Lepri def. Gamrot Mateusz
Garry Tonon def. Dillon Danis via heel hook
Davi Ramos def. Young am Noh
Gabriel Rollo def. Enrico Cocco
Gilbert Burns def. Lachlan Giles via armbar
Abdukadirov Magomed def. Ben Henderson via rear naked choke
QUARTERFINAL
Otavio Souza def. Vagner Rocha via referee decision
Lucas Lepri def. Garry Tonon via points
Davi Ramos def. Gabriel Rollo via points
Gilbert Burns def. Abdukadirov Magomed
ADCC 2015 Under 77 kg SEMI-FINALS tomorrow:
Otavio Souza vs. Lucas Lepri
Davi Ramos vs. Gilbert Burns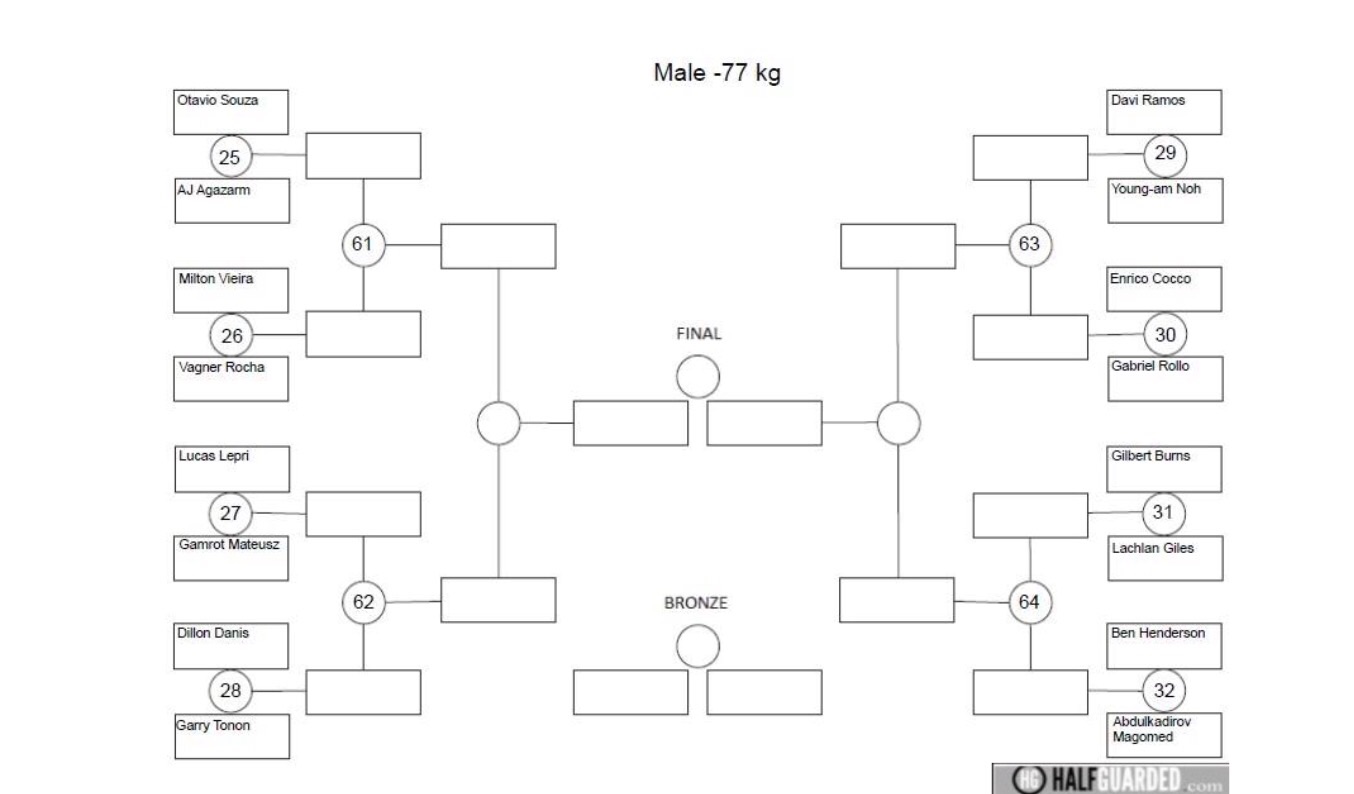 Male -88 kg
Romulo Barral vs. Craig Jones
Neiman Gracie vs. Ezra Lenon
Pablo Popovitch vs. Zbigniew Tyszka
Ricardo Mesquita vs. Yuri Simoes
Rafael Lovato vs. Hidemi Mihara
Matthew Arroyo vs. Rustam Chsiev
Keenan Cornelius vs. Jesse Urholin
Mike Perez vs. Claudio Calasans
ADCC 2015 Under 88 kg RESULTS:
Romulo Barral def. Craig Jones via kimura
Neiman Gracie def. Ezra Lenon via kneebar
Pablo Popovitch def. Zbigniew Tyszka via CHOKE
Yuri Simoes def. Ricardo Mesquita via points
Rafael Lovato def. Hidemi Mihara via points
Rustam Chsiev def. Matthew Arroyo
Keenan Cornelius def. Jesse Urholin via rear naked choke
Claudio Calasans def. Mike Perez via points
QUARTERFINALS
Romulo Barral def. Neiman Gracie via kimura
Yuri Simoes def. Zbigniew Tyszka via submission
Rustam Chsiev def. Rafael Lovato via referee decision
Keenan Cornelius def. Claudio Calasans
*Popovitch got injured and couldn't continue and was therefore replaced by Zbigniew Tyszka.
ADCC 2015 Under 88 kg SEMI-FINALS tomorrow:
Romulo Barral vs. Yuri Simoes
Rustam Chsiev vs. Keenan Cornelius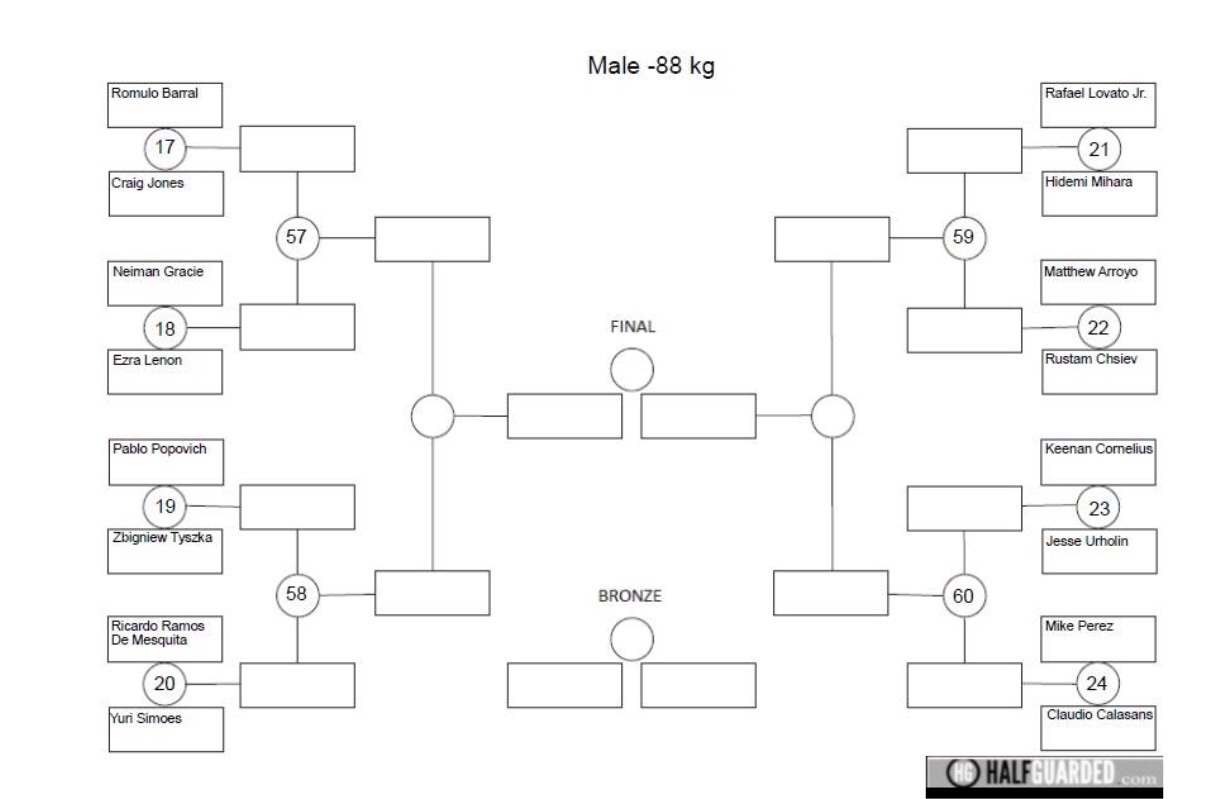 Male -99 kg
Joao Assis vs. T. Narkun
Kamil Uminski vs. Tom DeBlass
Felipe Pena vs. Roberto Alencar
Lukasz Michalec vs. Jimmy Friedrich
Alexandre Ribeiro vs. Yakiyasu Ozawa
Jason Bukich vs. Hector Lombard
Rodolfo Vieira vs. Adam Sachnoff
Tobias G. vs. Cassio da Silva
ADCC 2015 Under 99 kg RESULTS:
Joao Assis def. T. Narkun via points
Kamil Uminski def. Tom DeBlass via points
Felipe Pena def. Roberto Alencar via points
Jimmy Friedrich def. Lukasz Michalec via points
Alexandre Ribeiro def. Yakiyasu Ozawa via oma plata (!!)
Hector Lombard def. Jason Bukich via points
Rodolfo Vieira def. Adam Sachnoff via side choke
Cassio da Silva def. Tobias G. via points
QUARTERFINALS
Joao Assis def. Kamil Uminski via injury
Felipe Pena def. Jimmy Friedrich via inverted triangle
Xande Ribeiro def. Hector Lombard via referee decision
Rodolfo Vieira def. Cassio da Silva via rear naked choke
ADCC 2015 Under 99 kg SEMI-FINALS tomorrow:
Joao Assis vs. Felipe Pena
Xande Ribeiro vs. Rodolfo Vieira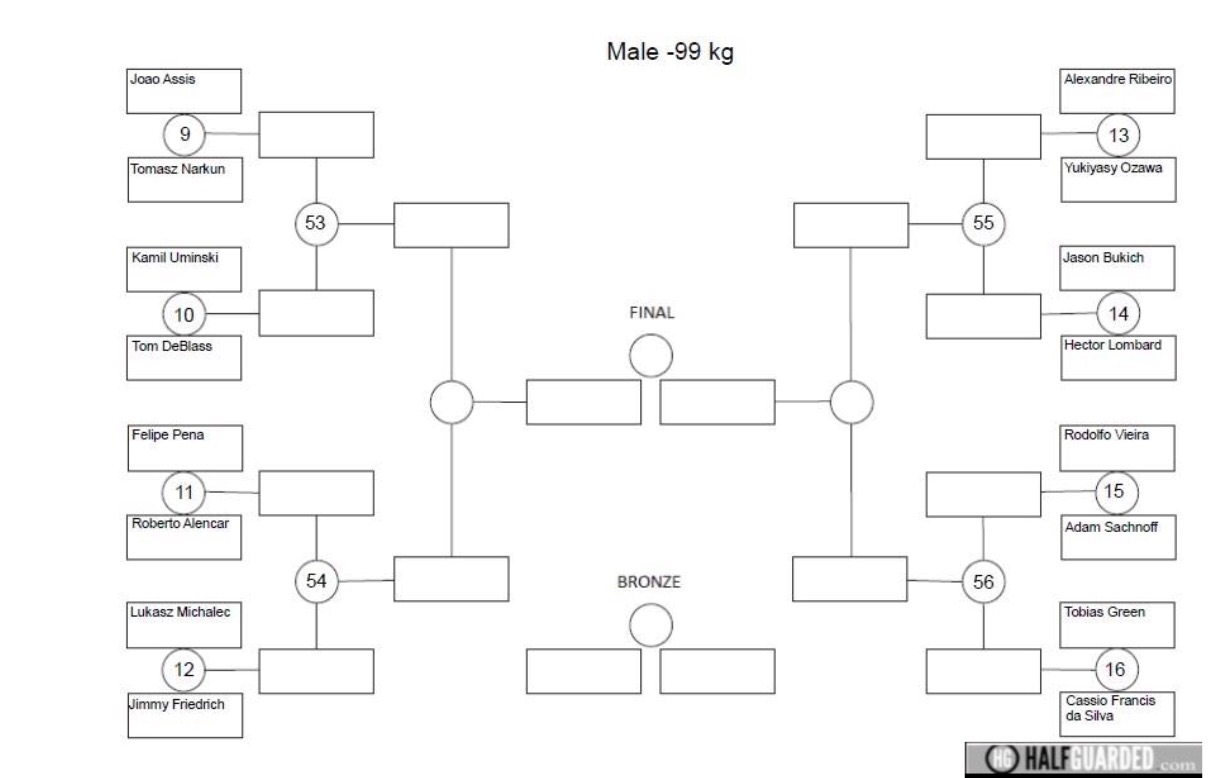 Male +99 kg
Dean Lister vs. Lee Hyoung
Janne-Pella vs. Orlando Sanchez
Vinny Magalhaes vs. Paul Ardilia
Rodrigo Artilheiro vs. Leonardo Lucio
Rodrigo Cavaca vs. Hideki Sekine
Jared Dopp vs. Gabriel Lucas
Joao Rocha vs. Jason Lees
Juskowiak Mateusz vs. A. Marte
ADCC 2015 Over 99 kg RESULTS:
Dean Lister def. Lee Hyoung via submission
Orlando Sanchez def. Janne-Pella
Vinny Magalhaes def. Paul Ardilia via submission
Rodrigo Artilheiro vs. Leonardo Lucio
Rodrigo Cavaca def. Hideki Sekine via decision
Jared Dopp def. Gabriel Lucas
Joao Rocha def. Jason Lees
Abraham Marte def. Juskowiak Mateusz via submission
QUARTERFINALS
Orlando Sanchez def. Dean Lister via referee's decision
Vinny Magalhaes def. Rodrigo Artilheiro via twister (!!!)
Jared Dopp def. Rodrigo Cavaca
Joao Rocha def. Abraham Marte
ADCC 2015 Over 99 kg SEMI-FINALS tomorrow:
Orlando Sanchez vs. Vinny Magalhaes
Jared Dopp vs. Joao Rocha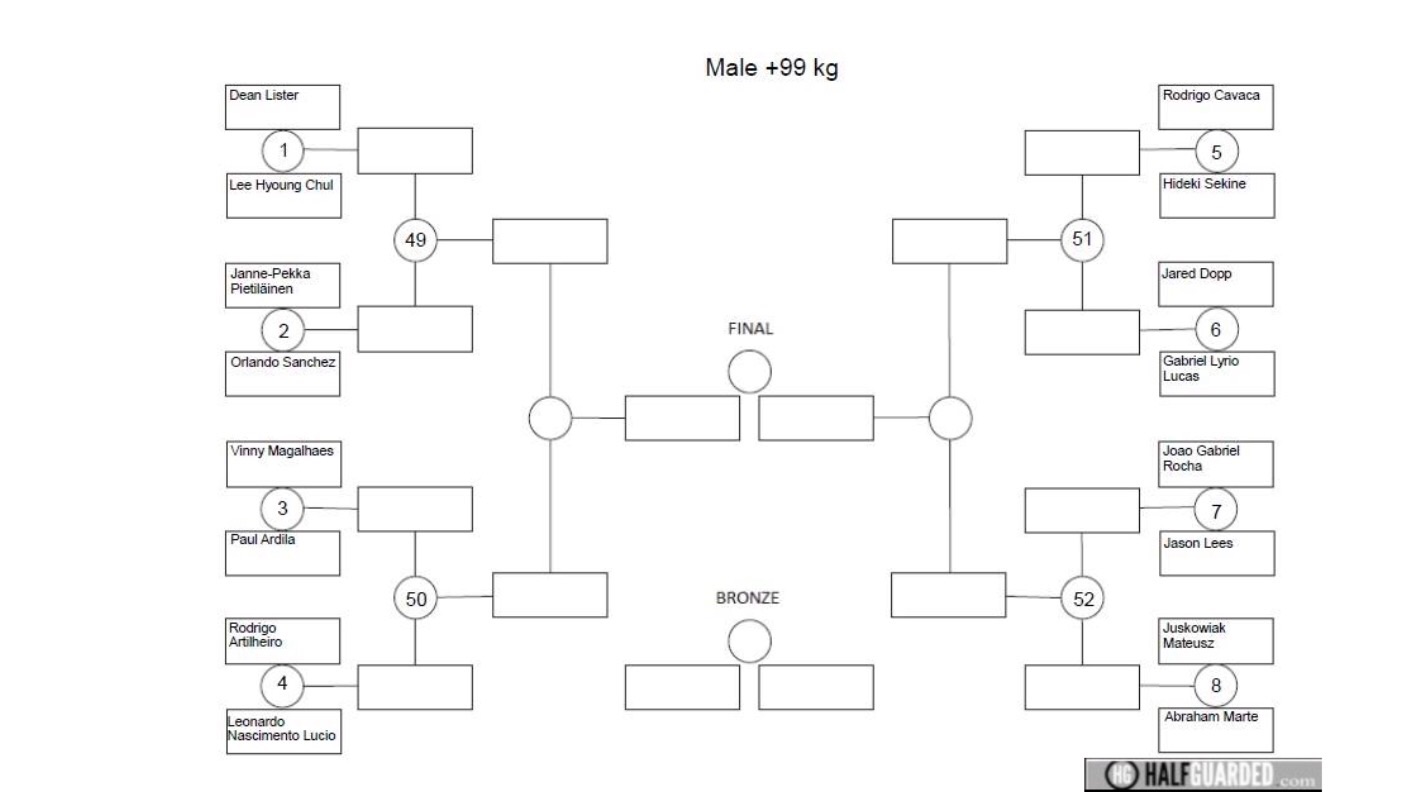 Female -60 kg
Michelle Nicolini vs. Rikako Yuasa
Ana Michelle Tavares vs. Tammi Masumeci
Mackenzie Dern vs. Kethe Engen
Beatriz Mesquita vs. Mayra Mazza
ADCC 2015 Female Under 60 kg RESULTS:
Michelle Nicolini def. Rikako Yuasa via submission
Tammi Masumeci def. Ana Michelle Tavares via points
Mackenzie Dern def. Kethe Engen via toehold
Beatriz Mesquita def. Mayra Mazza via armbar
ADCC 2015 Female Under 60 kg SEMI-FINALS:
Michelle Nicolini vs. Tammi Masumeci
Mackenzie Dern vs. Beatriz Mesquita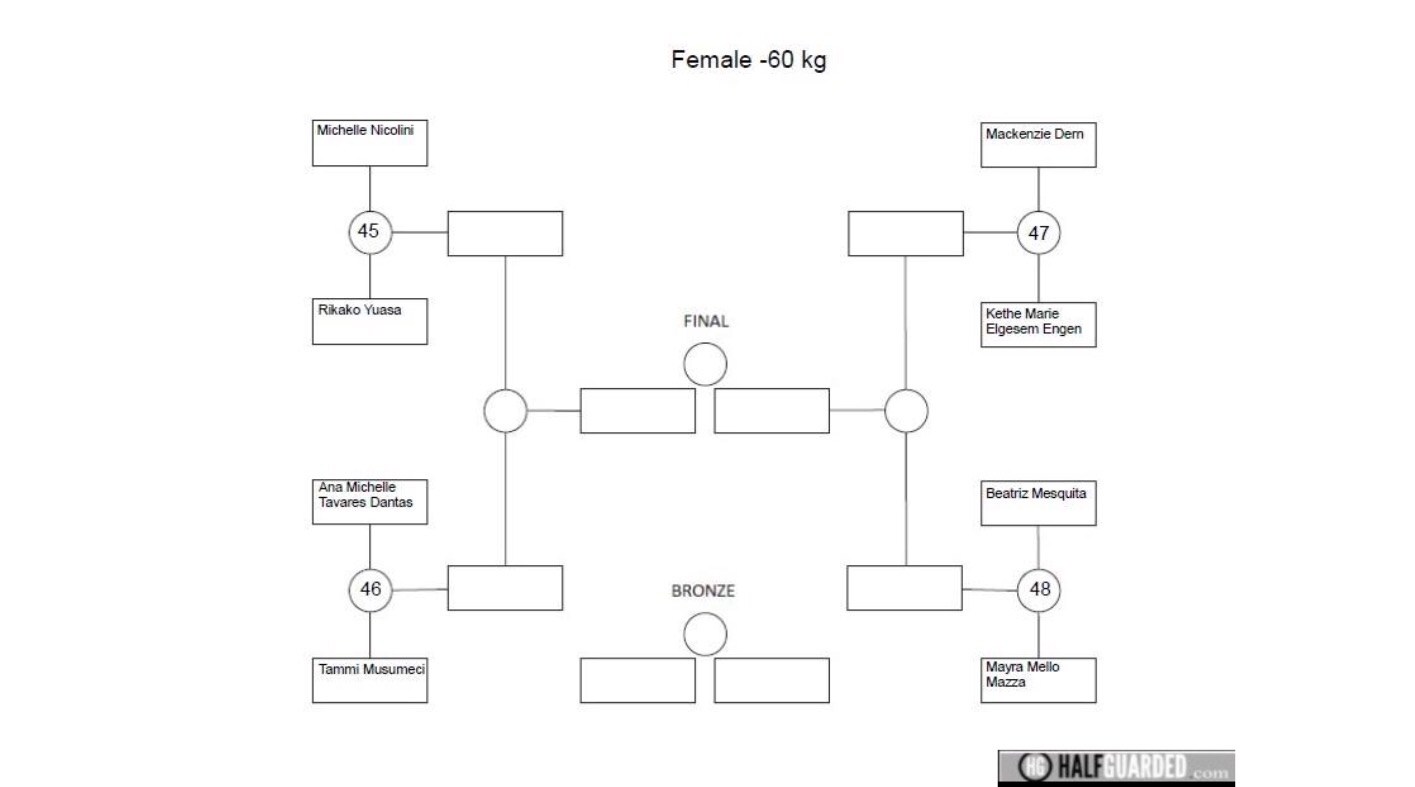 Female +60 kg
Gabrielle Garcia vs. Alison Tremblay
Jessica Oliveira vs. Marysia Malyjasiak
Ana Lauta Cordeiro vs. Sophia Nordeno
Fernanda Mazelli vs. Amanda Santana
ADCC 2015 Female Over 60 kg RESULTS:
Gabrielle Garcia def. Alison Tremblay via Eating Her Head
Jessica Oliveira def. Marysia Malyjasiak via points
Ana Lauta Cordeiro def. Sophia Nordeno
Amanda Santana def. Fernanda Mazelli
ADCC 2015 Female Over 60 kg SEMI-FINALS:
Gabrielle Garcia vs. Jessica Oliveira
Ana Lauta Cordeiro vs. Amanda Santana