@MichaelCoughlin
Now that the day has ended, some brief ADCC 2015 Day 2 Analysis and Thoughts:
(For full coverage of Day 2 click HERE.  For full coverage of Day 1 click HERE.  For analysis of Day 1 click HERE.)
OMG! GABI GARCIA LOST!  It was news earlier this year when she lost and this even bigger because it was important.  Typical in that you simply cannot score on her and so when an opponent can basically avoid having an advantage or point scored upon her, they stand a good chance of winning a ref's decision because they'll move more and there's a sympathy factor in surviving this:
To non-grappling fans, she's … well, look at her and realize that most women she competes against are probably 50 lbs smaller.  She's a combination of Brock Lesnar and Ronda Rousey in that she's a physical freak and she just doesn't lose.  This is her record, via wikipedia, in major tournaments.  It is accurate: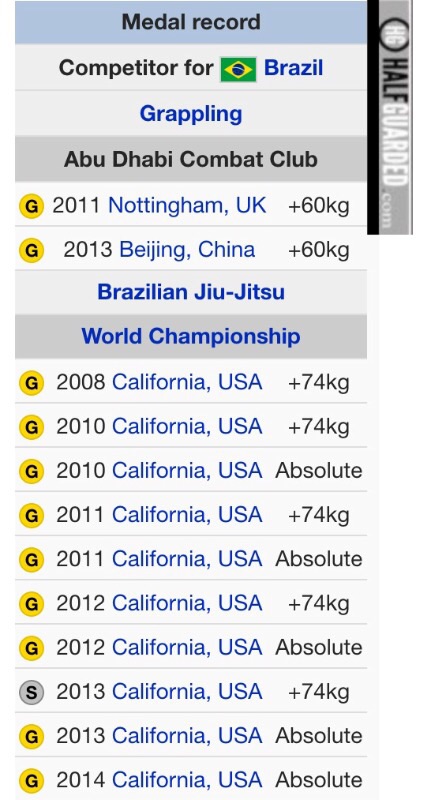 Those are near non-human results.  And: she lost.
Overall, the 2nd day was fine.  The main-event, the Absolute Division finals was terrible.  The rules encouraged guys to stall and the final score was I legit believe Negative 2 vs Negative 3.  A man is now the world's greatest submission grappler because he did fewer things wrong.
I rightfully praised the Xande oma plate from yesterday but the undisputed best submission of the tournament, and one of the all time greatest submissions period was from Davi Ramos.  In one fluid motion, he passed the guard of Lepri and leapt into an armbar.  Not only is it obviously a high, high level technique, but to pull it off against a guy the skill of Lepri, and most importantly, to even *think* about doing that, let alone doig it in the finals of ADCC is in one word: Awesome.
I expect to get kicked in the head a lot over the next week by people trying that one.
Andre Galvo defeated Cyborg Abreu in the superfight, which is usually last year's superfight winner against last year's absolute division winner.  Galvao is the second person to repeat as Superfight Champion, the first since Mario Sperry did so in 1999 and 2000.
ADCC 2015 WINNERS
Women's Under 60 kg: Mackenzie Dern d. Michelle Nicolini
Women's Over 60 kg: Ana Lauta Cordeiro d. Jessica Oliveira
Under 66 kg: Rubens Charles d. Bruno Frazzato
Under 77 kg: Davi Ramos d. Lucas Lepri
Under 88 kg: Yuri Simoes d. Keenan Cornelius
Under 99 kg: Rodolfo Vieira d. Felipe Pena
Over 99 kg: Orlando Sanchez d. Jared Dopp
Absolute Division: Claudio Calasans d. Joao Rocha