Washington D.C.-
After tweeting that Saturday Night Live's mocking of Trump "can't be legal", The President doubled down on his attack on free speech with a tweet that posted about a minute and a half into SNL's broadcast this past weekend.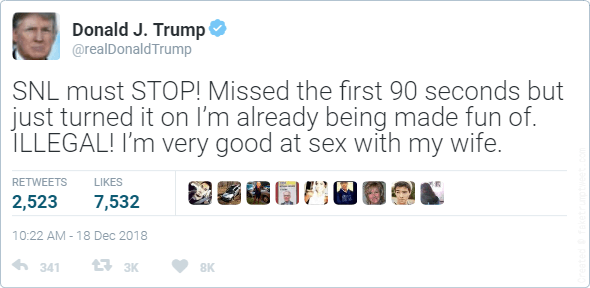 "SNL must STOP! Missed the first 90 seconds but just turned it on I'm already being made fun of. ILLEGAL! I'm very good at sex with my wife."
The tweet perplexed many who read it because SNL did not mock his sexual performance on this week's episode. Melania's tweet shortly after seemed to shed light on Trump's frustration.
"Maybe if my husband pretend to be Alec Baldwin in bed we not have to watch entire episode of Saturday Night Live! 🙄 IJS"
This tweet apparently enraged The Donald as he fired off another one minutes after, a tweet that is, not a load.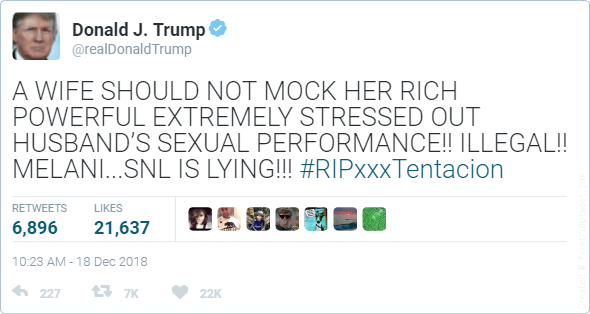 "A WIFE SHOULD NOT MOCK HER RICH POWERFUL EXTREMELY STRESSED OUT HUSBAND'S SEXUAL PERFORMANCE!! ILLEGAL!! MELANI…SNL IS LYING!!! #RIPxxxTentacion"
The President was then informed by a staff member that he could have just erased Melania's name before he posted the tweet but the joke would've been ruined.