WWE presents WWE TLC: Tables, Ladders & Chairs, streaming live on WWE Network at 7 ET/4 PT, with a WWE TLC Kickoff beginning at 6 ET/3 PT, streaming live on the WWE Network, or can be watched on a free stream on WWE.com, the WWE App, YouTube, Twitter and Facebook. But skip all that noise, and follow @ComedySuplex on Twitter, as Mikey G and PeachMachine will be bringing you the action as well.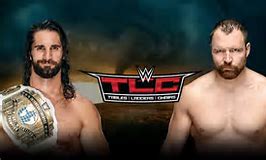 Intercontinental Championship Match
Seth Rollins (c) vs. Dean Ambrose
Who gets to wear a bulletproof vest match! I'm hoping for a D-Lo Brown run in… Wait, no, it's for the IC belt. Ambrose hasn't really helped out in anyway since his return. Ratings are down astronomically, and this feud is as flat as can be, probably because the heat should have been on Roman Reigns' leukemia, but you can't obviously make fun of that. Peach's Pick: Ambrose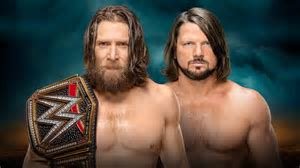 WWE Championship Match
Daniel Bryan (c) vs. AJ Styles
If you had said to me 5 years ago that these two guys would be feuding for the WWE Championship, and nobody really cares, I'd have noted that your pants are on fire. D. Bryan as a heel, calling people stupid is indeed entertaining, but this heel run is nowhere near his ROH heel character. They should be letting him talk about his veganism and being super pretentious. At the very least, he should be making fun of A.J.'s beautiful, beautiful hair. Peach's Pick: Bryan Danielson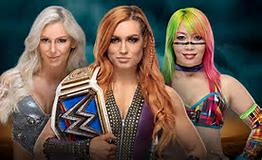 SmackDown Women's Championship Triple Threat Tables, Ladders and Chairs Match
Becky Lynch (c) vs. Charlotte Flair vs. Asuka
If you want to make Becky Lynch into the female Stone Cold Steve Austin, she needs to lose here. They should play off the three-way finish they did a couple of months ago when Charlotte stole the pin, except Asuka should be the one who wins. Peach's Pick: Asuka
Tables, Ladders and Chairs Match
Braun Strowman vs. Raw "General Manager-Elect" Baron Corbin
If Strowman wins, he will battle Universal Champion Brock Lesnar at Royal Rumble 2019. If Corbin wins, he becomes the Permanent Raw General Manager. If Corbin doesn't win, he will be stripped of all authority. I for one love Baron Corbin, but only because it's unbearable. He is not equipped to be in his current role. He can't talk well, his work sucks, and he looks terrible. Thus, I'm entertained every time he's on TV because people hate it so much. Nonetheless, Strowman needs to win here and put Corbin out of his misery. With Vince coming back on RAW, it would make perfects sense for him to be the one to fire Corbin. Peach's Pick: Brown Strawman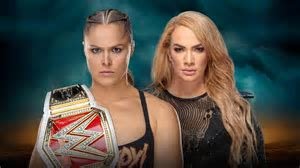 Raw Women's Championship Match
Ronda Rousey (c) vs. Nia Jax
Let em work! This match has been done a few times now and the feud continues. It's not the time for Rousey to lose, but she's not Austin either. They haven't protected Rousey enough for her win streak to really matter. Peach's Pick: Nina Jacks
Mixed Match Challenge Final
Jinder Mahal & Alicia Fox vs. R-Truth & Carmella
The winner here will be… the fans… that show up after this match is over. Peach's Pick: Are-Truth & Carmel
SmackDown Tag Team Championship Triple Threat Match
The Bar (c) vs. The Usos vs. The New Day
I sure wish this was a "Ladder War" match, but actually, that would be a bad wish because there's no effing way these three teams could top the match that the Bucks, SCU, and the Briscoes just had at Final Battle. Let the Usos win. The bar is beneath the floor at this point. Peach's Pick: The Usos-ish.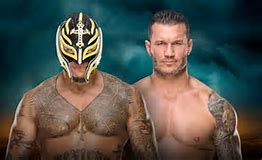 Chairs Match
Rey Mysterio vs. Randy Orton
It's 2018 everyone, but you'd think it was 2008 based on this feud. Can you use all types of chairs in this one or only steel folding chairs? I'd like to see a recliner or a sofa seat or maybe even a stool used here. This one doesn't matter at all. Peach's Pick: Reymond Mysterio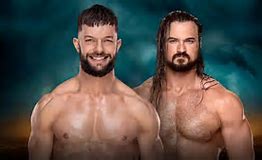 Finn Bálor vs. Drew McIntyre
Andrew McIntyre is supposedly getting a big push but it sure doesn't feel like it. They'd be better off scrapping that and re-pushing Finnerty Baylor, except that he's too short, and people don't believe that short people can wrestle good, according to McMahon. Peach's Pick: Andrew McIntyre
Ladder Match
Elias vs. Bobby Lashley
Remember when Sammy Zayn make Lashley do an obstacle course on RAW and he did it easily in like 30 seconds? Yet on this show, in this ladder match, he's definitely going to slowly and cautiously climb the ladder as if he were climbing Mt. Everest and nearly out of oxygen. Peach's Pick: Robert Lashley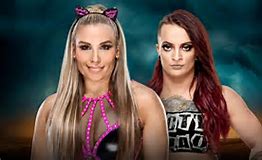 Tables Match
Natalya vs. Ruby Riott
I just watched TLC from 2009, and Natalya was in a tag team table's match where the tables they used were spray painted with murals of the wrestlers, excuse me, entertainers. I hope they do that again. Peach's Pick: RRuubbyy RRiioot
WWE Cruiserweight Championship Match
Buddy Murphy (c) vs. Cedric Alexander
Just because we need an eleventh match on this show, let's squeeze in some cruiserweights! This should be a highly entertaining 4 minutes. Peach's Pick: Amigo Murphy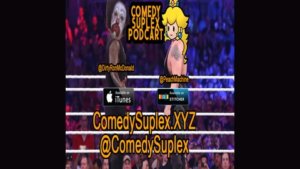 Check out the "Comedy Suplex Podcart on iTunes" on iTunes, Stitcher, Spotify, and all of the podcatchers. Please subscribe and tell a friend. Heck, tell two friends, but tell the first to listen to the show, and the second that you saw someone back into his car. Then tell him you're joking but that they should listen to the Comedy Suplex Podcart.
The Comedy Suplex Podcart Network Social Media: @ComedySuplex, @PeachMachine, @DirtyRonMcD, @FistCombatTV, @GrapplingC, @EdinSanAntonio, @Dabbledob, @TheViggity,