Let's up the ante shall we? For this edition of Couchzone Fightclub we're inviting our combatants to bring whatever blunt and sharp instruments they want to stick into their opponents, as I present my personal favourite weapon based fights. But as always there are rules, we're not complete savages you know.
Fightclub Rules:
All fights are strictly one and one and must be heavily based on hand to hand weapons (no firearms).
Anything from television or movies are allowed, however live action only, no animation (because I'm saving that for an animated fights down the line).
Only one fight per film, show, saga or franchise.
You WILL talk about Couchzone Fightclub, by telling your friends or sharing this piece on whatever social media is the big thing when this drops.
Also, all entrants are listed in chronological order and not in any rankings of quality judged by me (cos I can't be arsed).
John Cleese vs Graham Chapman (Monty Python's The Holy Grail: 1975)
Who says extreme violence has to be serious?
Simply put, the battle between Chapman's King Arthur and Cleese's is one of the funniest and wildest scenes in a comedy and just pure genius. It's built so beautifully too, setting the scene with an intense battle between two knights that ends in gory fashion and establishes the Black Knight as a terrifying threat. The initial square off between the two is full of medieval tropes such as honour, dignity and pride.
Then it all gets very silly.
The fight descends into bloody farce, Arthur cutting off the Black Knights's limbs one by one but failing to get his deluded opponent to admit defeat and concede. Both combatants proud demeaners evaporate, The Black Knight becomes a screeching imbecile insisting he can still win, while Arthur's Royal dignity descends into exasperation "Look you stupid bastard, you've got no arms left!"
Delightfully ridiculous, with plenty of comic gore, this is one of the funniest scenes in a comedic film and can be enjoyed by even those not normally fond of the Python's brand of humour.
Sam Jones vs Timothy Dalton (Flash Gordon: 1980)
In a film as camp, colourful and downright over the top as the 1980 Flash Gordon, a trial by combat can't simply be contested with something as mundane as swords. No, for this epically kitschy space opera the choice of weapons must be whips (ooooh), the fight taking place on a tilting platform with spikes retracting back and forth (and fall over the edge and you're in the bizarrely brightly coloured vacuum of space), all with Brian Blessed wearing massive wings, bellowing and cheering from the sideline, while having his finger firmly up Dale Arden's bum.
For a film that has a reputation for being campy, this fight between Flash Gordon and Prince Baron is pretty violent. The stinging whip shots repeatedly draw blood and when the fight gets really rough Baron tries to use his weapon to strangle Flash. There's even a long moment when Baron tries to force Flash's head into one of the spikes, and yes this was a kids movie back in 1980.
Naturally, since this is a film that is normally shown in afternoon slots on television this fight is heavily cut when aired. In fact with it's violence throughout, strong sexual references, steroid jokes, gory death scenes and that scene of Princess Aura being tied spread eagle to a table and repeatedly whipped by the Nazi Dominatrix like General Clara, Flash Gordon gets more and more butchered on TV which each showing.
Because of this brutal and often clumsy editing, the full glory of Flash Gordon is best served by seeking out a DVD copy while you can.
Mark Hamill vs David Prowse (Empire Strikes Back: 1980)
Light Sabre duels have become obligatory in Star Wars movies, and while many turn to the fast paced, amazingly choreographed Duel of the Fates from Phantom Menace, my personal favourite is Luke rashly taking on Darth Vader in The Empire Strikes Back. In fact this may be one of my favourite scenes in all of Star Wars.
Everything that happens in Empire Strikes Back, both Vader's quest and Luke's training is motivated towards making this confrontation happen. When Luke and Vader finally meet it's in a bitingly dark atmosphere, Vader an intimidating silhouette and Luke visibly tense and nervous as the first light sabre exchanges begin in a cagey clash . It builds beautifully into an actual, sweaty, rough fight, as Luke despite getting his shots in proves totally overwhelmed and his slowly worn down by Vader's use of the force and superior light sabre skills.
Fittingly for the darkest instalment in the Star Wars saga, the fight ends with Luke, bloody, beaten and exhausted and losing his arm and light sabre. The physical fight is only a means to an end, the real struggle is over Luke's soul and Vader's goal is to humiliate him, deprive him of hope and leave him with only fear and anger in order to lead him to the Dark Side. Naturally we know that the biggest, most cruel blow takes place after the fight.
Mandel Bruce Patinkin vs Cary Elwes (The Princess Bride:1987)
The Princess Bride is a perfect family movie, exciting and charming enough for kids, while genuinely funny and a well told story with strong themes to entertain adults as well. Filled with quotable lines and memorable characters and scenes throughout, it really takes an incredible display of sword fighting to be the standout moment in the film.
It's a slice of old school action from the days of Robin Hood that we find Ingio Montoya and Dread Pirate Roberts facing off in an honourable display of gentlemanly but deadly combat. The swordfighting is breathtaking, lasting a full three minutes of non stop, exhilarating back and forth action, filled with witty exchanges, gags and acrobatics.
An absolute joy to watch, it reveals so much about what drives the two combatants and the mutual respect that grows between them. Always certain to put a smile on audiences faces, the highlight comes with the fight in a stalemate Montoya revealing he is not a left handed fighter (he was fighting so to give himself a challenge) only for the advantage of switching to his natural stance being countered by Roberts revealing he too is not left handed and was doing the same.
Simply, wonderful.
Tim Roth vs Liam Neeson (Rob Roy: 1995)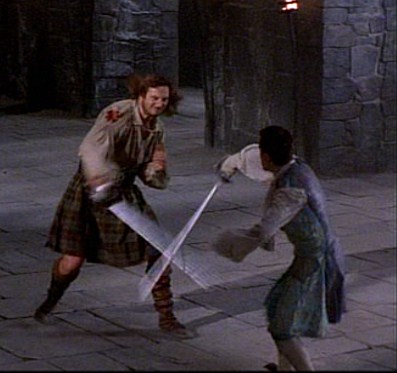 How do you have a fight between the towering stocky figure of Liam Neeson's Rob Roy and weedy looking Tim Roth's Archibald Cunnigham and make this physical mismatch seem interesting? Well it helps that Tim Roth puts in one of the most underrated villainous performances in making this foppish but nasty and dangerous character so damn easy to hate, making you really want to see him on the wrong end of a sword.
While 1995's Rob Roy was forgotten in the shadow of that other Scottish Epic Braveheart that same year, it's still an enjoyable adventure romp of a working class hero battling the tyrannically Aristocracy. The final battle, a duel to the death is an emotional grudge fight, especially as Cunningham has raped and made pregnant Rob Roy's wife in order to lure him into battle.
Despite the size difference the story manages to make Roy the underdog as he goes into the duel injured and Cunningham has been built up as the superior fencer. This becomes clear in the fight as Cunningham skillfully dodges and weaves, easily dealing with Roy's attacks, with Roth adding a flamboyance to his performance that he copied from watching Chris Eubank fights (Britain's number one boxer at the time).
It's a great contrast in styles of fighting styles and personalities, that tells a compelling story of the fight and builds to a fitting and satisfying conclusion.
Sarah Michelle Geller vs David Boreanaz (Buffy Season 2: 1998)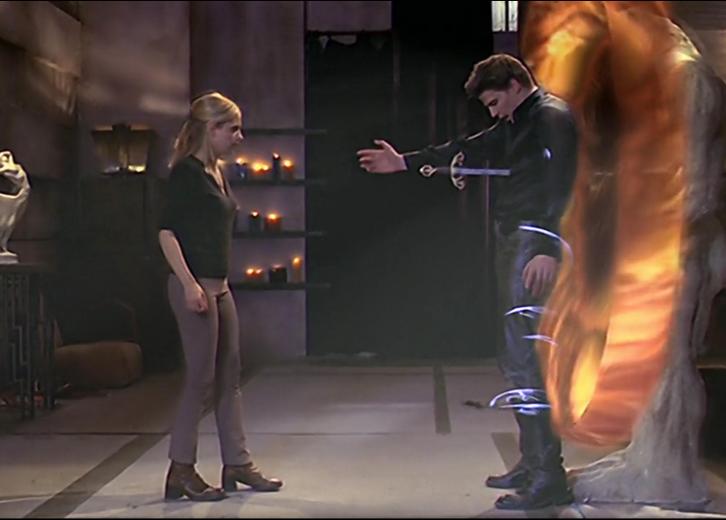 It's easy to forget that despite it's silly but entertaining premise, Buffy was a massive deal back in the late 90's, early 00's. In season two, it had settled into it's format of having a season of individual story episodes that built to a much larger story arc. Here, Buffy had found herself being forced to go to war with her boyfriend Angel's dark, evil side Angelus (it's a long story but all came about after the two shagged) and resulting in an epic two part finale with the end of the world at stake.
The final showdown between Buffy and Angelus ends up being a sword fight, and while the duel is not on the level of others on the list (it's still pretty good especially for a 90's TV show), it's the sheer emotion and tragedy that results from it's conclusion that earns it a place on my list.
Buffy essentially wins the fight but before she has to deliver the final, killing blow Angel gets his soul restored and becomes the man she loves once again (Yeah, It's a long story). However seconds later the poor, confused lass finds she still has to kill Angel in order to break a spell that will otherwise unleash hell on Earth (even longer story).
It's an absolutely heartbreaking moment and if you've been watching all season, to see Buffy get Angel back only to be forced cruelly to make the ultimate sacrifice it really is a stunner of a finale. Gellar and Boreanaz really sell the hurt and despair of the melodrama beautifully and aided by an amazing score, this is one of the most shocking and emotional finales in TV history.
Michelle Yeoh vs Zhang Ziyi (Crouching Dragon, Hidden Tiger: 2000)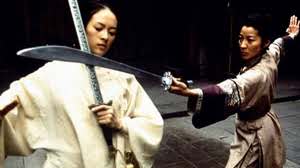 Seriously, words just fail me to describe the brilliance and jaw dropping execution of this one. Just watch it.
Uma Thurman vs Daryl Hannah (Kill Bill, Vol 2: 2004)
There are so many cracking fights over the two Kill Bill films as Tarantino went all out in his homage to classic martial arts movies. Picking just one was a real task as there were no less than five fights that I was considering for a spot on this list.
Finally I settled on this clash between Uma Thurman's Beatrix Kiddo (aka The Bride, aka Black Mamba) and Daryl Hannah's Elle Driver (aka California Mountain Snake), which caught my eye by having classic Martial Arts moves and tropes, but basing it in the confined space of a small trailer. The restrictions of this environment created a fresh spectacle for the swordfight, as the two skilled combatants bumped their weapons into walls and had their strikes interrupted by being confined by such small space to swing and attack.
This is also an incredibly heated affair, with a rivalry that has been building over the two films despite this being the first time the two have actually met on screen. It's a complicated relationship as we don't know the background behind the hatred (it's possible that there was some jealousy over Bill), but it's clear that Elle hates Beatrix with a passion yet also massively respects her.
The finale to the fight is amazing with Hannah delivering a delightfully venomous speech, revealing that she killed their old master and leading to a gory and fitting conclusion to the fight.
I'd like to think that with Tarantino's hints he has a story for the daughters of Beatrix and Copperhead, along with the ambigious fate of Elle Driver that the feud between these warriors may not yet be over.
Pedro Pascal vs Hafþór Júlíus Björnsson (Game of Thrones, Season 4: 2014)
"Don't leave me in this world alone," is a haunting line uttered by Ellaria Sand as she watched her lover go off into battle.
By it's fourth season viewers of Game of Thrones should have been used to being kicked in the guts and being left completely dejected come the closing credits. So when we got this fight to the death to decide the fate of Tyrion Lannister, there would understandably be nerves for those who'd become a fan of the dashing and charismatic Oberyn Mantell as he faced off with the ultimate heavy The Mountain.
Of course us who had read the books smugly knew what to expect, but in many ways this made things worse as even when Oberyn was dancing rings around The Mountain and skillfully slicing him apart on the way to seeming victory, we knew what was coming. We knew the gory end that awaited Oberyn.
Even knowing the outcome, it was still frustrating to see Oberyn almost the winner, but refusing to make the killing blow until the Mountain had confessed to the murder and rape of his sister and allowing the defeated Mountain to get the upper hand. In fact the ending is even more gory in the TV show, as the Mountain gouges his thumbs into the eyes of Oberyn and crushes his skull.
Accompanied by the heartbreaking, horrified shrieks of his Ellaria, it's a horrible end to a hero. And it was also very peak Game of Thrones.
Ryan Reynolds vs Ed Skrein (Deadpool: 2016)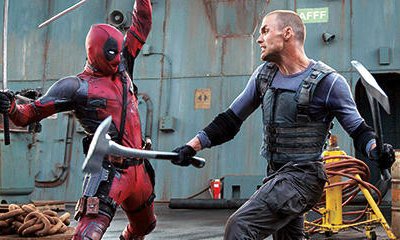 There have been many great super hero fights throughout the various comic book franchises, evolving with each film with more spectacular and elaborate battles. However, I really find something refreshing in the stripped down, simplicity of the final fight in thr film that broke the superhero mould, the one that really was a miracle in how much it got right, Deadpool.
The final showdown between Deadpool and Ajax (or Francis) is brutally violent with Ajax armed with two axes and Deadpool two swords, swinging and hacking at each other. The fight descends into a slugfest and then a knifefight as Ajax stabs Deadpool in the head and continues to batter him senseless.
This fight works especially well because you're really rooting for Deadpool to win, partly because of all the trials he's had to go through up to this point (even with so much comedy can you think of another superhero character who goes through the tortures he has in the course of his origin story?) but also because Ajax is one of the most underrated villains in any of the Marvel related movies. Ajax encompasses what a real villain should be, someone you really hate and really want to see get their arse kicked. That's something which sometimes gets lost when having wise cracking, charismatic villains who steal the film and make you want to see them even more.
At the end when Deadpool pounds away at Ajax's bloody face, it's immensely satisfying and that's really how it should be.
Well, that's all from me and remember violence really does solve everything.
Dazza