Just recently the internet found a welcome distraction from the horrors of Covid (namely being forced to spend time getting to know your kids), when a video emerged of two guys having a fight on the street. The fact that this brief brawl (which was caught on camera from two separate angles), became an internet sensation proved once again that we all get a kick out of two consenting, preferably stupid adults knocking the shit out of each other.
So to cheaply exploit this dark side to our inherent nature I present my top ten favourite movie fights, in the first ever Couchzone Fightclub.
Anyway the rules for this Couchzone Fightclub.
You DO talk about Couchzone Fightclub. Yes, share with your friends or whatever, tell em about this piece.
See above.
All fights are one on one, mano on mano, femme on femme, femme on mano etc
While a little use of weapons is permitted, the emphasis has to be fists and kicks. So swordfights, whips while on a tilting platform with spikes on the floor are not included.
The fights can't be part of a organised, sanctioned sporting event, this includes pro wrestling or tournaments on a crimelord's island,
One fighter to a fight. So basically any actor or actress playing a combatant can only appear in one fight on the list, same goes for a character played by multiple performers.
Because I hate ranking stuff, all ten fights are in date order.
Last thing, no superhero antics allowed.
Right let the arse kicking commence because…..tell em Bruce
Sean Connery vs Roy Shaw (From Russia with Love 1963)
Bond has faced many over the top, gimmicky henchmen over the years, yet none seemed as big a match for 007 as Robert Shaw's SPECTRE agent Red. No bionic arm, metal teeth or razor sharp bowler hat, Red was just pure scary muscle with the cold mentality of a serial killer.
It's a rough, claustrophobic fight to the death in a train cabin, that seems to leave Bond genuinely shaken. So much so that Connery can't even come up with one of his usual quips after snuffing the life out of Shaw.
John Wayne vs Forrest Tucker (Chisum 1970)
John Wayne has had some cracking brawls in his time, but there is something especially wild about the conclusion to this feud between cattle barons John Chisum and Lawrence Murphy.
Wayne and Tucker beat the hell out of each other, fighting through a burning building, through each other through walls, into furniture and working their way to an upstairs balcony. In a apt conclusion to the final fight between two men locked in a bitter rivalry they both come off the balcony locked together.
It's a good old fashioned western brawl, no finesse, just punching the living daylights out of each other. It's a throwback to a time when fights weren't fancy or stylised, just rough, gritty and only for the tough guy.
Bruce Lee vs Chuck Norris (Return of the Dragon 1972)
This is just a work of art. Two legendary figures (Norris was in his first screen role), aptly battling in a Roman Colosseum in one of the greatest and most subtly shot fight scenes of all time.
Lee was careful to frame the two fighters so as much of their bodies were visible the entire fight, meaning the audience can take in every movement in this chess match of a fight. The battle builds beautifully, with Norris seeming to have the physical advantage, dropping Lee early, who responds by trying to get the measure of his opponent with counters. Little details such as the two eyeing each other's feet, trying to anticipate their attacks, just adds to the fight as the two slowly getting wounded and bloodied as the contest develops.
This is a pure fight, no music or fancy camera angles are employed. Everything goes into showing the two combatants because it's through them that the story of their struggle is told.
Jackie Chan vs Benny Urquidez (Meals on Wheels 1984)
No one has embraced insane fight scenes more than Jackie Chan. Putting his body on the line with jaw dropping stunts that makes you wonder how is he doing that, mixed in with super fast chirography, Chan is just breathtaking to watch.
Many of Chan's fights see him taking on groups of enemies, so for a qualifying inclusion to this list I had to dig for this one on one fight that has a more edgier vibe than usual. Chan was paired up with legit Kick Boxer and Karate champion Benny Urquidez who was able to keep up with Chan's speed and athleticism and bring a legitimacy to the fight.
There are still hints of Chan's comedy (at one point he tickles Urquidez to get out of a hold, which I've often wondered if such a thing has happened in MMA) and he takes some crazy falls, but the fight is played very straight and there is a dangerous intensity between the two.
Harrison Ford vs Pat Roach (Raiders of the Lost Ark 1985)
There may be a lot going on in this scene with Marian machine gunning Nazi's and a massive plane spinning out of control, but running through it is a one on one fight between Indy and a big fuckoff German Mechanic who just likes a good punch up.
Watching again it's telling how violent this fight is for a PG movie. Indy gets his arse kicked for most of it, with him being comically dropped by the very first punch. He's completely outmatched, though his one sustained offence is a desperate volley of wild punches that bloody the hell out of the big German. It all leads to a humbled Indy who lucks into a win with a gruesome and unsettling, propeller aided conclusion.
Incidentally, Ford and Roach tussled again in Temple of Doom, where the big man played a Thugge guard and the fight went very much the same way.
Mel Gibson vs Gary Busey (Lethal Weapon 1987)
We may not have been aware of it at the time, but this match up features a clash of two of the biggest nutters in Hollywood. As it stood, it was a great conclusion to Lethal Weapon, and dripping in 80's machismo, as Busey's delightfully seedy Mr Joshua is secure in police custody, but not wanting to let him off easy Gibson's Riggs asks him if he "wants a shot at the title."
Gibson and Busey are not the most elegant, crisp fighters, but the film creatively uses lots of fast cutting close ups and adopts a heavy atmosphere with a sudden rain storm. It's a down and dirty fight, with Ji-Jitsu moves and totally gets the audience invested as Joshua is so hateable and Riggs you've really come to root for.
It's a very 80's scene, with a touch of Rocky about this fight, with even a crowd of cops cheering on Riggs, wanting him to kick this cop killer's arse. When the two stagger, exhausted at the end you really feel you've seen a personal score settled in a heated war of hate and aggression.
Roddy Piper vs Keith David (They Live 1988)
It's been praised as one of the longest fights in film history, but there is so much more going on here. Yes it's a great fight, with both fighters getting worn down with punches and Piper pulling out a few wrestling moves on the hard back alley floor. There is also a uniqueness that aim of the fight is one guy trying to force another to wear a pair of sunglasses.
However what I really love in this fight is a radical subtext that like the rest of They Live, makes this one of the most intelligent and subversive sci fi movies of the 80s. It can be no coincidence that with have a white guy and a black guy, both working class who are fighting each other until they're finally able to both see the reality of who the true enemy is. It's surely symbolic that this alliance of two men from different races is what allows them to take the fight to the rich oppressors.
It's touches like this that make They Live one of the most surprisingly intelligent, social commentary movies of the 80's
Cynthia Rothrock vs Richard Norton (Lady Dragon 1992)
If you want a pure grudge fight, with deep seeded emotions then you cannot miss this glorious encounter on the video rental B-Movie Lady Dragon. Cynthia Rothrock is a cop, out for revenge against the man who had her husband killed, on her wedding day no less.
The man in question is a crime lord played by real life martial artist Richard Norton, who towers over Rothrock and gives their film ending fight a real David and Goliath dynamic. It's an unnervingly vicious fight, with Rothrock taking some nasty punishment, but holding her own.
There is a twist in the fight. Just as Rothrock seems to be getting Norton's measure, one of his henchwomen arrives and takes some of her friends at gunpoint. The battle continues with Rothrock unable to fight back, yet despite Norton throwing everything he has at her, she rises time and time again, having no quit in her.
When the police arrive and her friends released the fight can continue fairly, and you want to cheer as Rothrock battles back and hands the bigger man's arse to him. It's a long, back and forth fight with the added intensity of a villains who is so unscrupulous he'll take a win anyway he can.
Rothrock was many years ahead of her time as an icon and cult female empowered symbol.
Gina Carano vs Michael Fassbender (Haywire 2011)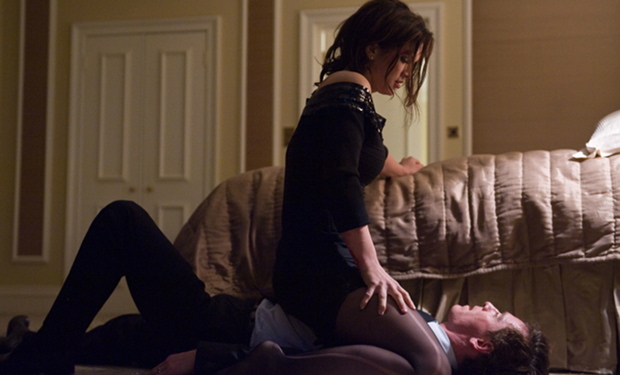 A vehicle for Gina Carano, Haywire in my opinion was an underrated action movie, with an impressive supporting cast and a understated, gritty tone. While Carano had to be carried in far as acting (she has improved greatly since), her MMA background meant she really shined in the physical aspects and esepcially the fight scenes.
Her hotel room fight with Fassbender is really vicious, exploding out of nowhere as he betrays and attacks Carano the moment the door is closed. The fight is shot in dim lighting, which combined with the lack of music emphasising the sounds of violence, follows the fight in a detached manner.
There are heavy exchanges of strikes and grappling, with the furniture and fixtures coming into play as both end up being smashed into tables and wall units as the fight trashes the hotel room. This is a really great fight, reminiscent of tussles you'd get in Mission Impossible or the Bourne movies. There is just a bit more of a realistic clout to be found in Haywire.
Mike Tyson vs Donnie Yen (IP Man 3 2015)
A real surprise of a dream fight here, with Tyson making a rare extended serious fight scene against one of the greats of martial arts movies in Donnie Yen. Tyson is huge and physically intimidating and stalking Yen with his boxing stance you really buy into the idea that one punch will end the fight. There's an added element to the fight that Tyson sets a clock, confident that Yen won't last five minutes with him.
It's a great mix of fight styles, Yen attempting to block and counter Tyson with his martial arts and the result is a fascinating contest. The fight tones down the violence slightly, in favour of celebrating the technique and skill making it uniquely engaging because of it.
IP Man 3 has a narrative that the more traditional film goer may find disconcerting (The fight with Tyson isn't even the big fight in the film), but it explores the themes of discipline and honour that traditional martial art films are rooted in. The Yen vs Tyson fight fits beautifully in with this and I couldn't help but think how it embodies the spirit that drove the philosophy behind the Bruce Lee films.
Bonus Silly Honorable Mention
Debbie Gibson vs Tiffany (Mega Python vs Gatoroid 2011)
Purely just for fun, I had to enclose this offering from those nutcases at The Asylum. You'd really have to be around in the 80's to get the gag here and remember the days when Debbie Gibson and Tiffany were battling in the charts for the teenage Mall market.
Even if you weren't a trendy little popper singing along to "I think we're alone now," or "Shake your love," chances are you could still get some enjoyment over their brief record seller careers by imaging what it would be like if they came across each other in a Mall parking lot about began letting the fists fly (or if you were particularly pervy, making out).
Well, some twenty years later thanks to the the same people who brought a prehistoric Shark to do battle with a giant octopus we got to see that fight. Asylum, who have made a genre of ridiculous but self aware monster vs monster movies, cast the two former pop stars in Mega Python vs Gatoroid. Showing the savy of a wrestling promoter the Asylum people booked a scene where the two square off in the catfight we'd forgotten we wanted.
Revelling in it's own tackiness, the scene is bonkers fun and certainly more worth your time than The Lighthouse.
So there are my favourite one on one fights, but feel free to contact me on twitter at @Dazzalovesmovie (no S on the end I ran out of letters), to let me know ones that I missed. Please do, I'm really that lonely.
Take care, stay safe
Dazza