1988 is the year with the most Roman numerals. That's about the only nice thing I can say about the year, as a rundown of biggest news stories for 1988 shows twelve months of bombings, shootings, hijackings, wars, scandals and the debut of Andrew Lloyd Weber's Phantom of the Opera.
Surely there was at least some joy to be found in the movies of the year?
Well let's find out as I go through the year to highlight three films that I have really fond memories of, and one WTF? moment of something bizarre, unsavoury or just plain bad that surrounded a movie.
They Live
They Live is a B-movie premise of Aliens in disguise taking over the world, stars a WWF wrestler and features a ridiculously over the top fist fight that lasts for five minutes. It has all the hallmarks that should have made it straight to video nonsense (admittedly the sort that I personally love). Even the title has a distinctly 50's pulp sci fi feel to it. Yet watch They Live with an open mind and you should see it as one of the smartest, most subversive movies to come out the 80's.
In They Live Roddy Piper plays John Nada, a drifter who arrives in Los Angeles looking for work. After the shanty town community he takes shelter with is torn apart by authorities, he discovers  a conspiracy where most of the rich and ruling classes are aliens in disguise. Using a pair of sunglasses made by a mysterious resistance unit, Nada is able to see the aliens as they are, and more disturbingly that our world is full of subliminal messages designed to keep humanity docile and under control.
In a overwhelming, trippy scene Piper staggers through a stunning black and white scene where he sees the world as it is for the first time.  The city is a landscape of hidden messages, posters urge humans to "Conform," "consume", "marry and reproduce", and with a command that grew to become a counter culture icon "OBEY". Money is laced with the message "This is your God," magazines and advertisements urge readers to "buy," "watch TV," and "stay asleep." It's an amazing scene and paced beautifully as Piper, dazed as if he's just squeegeed his third eye or taken LSD comes to terms with the depth of the conspiracy until he sees a suit wearing alien oppressor for the first time.
They Live is an incredibly fun movie to dissect and interpret. I remember a Film Studies teacher who considered himself a Marxist revolutionary (although his revolutionary activities never seemed to go further than getting pissed at the local pub or trying to lure female students into the sack) was a surprising admirer of the film. Not surprising as They Live has a distinctly political commentary running through it.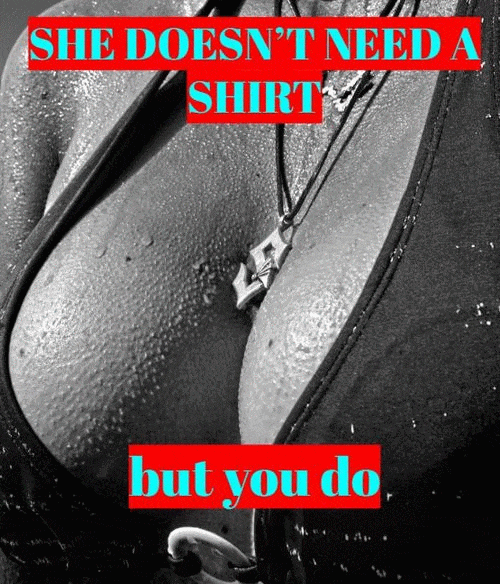 The subliminal messages In They Live act as metaphor for the influence of advertising, leading to a destructive commercialised society. The film highlights the proliferation of marketing which is so prevalent in our every day lives we don't even notice it. When we through Piper see the world in stark black and white (the opposite of the distracting colour of the aliens) and behold the messages everywhere it really brings home how intrusive the forces that urge us to buy really are. It's really clever that to spread the  story of how elites keep the lower classes downtrodden by distracting them with a popular culture which is literately brainwashing them, Carpenter is using a B-movie style sci-fi action film. And as far as the 80's go, could there be a more apt performer to use than a WWF wrestler, hailing from a company that in the mid 80's had perfected the art of bombarding it's audience with product placement.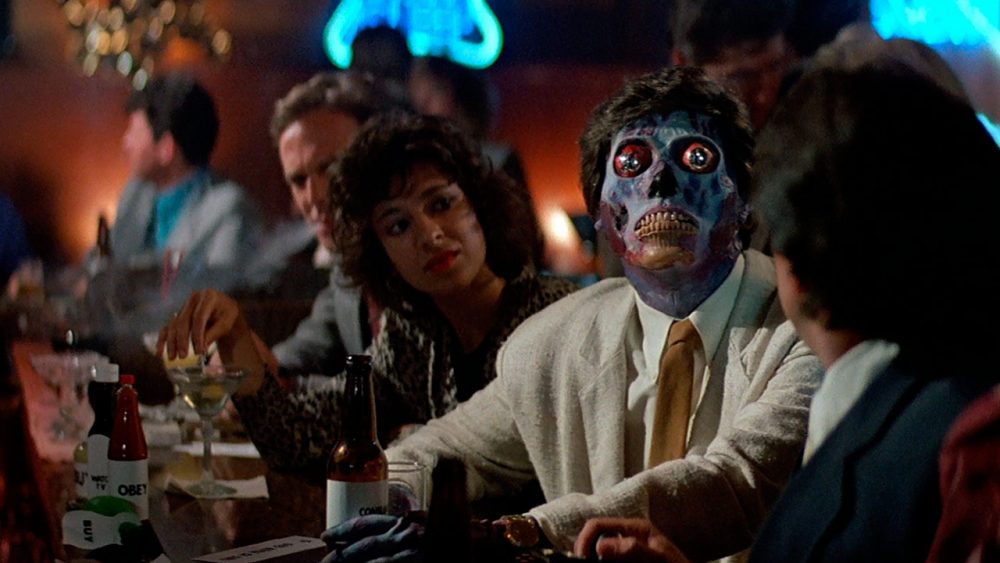 There is so much going on in They Live. The main base of the aliens and source of the brainwashing symbol is naturally a television station, the main method of control over the population. Even the five minute slugfest between Piper and Keith David has a purpose. In between supplexes and wrestling manoeuvres in an alleyway, the key to the fight is Piper trying to force his reluctant friend to wear the glasses and see the world as it is. Is it really an accident that the fight is between a white man and a black man? Two working class men fighting each other when the real enemy is the upper classes.
Naturally there are all kinds of interpretations going deep into the film. One of my favourites is the difference between left wing and right wing methodology. The idea here is that the scientists who create the glasses represent the liberal movement obsessed with academia which concentrates on seeing the world as it is and planning, discussing and having meetings and generally achieving very little. By comparison the aliens representing the right wing actually concentrate on getting things done. I quite like this analogy, especially when you consider that the "resistance" does very little with the technology they've made and it takes a working class man like Nada to actually have the balls to make a proactive stand when he realises what is going on.
They Live though not appreciated at the time became a cult hit and is regarded today as a triumph of satire and political commentary. The film has aged very well, in no small part because the themes of the film, the class divide, unbridled capitalism and the pursuit of the consumer dream as well as media propaganda  are even more timely today as they were in 1988. In fact when you look at the potential of the concept of They Live, Carpenter really only touched the surface.
Oh and Roddy Piper says he's all out of ass and kicking bubblebum or something.
Hawks
You just don't seem to get a lot of comedies about terminally ill people.
This is a really odd little English treasure of a movie. It was based on an idea by Barry GIbb (yep the guy from the Bee Gees) and written by Roy Clarke who wrote a bunch of sitcoms which were the epitome of BBCish sitcoms, such as Open All Hours, Keeping up Appearances and the darling of Sunday night "oh shit it's school tomorrow" television programming Last of the Summer Wine. To those not from the UK and to whom these shows will be unfamiliar, don't worry you ain't missing shit.
However, how a man who's most famous creation involved weekly variations on a story of three elderly men using a bathtub as a toboggan could write something so darkly comedic and yet touching is a mystery.
Hawks stars Timothy Dalton (during his brief James Bond tenure) and Anthony Edwards (later Dr Green from ER but in 1988 was known as Goose in Top Gun), as two terminally ill cancer patients. Edwards is depressed and suicidal, however the flippant and sarcastic Dalton refuses to let the disease have it's way with him and convinces Edwards to escape the hospital in a stolen ambulance and head for Amsterdam for one last debauched blaze of glory. Along the way they hook up with two girls Hazel and Maureen who in their own way feel separated from regular society.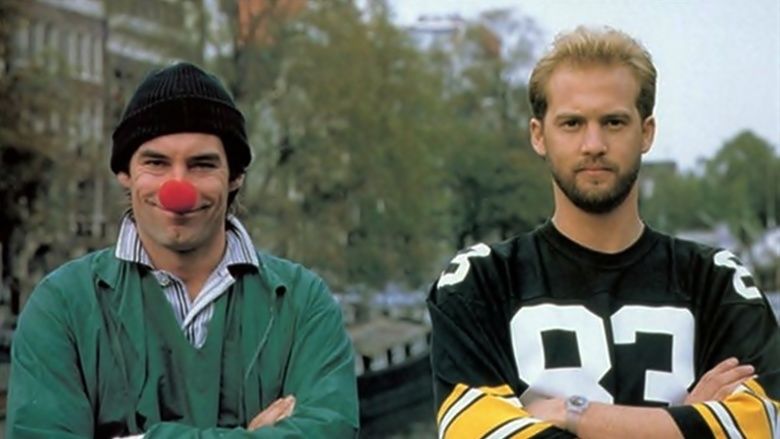 Hawks is a charming little movie, with a English Autumn like atmosphere that its reminiscent of Withnail and I. Dalton gives one of his finest performances, full of wit and charisma, defiant in the face of death but vulnerable and in his own way scared of it as well. Although bleak at the unavoidable fates of the lead characters the film is uplifting with their attempt to live life while they can, using their condition to reject the rules of society as they are now "Hawks" amongst a world of pigeons.
Although the film is rich with a lust for life and the brotherhood that exists between them Hawks doesn't hide from the trauma that they are living through. In one of the most moving and difficult scenes, the two dressed as surgeons sneak out to a local pub. There Dalton forces Edwards to wear a clowns nose (an important act of defiance according to Dalton) while flicking through playing cards that contain the conditions he can expect to go through as his cancer takes hold. We never see whats written on the cards, but the horror and pain on Edward's face is heartbreaking.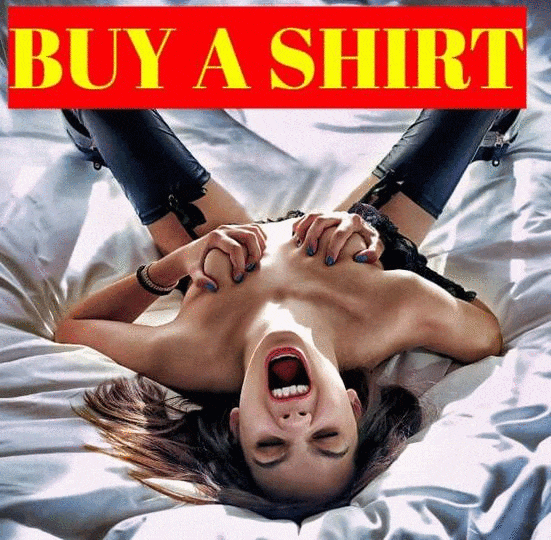 The film also tackles the awkwardness shown by those sympathetic but unable to relate with what the terminally ill are going through. During a visit by Dalton's parents his domineering mother says how good it is that he has someone his own age in the hospital to talk to, "Yes it must be lovely for him!" Dalton sarcastically replies.
Hawks was a film I stumbled across on television one night and loved it, finding it hilarious, inspiring as well as upsetting. It's a great example of British cinema, which should be celebrated as much as Four Weddings, Withnail etc but is sadly virtually unknown. I'm guessing no one knew how to market a comedy of such a grim theme and the film has been inched towards obscurity. It doesn't feature on any streaming services, has not had a DVD release (it was released on VHS and second hand copies go for around £50) and you'd have to be really lucky to catch it airing on television. But if you do, lucky you will be.
By the way if I'm ever diagnosed as terminally ill you'll be able to find me at the Bellagio in Vegas, knee deep in cocaine and hookers, feel free to come alone.
Ghosts of the Civil Dead 
So let's lighten the mood with a film about prison overcrowding shall we?
I've always had an affection for Australian movies, finding real appeal in their grittiness and challenging subject matter. It's no surprise then that from Australia comes the most authentic feeling and downright terrifying prison movie I have ever seen, Ghosts of the Civil Dead. (Not that I've ever been in prison so wouldn't know the first thing whether it's authentic or not).
Ghosts of the Civil Dead takes place in a prison that has been on permanent lockdown after an outbreak of violence. The film looks back to how the prison steadily deteriorated, with tensions rising as drugs, crime and violence amongst inmates were allowed to run rampart along with the reduction of prisoner rights. As the problems increase the prison regime becomes more restrictive and it's policies become more dehumanising.  Divisions between guards and inmates result in hostile acts from both sides, one guard under stress commits suicide.
The story of the prison is told through the experiences of prisoners at various levels of risk and containment as well as the guards, all of whom are manipulated by prison authorities who hope to profit from the disturbances and are ultimately rewarded with the contract for a new prison.
Ghosts of the Civil Dead is chillingly brutal. It's an indictment on the prison system that fails to rehabilitate offenders and further alienates them. One of the prisoners the film follows is newcomer Wenzil, a lesser risk inmate who is humiliated by guards and fellow prisoners alike. Frustrated and isolated, his anger rises, he eventually lashes out and murders another inmate. In the climax of the movie where a prisoner snaps and stabs a guard to death he's seen cheering on the attack, indistinguishable from the most dangerous of inmates residing in solitary confinement.
The film shows sympathy for the exploited inmates, but it doesn't sugarcoat to make them palatable to viewers. In one scene a news report of the killing of a policewoman with a family is greeted with amusement and applause from the inmates. These is no attempt to portray them as nice people, but the message is clear that they are been failed by the system. These are dangerous people, who are made more dangerous by the time they are released and ultimately more of a risk to the general public prison that incarceration is supposed to protect.
One prisoner who has been in prison all his life laments that he cannot function in the outside world and never wanted to be released, feeling that he has been sent out to fail and reoffend. The final shot of the film shows Wenzil walking behind a woman in a train station. As they disappear from view it's an uncomfortable moment as we never know what happens but the implications are clear.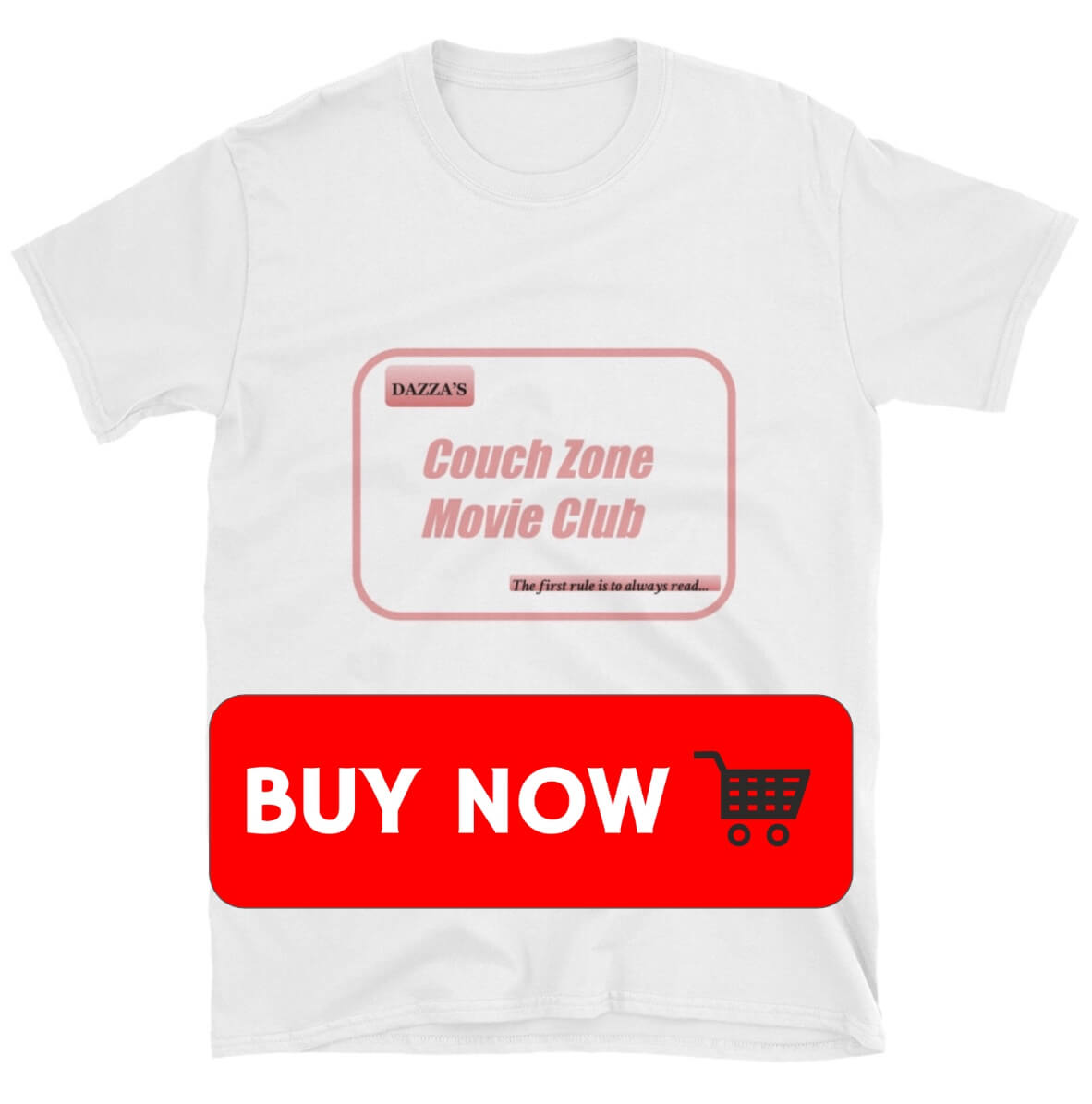 Of all the frightening moments in the film, the ones which are impossible to forget feature Nick Cave as the maniacal Maynard. Homicidal and uncontrollable, his introduction to an already tense prison sends the atmosphere over the edge as he screams and rages non stop at guards and inmates and cuts himself, daubing obscene images on the prison walls with his blood.
Ghosts of the Civil Dead is hard hitting, uncompromising and thought provoking. It doesn't have the answers as to what to do with the criminal elements of society, but it wears on it's sleeve the belief that the dehumanising and exploitation of prisoners will ultimately prove worse for society.
WTF??? "Oh my God, they killed hair bands"
Decline of Western Civilisation Part II: The Metal Years
In his autobiography, Lemmy of Motorhead relates his suspicions that when Penelope Spheeris interviewed him at night with the city of LA in the background for the Decline of Western Civilisation Part II the Metal Years (part I was the punk years), she was deliberately trying to make him look stupid. If true she failed, because Lemmy's down to earth demeanour makes him one of the few reasonable and rational people in this documentary and practically the only one who doesn't come out of it as a dickhead.
This is a documentary I really should have taken to as a teen. As a fan of most Rock and Heavy Metal, but particularly glam and hair bands (which despite the "Metal" tag in the title it's actually Glam acts that take up the  most screen time) I always embraced the corniness of the music and didn't care that where I lived it was decidedly derided. But "Decline" was one of the few times I felt embarrassed to be a fan.
The film plays heavily on the indulgence and excess of the LA scene. Stars from Aerosmith, KISS, Poison, Faster Pussycat and a few wannabes are shown in less than their best light as they brag about drugs, women and come across as downright annoying and sometimes even nerdy doing so.
The most cringe worthy moments come from Ozzy Osborne who drunkenly destroys his kitchen while trying to make breakfast and WASP guitarist Chris Holmes drunk out of his mind in a swimming pool while his mother watches with embarrassment ("hey mom, do you fuck like a beast?" he charmingly asks her).
Even though there are some good musical performances the film left a bad taste. Especially galling is the later revelations that parts of the Ozzy and Holmes scenes were manipulated and staged. Ozzy for example was not in his own home as potrayed and parts such as him spilling orange juice everywhere were deliberately done for the  cameras. Holmes while genuinely drunk is often seen not drinking Vodka but water, such as the moment he pours the contents of the bottle all over himself.
While some fans loved the rock and roll out of control vibe of the film, I wasn't alone in disliking it. I remember reading scathing reviews in magazines such as Metal Hammer and Kerrang. The film has also been blamed in a number of books (including Dave Mustaine of Megadeath for featured in the film) and documentaries for the decline of glam rock by turning off and driving away fans. While the portrayal certainly didn't help, I think there were other factors that lead to the drop in rock and metal's popularity. The excess of drink and drugs led to a lot of bands imploding, with very few acts managing to survive the next decade without at least one member dying or ending up a wreck due to addictions. While Grunge started to attract a fanbase of a generation of youths who wanted something more than a good time, top bands began splitting up, losing key members or disappearing into the abyss so far frequently that the whole movement became it's own Spinal Tap parody.
But ultimately Rock survived. The big bands endured and still sell out arenas today, while a nostalgia inspired comeback  in the mid 2000's (aided by a musical "Rock of Ages" that had a rose tinted view of the 80's LA scene) led to a whole wave of digital radio stations and cover bands that have incredibly made 80's music cool again (sometimes it's refereed to as Vintage which really makes me feel old).
Just please keep Penelope from making a follow up movie.
So, hope I've managed to brighten your day with tales of subliminal totalitarianism, terminal illness, the injustice of the prison system and the murder of a once loved music genre.
Let's see what 1989 brings
See Ya
Dazza