HG is nothing if not sensitive to the plight of the black man and with February being an entire month dedicated to black folks, we're going to do our best to showcase a different amazing black person every single day. Let's turn our attention now, shall we, to Condoleezza Rice! (Obv this is all like 99% from Wikipedia.)
Rice was the first female African-American secretary of state, as well as the second African American secretary of state (after Colin Powell), and the second female secretary of state (after Madeleine Albright). That's pretty cool. There are a lot of black women out there and she was the first one to be two heartbeats away from becoming president (and with Cheney, that second beat was real close). Neat.
She taught at Stanford, which is even better than going there, and speaks a bunch of languages. Rice was the first female, first African-American, and youngest Provost in Stanford's history. I'll bet they wouldn't even let me in the doors.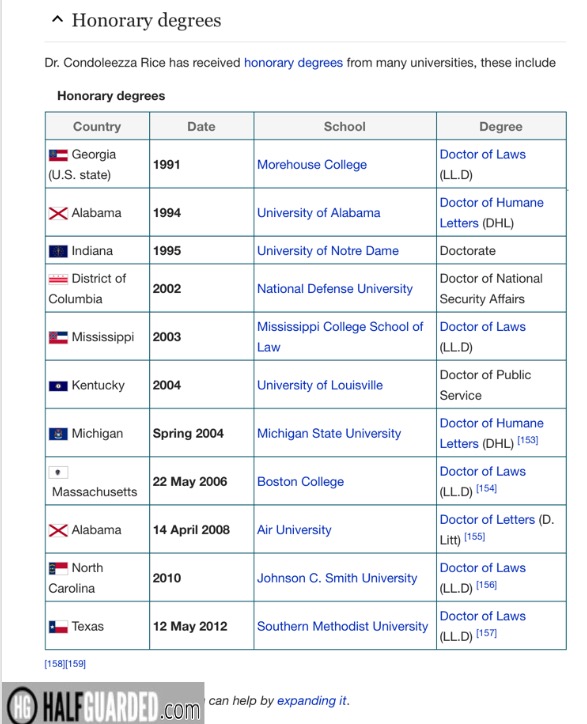 Personally, at the age of 15, she played Mozart with the Denver Symphony. She also likes football and was involved in the BCS. In October 2013, Rice was selected to be one of the 13 inaugural members of the College Football Playoff, Playoff, Postseason, Selection Committee.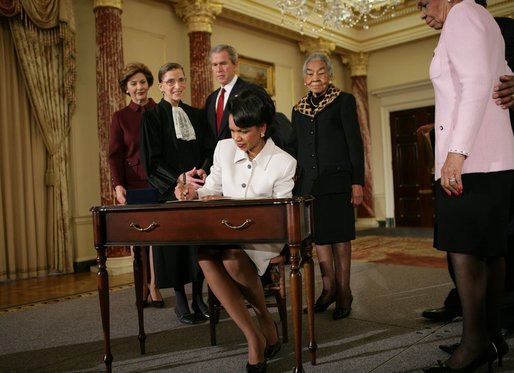 Her appointment caused a minor controversy in the sport. In October 2014, she revealed that she watched "14 or 15 games every week live on TV on Saturdays and recorded games on Sundays. So, maybe she was BCS, or the college football playoff. That's gone well. Another win for her!
Rice has appeared four times on the Time 100, Timemagazine's list of the world's most influential people. In 2004 and 2005, she was ranked as the most powerful woman in the world by Forbes magazine and number two in 2006 (following the Chancellor of Germany, Angela Merke). (But fuck Germany.)
On August 20, 2012, it was announced that Rice was one of the first two women to be admitted as members to Augusta National Golf Club (the other is South Carolina financier Darla Moore). She gets to play racist golf!
Oh, and she helped invade Iraq. But … LOOK HOW LOW GAS IS NOW!!!!