Welcome one and all, as I slice open the back of my skull and invite you to peel back the curtains of my brain and take a seat in the theatre of my memories for another quadrupedal bill of films that have in someway etched themselves on my heart.
As always I'll be introducing four features from my misspent life of watching movies. One film will be sort of a cult classic, one film will be black and white, one film will be foreign language and finally a film from the last ten years. As always I try a mix of the obscure, the old, the forgotten, the weird but above all the interesting.
Dougal and the Blue Cat (1970)
It must be a dream for a truly creative person to work on television aimed at very young children. On the surface all that's required of you is to come up with bright, lively and loud images, sprinkled with recognisable characters and a catchy theme song that will keep the little buggers mesmerised for five minutes so mum and dad can slump on the sofa with a brief reprieve from the chaos of parenthood. But in accomplishing that you can also indulge yourself  with creating psychedelic and surreal scenes and  sneak in a subversive layer of references coated with adult connotations that will safely fly high over the kiddie's heads but will raise a giggle in the College student in all of us.
Take The Magic Roundabout, a children's show that ran on the BBC from 1965 to 1977 and had me glued to the gogglebox as a baby and toddler, with it's enthralling jingling theme music and bitesize five minute flurries of frankly trippy nonsense. It mattered little that I couldn't really follow the stories as a little girl called Florence visited a magical park to hang out with a talking Dog called Dougal, a talking Snail called Brian, a talking pink cow called Gertrude, a guitar playing, hippy rabbit called Dylan and a weird moustached red faced guy who had a spring instead of legs called Zebedee. What mattered was it kept me enthralled as a little un.
Magic Roundabout was a stop motion animated show originally made in France. However when the BBC bought it over to British tellies they not only translated it into English but ended up totally rewriting the show. Not liking the original stories or characters the BBC  had writers create brand new dialogue (narrated by the dulcet tones of Eric Thompson) to fit with the action on screen and make totally different stories that were more palatable to British audiences.
Whatever the stories Magic Roundabout was a feast for the eyes.  With it's weird cast of animals walking amonsgt blue and red trees growing out of pink and orange hills the whole show looked like the product of a very intense Beatles creative session. Naturally  there were long running rumours that the show was full of disguised drug metaphors, with the trip from the roundabout being the result of an LSD trip, Dylan the Rabbit being sleepy because he is actually stoned and Dougal's obsession with sugarlumps being akin to a cocaine addiction. These allegations were always refuted by the creators, but in any case the weird vibe of the show made it popular with 60's and 70's adult audiences and when the show was moved from it's 5:55 time slot (just before the news) to an earlier time there were letters of complaints from the older viewers.
It wasn't until I was in my early thirties that I discovered a novelisation for a Magic Roundabout story called Dougal and the Blue Cat, which I learned had actually come from a full length  movie in 1970. The idea of the cute and charming Roundabout team's five minutes antics being stretched out to 90 minutes wasn't something I was that eager to track down, but when it was remastered and released on DVD in 2010 I gave this curiosity a try (having being intrigued that top UK film critic Mark Kermode had championed the movie and filmed an introduction to the DVD).
And oh my word was this nothing short of awesome. It's wasn't just a case of nostalgia that made me love this film, it was the epic way that the film took the fun, perky entourage and thrust them into as  dark and adventure that I never thought possible as for the first time an actual villain invades their magical land and brings danger to their normally carefree lives.
It all starts lovely enough with Dougal waking up to life as usual in the magical land awoken by the sarcastic cuckoo clock that hangs from a tree by his bed that sits in the open air in the middle of the forest.  Right away the humour is a little more bite to it with a bit more political commentary than normal as in his confused state he screams "Ban the Bomb, keep off the grass, vote Conservative. (Note from Mike: vote UKIP!)
Life is all so wonderfully normal as Dougal hangs around with his pals until a Blue Cat called Buxton comes along. The gang accept the stranger except for Dougal who mistrusts him and sure enough the cat betrays them, seizes control of the land with a blue army of soldiers and imprisons the lot of them in a dungeon intending to turn the entire land blue. Only Dougal remains free, disguising himself blue to begin the resistance and free his friends.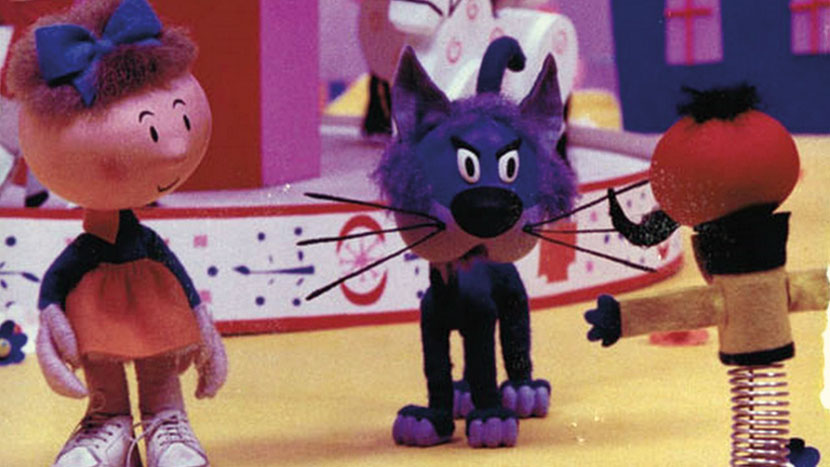 It's a very weird story, (I'm sure first time viewers will be baffled by the hallucinogenic look of  Zebedee's pinked face orchestra in the opening ten minutes)   but totally compelling with  the rise in foreboding tension as the characters become obsessed with the colour blue further falling for The Blue Cat's charms. The Blue Cat makes a wonderful villain, freaky looking and manipulative and after each completion in   his plans cackling with glee "I'm soooooo evil!" He even takes the time to bash my hometown when he travels to the moon and huffs "What a place, worse than Barnsley."
But it's the song of the imprisoned Florence that steals the movie as she sings "Shall we ever see the sun again" to a tearful audience. It's a heartbreaking song of despair and fear that the good times the friends enjoy have gone forever and that her trusting, sweet nature has led them down this path of hopelessness.
Dougal and the Blue Cat has enjoyed a cult following and rightly so as it has that Yellow Submarine surreal vibe to it, comedy that is aimed with a wink at adults and even being slightly unsettling at times with some nightmarish visuals and a completely over the top and dramatic soundtrack . You can even derive a political commentary on the times, with the thuggish behaviour of the Blue Cat's army and the desire to make everything one colour mirroring the rise of ultra nationalism of the 70s.  With stop motion being so rarely used, the film looks fresh and quit different to anything else seen around these days.
If you remember and enjoyed Magic Roundabout this film is a must see and an absolute triumph in taking a television property and doing something totally epic and unexpected with it.
Life is Beautiful (1997)
There are many films I have vowed to never watch again. Most of the time because they are God awful, miserable viewing experiences best forgottn. In a few rare cases there are films that I have loved but can never bring myself to sit through again, because the film is just so heartbreaking.
Like with "Life is Beautiful" that does the seemingly impossible in building a lighthearted comedy around the horrors of the Holocaust. Yes you read that right and if this is the first time you've heard about this film you're probably baulking at the idea, pretty much like I did when a friend introduced me to it as one of her favourite films.
This Italian production was directed and co written by Roberto Benigni who also starred as the lead role of Guido and was himself the son of a holocaust survivor, his father having spent three years in a concentration camp. Benigni's dual roles served him well in the academy awards as he was nominated for four awards as best director, co-writer, foreign film (it was also nominated for best overall picture) and for best actor which he won and promptly conducted one of the most memorable and enthusiastic celebrations, making his way to the stage to collect the Oscar by jumping along the backs of the chairs of the great and good in the audience.
Life is Wonderful sees Guido and his Jewish family rounded up and sent to a concentration camp. Separated from his wife, Guido strives to protect his young son Giosue (who narrowly avoids death in the gas chambers when his hatred of showers causes him to hide rather than go to the chamber with the other children) by telling him their time at the camp is actually a game in which they earn points for successfully hiding from guards or completing the hard labour the prisoners are forced into. The boy is told that the prize for collecting the most points is their very own tank.
It's a heartwarming tale of the ingenuity of a man protecting both the life and the innocence of his young son. Truly there are some moving scenes, such as when Guido commandeers a loudspeaker in order for Giosue to send a message to his mother bringing joy to the little ones face. Yet all the time there is an underlying  tension as  Guido struggles to keep the facade going, smiling as he translates the brutal orders of the guards into further rules of the game. When Giosue tires of the game and wants to leave the camp Guido has to pretend they can leave at any time and nonchalantly starts packing hoping the he can change the boy's mind with reverse psychology.
Although loved by audiences and praised widely by critics Life is Wonderful was not received without controversy. Some were offended by the background of the Holocaust being used for a fairytale, claiming the reality of the horrors of concentration camp life were sanitised to create a feelgood tone. There's no doubt that this is not a true realistic account of life during the Holocaust and it's understandable that some would feel uncomfortable with that tragedy being used for a sentimental story and  for essentially for laughs.
Life is Beautiful though is done so well, warming and then breaking your heart by the end. It's carried by the chemistry between the father and son and the performance of Benigni who infuses his character with such bravery and a optimistic love for life even in the most dire of circumstances. But it's his final scene that is one of the most poignant in the film, it's a heart of stone that can watch the comforting beaming smile to his son  without at least a lump rising in the throat.
I'll be honest I didn't cry, I blubbered!
Maybe one day I can watch this wonderful film again.
Angels with dirty faces (1938)
I have an addiction. A sad, nerdy addiction. An addiction to buying DVD boxsets in sales. Many times I have returned from a shopping trip, laden with impulse bought DVD collections that despite the the money saved from the original price are completely worthless in that I'll never find the time to watch them in full. The two sets of DVD containing every FA Cup Final of the 70s and 80s so far tallys at exactly one match being watched (a Chelsea vs Leeds slugfest from 1970).
Of the many of these taken up space in my wardrobe the prize DVD bargain I ever walked out of  a store with was a Best of James Cagney box set I stumbled across in a half price sale. It's a glorious collection of Cagney at his snarling, quick tempered, savage best, spread over four classic  gangster movies. In all of them Cagney is charismatic and terrifying in equal measure as he typically plays violent criminals shooting and robbing their way to success in the underworld, only to meet a violent and ugly end.
That Roaring Twenties, White Heat and Public Enemy all end similarly with a dead Cagney which  is due to the strict moral code that governed Hollywood at the time, ensuring that criminals should not be glamorised and ultimately that crime should not be seen to pay. The same is true for the fourth film in this solid gold set, and my favourite of the bunch. Yet Angels with Dirty Faces differs in that it conveys the message without the blunt heavy handed morality of crime equalling death but offers a creative twist that gives Cagney the gangster the chance at a degree of redemption.
I first came across Angels With Dirty Faces back in 1990 when Golden Age classics owned the early daytime schedule of the Sky Networks one and only movie channel. I fell in  love with the film, mainly for scenes that I'm loathe to reveal in too much detail as it would spoil some classic emotional moments. And yes, I know this is an eighty year old film but Goddamit I want people to watch this beautiful peach of a film.
Angels sees Cagney as Rocky Sullivan a career criminal who takes the fall for a botched robbery and upon release from prison checks in with Jerry a former cohort with his youth who has reformed and become a Priest. Through Jerry, Cagney comes into contact with a gang of youths (played by a collective of young actors known as The Dead End Kids) who began to idolise the gangster much to the worry of the Priest.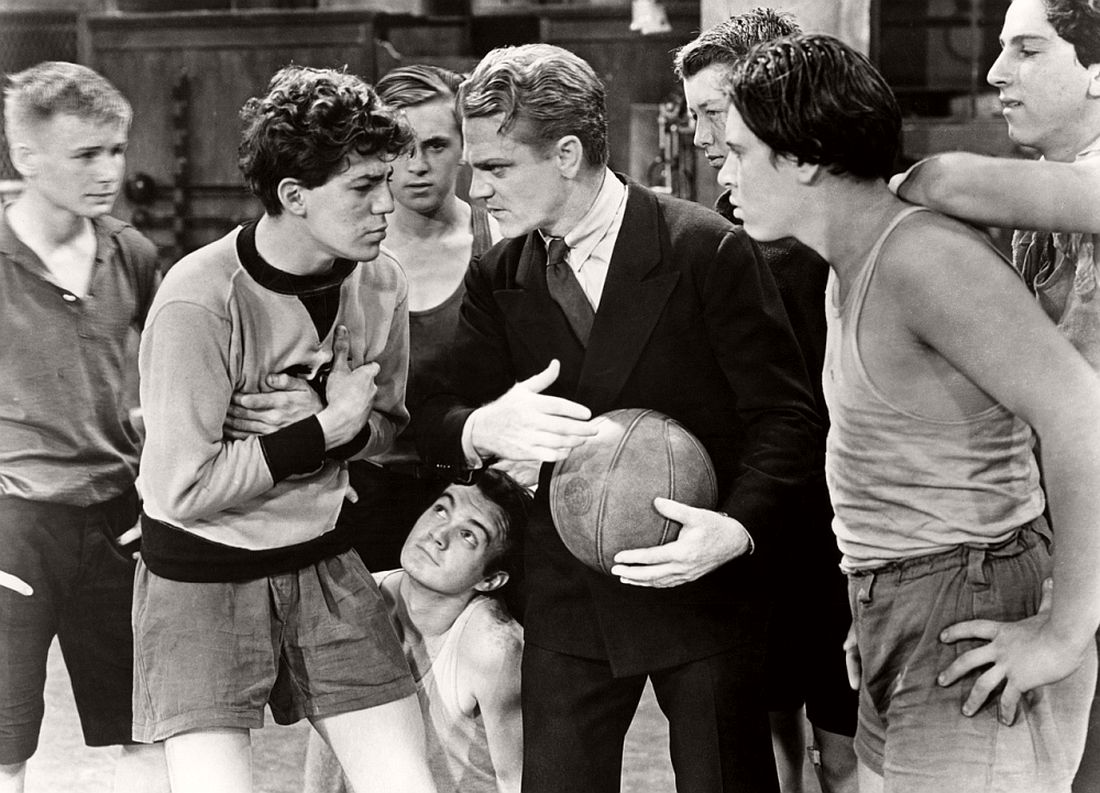 Jerry tries to convince Sullivan to turn his back on his criminal past but in true Cagney fashion the criminal is unrepentant and  determined to retrieve the money he is owed for taking the rap for the robbery. After clashing with his former gang colleagues Sullivan is on the losing  side to the law  for seemingly the final time when facing the death penalty for shooting a policeman. Jerry has a final plea to Sullivan's conscience to perform an act of redemption that may save the Dead End Kids from a destructive path that their hero worship of him will lead them but will also ultimately rob him of his dignity and pride.
Angels with Dirty Faces is my favourite Cagney gangster movie and one of his best performances showing a depth with light hearted moments along with the darkness of the underworld (Cagney refereeing a basketball game and getting rough with any players infringing the rules is played beautifully). His character shows a heart in the dilemma he faces at the end of his life, but never surrendering the viciousness and anger that Cagney brings so well to the criminal archetype. The venom and defiance he emits when marched on his final walk and ordering the guards  to "Get your hands off me screw!" is searingly intense.
It's a celebrated movie and one of the finest from Hollywood's Golden era.
Four Lions (2010)
The eccentric, sometimes reclusive Chris Morris is one of the sharpest comedy minds ever to be produced in the UK. His work on such TV shows as The Day Today and Brass Eye have satirised modern media and journalism with absolute brutality with some of the best and funniest shows on television. He's also fearless when it comes to controversy  as evident by his Brass Eye special "Paedogeddon" in 2001 which mocked the media's reaction to the  panic spreading through the country regarding Paedophilia after the tragic murder of a young girl (believe it or not there were reports of Paediatricians being harassed and their homes vandalised by some less bright vigilantes at this time).
The episode was brilliant and edgy, and highlighted by convincing celebrities such as Phil Collins and Gary Linker to unknowingly take part in a spoof campaign to promote awareness with "Nonce Sense." Naturally the words Paedophilia and comedy in the same sentence caused outrage by some commentators and viewers who called into a radio show to savage this disgusting show, so disgusted were they that when asked they admitted they hadn't actually tuned in to watch it!
A similar reaction came about to the first film of Morris, a comedy based around four Muslims from Sheffield who become suicide bombers. Once again there was outrage and a camera crew went to the streets of Sheffield to ask passersby their thoughts who were not shy to condemn the film, even though it was before it's release and there was no way any of them could have actually seen it.
I saw Four Lions at the cinema, found it hilarious  and absolutely loved it. From the start I need to clarify that this film in no way makes fun of the devastation caused by terrorism and does not make light on injuries or deaths suffered by the victims of suicide bombers. It instead makes fun of a group of bumbling idiots who become suicide bombers and the laughs come from their incompetency in carrying out their acts, but also in their ludicrous motivations for wanting to carry out such attacks.
The opening scene sees the attempts of the leader of the group Omar (played by Riz Ahmed) trying to make his martyr Video while his colleague keeps going off on tangent and using it to call out people who owe him money and demand payment even though by the time it's screened they would presumably be dead.
From there it's clear this is not a cunning, well organised cell as the group squabbles over their choice of target as the most radical of the group Barry (a white Muslim) insists they should blow up a mosque in order to "radicalise the moderates."  Later a trip to an Al-Qaeda training camp in Pakistan ends in slap stick chaos when Omar attempt to destroy a drone with a rocket launcher, but aims it the wrong way and ends up blowing up the  camp behind him where the meeting of the leadership of the group is taken place (we later learn Bin Laden was one of the men killed at the meeting.)
As ludicrous as the team are it's hard not to start to care about them, especially Waj and Faisai who it's clear are not evil but dim witted and easily manipulated and you actually feel sorry for them. The final words of Waj as he admits"I don't know what I'm doing!" just hit you right in the heart. Hassan is young and struggling to find some identity in his life and romanced by the idea of  a moral crusade. Barry is simply full of pompous, political self importance and his foolishness is thinly concealed under his loud promo skills.
Omar himself is a family man, has a strong relationship with his wife and son (who he affectionately tries to explain how he sees himself  in a serious of story times based on the Lion King). When their plans finally come together with their intention to bomb the London Marathon, it's with a aching sadness and you're pleading with them to back out. Omar's farewell to his wife (done in code as they are surrounded by people at the hospital where she works) is especially touching.
It can be an unsettling film as even as a comedy the subject matter is inherently disturbing (I can reconcile with watching this film never having lost a loved one to a terrorist attack and if I had I'm sure I would experience it in a totally different way) but it's also challenging and a successful satire on terrorists, the media and security forces (the incompetency of the security is just as ridiculed as the bombers).
The film was filmed entirely in Sheffield even those scenes meant to  be in London. On a personal note I did find amusement in recognising a supposedly  London Cafe as being actually just round the corner from where I was living at the time. This was also one of the funniest moments in the film where a good Samaritan attempts to give one of the choking bombers wearing his bomb vest a Heimlich maneuver with naturally explosive results.
Four Lions is a dark comedy, very funny but also tragic in places and has an intelligence and power to it that is a testament of a truly gifted satirist.
Coming soon to Couch Zone Movie Club.
Bob Hoskins has the worst Easter Holiday ever, World War III gets accidentally kickstarted, possibly the greatest anime of all time and Michael Caine gives some yobs a kicking.
Til Next Time
Dazza